Consumer behavior is the behavioral patterns, decision processes, and actions that a consumer follows while making a purchase decision for a product or service for self-consumption. Understanding consumer buying behavior is a psychological study of the series of customers' behavioral patterns that influence their decision-making before purchasing any products.
Being aware of consumers' behavior is one of the most crucial factors in effective marketing, advertising, or branding campaign. It helps businesses in running a more personalized campaign to convert the target audience to buy products or services.
What is Consumer Behavior?
Consumer behavior is the thought processes, conditioning, behavioral inclinations, decisions, and actions of focus groups or target audiences that influence or compel them to make a purchase.
An example of consumer behavior would be when someone goes to the grocery store and decides what types of food they want. The person is making decisions based on their personal preferences, considering factors such as cost, convenience, nutritional value, and taste. This behavior then influences how much time they spend in the store, which items they purchase, and even if they return later for more items.
Understanding the psychological factors, as well as social factors of a marketing consumer, helps marketers better understand the elements that influence customers buying decisions.
People think several times before purchasing anything from a brand or company. Keeping track of customers' decision-making processes and decoding them for boosting revenue is a part of the study of Consumer Behavior. So, it is mainly a study of behavioral sciences that concerns each customer's psychology, behaviors, and motivations individually.
The study of Customer Behavior
The study of Consumer Behaviors is based on the psychology and behavior of each buyer towards the company and its services. It is strictly a motivational approach to the customers on how they decide on choosing a product.
Consumers are different, but their brains are prone to react similarly to a particular event. Studying and understanding these subtleties in the human mind can help companies connect with their customers and read their minds to convert them into impulse purchases.
Consumers' behavior analysis also enhances the ethical creativity of businesses to attract more buyers to the available products and services via a data-driven marketing campaign.
The study of Consumer Behavior includes:
How a consumer feel about alternate brands, products, or services
The parameters that help consumers to differentiate several brands
Behaviors during research and shopping and what they want
How a consumer is inspired by the media and culture of the organization
Marketing strategies for improving the influence of brands on the consumers
Importance of Understanding Consumer Behavior
It is scientific research about customers in various situations such as consumers' desirable products, why they want to purchase, how often they think of buying from the same brand, and many more.
So, Consumer Behavior is particularly for companies trying to sell services or products to as many as potential customers they can study.
Each business invests a lot of money and time in its products and services, and it's crucial to cater to the basic needs of the consumers. So, it's essential to know about the customer's mindset to offer the most effective services to create a great impression. So, Consumer Behavior is one of the primary keys in marketing and provides the following advantages:
1. Better marketing and communication
In marketing, communication is the key to success, and with changing parameters like living standards, technology, and trends, customers' choices also vary effectively.
So, having details on consumer behavior can help understand the modern desire and needs and market trends pretty amazingly. It helps the campaign incorporate the attributes that can easily and effectively pull in the target audience and convert them.
2. Improve customer interaction
Consumer Behavior is a psychological study where the area of interest is the understanding of human psychology effectively.
To achieve such a thing, it's compulsory to interact with customers regarding their purchases and experiences. So, Consumer Behavior provides an opportunity to communicate with customers frequently.
3. Growth in customer loyalty
Customer loyalty is one of the primary assets of the business, and to make it strong, entrepreneurs should focus on communication. That boosts sales and increases the customers' loyalty towards a brand.
When customers interact with a brand that understands their inclinations and preferences, they like to repeatedly opt for that brand and hence, it optimizes the chances of having a loyal customer base.
4. Increase in sales
A company always targets potential customers from different segments and tries to understand the specific niches. Instead of selling something randomly, prioritizing the details of customers' likings and dislikes help in sales growth.
Furthermore, when a company or brand gains customer loyalty, that, as a result, increases the sales of the company. Being aware of consumer behavior helps in optimizing the lead generation process that ultimately boosts sales and ROI.
5. Better options for strategies
Understanding Consumer Behavior can allow communication with each customer separately and an idea about the market trend. It helps the business to organize several campaigns effectively where every campaign represents a different motive.
A study on Consumer Behavior can enable the customer's psychology while purchasing the product entrepreneurs. So, it also gives the customer the best services where they can find this more correlated.
6. Knowledge about market competition
One of the essential marketing knowledge is the understanding of market trends. Consumer Behavior analysis offers access to a few primary outlooks for the trend where the companies can provide accordingly to reach out to more customers.
It's a basic set of questions like why the consumers are buying from your competitors, why they find that attractive, and the service or product gap between your company and your competitors. That's why knowing the marketing trend is a crucial part of marketing and advertising to attract more customers.
7. Stay relevant in the market
The world is changing every day, and customers' behavior, outlook, and passion are changing simultaneously. So, the biggest challenge is staying relevant in the market and following the trend accordingly to cope with this ever-changing public need. So, the varying behavior of the consumers can give you access to find out the most appropriate strategies to communicate with enormous consumers.
For example, post-covid-19-pandemic, the behavioral inclinations of consumers have changed now, and they prefer opting for online purchases. Therefore, businesses that were aware of this shift in consumer habits, optimized their presence with an online store to boost their value, search potential as well as sales.
Types of Consumer Behavior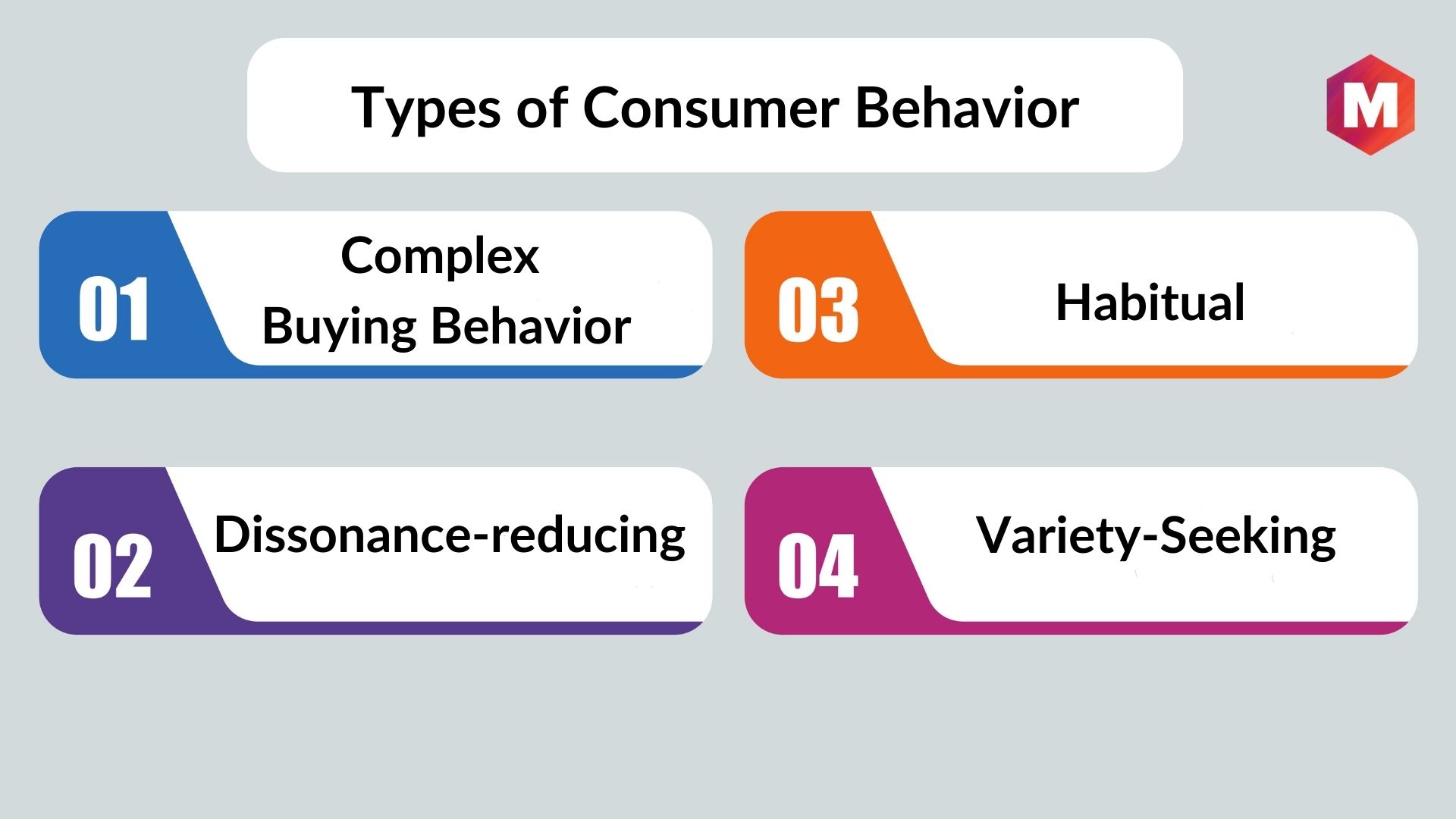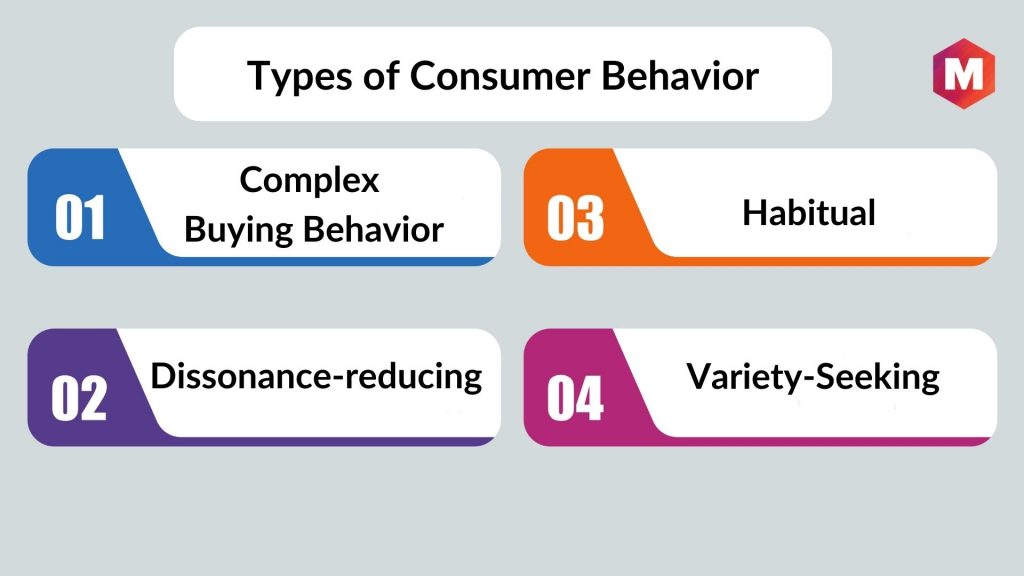 There are four types of behavior consumers possess –
1. Complex buying behavior
Consumers who like to opt for expensive, unique, exclusive, and infrequently purchases products or services come into the category of consumers who comprise complex buying behavior.
Such consumers are fully engaged in their purchase decisions and actions, as they like to do proper research before opting for a product or service. Purchasing a flat or a car can be some of the common examples of complex buying behavior.
2. Dissonance-reducing buying behavior
Such types of consumers are also highly engaged in their purchase decisions and associated actions but they find it quite difficult in finding out the key differences amongst top brands in that product niche.
The situation of dissonance occurs when the customer thinks that they might regret their purchase and might face buyer's remorse.
3. Habitual buying behavior
Such types of consumer behavior are associated with customers who have very little involvement in the buying process of products or services.
Such customers habitually buy a product or service instead of giving too much time in doing research and making decisions.
4. Variety-seeking behavior
Customers who possess such behavioral patterns make their purchase decisions while seeking variety.
These consumers buy a different product not because of dissatisfaction, instead, they make purchases for trying a different brand.
The Factors that Influence Consumer Behavior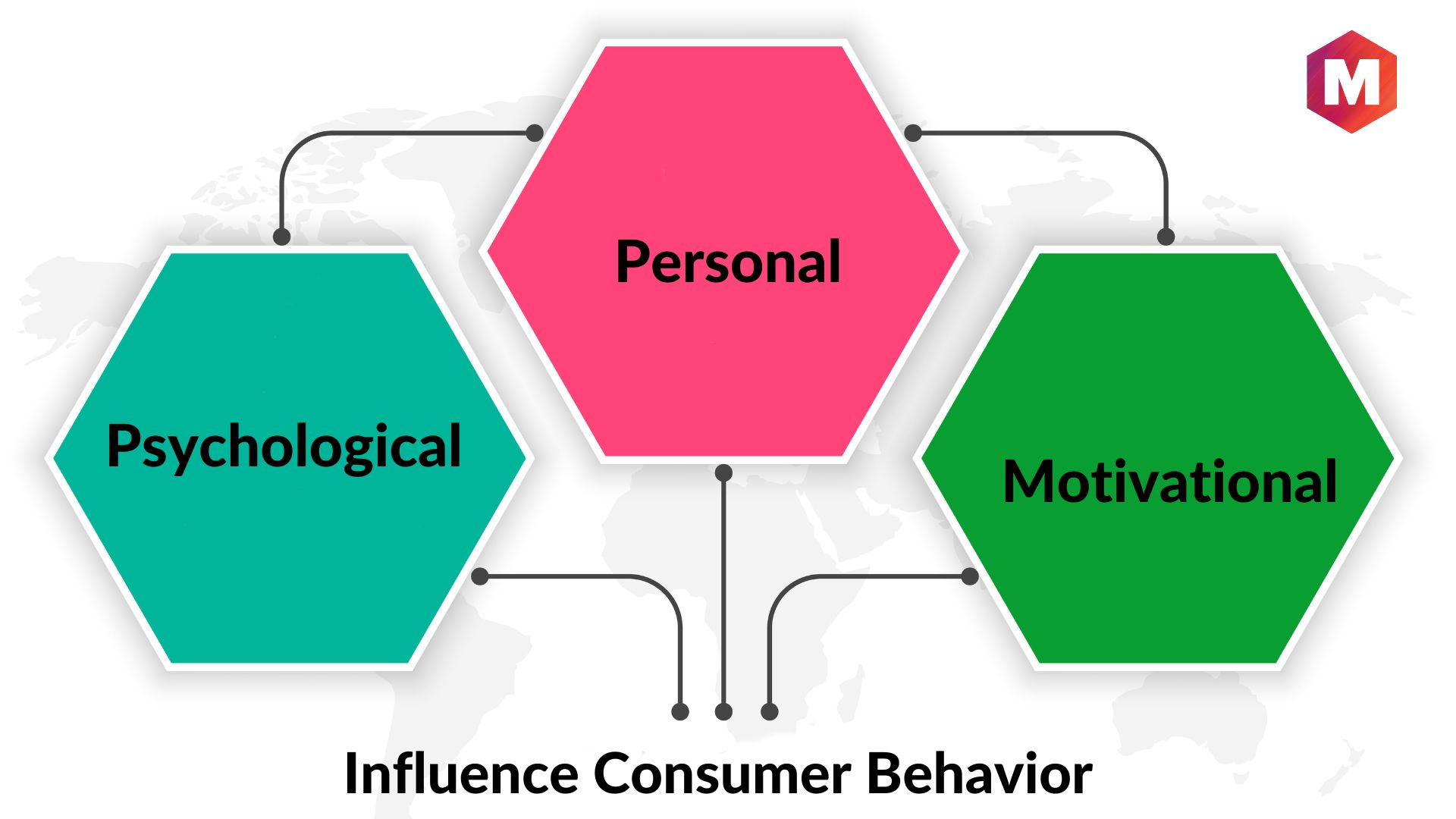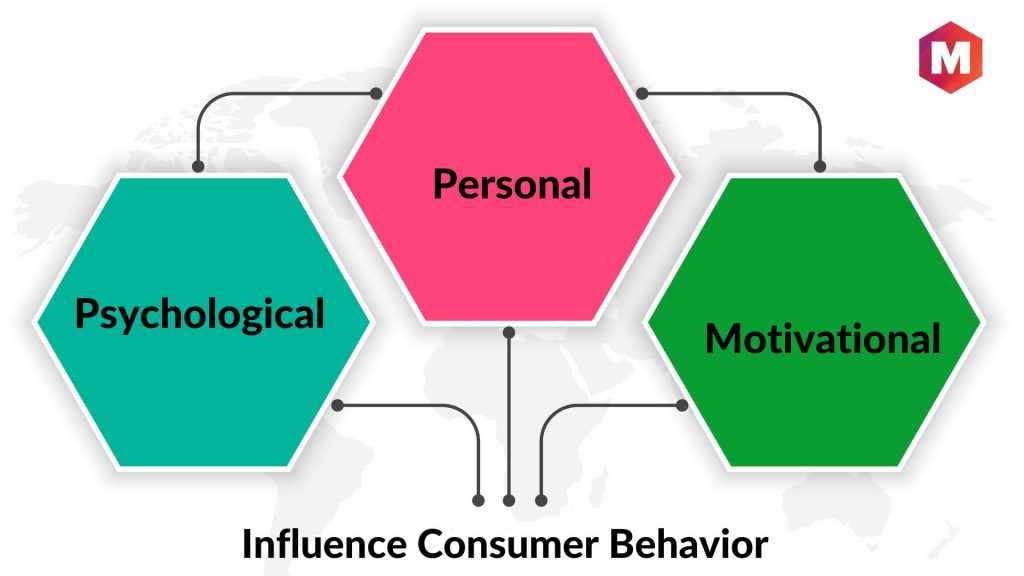 People buy things like healthcare, medicines, and basic amenities to fulfill the basic necessity for health and security. But, what compels a customer to buy certain things is one of the most intriguing concepts to understand.
Apart from necessities, people often buy something out of the product's attractiveness or are simply passionate about them. The study of such irrational purchases is very close to the study of behavioral economics. Researchers from behavioral economists, marketing professionals, and psychologists have analyzed extraneous or irrelevant purchases by customers.
The primary reasons for such purchases are to showcase social status or reduce boredom or some emotional sadness. Sometimes, retailers manipulate customers by offering great discounts or limited stock to make them purchase various products.
So, studying the manipulation tactics to attract more consumers is the fundamental goal of establishing a long-term relationship with customers. All in all, buyers always purchase something either for personal needs or for some passion, or for maintaining status.
To understand consumer behavior, it's crucial to know about the essential elements that influence a customer to make purchasing decisions.
1. Psychological factors
The most apparent factor to influence Consumer Behavior is human psychology. Why and how a customer buys a particular product largely depends on the psychology of the customer.
It motivates people to attract to some specific products and helps effectively in the decision making procedure.
2. Personal factors
Sometimes people get attracted to some recognized brands because of their personalities. Maybe that brand is connected with some charitable work or perhaps inclined towards an arrangement for paying attention to each customer.
Personality affects people secondarily and is closely related to the seller's various aspects like political, social, and religious beliefs.
3. Motivational factors
Sometimes people get easily influenced by their close friends or acquaintances and make an instant purchase decision.
Sometimes customers see a product showcased by some celebrity, which affects customers solely to purchase.
How to Understand Consumer Behavior
Analyzing consumer behavior is one of the toughest jobs for marketing and advertising professionals in today's era. To understand Consumer Behavior, sellers can consider the following ways to connect with potential customers.
1. Analyze Consumer Behavior
In the field of marketing and advertising, a small difference can change the outlook of a brand. So, to research Consumer Behavior, sellers should focus on the negative feedback from consumers to improve the company's insights.
Analyzing Consumer Behavior is very important to form a connection with potential customers psychologically and increase the sales of your company.
2. The art of persuasion
Both the host and the message play an important role in persuasion. The marketing researcher, Robert Cialdini has discovered the effects of 'first impression' on persuasion.
A company's history as a trustworthy organization can attract more loyal customers every day. So, persuasion is an art offered by the sellers to anticipate customers' attention instantly before influencing their purchasing decision.
3. Understand the type of customer segmentation
Before you start convincing a customer about their desire, understanding the type of buyers can help you to approach the customer effectively. Suppose the customer is tightwads, and then you need to be super appealing to convince that person. On the contrary, if the customer is spendthrifts, you can easily influence them on the purchase decisions.
Studying Consumer Behaviors is like solving a puzzle, and the factors that influence Consumers Purchase Behavior in a target market are a part of that puzzle. To solve the entire puzzle, sellers need to understand the type of buyers to convince them with the most relevant strategies.
Unconflicted: Unconflicted buyers are the most problematic customers organize a survey on them. Their purchase decision is not driven by any variables and only depends on the psychological state at the time of purchase. An unconflicted buyer doesn't make buying decisions based on the available cash or motivation. They like to purchase a product by the influence of social, psychological, and personality factors.
Spendthrifts: This type of buyer is more into shopping rather than increasing the bank balance. The spendthrifts often make impulsive decisions during the purchase, and convincing them of various products is very easy. They are not inclined to make effective decisions, and they certainly don't compare and analyze products; they just see the products and buy them. In a word, spendthrift buyers are believers of instant liking. They also show variety-seeking buying behavior.
Tightwads: A tightwad buyer is very resolved about their purchasing decision, and they don't spend money frivolously. So, influencing this category is very appealing and takes effort. It's not necessarily that a tightwad buyer has to be a millionaire or penniless but is very choosy about the purchase.
4. Introduce the effects of internal labels
Several types of research on consumer behavior have pointed out that internal labeling can include more people in the list of buyers. Deep down, each customer wants to be a part of the brand, and labeling them can influence their psychology towards a brand. So, label your customers and make them feel superior.
5. Be honest and accept the shortcomings
There is no shame in saying sorry and admitting the faults. Each person or company makes mistakes, and covering up those blunders won't help to understand consumer behavior.
So, by being transparent and admitting faults, sellers can easily win the customers' hearts, and that offers the access to communicate with the customers easily.
6. Power of the first impression
Yes, the first impression is always the last. Marketing and business area also rely on the first impression.
By understanding consumer attitudes, and paying heed to internal factors as well as external factors that affect consumer buying behavior, you will be able to create an impression through which consumers engage straight away.
7. Collect buying behavior data of target audience
To adeptly understand the customer behavior of your target audience, it is very crucial to collect the behavior data of your consumer. Some of the most crucial data for analyzing the behavior of a consumer are-
Customer Reviews
Q&A sites
Surveys
Focus groups
Keyword research
Google Analytics
Competitor analysis
Blog comments
Twitter Insiders
Google Trends
Government data
Social media
8. Use Social Intelligence
The right way of using social intelligence is also of great significance to collect consumer insights via effective social media research. To channel this, you should ask some key questions and try to find out what consumers think of your brand.
Using social networks to learn about the behavioral inclinations and buying behavior of your product category, in general, to know how they make their purchase decisions for their products and services. Different things that need to consider here are-
Analyze Intent to Purchase: By analyzing the intent to purchase of your target audiences, you will have comprehensive knowledge about their buying behavior that will ultimately make your campaign effective enough to convert them to your call to action.
Do sentiment analysis: Brands, marketers, or advertisers should try to understand the sentiment of your target consumers regarding your product or service, or brand. You can use social listening tools to understand what they think of you. Going through product reviews and feedback can also be of great benefit in optimizing the effectiveness of your brand campaigns.
Do campaign analysis: You should try to analyze the response of your consumers to your product or service, plus it is also important here to measure your brand associations and emotional response around your brand.
Run intelligent market segmentation: Running intelligent segmentation as per the variety of motivation factors of consumers is also important here in making marketing and advertising campaigns more effective.
What is the Role of Consumer Behavior in Marketing?
Marketing and advertising are two interrelated industries with a common goal of influencing audiences with new services or products and convincing them to purchase. Moreover, the consistency of customers' preferences varies over time, and that needs to be brand new strategies for every campaign.
To deal with fickle audiences, it's important to adopt proper ways to message, advertise for the target groups, do basic market research, and ultimately, do psychological research on the audiences. That helps marketing professionals to understand the customers and communicate with them most efficiently. So, the study on Consumer Behavior provides data on the customers and compels them to commit to purchasing effectively.
Understanding consumer buying behavior plays a key role in segmentation and branding strategies. With your consumer behavior research, you can personalize your marketing messages as per the marketing consumer behavior and create effective marketing strategies. It optimizes marketing efforts, brand loyalty, customer retention, etc.
Conclusion!
A company can prove its existence by improving the offered products and communicating with potential consumers in a personalized manner. Consumer behavior analysis provides a catalog of the current market trends and a better understanding of the needs of the target audiences.
So, the study of consumer behavior acts as an important tool in the area of marketing and advertising to understand the customers from the core. The psychological parameters of the customers behind the buying behavior can help companies to craft new products and campaigns, following the market trend.
All in all, consumer behavior can be understood as the foundation between customer and seller relationships and offers the easiest access to the customers' frustrations, inclinations, and most essentially their changing needs and expectations.
Liked this post? Check out the complete series on Consumer Behavior