What is Captive Market?
Definition: A captive market is a type of market in which only a few sellers or suppliers have control over the distribution of certain goods. In a captive market, the sellers can raise prices for goods without fear of losing customers since there are few other options. This means that consumers have little choice but to pay whatever the sellers are asking for them to get what they need.
A common example of a captive market is the airline industry. In many cases, airlines will have exclusive deals with certain airports and customers will need to go through the same airline if they need to fly to a certain destination. Another example is the printer ink market, where companies that produce printers also have exclusive control over the production of ink cartridges that are compatible with their printers.
As you can see, when a market has a small number of suppliers catering to customers with specific needs and preferences, those customers become captive.
Captiva Marketing Explained
Different kinds of markets make the global economy. While some sectors like fruits, vegetables, retail, etc form a perfectly competitive market, some other industries like telecommunication form an oligopoly market.
There is also a monopoly market where only one seller has the capacity to sell a particular product. Producers are the price makers and buyers don't have any option, other than going with the single seller, for example, automobile companies like Mercedes, BMW, etc. There is also a sheer lack of competition and barriers to entry for other firms.
Something similar but a variation to this monopoly market is the captive market. A captive market is a market that has few suppliers, resulting in less competition.
An interesting feature of a captive market is that although there is no natural monopoly, consumers have few choices in front of them and end up taking the product from the one and only seller; thereby being a part of the artificial monopoly.
Products that are readily available in the normal market and can be purchased in a perfectly competitive environment are sold by a limited number of sellers in the given area. This accounts for lesser competition and monopoly power of the seller to determine the price.
As a result, products available at a cheaper rate in the normal market are sold at extremely high prices in the captive markets. Therefore, in captive markets, consumers are captivated by the limited number of sellers and they are compelled to either buy their desired product only from there or refrain from purchase. Moreover, like a monopoly market, a captive market exercises barriers to entry.
Above all, people don't have the opportunity to bargain. They take the price determined by the seller for the same product, which they could have bought from other places by hardcore bargaining. The perfect example is bags on footpaths Vs bags with a brand name in shopping malls.
A captive market can happen due to many reasons. Firstly, it can happen due to a shortage of supply. For example, when vegetables like potatoes, onions, etc. do not have sufficient yield, their prices surge. At the same time, when products are rotten in cold storage, there is an immediate increase in prices.
Secondly, when products possess a unique quality or benefit in them, producers are bound to charge higher prices. Examples can be high-branded commodities, French wines and perfumes, and similar products.  Thirdly, it can happen when sellers own the entire buying unit, which happens in any shopping mall. Here, as the shops hire their space, they keep their prices high so as to realize their rent amount along with other related expenses.
Examples of Captive Market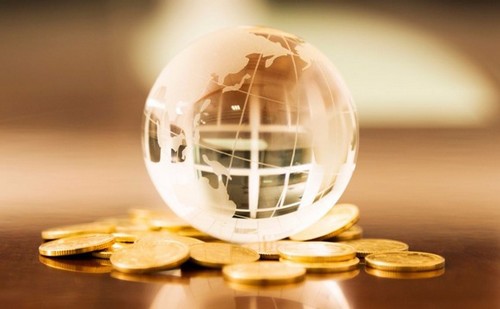 School Stationery
Every school has its own stationery store from where it supplies all the essential commodities like exercise copies, books, covers, labels, school uniforms, ties, belts, chart papers, pens, pencils, badges, bags, and other related stuff to its students.
Although each of these products can easily be purchased from outside, yet going by certain strict norms of the schools, students are compelled to purchase these commodities from the stationary unit. Also, as products like tie and belts, copies, covers, etc. resembles the school, and carry its name and logo; all children must get them from that only stationary. In such a situation, despite charging a higher price, students are left with no other option but to get their requisites from the school itself.
Even when it comes to uniforms, the school has its dressmaker charging an exorbitant price for making a regular dress as well as sweaters. Therefore, the buying unit belongs to the school, and due to barriers to entry; students end up being price takers in the captive market.
Food courts in Malls, Airport, Cinema Halls
Prices in the food court of malls vary according to the status of the malls. For example, food prices in ordinary malls are slightly higher than the market price. However, in the posh malls, mostly visited by celebrities and the elite, prices skyrocket.
It is because rent payable to the former category is lower than that of the latter, which is why the food sellers charge an exorbitant amount within the limited area. Moreover, malls have a policy of not allowing outside food. This reduces options for the buyers by default and they are left with no choices except going for a monopoly price.
The captive market is also common in airports and sports arenas. Both being costly places, food sellers have to pay a huge rent and do not have adequate competitors within the premise. They, being the sole producers, conduct a monopoly business by keeping prices extraordinarily high. Buyers either have to purchase from them or purchase nothing at all.
As with the cinema halls, food prices are way above those in other areas in the same mall. Only a few stalls sell their food at prices, which are beyond the reach of normal commoners. Here also people become captivated by limited sellers and hence accept the price asked for their product.
Fairgrounds
From the rides to the handicrafts to the eateries, price skyrocket especially in the last few days of any fair. Where the initial price of rides is at 20, pricing in the last few days increases to 40 or even 50.
Similarly, where jute products initially cost 100 or 150, their price rises to 300 or more. In such a scenario, buyers don't have many options. Secondly, the fair organizer owns the entire land and therefore influences the pricing of all units. Thirdly, as fairs are not regular events, prices are higher, by default.
Hotel Shopping Arcades
Shopping units often adjacent to or within the hotel premise have an array of products on display, however with a higher price tag. It is because as the stores are within the hotel area, their pricing is influenced by the hotel owners, who in turn give free spaces to various shops against arent.
Therefore, to realize the rent amount and make handsome profits, the sellers of these outlets charge exorbitant prices from their customers. The latter two, having no other choice become a price taker in the captive market.
Cruise Ships
A cruise ship is another example of a captive market. Due to the remote location in mid-sea, there is no other option for purchasing things than the in-house stores.
This gives vendors a great advantage and they make sure to take maximum advantage of it by charging high prices for their products. Moreover, since the ship carries limited items and customers can buy only what is available, there is nothing much that buyers can do but accept the inflated prices.
Movie Theaters
Movie theaters typically charge more than the fixed price set by the producers. The reason for this is that there are fewer sellers of tickets, giving them more control over the prices and leaving customers no choice but to accept the inflated rates.
Additionally, movie theaters often add extra charges like service fees or convenience fees, which further increases their profits.
Sports Stadiums
Another example of a captive market is sports stadiums, where vendors can charge more than the original price for concessions like food and beverage as there are limited options for customers to choose from.
Additionally, due to their remote location, it is difficult for buyers to find an alternative source of supply. Therefore, in such places, buyers have no other option but to pay higher prices.
Captive market vs Monopoly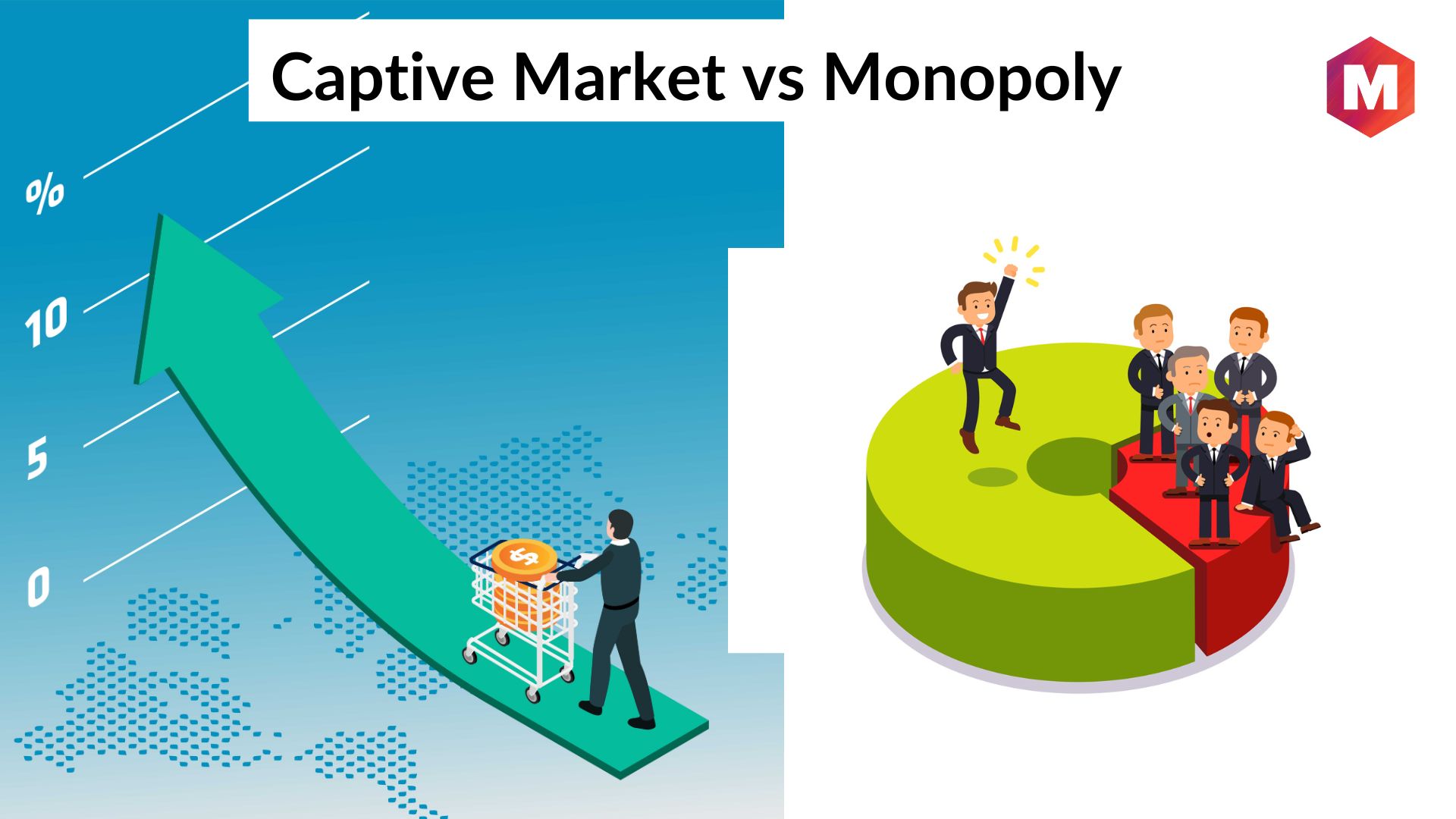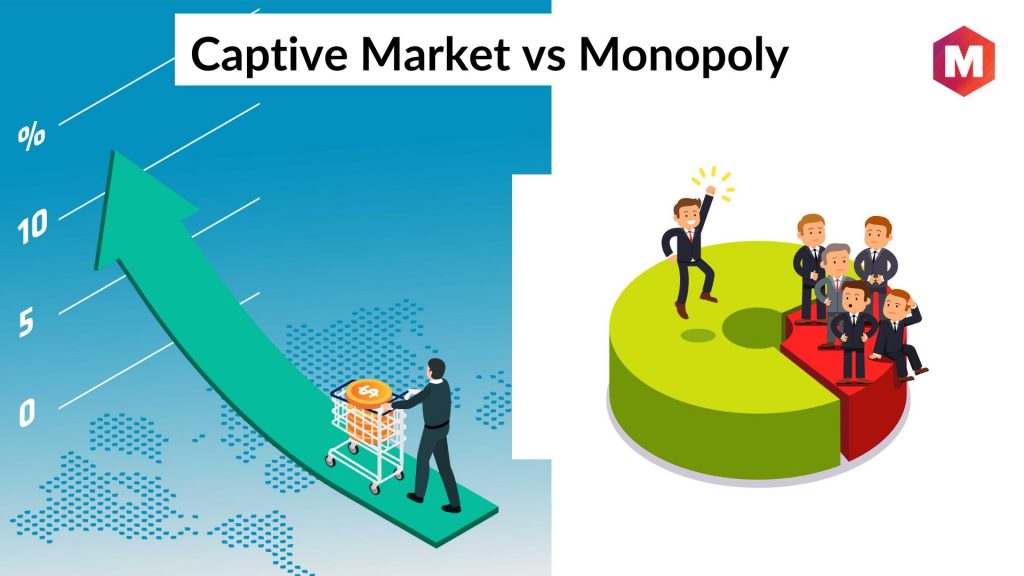 Although a monopoly and a captive market share some similarities, there is one significant difference between them. In a monopoly, there will be only one seller in the market and a single price for the product. Whereas, in a captive market, there may be a severely limited number of sellers or different sellers in a scenario where only limited choices exist for the buyers.
A monopolistic market has entry barriers that limit new competitors from entering the market. However, in captive markets there may not be entry barriers and new sellers can come in at any time.
Liked this post? Check out the complete series on Marketing