Marketing is the process of recognizing, anticipating, and fulfilling customer requirements, while advertising is a practice in which a company pays to display its ads in a specific location in front of a certain target audience.
Marketing is a broader concept that involves understanding customer needs, creating a product or service to meet those needs, and promoting that product or service. Advertising is a specific aspect of marketing, focused on getting people to buy your product or service.
Marketing and advertising are two distinct concepts that have been used in business for a long time. While they do overlap, there is an important distinction between them. Let's understand that –
Find the key Differences between Marketing and Advertising
At the most basic level, marketing is about understanding and influencing consumer behavior through the use of research, data analysis, and communication. It involves understanding customer needs and preferences, developing strategies to reach target audiences, and analyzing the effectiveness of those strategies.
Advertising, on the other hand, is about developing and delivering paid persuasive messages and branding campaigns that will influence people's attitudes and behaviors. It involves creating creative content for various media outlets, such as television, radio, print, digital and social media. Let's delve into both one by one-
What is Marketing?
Definition: Marketing is a process of understanding customer needs and creating products or services that meet those needs. It involves researching potential customers, developing strategies to reach them, analyzing the effectiveness of various marketing tactics, and monitoring and maintaining relationships with customers. This can involve traditional market research techniques such as surveys and focus groups, as well as more modern methods such as digital marketing and social media monitoring.
Why is Marketing used?
When businesses grow, they want to improve and attract more customers as well as retain existing customers. At such time, they approach the marketing department. The marketing department is in the job of analyzing customers, then analyzing the current business, analyzing the competitors and finally coming up with a plan to improve the organization as a whole so that more customers are acquired and more customers are retained.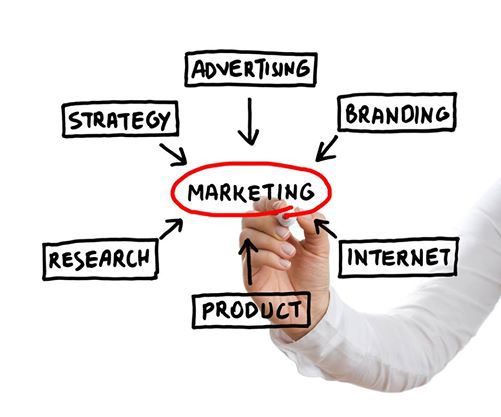 To achieve this objective, marketing works on many different fronts.
The first front generally is market research, where marketing tries to understand the customer in and out. It tries to understand the market as well as its own strengths and weaknesses.
The second front is Advertising, where marketing advertises its own firm and how the firm stands out from competitors. The point here is to differentiate the brand from all others as well as to achieve various advertising objectives.
The third front is to sell more products in the market. As a result, sales activities are also a part of marketing though nowadays you will find sales managers standing separately to marketing managers. This is because sales is more of a pressure profile and is focused on very short-term results which is why most companies are now separating sales and marketing activities. However, the advertising and marketing manager will generally be one and the same person.
The fourth front and very long front is to brand the company, to manage customers, to involve the community as well as to do continuous activity which keeps on improving the firm from time to time. Marketing is more holistic in nature (read more on holistic marketing) and is it concerned with both – incoming customers as well as outgoing customers.
Marketing is very strategic in nature – It looks at the whole organization and determines the direction in which the company must move. It has a long-term vision and hence it is able to distinguish right from wrong. If a department is making a wrong move, it is marketing that keeps that department in check if the department is not meeting the branding or holistic marketing criteria of the organization.
As a result, The scope of marketing within the organization is larger than advertising and advertising is a subset of marketing.
The Marketing Mix
The marketing mix is a combination of 7Ps – Product, Price, Promotion, Place, People, Process, and Physical evidence.
Product: Product involves creating a product with the right specification and features. It includes determining what kind of features should be included in the product as well as how it must be branded, packaged, etc.
Price: Price is concerned with finding the right price for the product which will not only generate profits but also keep customers satisfied.
Promotion: Promotion deals with various marketing strategies like social media, print media, television, etc.
Place: Place is concerned with the right channels and distribution networks to reach out to customers.
People: People are the front-line force that will be representing the company in the market and hence they must be properly trained.
Process: The process involves analyzing customer feedback and optimizing processes for better service delivery.
Physical Evidence: Physical evidence refers to tangible objects like packaging, websites or other digital properties that provide support for a product or service.
All these elements together form a marketing mix that aims at getting maximum customer satisfaction as well as generating optimum profits for the organization. Advertising may include some of these elements but it does not encapsulate them all, thus making it a subset of marketing itself.
Types of Marketing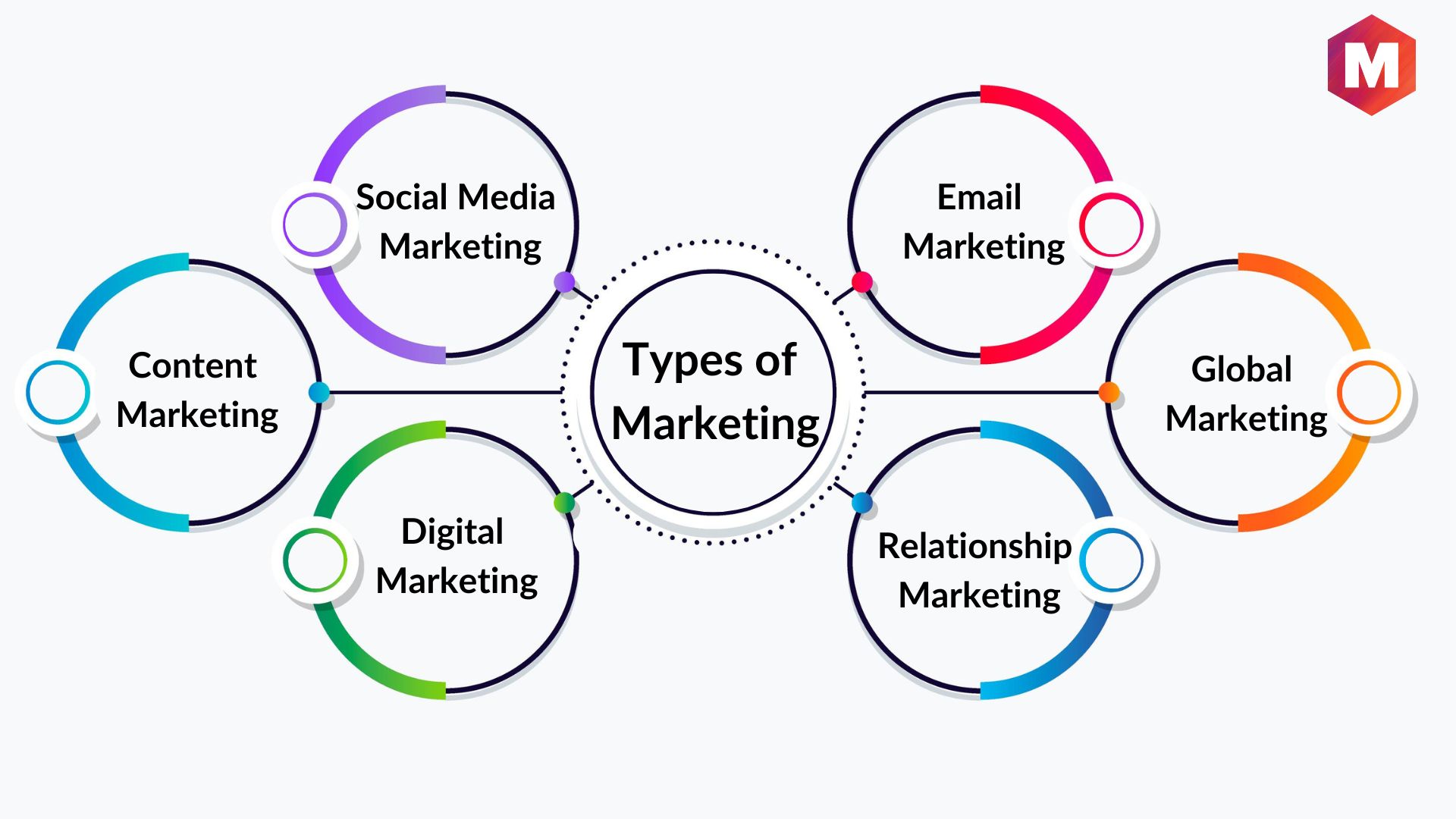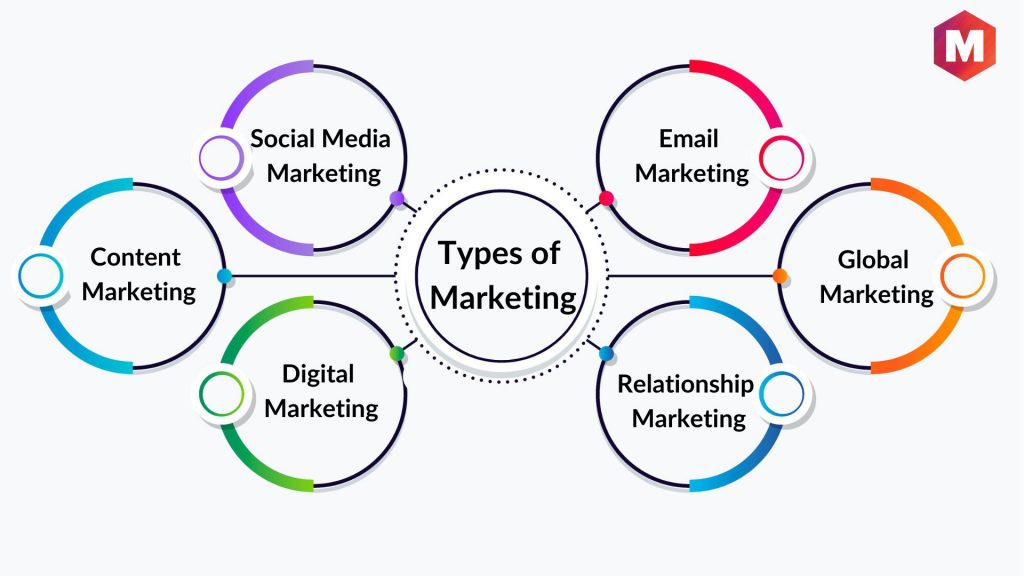 Marketing can vary depending on the target audience and objectives. The most common types of marketing are as follows: –
Digital Marketing: Digital marketing is concerned with using digital platforms like websites, social media, mobile applications, etc to reach out to customers. It also includes search engine marketing, SEO, etc.
Content Marketing: Content marketing involves creating content around the product or service and distributing it in various forms like blogs, videos, infographics, etc.
Social Media Marketing: This refers to promoting products/services through social media platforms like Twitter, Facebook, Instagram, etc.
Email Marketing: This type of marketing includes sending emails to potential customers with information about the product/service in order to increase brand awareness and generate leads.
Global Marketing: Global marketing is concerned with taking a product/service into other countries and adapting it to the local culture.
Relationship Marketing: The relationship marketing process is about building relationships with customers through various activities like loyalty programs, customer support, etc.
What is Advertising?
Definition: Advertising is a subset of marketing and can be defined as the practice of creating and placing ads in various media like television, radio, magazines, newspapers, etc to promote a product or service. Advertising also includes mobile advertising efforts such as using apps and websites to reach out to potential customers.
Why is Advertising used?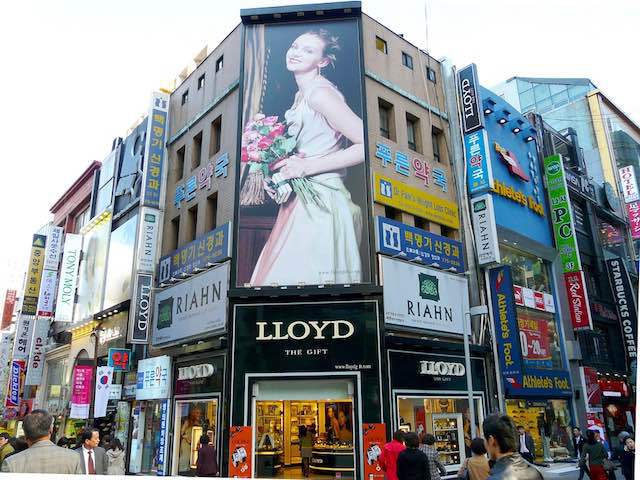 Advertising has a focused role in the organization. Advertising is the use of mass media or any other media vehicle to carry out communications between the company and the customers. Basically, marketing forms a vision and mission for the company. Advertising's job is to communicate the values of the brand as well as to advertise and get more customers to the company.
Advertising can be used for many reasons. It can be used to attract more customers to a product of the brand, it can be used for brand recall or product recall, it can be used to introduce new products in the market or for many other things. Advertising is a part of the marketing plan and if the company has come up with a marketing idea, it is the work of advertising to communicate that idea.
Advertising has many cogs in the wheels. Creative agencies dish out ad ideas and creatives which are then approved by the marketing department. An advertising plan is then made which involves media planning and media buying. Finally, this advertising plan is implemented to reach more customers and make customers aware of the brand.
Important in advertising is to use the right media to position the brand correctly. Advertising is very costly in nature because of the rates of buying mass media. Another problem with advertising is that tracking ads and their performance is difficult. However, this problem does not exist with digital advertising or digital marketing – probably the reason for the huge inflow of funds in digital marketing.
Thus, we can see that although advertising is HUGE as a business, it is one part of marketing and deals majorly in one-way communications with customers. Lately, many two-way communications have come up due to the use of social media and blogs.
But, within the organization, the scope of marketing is larger than advertising. On a customer level, because advertising reaches a huge audience, the scope of advertising is larger than marketing.
What are the common types of Advertising?
Traditional Advertising: Walking down memory lane, traditional advertising involves paid placements in newspapers, magazines, or broadcast TV and radio. Such advertising campaigns can be expensive but still remain a popular choice for large companies. Print ads are one of the most common forms of traditional advertising.
Retail Advertising: Retail advertising is another form of traditional advertising. This type of advertising focuses on increasing sales in stores, and it's often used by large companies. Retail advertisements can include flyers, store signage, and point-of-sale displays.
Online Advertising: As more people start using the internet, companies are increasingly relying on digital advertising efforts to reach potential customers. This type of advertising includes banner ads, search engine marketing, email campaigns, and social media advertising.
Mobile Advertising: As the use of mobile devices continues to increase, so does the need for mobile advertising strategies. Mobile advertisements can be placed in apps or sent via text message. Companies are also starting to use location-based services to target potential customers with relevant offers in their area.
Outdoor Advertising: Outdoor advertising is another popular form of traditional advertisement that's still used by many businesses. These ads can include billboards, bus signs, and building wraps – all designed to grab the attention of passersby.
Pay Per Click (PPC) Advertising: PPC advertising uses search engine algorithms to target potential customers who enter specific keywords into a search bar. Companies pay for each click on their advertisement, which is why it's important to have a well-crafted ad campaign that captures the attention of the consumer.
Ultimately, there are many different forms of advertising businesses can use to promote their products and services. Advertising strategies such as print ads, traditional advertising campaigns, and mobile advertising efforts can all help to increase brand awareness and build customer loyalty. With a strategic approach to advertisement, companies can reach new customers and generate more sales.
Key Differences Between Marketing and Advertising on Different Grounds
1) Role and Responsibilities
Marketing: Involves researching, analyzing, and targeting the market. It also includes planning, pricing, product promotion, and distribution of products and services to target customers.
Advertising: It is about creating awareness among the audience about a brand or product. Advertising focuses on communicating with potential customers through various mediums such as print ads, radio ads, television commercials, etc.
2) Objectives
Marketing: The primary objective of marketing is to increase the sales and profits of a company.
Advertising: The main goal of advertising is to create brand awareness among potential customers and build customer loyalty.
3) Cost Involved
Marketing: Marketing campaigns usually involve high costs as it involves research, analysis, and various other activities.
Advertising: Advertising can be expensive, depending on the medium used. However, businesses may have to invest less if they are using traditional advertising methods such as print ads or radio spots.
4) Techniques Used
Marketing: Marketing techniques such as segmentation, targeting, and positioning are used to reach potential customers.
Advertising: Advertising involves creating eye-catching messages or visuals that will capture the attention of potential customers. It also uses various platforms such as social media, television commercials, print media, etc.
5) Metrics to Track Progress
Marketing: The success of a marketing campaign is measured by analyzing metrics such as customer acquisition, customer engagement, customer satisfaction, net promoter score, customer lifetime value, market share, sales revenues, conversion rates, etc
Advertising: Advertising campaigns are usually tracked using metrics like impressions, reach, Return on Ad Spend (ROAS), click-through rate (CTR), etc.
Comparison Chart Marketing vs Advertising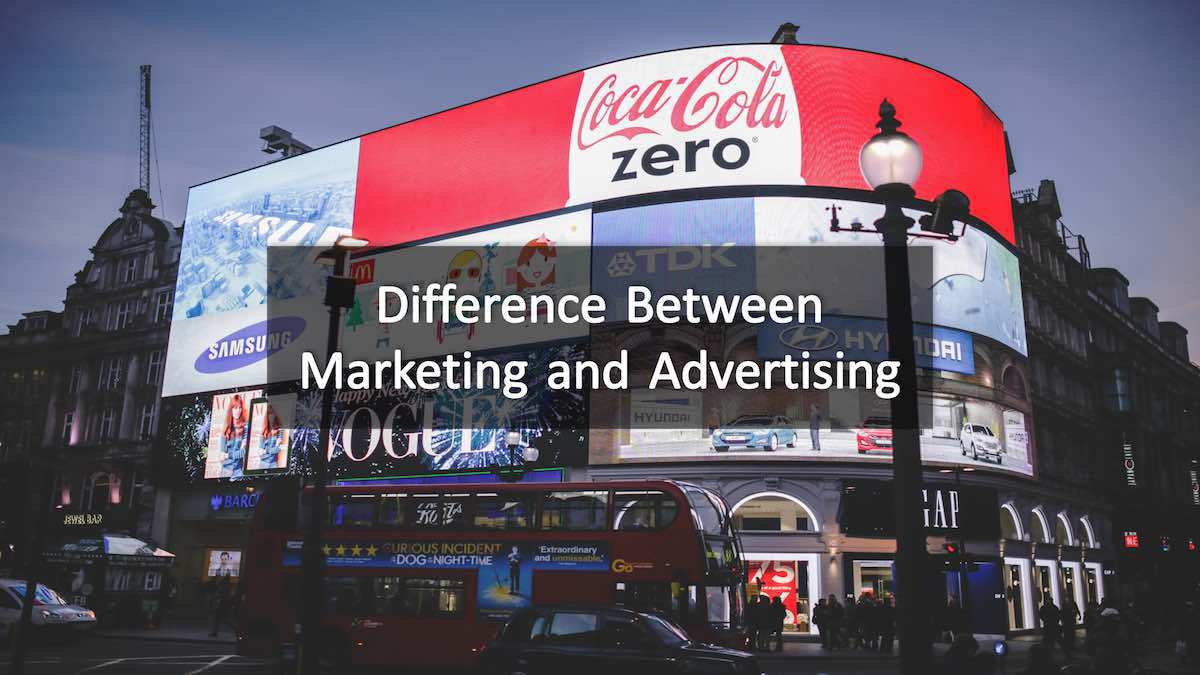 To explain the difference between marketing efforts and advertising efforts, we have created a "distinguish between" table as shown below which you can refer to note the key differences between marketing and advertising.
| Advertising | Marketing |
| --- | --- |
| Advertising is a Subset of Marketing and is majorly involved in communications from company to customers. | Marketing has many different subsets such as sales, PR, market research, communications, branding, strategy and others. |
| Advertising uses pull strategy and attracts the customer towards the brand. | Marketing uses both Pull strategy as well as push strategy and attracts the customer towards the brand as well as pushes the product towards the customer. |
| Advertising is used for various objectives such as brand recall, product introduction, communications and others. | Marketing is used for increasing the sale of the brand, advertising the brand, researching new products and new markets, building brand equity and all other tasks under marketing management. |
| Advertising occupies a major budget of marketing. | Marketing is always on the look out for all different strategies which can help the brand grow but gives the major budget to advertising. |
| Advertising is a very creative process and requires excellent understanding of customer mindset. | Marketing is also creative but it is more process oriented and tries to establish a holistic process across all departments for the happiness of the customer. |
| An Advertising manager is focused on advertising only and not all other processes in marketing. | A marketing manager knows the principles of Advertising but at the same time, he concentrates on all other fields such as MR, Branding and others. |
| Advertising department generally deals with Creative agencies, Advertising agencies, Media agencies and others. | Because Advertising is a part of Marketing, Marketing department also deals with the same agencies as advertising but other then that deals with Market research agencies, PR agencies, Graphics design agencies, Exhibition and trade agencies etc. |
| Advertising interaction by default are quantitative. You have to buy properties to advertise or gather attention. You have to pay to have outdoor hoardings or kiosks or mall games. | Marketing interactions are more process and quality driven. How a customer executive interacts with a customer, or how sales team deals with a potential client, are qualitative procedures and not target driven. |
| Advertising is focused on communicating values to the customer. That is the single line of focus that Advertising has. | Marketing is holistic in nature. It wants to improve the organization as a whole and is responsible for customers experience across various touch points including sales, service and others. |
Conclusion!
Advertising and marketing are two different yet interrelated disciplines, both of which have a role to play in helping businesses succeed. They work together to create brand awareness among potential customers and build customer loyalty to optimize reach, conversions, and sales.
Advertising involves creating eye-catching messages or visuals that will capture the attention of potential customers while marketing involves segmentation, targeting, and positioning to reach them. Both involve costs and both require trackable measurable results.
Ultimately the combination of marketing and advertising is essential to boost a brand's presence, increase sales, and achieve business goals. Make sure that you have an effective marketing strategy in place along with an effective advertising campaign to get the most out of your efforts!
Liked this post? Check out the complete series on Marketing