One of the first principles of Marketing management is segmentation targeting and positioning also known as STP. However, all the three concepts are so parallel to each other that marketers may not understand importance of keeping them separate and the role that each of them play in a marketing strategy.
Lets first look at the process of STP. This in turn will help you understand the role of all three. The first step which takes place in STP is the segmentation part. This is mainly because, before segmentation, the customer base is known as a population. The population is comprised of a group of people, which have no differentiation between them. However, you cannot market to just a group of people because you might be wasting resources. You do not know which strategy to use or how to market.
This is where segmentation comes in. Segmentation helps you define your population in smaller group or segments. And that is its basic role. Take the example of someone who wants to market Shoes. For him the complete population is a market. However, he will further divide them into segments by categorizing them as Young, Middle aged, Old etc. Thus now he has his segments in hand.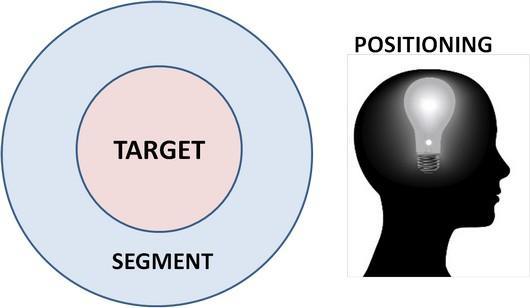 Once you know your segments, you start targeting those segments. Thus targeting can be said to be a sub concept of Segmentation. Targeting plays a critical role in your marketing mix. If you are targeting the youngsters segment, then your products need to be more creative, more colorful and cheaper. But if you are targeting the middle aged working classes, your product needs to be elegant, it is ok to be high priced as they have buying power, and your promotions need to be different. Thus targeting will affect the Marketing mix.
Once you have your segment, and you know whom you need to target, you begin with the subtle art of positioning. Continuing with the above example –  You have the youngsters segment, you are targeting them for colorful and hip shoes, but at the same time you have a competition in the same segment. So how do you take on that competition? It is by positioning yourself differently from the competition. You can position yourself as a quality brand with mid pricing, a cheap use & throw brand with higher quantities and movement, or a high quality brand with high pricing for the Sec A class. Where targeting mainly affects the Product and Pricing phase of the Marketing mix, Positioning mainly affects the promotions and placement stage of marketing mix.
While targeting, you need to tailor the products and pricing as per your target segment. But while positioning, you need to ensure that the right message is given to your target segment and that the products are present at the right place. A Sec-A positioned brand cannot be present in every retail showroom and similarly a Sec C positioned brand will not find itself in the top class locations.
The above flow itself summarizes the concept and differences of Segmentation targeting and positioning. In Summary, first comes segmentation, then targeting and then positioning. And once the product has been established, a change in one brings a change in the other and vice versa. A change in targeting will bring a change in positioning. And a change in segmentation will bring a change in targeting.
Liked this post? Check out the complete series on Segmentation