The need for market segmentation arises from the fact that you cannot walk blind in this world. If this world was a place where people were requesting things from you even if you were blind, then that is fine. But here, your competitor is ready to trip you. And you will fall hard. So it is better to walk with your eyes open. In fact, if you have two eyes behind you that is even better.
When your eyes are open, look around. Will you want to meet everyone, regardless of whether they are interested in you? No!! You will like to meet people who are interested in you, who love you and are loyal to you.
This is what brands are trying. With market segmentation, they try to meet with people who would like them, who would love them and be loyal to them. These people are "their kind of people". And that's what makes the difference.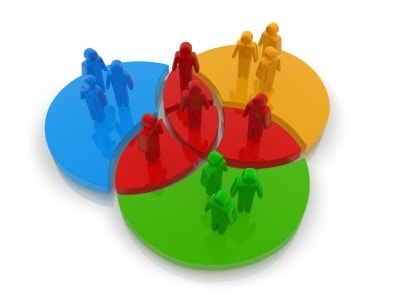 In the initial few decades of production (the industrial age to be precise), there was no sign of marketing. In fact, there was no sign of selling either. We did not have 10 companies manufacturing the same thing. Hell, there was not even 1 company manufacturing the product which we actually needed!!
Think about it. There was one single cold drink brand. There were 1 or 2 shoe types. There was no internet, nothing to compare products on, no choices at all. Today, it is hard to imagine such an atmosphere.
So now, when we have 10 people selling the same cold drink or 50 different shoe brand, how will they sell to the customer if they do not differentiate? And to differentiate, they need the right market segment to target. And herein lies the need for market segmentation.
Even mass marketing companies are nowadays recognizing segmentation. Companies like Vodafone are trying to connect to the young audience because maximum data consumption is happening by younger people. Hospitals which belong to the masses, are having premium rooms for the classes. So even mass marketing is slightly differentiated in today's world.  Products which once were distributed without any differentiating features and attributes, are nowadays hyper targeted to individuals.
Apple concentrates on the geeks and the brand hungry customers. It could not have done so if it did not have a targeted market segment.
Coca cola has many different type of product lines and these product lines exist because of the need for market segmentation in the FMCG industry. The segmentation done by Coca cola is probably one of the reasons it is the market leader currently.
McDonalds had a clear market segmentation of customers who want really fast food with the consistency of taste. And look where this segment took them.
Hence, the answer to a diversified population is a diversified business plan, due to which we need market segmentation. Market offerings and marketing communications are designed based on the market segment you want to target.
Liked this post? Check out these detailed articles on
Topic of Segmentation
Alternatively, check out the Marketing91 Academy, which provides you access to 10+ marketing courses and 100s of Case studies.