Trade shows offer the opportunity to market products or services directly to potential customers, partners, and influencers. Trade show marketing is a specialized form of marketing that focuses on activities and strategies used to promote a company or product at industry-specific events.
Tradeshow marketing is a type of marketing that is becoming popular, especially among small businesses. In trade show marketing, companies from a particular industry showcase the products and services offered by them and also provide a demonstration of their usage of them. Trade shows attract people, such as professionals who have a keen interest in the products displayed in the trade show.
Usually, people are allowed to enter the trade show with prior registration. In trade shows, companies establish a relationship with new customers and also generate leads for future business. In a trade show, competitors of the same industry come together, and each company tries its best to attract customers. To do this, they use various methods.
What is Trade Show Marketing?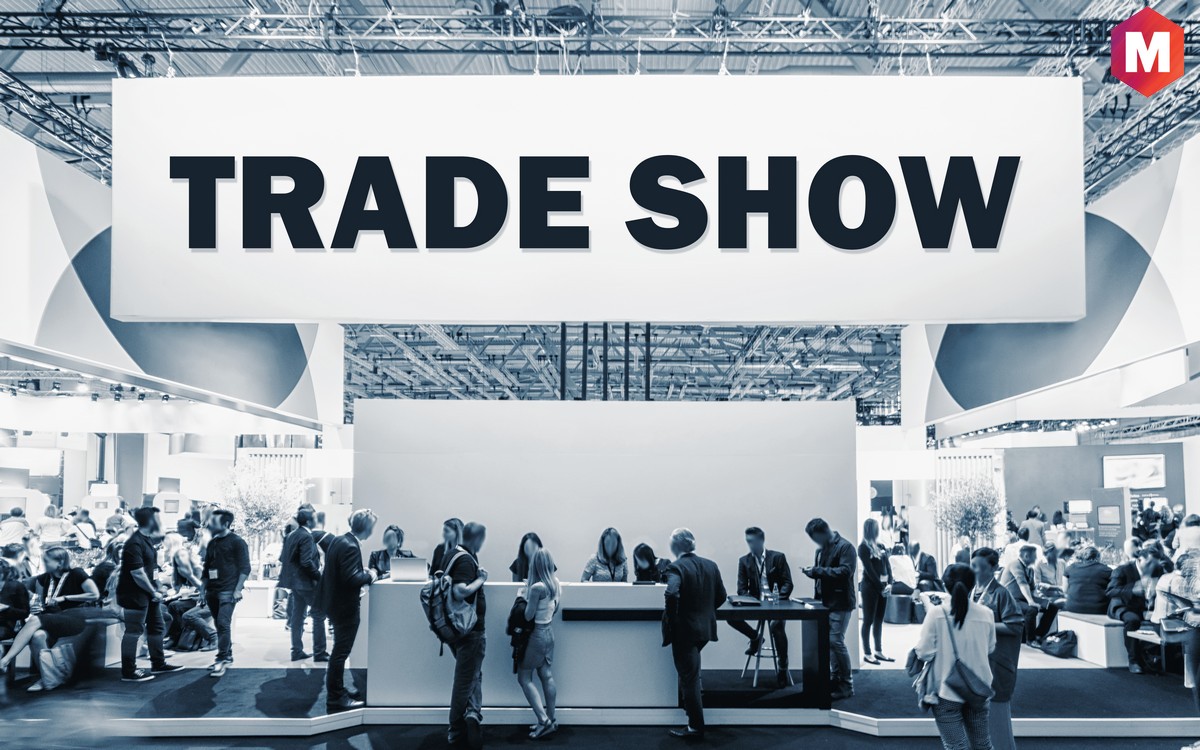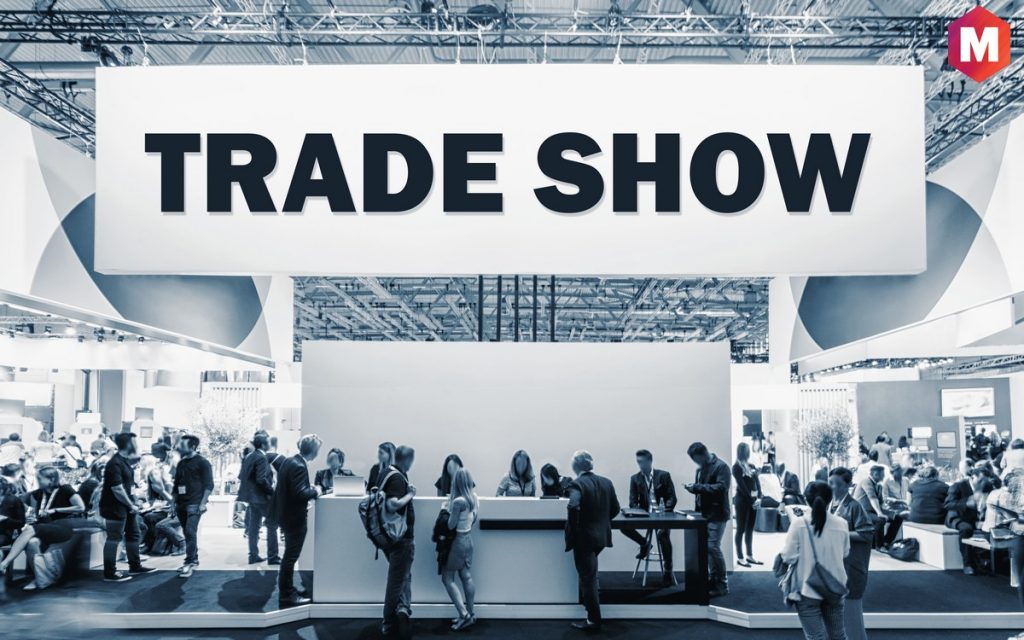 Trade show marketing is the process of using a trade show to promote products, services, or brands to generate leads and make sales. An example of trade show marketing would be setting up a booth at an industry-specific event, where representatives from your company can interact with potential customers.
Trade shows also offer the opportunity to present and demonstrate products, host seminars or workshops for attendees, and create a memorable experience that will leave customers with a positive impression. Companies invest significant resources to attend major trade shows, as they are one of the best ways to get their products and services in front of a large group of potential customers.
Trade show marketing is an effective way to increase brand awareness and build relationships with new customers. It can also be used to measure the success of existing marketing programs and provide insights into customer interests. Additionally, trade show marketing can help companies connect with industry experts, build partnerships with other businesses, and preview upcoming products or services.
Why Brands should go to Trade Shows?
Trade shows are a great way to network and get your product/service in front of potential customers. Going to trade shows allows you to showcase your offerings to an audience that may not otherwise be exposed to them.
Successful trade shows also provide a platform for you to engage in conversations with potential customers or partners, as well as build relationships with industry professionals. Some of the ways a brand can use trade show marketing are –
1. To promote your business
Trade shows provide a platform for you to connect with potential customers, build relationships and increase sales. Trade shows also allow you to showcase your products or services in person, providing customers with the opportunity to touch and feel what you have to offer.
2. To pull in attention and create interest
Trade show booths are a great way to draw attention and create interest in your product or service. Trade show booths can be customized to showcase your products, services, or brand message so that customers will remember you.
3. To optimize engagement
Trade shows present an ideal opportunity for you to engage with new and existing customers. Trade shows allow you to talk directly with customers, answer their questions and develop relationships that could lead to sales.
4. To launch a new marketing campaign
Trade shows are the perfect platform for launching new products or services and can be used to spread awareness about your brand. Trade show booths can be used to create excitement about the launch of a new product, and sales representatives can be used to promote your brand on the trade show floor.
5. To network with the industry professionals
Trade shows provide you with an opportunity to network with industry professionals who have similar interests. Trade shows allow you to meet like-minded people and build relationships that can lead to future collaborations or partnerships.
Best Practices of Trade Show Marketing
Some of the practices that should be a part of your trade show marketing strategy are –
1. Pay good attention to marketing material
At a trade show, it is common to see thousands of pamphlets and information folders lying on the floor. Why do they end up like up?
Why do people throw them away rather than taking with them? There are several answers to these questions such as pamphlets were too heavy to carry, or pamphlets did not contain information in language that people found difficult to read, or your visitors were not impressed by the information provided by you in the booth, etc. there can be any reason behind people discarding the pamphlets handed out by you.
Therefore, it is important for trade show marketers to pay good attention while preparing information material. You can design them in various ways. Click here to learn about different types of marketing material.
Keep the language simple and easy to read. Don't cluster information on the folder and make sure that neither the size of the folder is too large nor too small. It should contain your contact information clearly and encourage a call to action.
And lastly, don't rush to hand over material to everyone and indulge in conversation with the potential customers. Give them a demonstration and explain the product thoroughly and then hand over marketing material to them as a source of additional information.
2. Make your booth stand out among other booths
Make use of your creative skills and design your booth in such a way that it attracts the attention of people as soon as they enter the trade show.
That doesn't mean you are required to use shiny decorations. Creatively display your products and decorate your booth with your banners displaying offers and products of your company.
Make sure the executives at the sales booth are dressed sharply and are active and energized. A positive ambiance of your booth will give positive vibes to the visitors of your booth, and you will get maximum positive outcomes from the people that you meet.
3. Send your trained staff to trade show
At trade shows, you make the first impression on the customers who will come by your booth. Therefore, it is important to send salespeople who are dressed properly and have deep knowledge about the product and services that you are offering at the trade show.
Your investment will be wasted if you don't have the right people to represent your company at the booth. Along with deep knowledge about the company and its product, they should have excellent communication skills.
Remember that they are the face of your company, and people would want to associate with you based on their interaction with your executive.
You can also arrange a small training session for one or two days for the executives that you are going to send to the trade show. In the training session, you can teach them about the products and their uses in detail and also teach them the dos and don'ts of a trade show.
4. Establishing an engaging business theater
Marketing trade shows are a great opportunity to show off the company.
Trade show booth designs should be designed to draw attention, while sales representatives should aim to make a memorable impression.
Trade show floor plans should be designed to maximize the visibility of key marketing materials, and should also consider where activities such as product demonstrations can take place.
5. Integrating Trade Show Marketing into a larger marketing strategy
Trade shows provide an opportunity to engage with potential customers in ways that other channels might not permit.
Trade show attendance should be carefully planned and integrated into an overarching marketing campaign.
Trade show marketing should also consider how it compliments other channels such as digital media, direct mail campaigns, and content marketing initiatives.
6. Upload the latest updates on social media
Social media is a great platform to engage your audience with your business. Ask your social media marketing employee to update all the activities taking place in the trade show on your social media platform.
In addition to this, you can start posting about your trade show participation on your social media handle, so that your followers will know what they should expect from your trade show.
Give them reasons to visit your trade show such as giveaways, special offers, discounts, etc. In this way, you will get visitors, and there will be fewer chances that you will be standing alone and staring at visitors from other booths.
In addition to this, you will get an estimation of how many people you should expect, and accordingly, you can prepare your marketing material.
7. Display a video or photos of the demonstration of your products and services
Many people don't walk to a trade show for fear that they will be forced to buy things.
By making information visible using videos or photos, you give them a chance to such people to know about what you have to offer, and if they find it useful, they can come to ask for your assistance.
This will also help in reducing the efforts of your representatives. As they don't have to answer small questions again and again, and they can use that time and energy in generating leads.
8. Offer refreshments
This one is a hit tip. There are hardly any people who don't like food and especially free food. Free food will bring people to your booth. A maximum number of visitors ensures the maximum number of leads.
Make sure that the food that you are offering does not create a mess and use packaging of the food which promotes the business of your company.
You can also print companies' contact information on the packaging of the food. This method is highly used by companies in Japan to promote their products.
9. Giveaways
Along with food, people also like discounts and offers. It is a common tendency of people to buy things that they don't even need immediately if they are getting them at discount prices.
In a trade show, you can offer gift certificates and special offers and discounts on the products. This will help you to generate sales immediately.
10. Plan and prepare beforehand
The last and most important step that I would want to give you is to plan and prepare well before you set up your stall at the trade show. You must have a clear target and must decide in advance what products and services you are going to show at the trade show.
The planning and preparation period can be two weeks to 1 month long. Call staff meetings and the valuable advice of your staff and plan your trade show to get maximum return on investment.
11. Measuring Trade Show ROI
Trade shows are a significant undertaking in terms of both time and resources, so it's important to measure the return on investment (ROI) to determine the success of a trade show event.
Trade show ROI should be tracked through methods such as tracking booth visitor engagement, measuring lead generation from attendees, and surveying vendors for their feedback on exhibited products or services.
Steps to Create a Trade Show Marketing Plan
1. Identify Trade shows and Set Goals
You first need to identify a trade show you want to promote your brand, product, or service. Before you start planning your trade show marketing campaign, it's important to set goals. What do you want to achieve with your trade show marketing efforts? Are you looking to increase sales, build relationships, or launch a new product? Be sure to set realistic and attainable goals.
2. Develop a Budget
Creating an effective trade show marketing plan requires time and money. Setting a budget for your campaign will help to ensure that all of the necessary materials are within reach and that the costs don't exceed your budget.
3. Create a Timeline
Creating a timeline for your trade show marketing plan is essential and will help you to stay organized and on track leading up to the event. Make sure that your timeline allows enough time to design materials, book travel accommodations, and market your brand ahead of time.
4. Design Materials
Your trade show booth should be designed to capture the attention of trade show attendees. Make sure that your materials are eye-catching and on brand, as these are what will draw potential customers to your booth.
5. Promote Your Presence
Trade shows can be crowded events, so having a plan for how you'll promote your presence is essential. Utilizing email marketing, social media marketing, and other digital tools can be a great way to spread the word about your brand's participation in the show.
6. Follow Up With Leads
Following up with leads after the trade show is just as important as engaging them during the event. Use email marketing or direct mailers to follow up with those who visited your booth, thank them for their interest, and invite them to take the next step with your business.
Examples of Popular Global Trade Shows
1) eTail Boston
eTail conference has been connecting eCommerce and Omnichannel innovators from all over America for more than two decades. The event is fully online, featuring more than 500 retailers sharing their marketing strategies, connections, and stories.
2) Adobe Summit
The Adobe Summit is a significant annual event for marketers. Adobe conducts an online summit each year. In case you missed it, don't worry, as all of the past summits are available on their website. Its summit had been having speakers from renowned companies like Peloton, Adobe, Pfizer, and FedEx. Adobe invited tennis champion Serena Williams to share her thoughts on popular issues. Adobe is a major SaaS company and enjoys discussing its expansion methods. If you have an Adobe account, you can attend the event for free.
3) E-Marketing Paris
As one of the most popular marketing trade shows, E-Marketing Paris is a major exhibition in France focused on e-commerce and digital marketing, attracting over 20,000 attendees from across Europe. The event is diverse and features exhibitors and visitors from various industries and regions. In 2022, some of the exhibitors at the event were Adobe, Trustpilot, and Ahrefs. Additionally, the event is held in the charming Paris Porte de Versailles area.
Brief List of Successful Trade Show Marketing Ideas
Train your booth staff by making them well aware of the company's products and services
Engage your customers by running competitions, giveaways, and promotions
Planning is essential, deciding what products to show, marketing strategies to adopt, etc.
Print companies' contact information on various food packages in order to promote your company
Offer gift certificates and special offers
Make sure you measure Trade Show ROI and track lead generation from attendees
Liked this post? Check out the complete series on Marketing