Definition: Macro environment is a term used to refer to the external factors and forces, both economic and social, that businesses must take into account when creating their strategies. Examples of macro environment factors include economic, social, political, technological, legal and environmental influences.
Companies that are aware of the macro-environmental factors, can have a major edge in their industry. By paying attention to external forces, such as economic and political conditions across different countries, businesses can better forecast and respond to changes around them. Keeping an eye on the broader economy offers firms increased insight into predicting trends, which will ultimately increase their chances for success. As macro-environmental factors are out of the control of a business, they must understand and anticipate them to effectively respond. By having resources ready to be flexibly adapted according to these changes, businesses can seize any relevant opportunities arising from them.
What is Macro Environment?
A Macro Environment is the external environment referring to a broader economy that affects businesses and industries, and which cannot be controlled by them. Macro factors include demographic factors, political factors, legal factors, technological factors, etc.
Considering these macro-environment factors when making decisions can be beneficial to your business performance; therefore it should not be overlooked. Economic determinants – like inflation levels, unemployment figures, and interest rates – have a critical influence on how businesses fare in the market.
Politics have the potential to significantly shape businesses through government policies, regulations, international trade agreements, and other political matters. Legal regulation is a prominent factor as well; labor law, corporate law, and tax laws are all important considerations that can influence business activities. Technology also plays an integral role in companies' ability to compete in today's market- with advancements continually driving competition forward at a rapid pace.
Key Takeaways!
The macro environment includes various external factors of the broader economy such as demographic, physical, political, economic, natural, technological, legal, and sociocultural conditions, etc.
Businesses can benefit from understanding and anticipating these macro environment factors, as they have the potential to significantly shape business performance.
Having resources ready to react to changes arising from the macro environment can be beneficial for companies in the long term.
Factors of the Macro Environment
Some of the key macro-environment factors you should pay heed to are-
1) Gross Domestic Product
To evaluate the performance of an economy, one needs to consider Gross Domestic Product (GDP), a metric that measures a nation's entire production and output of goods as well as services. It is considered one of the most crucial macroenvironment factors associated with the economic environment.
2) Inflation
Inflation can be a powerful force, causing prices to soar and the purchasing power of one dollar to decline. Economists, investors, and consumers all keep an eye on inflation as one of the critical macro environment factors and that is why, it is closely monitored by the Federal Reserve which aims for annual levels at no higher than 2%.
3) Employment
The next factor of the macro environment refers to employment. The United States' employment levels are determined by the Bureau of Labor Statistics, which publishes a regular report about business payrolls and unemployment rates. The Federal Reserve further seeks to control employment levels through monetary policies such as stimulus and credit regulations.
4) Consumer Spending
It is again one of the most important economic factors used to measure macroeconomic prosperity. A sluggish growth or even a decrease in consumer expenditure implies that aggregate demand has decreased– which economists deem is either an indication or source of recession and economic downturns.
5) Monetary Policy
The Federal Reserve's fiscal strategies are vital in crafting the macro environment of America. Their maneuvers normally revolve around interest levels and access to credit. One of their chief weapons for monetary policy is adjusting federal interest rates, which have great sway on economic activity.
6) Fiscal Policy
Taxes have a direct influence on individual and business motivation to save, invest, and work. The magnitude of the government's yearly budget deficits as well as total accumulated debt can greatly affect market predictions about potential tax rates, inflationary trends, and future macroeconomic stability. The fiscal policy encompasses taxation measures, borrowing activity from lenders or investors, and public spending decisions made by the government.
7) Law/Regulation
Last, but most certainly not least, is the factor of law and regulation. If you're doing business in a new country or region, it's critical to be aware of and abide by the local laws e.g. health and safety laws. Regional regulations vary greatly from one nation to another; hence don't be startled if certain actions that are considered legal in your home country might put you at risk for fines or other serious penalties abroad!
What Are the Differences Between a Micro and Macro Environment?
Roughly, two kinds of atmosphere exert some forces on the business activities and the long-term market existence of an organization.
Demography, Economy, Physical, Socio-Cultural, Politico-Legal, and Technological forces constitute the external or macro environment. In contrast, Consumers, Competitors, Suppliers, Dealers, Distributors, Investors, and the common Public comprise the internal or microenvironment.
Unlike the microenvironment, which affects only certain businesses or industries, the macro environment refers to larger external economic factors. These are forces that have an impact on the overall economy as a whole.
Both micro and macro environment components have a significant share in realizing the vision, strategies, and objectives of an organization. On the business front, all these forces play a major role in shaping marketing policies, programs, and campaigns.
The macro environment is the broader context within which a company conducts its commercial operations. It is the fundamental guiding factor throwing light on the overall market conditions like nature and kind of people, society, culture, lifestyle, the role of government, and economic conditions along with the presence and use of technology. A close analysis of these aspects informs the organizational heads of the environment in which they are about to operate and most importantly if this is what they are looking for.
Why Conduct Macro Environmental Analysis?
It is essential to comprehend and plan for the future business environment from a macro level. Macro environmental analysis is particularly essential for small and medium-sized enterprises (SMEs) as it offers them a wide vision of the landscape that their business operates in while providing granular insights through market analyses.
Let's say your organization manufactures smartphones. As the market analysis of this field indicates, macro-environmental evaluation provides knowledge into wide-ranging industry changes such as shifting circulation networks, rising consumer demand for 5G phones, emerging technologies like AI, and intensifying rivalry from Chinese brands. With a clear understanding of these vast trends and forces in play, you can make informed decisions to ensure success.
By using macro-environmental analysis, you can gain a better understanding of the market and its associated industry. This information gives you an advantage when creating strategies to ensure future success and sustainability. Additionally, it provides insights into potential changes in the macro-level environment so that wise decisions can be made quickly and efficiently.
Here is a video by Marketing91 on Macro Environment.
Six Forces – The DESKTEP model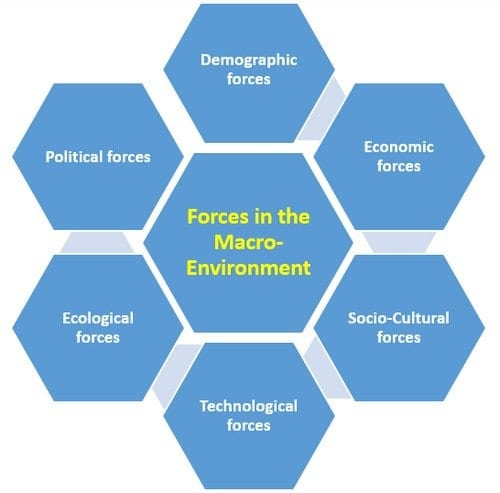 1) Demography
It has a broad implication referring to the physical attributes of the population of the targeted region (size, age, gender, occupation, density), population growth rate, migration trends (inter-migration or intra-migration), changes in demographic structure, nature and characteristics of communities, among others. A comprehensive understanding of all such features gives a clear picture of the overall demographic composition of the region so that marketers can pinpoint the viable audience group within that region, as their prime targets.
2) Economy
Economic analysis includes the overall economic scenario of the particular region. Is it a mixed economy where both government and private players enjoy a 50-50 share in every sector? Or is it a capitalistic economy where the government has no control over the market except for formulating laws and securing law and order in the state? In the case of the latter, marketers will have a wider edge and be free of direct governmental interference in their business operations. Besides these, some other statistics like current GDP, GNP, PCI, the standard of living, purchase pattern, and frequency of the target group will also enable the management to taking important decisions, especially those relating to product prices.
3) Socio-Culture
The social and cultural factors give an idea about the predominant culture and psychographics of the target audience. Organizations need to know if the area has a mixed population of various communities, or if it has a major share of the local population. It may so happen that a significant area of the targeted region is inhabited by tribal groups having their distinct culture and lifestyle. In such a case, the company heads must take the right approach to communicate to such an audience without hurting the sentiments of the unique clusters.
4) Technology
Before investing in marketing activities, an organization must conduct thorough research on the spread and use of technology in the targeted areas. They need to understand the technology penetration and user-technology interface of the region and accordingly make plans to use technology for their campaigns and communication. For example, if they find that almost every product used by the consumers is technology oriented, they can easily make technology a strong tool for their product.
5) Ecology
Another vital aspect of the macro environment is its physical setting. This includes the geographical location, the presence of ecology and biodiversity, natural resources, temperature, weather and climate, and predominant seasons. By having a concrete understanding of all these features, marketers will know where to sell what kind of products. For example, products like heaters and electric blankets will never be of any use to equatorial and tropical regions; although these are the highly populated zones in the world. Again, air conditioners or coolers will never appeal to Western countries, living in the temperate zone.
6) Political Forces
Perhaps the most important of all external agents, the political environment of a country is not just restricted to the government and its policies and laws. It further extends to the active presence and role of pressure groups like lawyers, environmental activists, and above all the common people, who possess the utmost power to make as well as throw the current government.
What Is an Example of a Macro Environment?
Apple faced macro environment challenges in 2021, as the pandemic changed the way people buy and use products. A few other macro environment challenges the company faced include increased competition, rapidly changing technology, and changes in global economic conditions.
Apple responded to these macro environment challenges by introducing new products, expanding its services, and investing heavily in research and development. The company also diversified its product portfolio, so that it could tap into new markets. In the end, Apple managed to turn these macro environment challenges into opportunities for growth.
Advantages and Challenges Macro Environment Analysis
The benefits of using macro environment analysis include-
Increased understanding of the overall marketplace. By studying macro trends it is possible to identify and assess opportunities and threats that exist in the wider environment.
Improved decision-making. Having a better understanding of the macro environment can enable organizations to make more informed decisions about their business operations and strategic planning.
Reduced risk. Organizations can use macro environment analysis to identify potential risks and take preventive steps to reduce any negative impact on their business.
Challenges of macro environment analysis include-
Complexity. It can be difficult to identify and analyze the various components of the macro environment due to its complexity.
Time-consuming. Macro environment analysis can be a lengthy process and requires a significant amount of resources to complete.
Lack of relevant data. Access to quality data and reliable information can be hard to come by when conducting macro environment analysis. This can limit the usefulness of the analysis.
Conclusion!
To remain competitive in the market and capitalize on prospective opportunities, businesses must grasp their macro environment.
This encompasses external factors such as technological environment, socio-cultural developments or social environment, economic factors, and ecological factors; which can be analyzed through strategic management and financial investigation to recognize threats that may impede success.
What are your thoughts about macroeconomic factors?
FAQs
What Is Macro Environment Analysis?
The process of macro environment analysis provides companies with the capability to understand and evaluate how large-scale, economic, technological, political, and social forces can affect their business or industry. By recognizing these macro trends proactively through this process of examination, businesses can decrease potential risks while simultaneously formulating strategies that consider them appropriately.
Who Should Conduct Macro Environment Analysis?
An effective method of macro environment analysis involves a well-rounded team of people with different backgrounds and skill sets. This group should include individuals who specialize in finance, marketing, and other industries. Collaborating with a diverse crowd enables greater comprehension of the macroenvironmental landscape along with the associated risks and opportunities it provides. Internal or external groups can perform this kind of research depending on your organization's needs.
When to Conduct Macro Environment Analysis?
To gain holistic insight into the commercial context and make informed decisions, businesses should not just undertake a market analysis but also perform macroenvironmental assessment concurrently.
If you had previously conducted market analysis but do not intend to repeat it, macroenvironmental analysis can help identify any possible oversights within the initial study.
Liked this post? Check out the complete series on Marketing