Direct response marketing is a type of marketing strategy that instantly connects with high-quality prospects and compels them to an immediate and favorable response. Direct response marketing campaigns focus on educating prospects rather than simply selling. The goal is to encourage them to take specific actions, such as joining an email list, contacting you for more details, visiting a landing page, or making an immediate purchase.
A direct response ad and marketing campaign would cost very little than a branding campaign, plus its results are immediate and measurable both. Therefore, small businesses or startups use direct response marketing to get an immediate response for their marketing strategies.
What is Direct Response Marketing?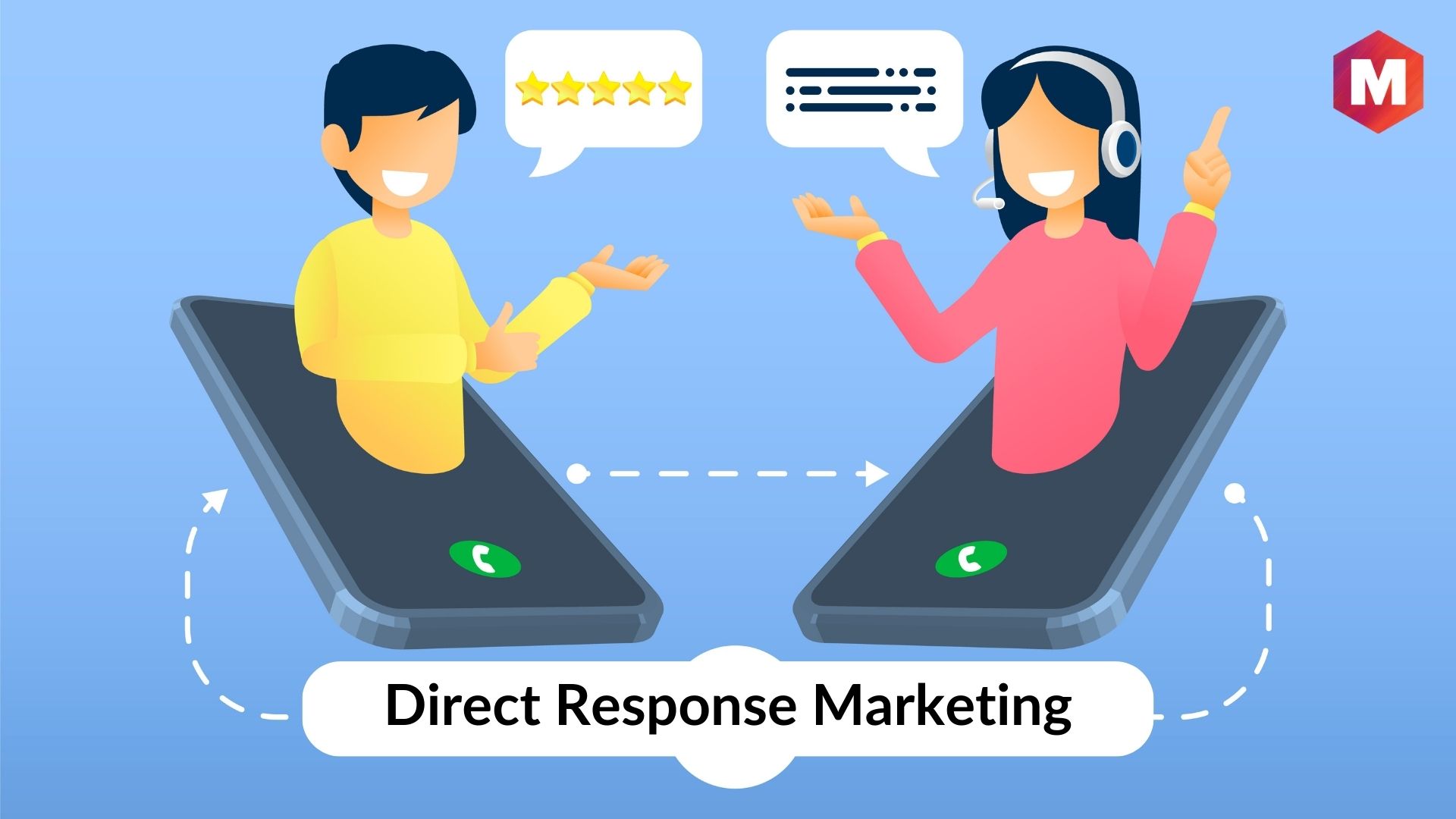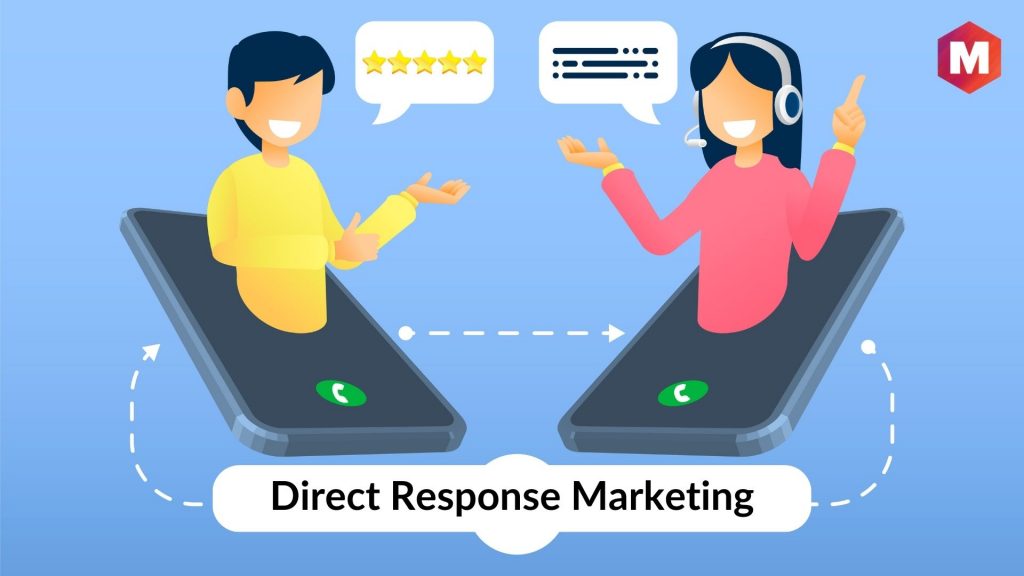 Direct response marketing is defined as a strategy that is meant to invoke a direct and quick response by asking the prospects to undertake an instant action. Advertisements displayed under this kind of marketing are supposed to achieve the goal of lead generation by stimulating the prospects to respond immediately.
A successful direct-response campaign revolves around creating irresistible offers to pull in prospects, generate leads, and optimize conversions. Direct response marketing channels are considered effective in all forms of advertising and marketing campaigns.
As per stats, around 54% of consumers say that they like direct mail from the brands and that is why open rates of direct mail can reach up to 90%. Every direct response campaign generates 5 to 9 times more response rates than other traditional forms of marketing.
In traditional marketing, all the techniques and strategies were designed to increase brand awareness and put forward a favorable brand image in the long run. However, the objective of direct response marketing is different as it aims at showing an immediate return on investment.
Why Choose Direct Response Marketing?
According to the 2019 State of Inbound Marketing report of HubSpot, the three most crucial marketing challenges are-
Generating leads and traffic- 63%
Showing a return on investment- 40%
Securing sufficient budget-28%
An effective direct-response marketing campaign successfully meets all these challenges of marketing. In addition to these, some of the reasons why you should choose Direct Response Marketing are-
Focuses on lead generation with a clear call to action to offer a direct response
Creates a sense of urgency and ensures a faster response rate
Cost-effective and trackable
Helps you take advantage of a direct line of conversation with high-priority leads
Reduces the fear of missing quality leads
Offers measurable results
Successful direct-response marketing can be done through print media, radio, TV, email, social, and digital channels. The marketing campaign's goal should be to provide an offer that the prospects can't refuse to sign up, register, share the brand details with their contacts, etc.
Components of Direct Response Marketing Campaign
Some of the key components that should be an integral part of your direct response marketing campaigns are-
1. A Customer-centric Approach
A business must advertise in such a way that it triggers a response from its target customers. It needs to shift its focus from its brand to its customers' problems and needs. Customers should get the idea that whatever is being advertised is good for them.
For instance, to get the target customers to sign into a newsletter, a brand needs to show that its content is of high quality and will generate enormous value.
2. Personalized and Targeted Ads
The brand must know its customers well. To design targeted ads, it must know what will stimulate its target audience. A brand can deliver a personalized message once it creates targeted ads for its audience.
It is easier for people to resonate with a brand that is providing them with personalized content than with one offering standardized information. This helps a brand to increase its business and generate better results.
For example, with targeted Facebook ads, you can target specific groups by personalizing the message which will ultimately generate the best results. Stats also suggest that-
80 percent of consumers say that they prefer doing business with a brand that offers personalized interactions.
3. Easy Calls to Action
Marketing ads that are not directed to sell a particular product to the prospects immediately are called direct marketing ads. Instead, they focus on triggering the prospects to take some specific action by using a clear CTA.
These ads will only result in an increased conversion rate if they are clear, accessible, and easy to understand. They should throw some clarity on what action the brand wants its customers to take.
4. Urgency
Through direct marketing, a brand should try to drive urgency. Ads that display time limits, scarcity, and competition should be designed so that the customers act promptly.
Benefits of Direct Response Marketing
Direct response marketing strategies offer different benefits to marketers and businesses by compelling target audiences to take immediate action and optimize conversion rates. Some of the other notable benefits are-
1. Generates leads and optimizes ROI
Direct response is a marketing technique that helps a brand to generate plenty of leads and a significant return on investment or ROI.
2. Filters out interested prospects
It helps a brand to filter out its prospects. All those who acted after seeing the ad become a part of the brand's prospects. This eases the work of the sales team as they can then devote their energies to the interested customers in the sales funnel and convert them for their specific action regarding their product or service.
3. Can be easily tracked
You can easily track and measure DRM campaigns as they are designed to get a specific response. A brand can efficiently maintain a record of all its leads and prospects. Having an idea about which media channels to use for advertising can come in handy for allocating resources. This will ultimately have a positive impact on the brand's ROI.
4. Builds favorable relationships
Another benefit of direct response marketing is that it helps in building strong and long-lasting relationships with the help of direct lines of communication. The success of a direct response advertising campaign can be judged when a brand's prospects want to get in touch with the brand to get some valuable information.
Channels of DRM or Direct Response Marketing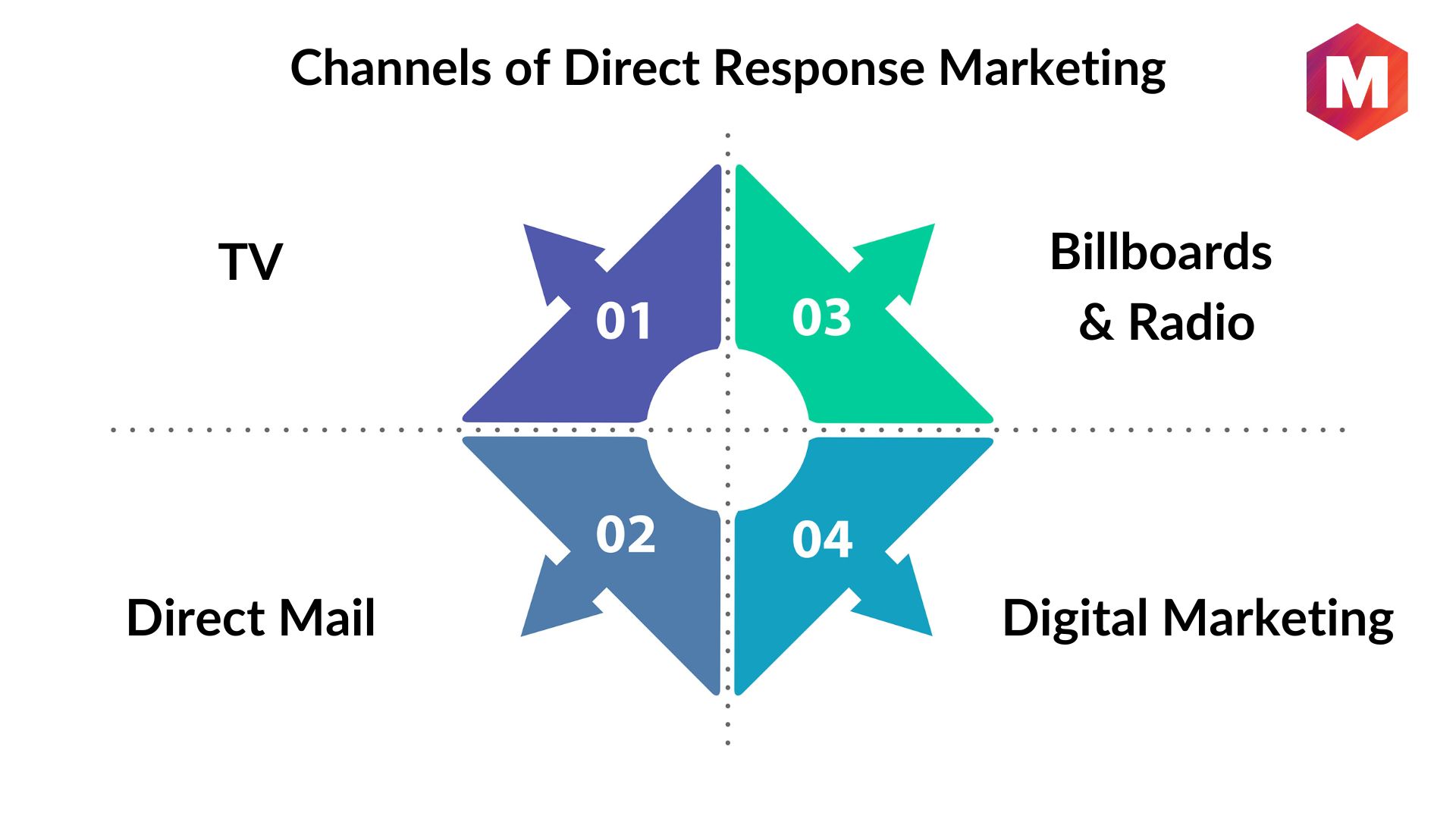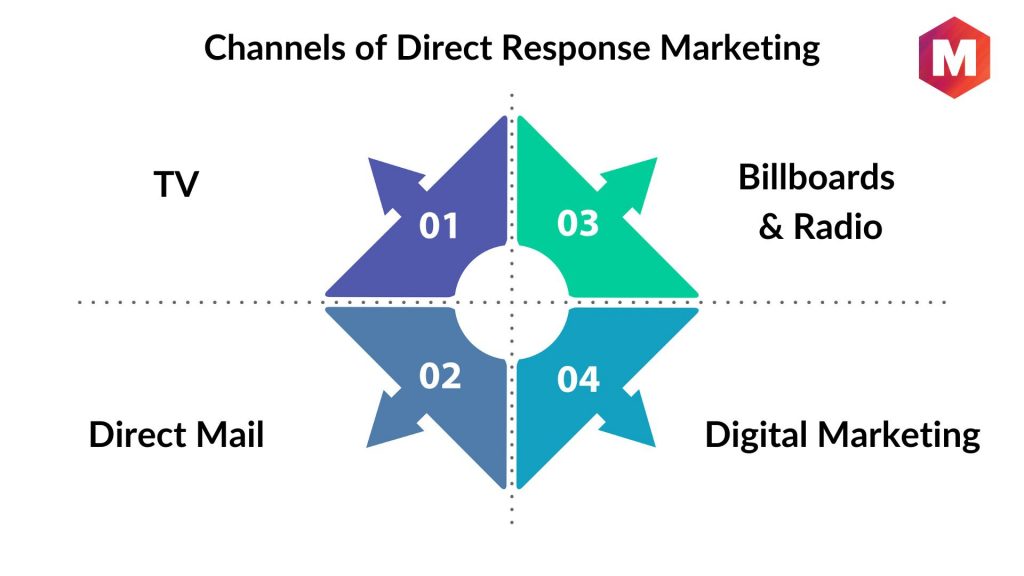 The following channels of DRM are quite effective in invoking a direct response from the target audiences-
1. TV
Television ads that promote a product effectively invoke a direct response from its target customers. A business can televise an ad at the time of a sports event which will help in driving a huge number of live views.
YouTube is one of the most effective channels for the promotion of any video. It can help a brand obtain some of the best results and responses.
2. Direct Mail
Direct email marketing is another great medium through which a brand can advertise its products or services. Nowadays, a lot of people like to go through their mailbox almost daily. Therefore, it is essential for the ads not to come across as meaningless.
To prevent this sort of thing from happening, a brand should curate a team that can create innovative and ingenious direct mail for their mailing list that would generate a customer response.
3. Billboards and Radio
A brand can target people while they are traveling. It just needs to keep track of where they are driving to get an idea of when and where to display the ads.
4. Digital Marketing
Digital marketing is an excellent method to deliver targeted ads. It can help to generate quick leads and a greater return on investment. Using Google Ads, blog posts, referral programs, social media ads, etc as per the buyer persona of target audiences comes under digital channels of direct response campaigns.
Characteristics of Direct Response Ads
Direct response ads can easily be tracked as it is not difficult to find out which channel drove the customer response. This means that the results can be taken care of using analytics.
A brand can measure how well each of its ads performed and which one generated the most significant number of sales. Ads that fail to succeed can be taken down. This will help in managing the results.
Direct marketing ads have catchy headlines that are sure to nudge the curiosity of the prospects.
These ads are aimed at attracting a specific group of audiences.
They make an offer to the prospects and usually have a call to action.
Direct Response Copywriting
The process of direct response copywriting requires the team to write down a sales copy that would encourage the customers to respond quickly.
This is an advertising strategy that calls for a specific action. It is most commonly used for landing pages, which would include quick and measurable calls to action.
It involves a mix of in-depth knowledge of the target audience and great writing skills. This way, a brand can design a copy that would appeal to the audience on a logical or emotional level.
Direct Response Marketing Examples
Direct response marketing seeks immediate and favorable responses from the target audience. Some of the examples that may help you in this are –
1) Referral Programs
Referral programs are an excellent example of direct response marketing. Here, customers are incentivized to refer the brand to their friends, family, or colleagues. For every successful referral, the customer gets a reward, making it a win-win situation. It encourages immediate action and has measurable results.
2) Contests or Giveaways
Contests or giveaways are another well-known direct-response marketing strategy. Brands usually run these on social media platforms where they ask users to participate in a contest or giveaway. The participants may be required to perform certain actions like liking the post, tagging friends, or sharing the post. This method boosts engagement rates and increases brand visibility, driving direct responses from participants.
3) Chatbots and Social Media Messaging
Chatbots are increasingly used in direct response marketing. They can be programmed to respond to customer inquiries immediately, making them effective in generating instant responses. Similarly, social media messaging allows for real-time conversation with customers, which can lead to immediate actions like bookings, purchases, or sign-ups.
4) Upselling
Upselling is a sales technique where a seller induces the customer to purchase more expensive items, upgrades, or other add-ons in an attempt to make a more profitable sale. It's a great example of direct response marketing as it aims to prompt an immediate upgrade or purchase from the customer.
5) Social Media Ads
Social media ads have become a critical part of direct response marketing. Platforms like Facebook, Instagram, or LinkedIn allow brands to create targeted ads that reach specific demographics, encouraging immediate clicks or actions. The success of these ads can be easily measured with built-in analytics tools.
Future of Direct Response Marketing in 2023 & Beyond
Some of the future trends of direct marketing campaigns are-
Integrating AI and machine learning to enhance business operations.
The power of influencer marketing to drive brand success.
An omnichannel approach to optimize customer engagement.
Utilizing voice search technology to increase visibility.
The use of personalized messages to increase conversions.
Investment in interactive campaigns and interactive content pieces such as videos, games, and quizzes for better engagement.
Data-driven marketing strategies and ad campaigns that are more customer-oriented.
Conclusion!
Now, on the concluding note, it is clear that with your DRM campaign, you should just state a clear offer by incorporating valuable information and giving means for a direct response by using a clear CTA.
Direct response marketing campaigns offer a wide range of targeting and retargeting options to let you deliver your message to your specific audience in an effective and result driven manner.
How impactful do you consider DRM campaigns in ensuring favorable results? Share your opinion with us in the comment section below.
Liked this post? Check out the complete series on Marketing