Test Marketing is a marketing method used by companies to test the viability of their products and services with a limited release in a test market before introducing them to the wider market. An example of test marketing could be launching a product in one city or region before making it available to the rest of the country.
A test marketing campaign involves releasing limited quantities of a product or service at specific locations in a controlled environment to gauge consumer response. To check the viability of any product or campaign before its actual launch in the target market or mass market, Test Marketing is used.
What is Test Marketing?
Test marketing is a method of testing a marketing campaign for a product or service in a controlled setting prior to launching it on a large scale. It is about releasing it in front of a specific audience. The test marketing phase is used to check the essence of the new product or a campaign before releasing it in the market on a large scale.
This is often used by companies who prefer to get feedback on their product to probable their market success. The product's performance, the level of acceptance among the customers, customer satisfaction, and its efficiency are the parameters to decide the feedback.
As a marketing effectiveness test, it helps companies to analyze the risk factor that might affect their product or service before launching it in a wider market. Companies use a controlled market test to understand the effectiveness of their marketing efforts and measure the market potential for a particular product or service.
Why Is Test Marketing Important?
Test marketing is an important step in the product development process. By testing your product or campaign before introducing it to the market, you can get a better understanding of how consumers will respond. This helps reduce the risk of failure associated with launching a new product or service.
Using test marketing also allows companies to gather valuable customer feedback that can be used to improve and refine their product before launch. Additionally, it allows companies to make changes and refine their marketing strategy before making a major investment in launching a new product or service.
All in all, test marketing helps companies understand how their product or service is going to perform in the market so they can plan accordingly for its launch into wider markets. It allows companies to assess the potential for success and identify areas of improvement before committing to a major launch.
By launching their product or service in a controlled environment, companies can minimize the risk of costly test marketing campaign fails. By testing their products in advance, companies can gain an edge over competitors by ensuring they are offering the best possible product or service in the market.
Advantages of Test Marketing
Helps you know customer response: Test marketing provides you with a way to grasp the knowledge of customer reviews. It will help you to rethink if you should add something more or if your product is exceptional.
Decreases Risk: Companies need to know how their product or service will be accepted in the market. Test marketing helps companies to predict the possible success or failure of a particular product before launching it on a large scale.
Monitors Competition: The comprehensive analysis of performance and customer response during test marketing also provides an insight into the competitive market scenario which allows the marketers to make the necessary changes in their product as per the customer demand.
Optimized Product Development: Test marketing provides an opportunity for marketers to optimize the product before launching it in the market. The feedback from customers can be used to make certain changes in the product to make it more attractive and appealing to customers.
Cost Effective: Test marketing is relatively cost-effective as compared to launching a product in the market on a large scale. It helps companies to save money by testing their product or service in a small area and making changes accordingly.
Creates a promotional buzz: Test marketing can help you create a promotional "buzz" which supports the main release. It reduces the risk of a full-scale launch. Even if the product fails a test, then particular costs may be saved.
Disadvantages of Test Marketing
Time-Consuming: It is time-consuming. It might be costly, as well. It also requires considerable resources and budget for its implementation.
Limited Reach: Test marketing can only give a glimpse of the overall response from the market and the performance of the product. It only covers a limited area, which does not represent the whole market condition or customer response.
More Competition: It also has a danger of competition. The competitor can learn about your product and come up with the same even before your full launch.
Future Performance: Test marketing does not guarantee the future performance of the product. Moreover, there is no assurance that it will perform better even after the full launch.
Bad Reputation or Perception: Test marketing can create a bad reputation or the wrong perception of your product. This could affect its success in the long run.
Types of Test Marketing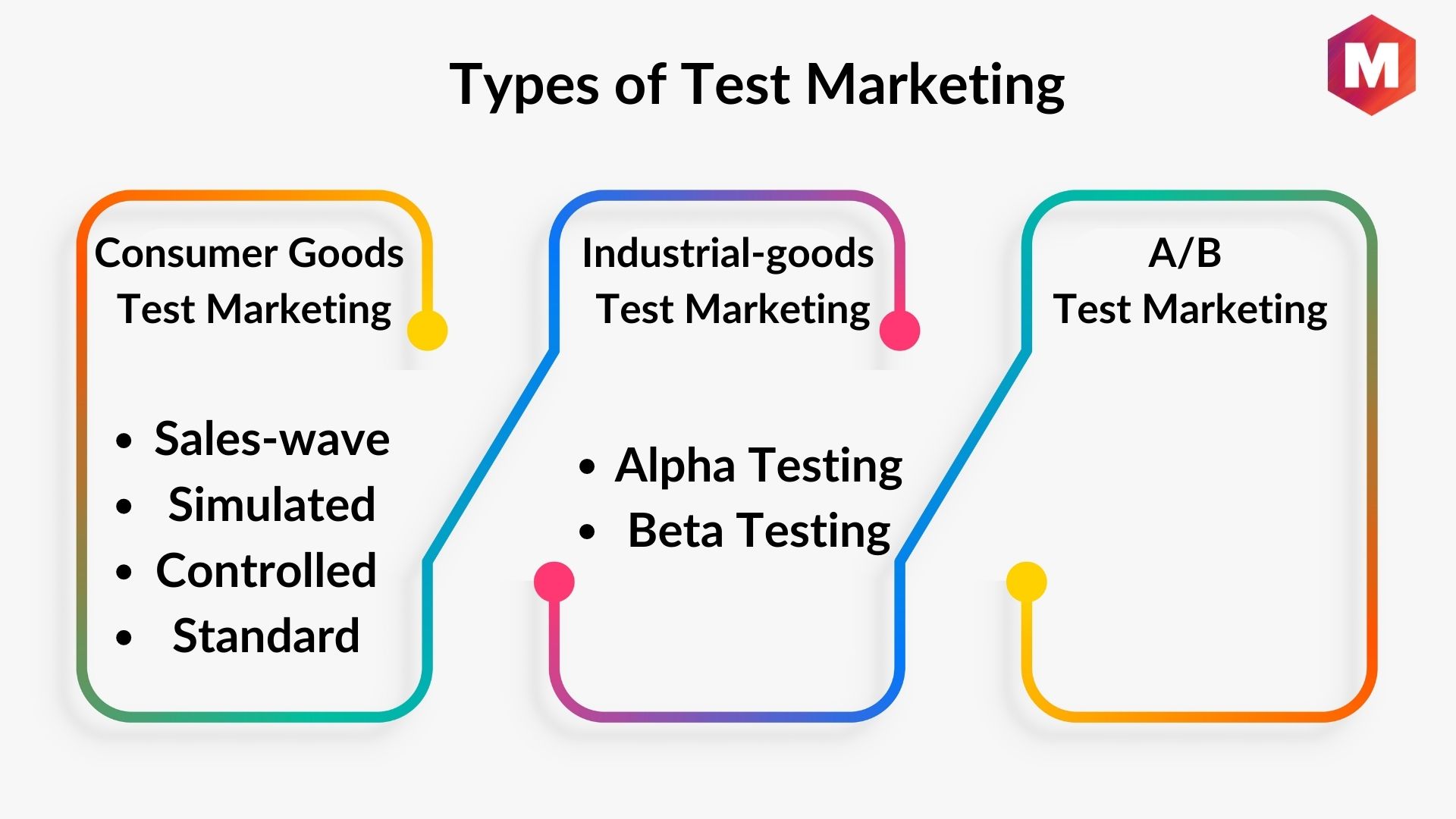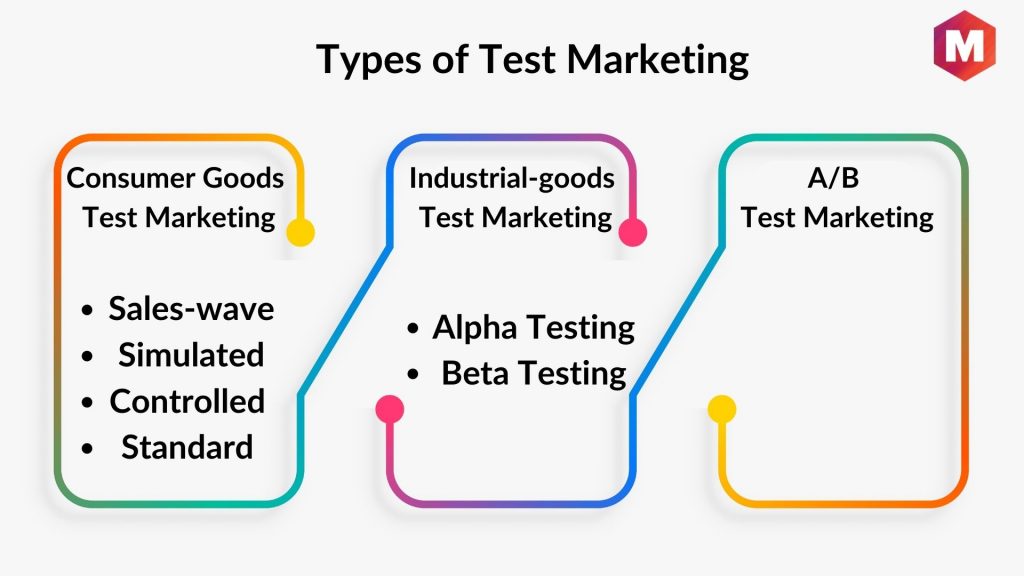 Different types of test marketing for any product or marketing campaign can
1) Consumer Goods Test Marketing
This is a trial to test the consumer response in which the consumer will try the product, even once. Then, when will they repurchase it? Will they also consider buying it or not? How often will they consider buying it?
These tests are conducted in this type of test marketing:
1.1 Sales-wave Market Test
Under Sales Wave research, the consumer is given the product free of cost. Plus, in this several times are given to see the willingness of consumers to know whether they want to buy it or not.
1.2 Simulated Market Test
In this one, the product is kept among old or competitor's products. And target people (around 30-40 people) are asked to opt for any. If they choose it then it's okay, or else they're given free samples of new products.
1.3 Controlled Market Test
This one is conducted to test the response of two types of markets – controlled and uncontrolled. Here, people (usually more than 50) are asked to use the product in a specific area and then their response is noted.
1.4 Standard Market Test
In this one, more people are made aware of the product and asked for their opinion. This shows the real picture of the product's performance in the market. To estimate the payout period, researchers utilize predictions of market share which are generated through mathematical models using various metrics.
2) Industrial-goods Test Marketing
Different types of this kind of test marketing are-
2.1 Alpha Testing
This testing is done inside the firm. It is tested by engineers and employees who check the marketing mix of a new product. And fix the issues, if there are any.
2.2 Beta Testing
It is done with the customers. They are asked to use the product and then give feedback. Also, it can be tested at dealers' showrooms to grab the attention of customers. This is the best way to gather the information of the prospects and create a market value for that product in the minds of potential customers.
3) A/B Test Marketing
A/B Test marketing is useful to check the response of customers as it offers two versions of a product (or service or advertisement) and compares the reactions. It helps to adjust and polish the product for a better launch.
In A/B tests, a certain segment of users is given one version, and the other segment another version. This helps to compare both versions in terms of sales, user engagement, and feedback.
Test marketing is done to make sure that your product will be successful before it goes to the market.
When to Use Test Marketing?
Test marketing should be done when there is a new product launch. You can also use it in the early stages of your product development. It enables you to test the effectiveness of the marketing mix, evaluate customer reaction, and understand how customers view the product before launching it in the wide market segment.
The positive and negative feedback from test markets can be used to make improvements and adjustments to the product before launching it to a larger audience. Test marketing helps you to conduct market research and gain valuable insights into customer needs, preferences, and attitudes.
You can also use it to ensure cost efficiency by preventing massive losses incurred due to unsuccessful campaigns. If you want to identify key areas where your product has to be improved and make adjustments accordingly, you should consider conducting test marketing. It not only helps to reduce the risk of failure in the national market but also ensures that the product will be well-received by customers.
Examples of Test Marketing
1) Before launching the Software
Software developers can use test marketing to make sure that their software works properly. They may also ask customers to rate the user experience and usability of the software.
2) Before launching a New Clothing Line
Test marketing is essential to make sure that the clothing line will be successful in the market. Retailers can get feedback from customers in a focus group or survey about the colors, sizes, and designs of the clothing.
3) Before launching a New Restaurant
Test marketing can be used to test the menu items, prices, and customer service before opening a new restaurant. Restaurant owners can ask a few selected customers to give feedback and provide suggestions for improvement.
Steps to Implement Test Marketing Model
1) Identify Your Target Market Segment
When you plan to conduct test marketing, you need to identify and understand your target market. This includes understanding consumer behavior, competitive advantage in the market, and customer satisfaction.
2) Develop a Test Plan
Develop a test plan that outlines the objectives of the test marketing process. It should also include details on how you'll measure success and what steps will be taken to improve the product before launching it nationally. You should also finalize the duration and budget of the test marketing process.
3) Launch Test Marketing in Your Selected Market
Launch a limited-scale test marketing campaign in your selected market area. Monitor the progress, customer feedback, sales, and other metrics to evaluate the success of the product or service.
4) Perform Data Collection
Collect data and feedback from consumers to get insights about their preferences. This will help you adjust the product or service in line with consumer needs and expectations.
5) Analyze Test Results
Analyze the results of test marketing to identify areas of improvement and make changes accordingly. Make sure that you evaluate both positive and negative feedback to gain a better understanding of customer requirements.
6) Adjust and Refine
Make adjustments and refinements to the product or service based on feedback from existing customers. This is done to gain a competitive advantage in the market.
7) Final Rollout
After evaluating the test results, you can now move forward with rolling out your product or service to all target markets.
Wrap-Up!
Test marketing is a great way to understand your target market and refine your product or service before launching it nationally. Carefully plan the test marketing process, collect data and customer feedback, analyze results, and make adjustments accordingly. Following these steps will help you stand out from the competition in the long term.
FAQs
What are the risks of test marketing?
Test marketing involves a certain amount of risk since you are launching a product or service in a limited market. If the results of test marketing aren't satisfactory, you may need to make major changes or even scrap the project altogether. Additionally, there is always the risk that your competitors will launch similar products during this process.
How to conduct a test marketing campaign?
The first step in conducting a successful test marketing campaign is to define the objectives of the campaign. After that, decide on the target market and plan your approach accordingly. Once you have determined your goals and audience, carry out research, collect customer feedback, analyze results, adjust the product or service accordingly, and launch it nationally.
What are the uses of test marketing?
The primary purpose of test marketing is to gain a deeper understanding of customer needs and preferences. Test marketing can also be used to refine products or services, identify potential problems before launching nationally, gain competitive advantages in the market, and measure consumer response.
Liked this post? Check out the complete series on Marketing