Celebrity marketing is a marketing strategy wherein companies leverage the fame and influence of well-known celebrities to generate awareness and promote their products or services. Celebrity endorsements can be highly effective, allowing companies to reach a larger audience and create more buzz around their brand.
A popular example of celebrity marketing can be Pepsi. The company enlisted the help of various celebrities, such as Michael Jackson, Kendall Jenner, and Beyoncé, to create campaigns that were seen by millions of people around the world.
By leveraging their fame and influence, they were able to create more visibility for the brand, ultimately leading to an increase in sales and overall success.
What is Celebrity Marketing?
Celebrity marketing is a form of marketing that hires famous people or celebrities as brand ambassadors for endorsing a product or service. Celebrities are often seen as opinion leaders, so they can be extremely effective in helping to promote a company's message quickly and easily. By using celebrities to spread the word, companies can gain more coverage from traditional media outlets and reach a larger audience than ever before.
Celebrity marketing campaigns can be used in various forms, including endorsements, product placements, or even simply having a celebrity serve as the face of a brand. Each method has its advantages and disadvantages, so companies need to consider their goals when deciding which strategy is best for them.
Types of Celebrity Endorsements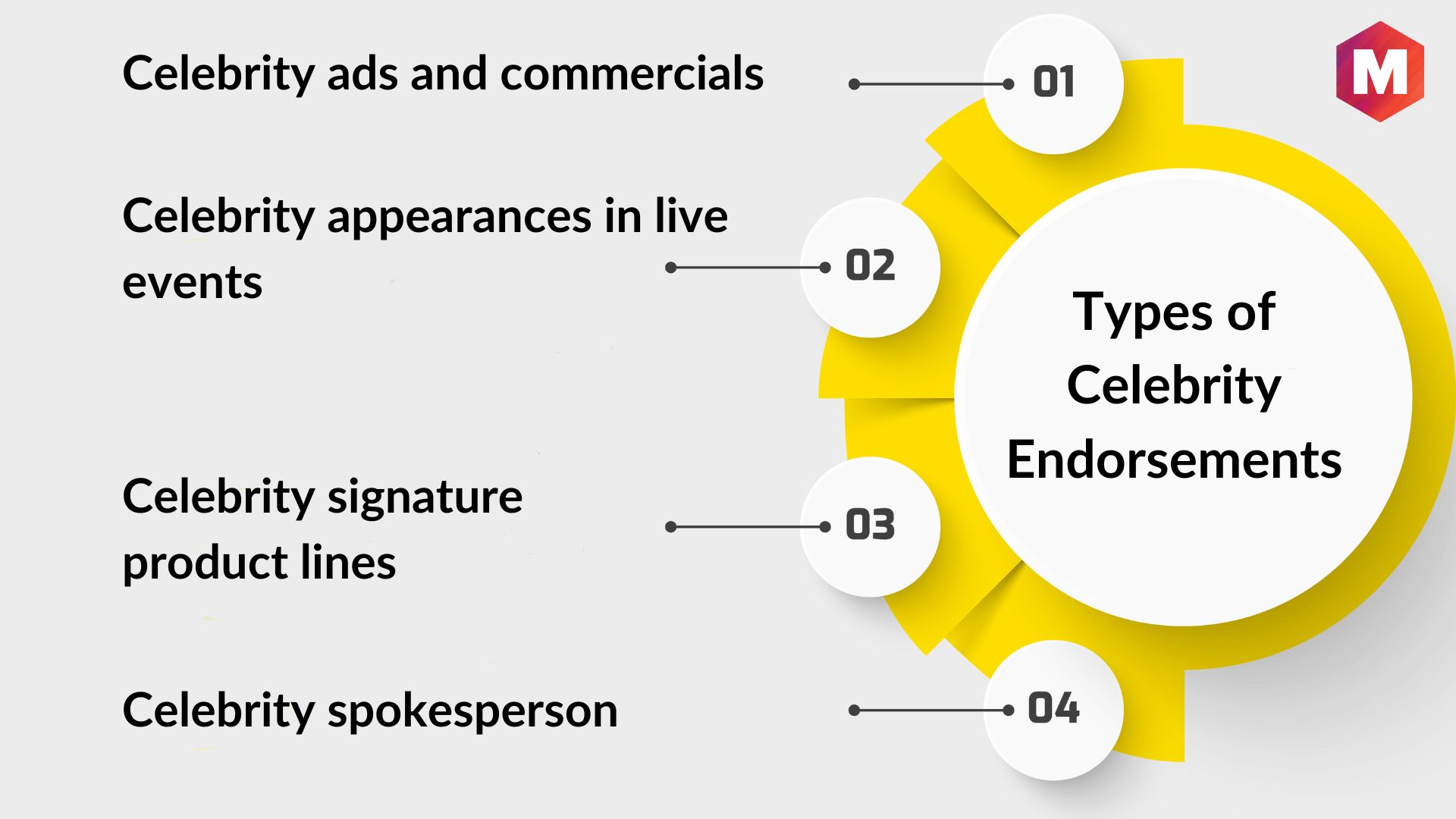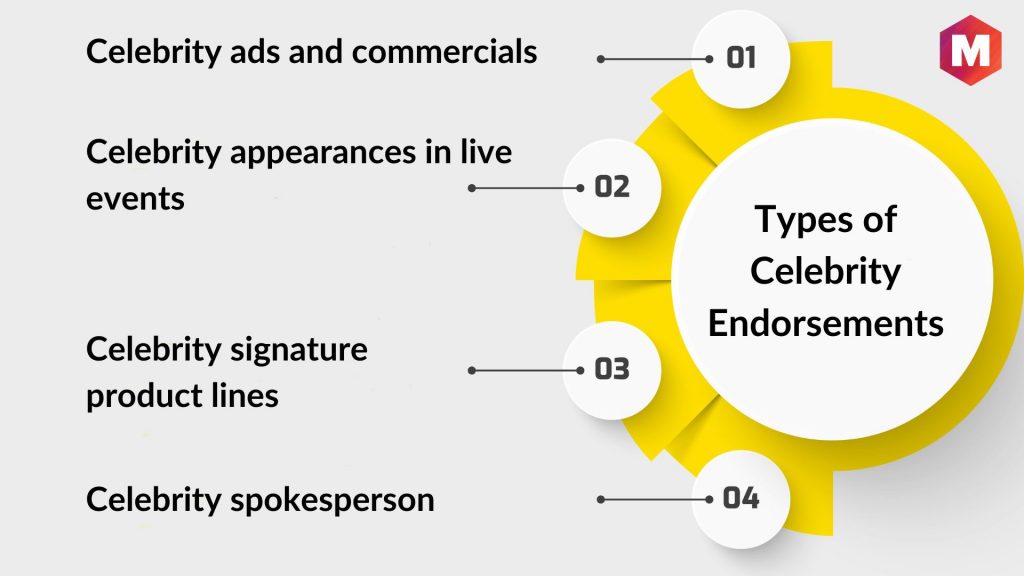 When it comes to celebrity branding, you can use the following types of celebrity campaigns to promote your product or service –
Celebrity ads and commercials –  A celebrity ad or commercial is an effective way to get your message out. It gives consumers a chance to see the product in action and how it works. Plus, it's a great way to show off the right celebrity for your brand. You can show such ads on television, in print, or even online.
Celebrity appearances in live events –  Celebrity appearances in live events can be a great way to get your message out. Having an actual famous person at the event creates a buzz and increases interest in your product or service. Plus, it's a great way to give something back to the fans who come out to support you.
Celebrity signature product lines –   Celebrity signature product lines are a great way to create an exclusive product or service. Having the right celebrity associated with your brand gives it a unique edge. It also gives you the chance to create a product that's only available with your brand, which can be a great way to stand out from the competition.
Celebrity spokesperson –   A celebrity spokesperson can be a great way to promote your product or service. Having a famous person associated with your brand helps to build trust and credibility. Plus, it helps to get your message out there in a way that resonates with the general public.
Why do Brands Involve Celebrities in Advertising?
Brands are often looking for ways to reach potential customers and increase their visibility in the market. One way that they have found success is through celebrity endorsements and campaigns. Celebrities can help brands gain attention and create a positive impression in the public's eye, which can lead to increased sales.
Celebrity endorsement involves using famous personalities from popular culture to promote a brand. This type of advertising is especially useful when the celebrity has an international following, as it can help attract customers from all over the world. Celebrity endorsements have been used in many different industries, including fashion, beauty, automotive, and food.
Social media influencers and opinion leaders are also popular options for brands looking to reach specific target audiences. These influencers act as brand advocates and can help create a buzz around products or services. Celebrity chefs, for example, have great influence over food-related decisions and can be used to promote a brand's food products.
To attract followers, influencers can use various techniques such as creating tutorials, hosting live streams, and creating how-to YouTube videos. Popular celebrities may also have social media channels that they use to interact with their fans and promote their work.
Celebrity Reach
The extent of a celebrity's reach can be indicated by how many people follow their social media accounts on platforms like Facebook, Instagram, Twitter, and Snapchat. A famous celebrity who is part of the A-list can communicate with millions of people through a single post.
For example, the four people with the most Instagram followers are Cristiano Ronaldo, Lionel Messi, Selena Gomez, and Kylie Jenner. Cristiano Ronaldo has the highest number of Instagram followers with 585 million, while Lionel Messi, Selena Gomez, and Kylie Jenner have 461 million, 415 million, and 388 million followers, respectively.
Steps to follow to get Celebrity Endorsements
If you're looking for a creative way to increase your target audience's awareness of your brand, consider using celebrity endorsements as part of your marketing campaign. The right celebrity endorsement can give a huge boost to the success of your product or service. Some of the steps you need to follow are-
Determine your budget – When securing celebrity endorsements, it is important to establish a budget. Depending on the level of celebrity, you could pay anywhere from several thousand to millions of dollars.
Know your target audience – It is important to select a celebrity endorser who resonates with the target audience you are trying to reach. A celebrity's reputation can significantly shape the way people view the product or service they are endorsing.
Choose the right celebrity endorser – After you have identified your target audience, it is time to choose the celebrity endorser who will best reach them. Make sure to research and evaluate each potential endorser's reputation, interests, and prior endorsement history.
Negotiate a contract – Once you have identified your celebrity endorser, it is time to negotiate a contract. Be sure to include the length of the endorsement, payment structure (flat fee or royalty-based), and any limitations on how the celebrity can use the product or service.
Monitor the impact – Once your celebrity endorsement campaign is underway, be sure to monitor the response you are getting from your target audience. Evaluate the success of your campaign and adjust accordingly.
By following these steps, you can create a successful celebrity endorsement campaign that will help to raise your brand's profile and increase sales. Any new brand or startup may opt for social media influencers as an alternative to celebrity endorsements, but nothing can match the power of a celebrity endorsement. Consider all your options carefully and make sure you are making the right choice for your brand.
FRED Model of Evaluating a Celebrity Marketer
The FRED Model is a useful way to evaluate a celebrity marketer. Let's have a detailed look at the model –
Familiarity –  Familiarity with a celebrity marketer is the first step in evaluating their effectiveness. The more people are aware of them, the better they will be able to promote products and services.
Relevance – The relevance of the celebrity marketer is also important in evaluating their effectiveness. If their presence is not relevant to the target market then it will be difficult to make a successful connection.
Esteem –  The esteem of the celebrity marketer is also key. If their presence does not command respect, then they will be seen as lesser-known or less reputable celebrities and not attract customers.
Differentiation – Celebrity marketers must also differentiate themselves from other celebrities. This will help ensure that their presence is seen as unique and valuable, rather than just another marketing tool.
Overall, the FRED Model is a useful way to evaluate a celebrity marketer and help determine if they are the right fit for a brand. It can help brands identify the most appropriate celebrity marketer for their needs and ensure that they are making an effective connection with their target audience. With the right celebrity marketer, brands can see an increased interest in their products and services, leading to higher sales.
Advantages
Celebrity marketing is an effective and powerful tool for businesses to reach potential customers. Celebrity endorsement is the use of a famous person's status to promote a brand and its products or services. This type of marketing campaign is highly effective due to its ability to capture an audience with a high level of influence. By partnering with celebrities, brands can leverage their celebrity's image, popularity, and reach to positively impact consumer purchasing decisions.
Celebrity endorsements are also beneficial because they create credibility for the brand and its products or services. Consumers may view a celebrity-endorsed product as being of higher quality than one without an endorsement. Additionally, celebrities have the potential to reach massive audiences quickly through their social media platforms, creating a powerful ripple effect that can positively impact sales.
Celebrities also act as opinion leaders who can influence consumer behavior in positive ways. When an audience is exposed to a brand endorsed by a celebrity, they may be more likely to purchase the product or service. Consumers may also seek out products endorsed by celebrities as it gives them the feeling of being connected with those celebrities and gaining access to their lifestyle.
Risks
When it comes to celebrity marketing, brands need to be aware of the risks involved. It's important to choose celebrities carefully and make sure they are a good fit with the brand before investing in their endorsement. If there is a mismatch, it can have serious repercussions for your brand reputation. Some of the risks of celebrity marketing are –
Overshadowing: The fame of the celebrity can overshadow the product or brand they are endorsing. If they become more prominent than the product, customers may associate them more with the endorsement rather than your business.
Negative associations: Celebrities' lifestyles and views differ and it's important to ensure that their values align with those of the company for an endorsement to be successful. If an endorsement goes wrong, customers may associate the celebrity's values with your brand instead of your products or services.
Lack of control: Brands can't always control how their celebrity endorsers behave and act in public, which could potentially damage the reputation of a company if they go against the brand image.
Overexposure: Too much exposure to a celebrity endorsing a product or brand can lead to customers feeling as if they are being over-marketed and this could hurt sales.
Brand reputation risk:  If something happens that reflects negatively on the celebrity, it could damage the reputation of the brand and hurt sales.
Careers in Celebrity Marketing
Celebrity marketing career has been growing steadily over the past few years, as brands continue to partner with celebrities for endorsements and campaigns. Marketers recognize that celebrity status adds value to their products and services, and this type of marketing can be a powerful way to reach target audiences and generate sales.
It's no wonder that more and more marketing professionals are turning to celebrity endorsements as part of their strategies these days. Celebrity marketing jobs can range from managing a single celebrity-endorsed campaign to overseeing the entire celebrity marketing division of a company.
If you have an interest in working in this field, there are many opportunities available to you. You could find yourself working with publicists and agents, researching potential celebrities to work with, or developing creative ideas for campaigns featuring celebrity endorsers.
Requirements for these celebrity campaign jobs can vary, but experience in marketing and a deep understanding of the celebrity industry is necessary. Employers also look for strong communication skills and an ability to think outside the box.
It takes a lot of work to make celebrity endorsements work, but if you have the right skills and attitude, you could find yourself on the path to becoming a successful Celebrity Marketing professional.
Examples of Celebrity Marketing Campaigns
Some of the examples of celebrity-endorsed products where a celebrity worked as a brands partner and opinion leader to raise awareness and pull in new audiences and consumer attention are –
Celebrity marketing is considered one of the most effective marketing strategies that help achieve key business goals. In this section, we'll review some examples to see what influencers have brought to world-known brands –
1) Our Place x Selena Gomez
Our Place, a cookware and kitchenware company, partnered with an international music icon Selena Gomez to endorse their brand. The campaign was centered around the idea of "cooking with confidence" which is core to the Our Place mission. This influencer marketing campaign resulted in an increase in traffic for Our Place, as well as sales growth of over 15% from the previous period.
2) Nike x Billie Eilish
Nike and Billie Eilish joined forces to launch a new clothing collection. The campaign was focused on the needs of young people who live an active lifestyle. All the visuals, brand messages, and apparel designs were created with their preferences in mind. Nike teamed up with Billie Eilish to tap into her substantial Gen Z audience, deviating from their usual strategy of collaborating with athletes to endorse their products.
3)  SKIMS x Becky G, Brooke Shields, Chelsea Handler, Juliette Lewis, and Indya Moore
Kim Kardashian's line of shapewear and loungewear, SKIMS, has launched a new campaign featuring celebrities such as Becky G, Brooke Shields, Chelsea Handler, Juliette Lewis, and Indya Moore to introduce its new line of bras. The company made multiple videos in which celebrities modeled bras of varying neutral shades. The purpose was to display the vast range of neutral color options available in their product line.
Conclusion!
Celebrity marketing is a powerful tool for brands to increase visibility, drive engagement, and boost sales. When done correctly, it can be an effective way to reach larger audiences and build more meaningful relationships with customers. From the IPSY partnership with Alicia Keys to the L'Oreal Paris partnership with H.E.R., these celebrity campaigns are a testament to the successful use of celebrity marketing. Whether you're looking to advertise a new product or create more meaningful relationships with your customers, celebrity partnerships can be a great way to make a splash in the market.
Liked this post? Check out the complete series on Marketing