This article is from guest author Manish Badlani who is a management student from IBS, Mumbai (ICFAI Business school). Manish loves marketing and advertising and is very passionate about it.
In this competitive World every Brand wants to gain an edge over their competitors. To achieve this task, each brand tries to successfully position its image in the mind of customers.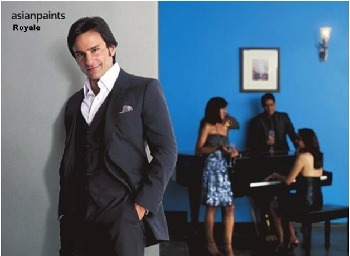 The positioning is a concept that helps brand to create its image in the target customers and make them to remember their brand in the way they want. One such popular way of Positioning is "Positioning By Celebrity Endorsement". The brands sign popular celebrities as their Brand Ambassadors and market their products by medium of TV Commercials. To create an impression amongst audience it's necessary for Brand to associate the image of brand with the image of Celebrity. Some of the best examples of Positioning by Celebrity Endorsement are:
Asian Paints Royale: The Asian Paints Royale Play was created as a point which will give a Royal look to your house. The Regal home lavishly decorated and furnished with European Antiques in the advertisements gave a glimpse of Royal Touch. To position the brand as a "Royal" paint in the minds of target audience, Asian Paints related the concept of Royal with real life Royal "Son of Nawab of Pataudi" i.e. Saif Ali Khan. The advertisement features Saif Ali Khan in a royal look with several shade palettes, interesting color combinations, textures and lavish interiors that give a glimpse of royal style.
Lux: Lux, a product of HUL positions it as a Celebrity bath soap. Lux has a history of top actresses endorsing their product during fame days.
The choice of celebrity for positioning brands rests on attitude, personality and style of celebrities.
Brylcream: Who can forget Indian Skipper M.S. Dhoni's famous hairstyle, which made him brand ambassador of Brylcream.
Thums-up: Thums up, brand of Cola was losing its popularity amongst the age group of 12-25, due to less advertising. As a result Thums-up came with "Grow up to Thums up" Campaign. Thums-up wanted to reposition it as a "Manly" drink, with more strong taste and power packed into it than other colas. For this campaign Macho looking and physically strong built Salman was finalized for advertisements. Due to its relatedness and better image mapping with Celebrity (Salman Khan), the campaign proved to be a success. Akshay Kumar too has done a fantastic job over time to promote Thums Up.
Thus, celebrity endorsements play a very important role in positioning a brand.
Liked this post? Check out the complete series on Positioning