A customer value proposition is the sum total of benefits or values a vendor promises to a customer. These value additions can range from monetary to non-monetary and are typically associated with the purchase of that vendor's product or service.
To ensure that your company is attracting the ideal customer and making them grow, you should often take the time to come up with a customer value proposition CVP as it will alert prospective customers of what your company does well and why shopping or collaborating with you would be a prudent practice.
What is Customer Value Proposition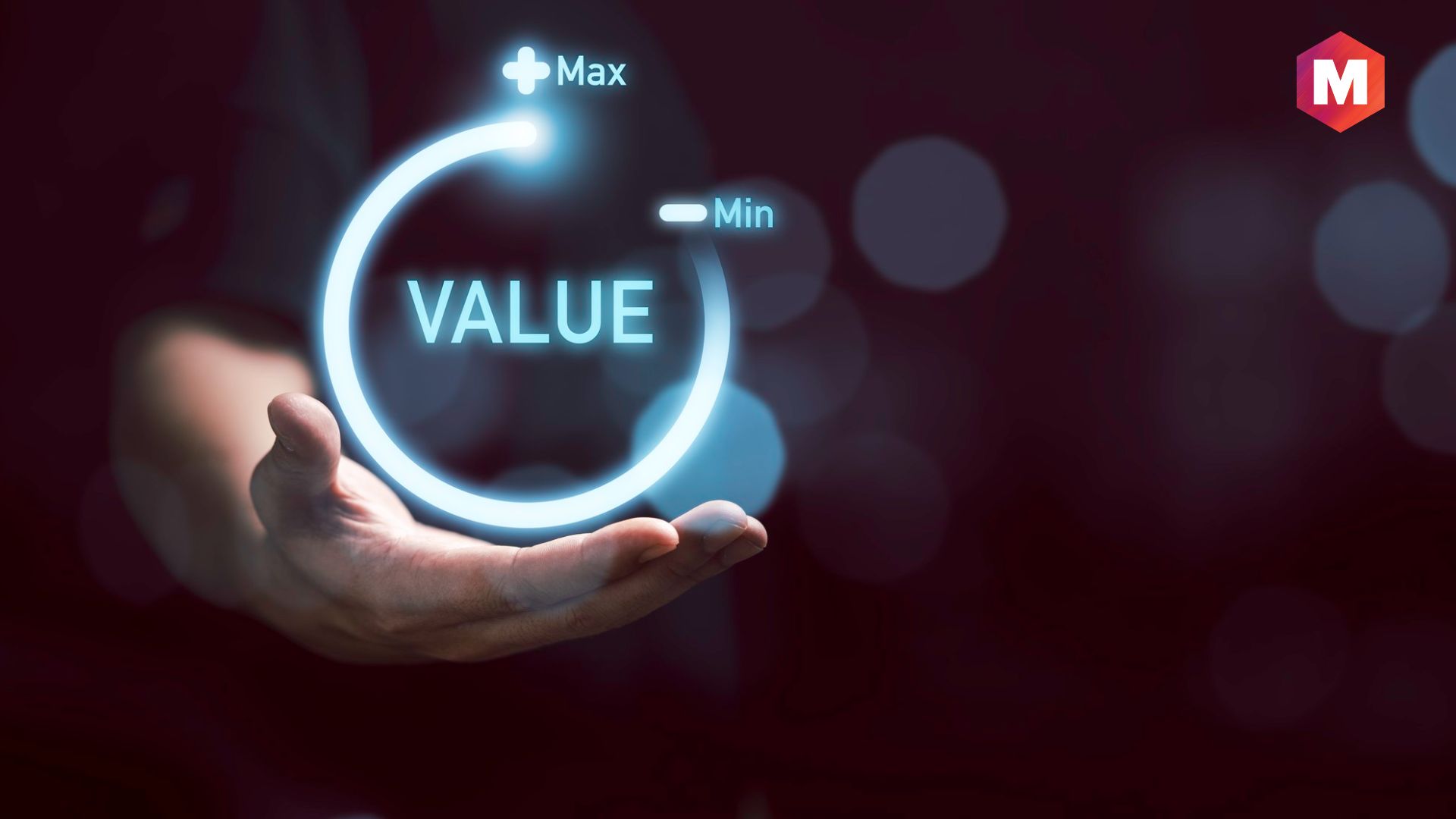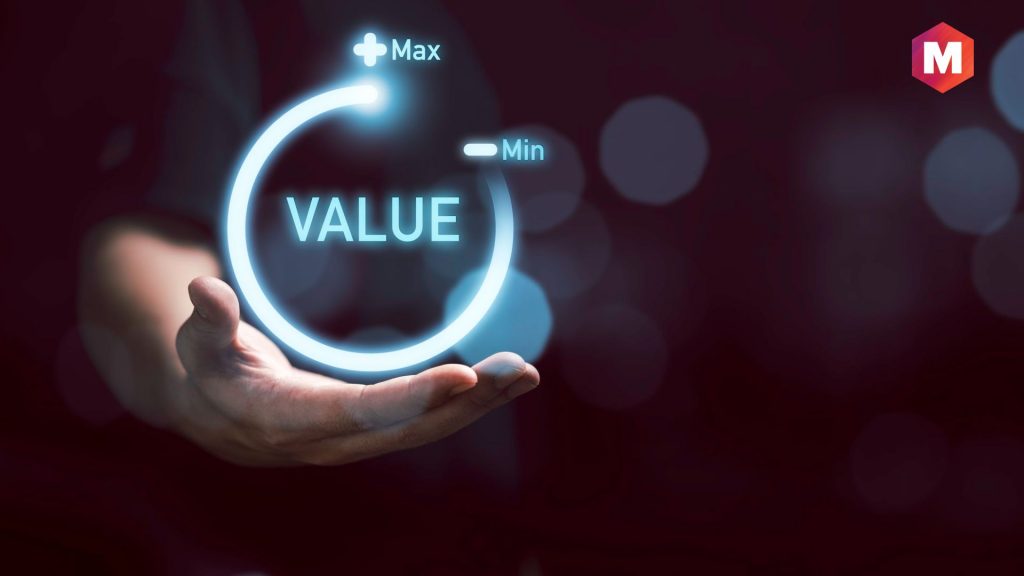 A customer value proposition aims to provide a concise explanation of how your product adds value to the lives of your target customers and what makes your products/services more valuable than competing ones.
It is an easy-to-understand statement that highlights the relevance of your product offering. It explains how it solves a problem or ups the quality of services that competitors offer, making them more affordable & high-quality.
If you are looking for ways to differentiate yourself from your competition, then your value proposition separates you from the pack since it provides an important piece of information about how you can solve people's problems and deliver solutions.
Making your value proposition the governing axis in your brand strategy can prove to be an effective way of differentiating yourself from competitors. If you make it about the benefits behind your product, for example, this will make people want what you have to offer.
Customer Value Proposition Examples
Let's understand what customer value proposition is with a few examples to learn how value proposition describes the ways a brand adds value to a customer's life and resolves customer pain points –
Value Proposition Example 1
Imagine ABC is an online marketplace for home improvement supplies and services. Its CVP can be –
Save time and money.
The ABC helps homeowners save time and money when it comes to home improvement projects. Our online marketplace connects you with reliable home improvement professionals, and our exclusive pricing and product offers make it easier than ever to get the job done.
Expert advice you can trust
No more shopping around
Guaranteed best prices
Value Proposition Example 2
XYZ is an online retailer of office supplies. Its CVP can be –
Working smarter, not harder.
At XYZ, we understand the needs of modern businesses and make it easier to get the supplies you need, when you need them. Our vast selection, competitive prices, and easy-to-use tools make it faster, simpler, and more cost-effective than ever to stock your office.
Time-saving shopping experience
Free shipping on orders over $50
Price guarantee and return policy
3 Qualities of a Strong Value Proposition
Relevancy — By explaining how your specific product or service can improve a situation or solve a particular problem for customers, you help make your marketing message more effective.
Differentiation — You want your brand to stand out from all other brands in the market. That's why you need to display all of what makes it special & unique.
Quantified value — Your brand's value proposition should offer distinct and measurable benefits that are easily understandable by your clients
Why CVPs are Important?
1) For differentiating your product from similar products
Your salespeople will be able to boast about how your product provides a higher-quality product at a cheaper price. They will then provide an example of this by laying out specific benefits that they have identified and explaining why these are better than other alternatives.
2) For ensuring faster conversions
You can use your customer value proposition to convince prospective customers of the benefits of buying your product vs competitors. This might be a good option if you're running a business and want to maximize your marketing efforts and conversion rate.
3) For showing your competitive upside
When you present your product well, you will be able to prevent direct comparison with your competitors. High-quality content also helps convince customers that they need to buy from you. It not only lets you showcase yourself as an alternative but also presents you as a better option.
4) What a Value Proposition Is Not?
Your CVP is not a slogan at all. Slogans are usually intended to catch your attention and make it easier to promote the product to increase sales. Value propositions, on the other hand, lay out what a company thinks its product is worth by generating benefits for customers. You can use slogans for driving leads by using marketing campaigns, but your CVP will convince those customers to stay with you and be loyal.
Elements of a Great Value Proposition
The key elements of a CVP are
Headline: One of the most integral parts of a proposition is clearly outlining your product's benefits. In case it doesn't impress and pull in your target segment, then they probably won't be interested in what you have to say.
Explanation: This segment describes a product for a broad audience segment. You can use it to explain how the product can help your target market and be of use to them.
Bullet points: Here, you can highlight some of the most valuable features and benefits of the product. Adding this section to your paper can be very useful for focusing on the main points. Though it is an optional section.
Visual component: Adding a photo to your website or digital product can assist increase engagement and interest. It can further be used to help explain complicated products, making it easy for consumers to understand what they're buying.
How to Write a Value Proposition
1) Identify your customer's main problem
To start crafting your value proposition, you need to understand the needs and wants of your target customer. Think about their pain points and what makes them unique from other customers. What keeps them up at night? What would make their lives easier? Once you have identified their main problem, use this as a starting point for crafting your value proposition.
2) Identify all the benefits your product offers
Next, think about all the ways your product or service can help your customers. What solutions do you provide? What advantages do you have over competitors? Outline the features and benefits of your offering that are most relevant to solving their problem. Don't worry if there is some overlap with other companies – this is expected. It is more important to focus on what truly sets you apart from others in the market.
3) Describe what makes these benefits valuable
Describe why these benefits are so valuable to customers, and use language they will understand. Showcase how they will improve their lives or increase their productivity while addressing a pain point they may have. Explain how they will solve their biggest problem in a way no other product or service can.
4) Connect this value to your buyer's problem
Now that you have identified the problem and outlined the benefits of your offering, connect them in an easy-to-understand way. Showcase why your solution is the best choice for solving their issue and include metrics (if available) to demonstrate the effectiveness of your product or service. This is where you get to highlight what makes you better than the competition.
5) Differentiate yourself as the preferred provider of this value
Include any unique features, advantages, or differentiators that set you apart from competing products or services. Do you offer faster customer service? Do you have more comprehensive features or a larger selection of products? Focus on the things that will make your buyers choose you over other businesses.
6) Use a template to help you brainstorm
Write down everything you can think of related to your value proposition and use a template to structure it into an organized message. This will keep all the important elements in one place so they are easy to find when it comes time to review and refine your value proposition.
The Value Proposition Canvas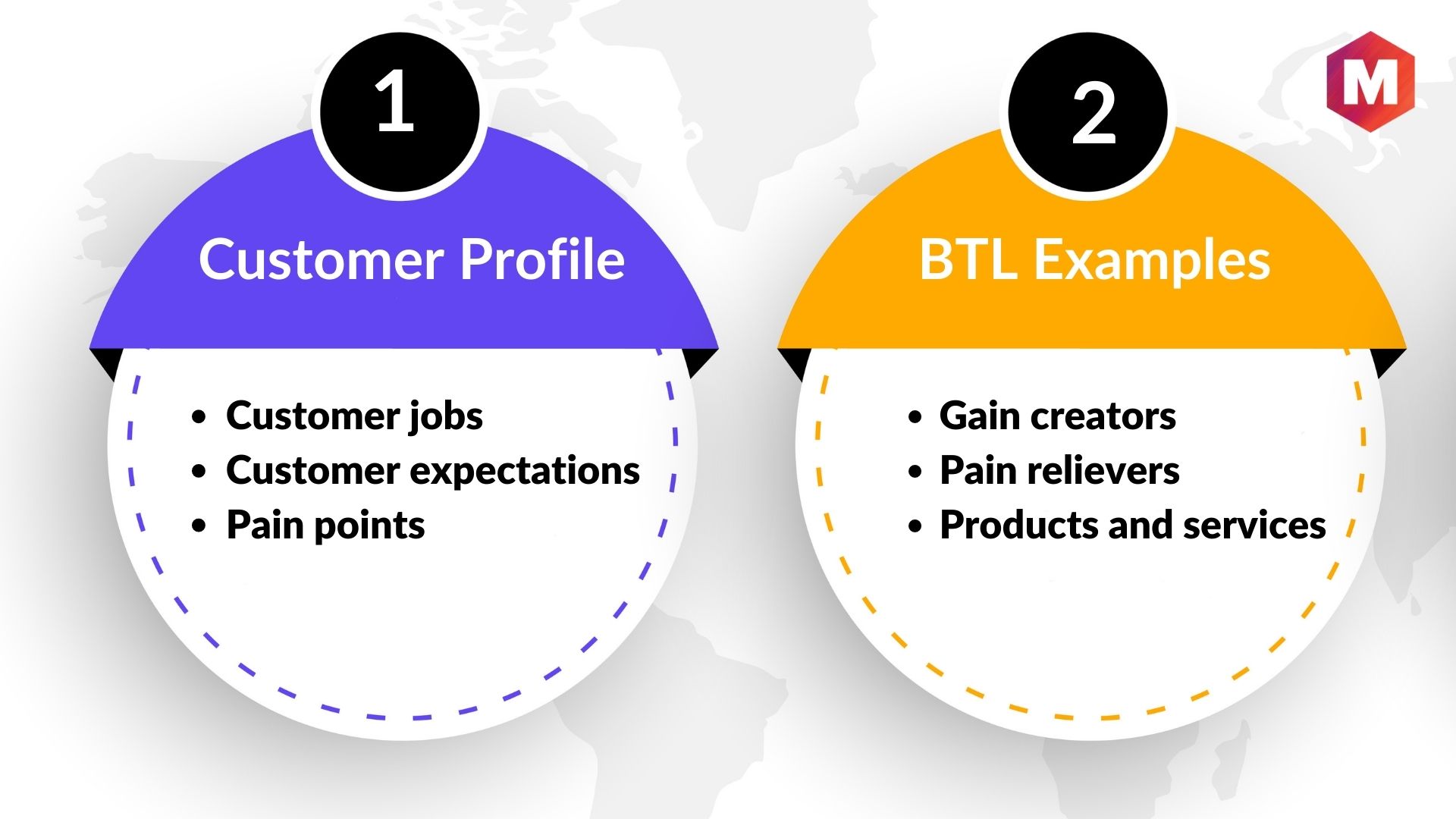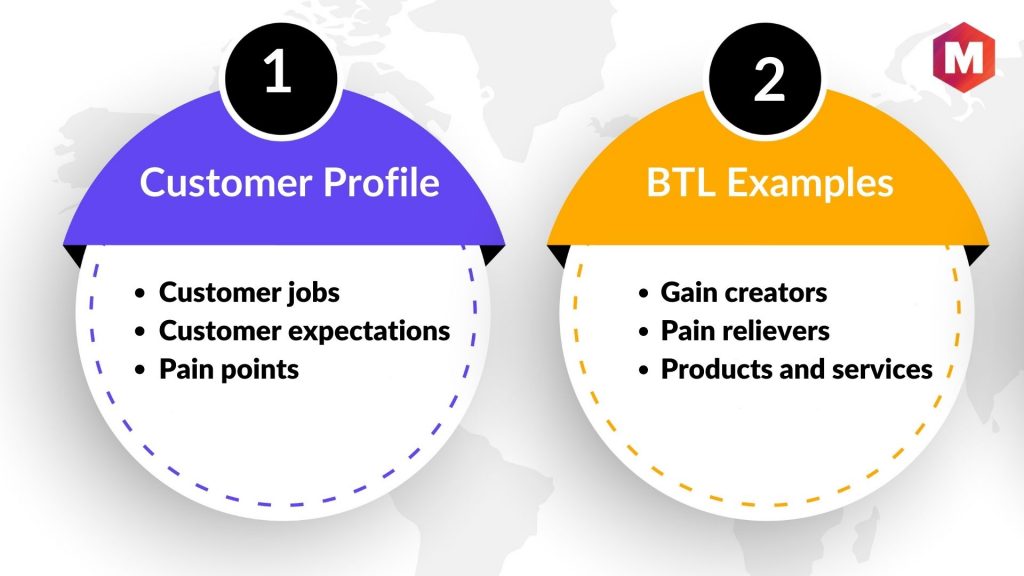 Using a visual aid such as a value proposition canvas can make crafting a strong value proposition easier. This tool helps you align your product or service with the needs of your target audience and identify the specific aspects of your offering that provide them with value.
The value proposition canvas can be helpful when introducing a new product to the market or enhancing an already existing one. It includes two sections –
1) The Customer Profile
It lets you examine the desires and requirements of the customers and how they can affect the value proposition you offer. It is further divided into three different subtypes –
Customer jobs – What is the main benefit of your product or service for the customer? To answer this, consider the tasks they will use it for and the problems it will help them solve.
Customer expectations – It will help you get answers to questions like – What does your customer believe they are capable of achieving with your product or service?
Pain points – You can use it to get answers to questions like – What are the potential issues that your customers may encounter while trying to complete the job?
2) The Value Map
This section provides an overview of the features and benefits of our product or service. It is further categorized into the following subsections –
Gain creators

–

You will get an overview of w

hat features or characteristics your product or service possesses that will bring satisfaction to the consumer.
Pain relievers – Explain how your product or service will address the issues faced by the consumer as described in their customer profile.
Products and services – You need to identify the part of your product/service that can effectively address your customers' issues.
Tips for Creating a Strong Customer value proposition
For effective customer value management and have a competitive advantage, you should follow these tips to optimize the effectiveness of your customer value propositions –
1) Write clearly and honestly
To help your customers grasp your value proposition, you should use clear and simple language instead of using buzzwords and industry jargon. Please mention the actual features and characteristics of your product rather than any superlatives like "best in class" or "top-rated".
2) Understand your market
To make a CVP convincing enough, it should focus on the target market segment you are specifically trying to sell to, rather than trying to appeal to every potential customer. Your CVP should highlight what sets you apart from other businesses that your customers may be considering.
3) Display your customer value proposition
Adding your CVP on your website's contact form, the home page, and the landing page can be a useful way to communicate your organization's purpose to first-time visitors. By doing so, customers will easily understand why you are better option without having to conduct a lot of research.
4) Distinguish it from a slogan
The slogan establishes your identity and sets the tone, while the positioning statement demonstrates your worth within the industry. A CVP can empower you to promote your brand and differentiate you from competitors in the industry.
5) Test your customer value proposition
For enhancing the effectiveness of your CVP, you can test and gather data to assess its effectiveness. A/B testing is a technique that can be used for this purpose, where you can compare two versions of your value proposition. By doing so, you can identify which version attracts more customers.
CVP vs. USP
The USP or unique value proposition explains what makes you unique, while the CVP explains why your uniqueness matters to the customer. So while the USP or unique selling proposition says what makes you special, the best value propositions explain why that specialness is beneficial or relevant to your customer.
Conclusion!
On a concluding note, it is clear that customer value proposition CVP has a vital role in any business. Crafting great value propositions would help to identify and attract prospective customers, as well as retain existing customers.
It further assists to differentiate your product or service from competitors and build a loyal customer base. So, in case you wish to create value for your customers and grow your business, it is important to take the time and effort to create a strong customer value proposition.
Frequently Asked Questions
What Is the Purpose of a Value Proposition?
The purpose of a good value proposition statement is – persuading investors, stakeholders, or potential customers that a company or its offerings are valuable. Attracting investment and consumer demand could be challenging in case the value proposition is not strong enough to persuade.
What Is an Employee Value Proposition?
The employee value proposition is an integral aspect of employer branding. It assists companies to attract and engage the employees they desire. By marketing their company to potential talent, they can retain them in a competitive job market. The Employee Value Proposition (EVP) is the distinct package of perks and benefits that an employee is offered as a result of their skills, abilities, and experience when they join a company.
What Happens if a Value Proposition Fails?
If a company fails to demonstrate the value of its products or services to others, it may become unprofitable and lose access to capital, which could lead to its closure.
Here is a video by Marketing91 on Customer Value Proposition.
Liked this post? Check out the complete series on Positioning