Positioning is the task of ranking yourself in the minds of the consumers. So if the consumer has 10 brands in his mind, and yours is the 4th brand, then that's your brand positioning. However, if you are the 4th brand with the positioning you want then that is fine, but what if your positioning strategy failed?
What if, you wanted to be known as a affordable and reliable products manufacturer, but you came off as a cheap product manufacturer with average products? In that case, you will like to reposition yourself. And therein lies the importance of Repositioning a brand.
When their positioning changes, and they change from the 4th position to the 1st position then they are climbing up the positioning ladder. However, if they are in a position which is not at all desired, then they need to reposition themselves.
The best example of Repositioning which I can use is of Tata Nano. When Tata Nano launched, it positioned itself as the poor mans first car. The advertisement and marketing campaigns clearly stated that this was the car a person could afford because he had no cars at home. A village was shown in the background with everyone gathering around to see the car.
Frankly, this is not the way you market a car. A car is a product of pride and you should have pride in it. This is where Tata Nano's initial positioning strategy failed. It came off as a cheap product, only reserved for the poor classes.
However, soon Tata Nano started repositioning the brand. After a year or so, the ads which came out showed the utility of Tata Nano. Moreoever, they directly competed with bikes, so that anyone who is riding a bike will think that with a little extra money, I can afford a car. The position was now completely changed. People began looking at Tata Nano as a car which is small, can drive fast through traffic and is a utility product. The sales went up.
Thus, the repositioning did miracles for Tata Nano. But the same cannot be said for all products or services. Airtel, a few years back, rebranded itself and tried to change its positioning with various advertisements. But at the same time, Vodafone launched the ZooZoos and positioned itself as the coolest Telecom company to associate yourself with. Airtel thus lost a majority market share to Vodafone.
However, recently, Airtel has again launched campaigns to fight Vodafone and this time the focus is on their network coverage, and how they reach all corners of the country. This is a repositioning attempt and so far looks to give positive results.
Many brands have tried repositioning themselves and failed. A major reason being that the negative features of the brand stick in the mind of the consumers. The brand which have succeeded, did not see the results immediately, but over a period of time.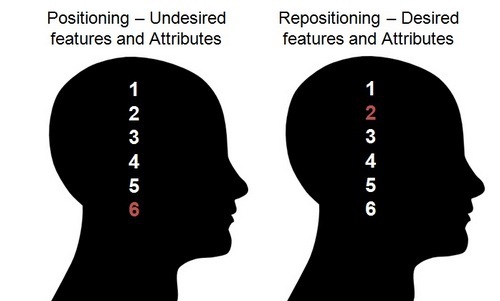 Experts themselves believe that repositioning does not work and has resulted in poor growth for brands such as K mart or Nutri grain bars. Once the positioning is set in the mind of the consumers, it will not be removed as easily. Nokia, which is supposed to relaunch in 2016, will face a similar battle as it had been defeated before by Samsung. But Nokia has to fight again to regain its position of "The most user friendly" phone. Let us see whether Nokia is able to do that.
Liked this post? Check out these detailed articles on
Topic of Positioning
Alternatively, check out the Marketing91 Academy, which provides you access to 10+ marketing courses and 100s of Case studies.