Customer service is all about responding to customers' inquiries, both before and after they purchase a product or service. Whether it's in-person, over the phone, via email, chat session, or even social media interactions – customer support professionals are there to help with answering questions and creating helpful documentation for self-service assistance.
Companies can define customer service according to their values and the type of assistance they wish to offer. Great customer service is imperative to any prosperous business. It's not only about assisting but also developing connections and solidifying the connection between your brand and customers.
What is Customer Service?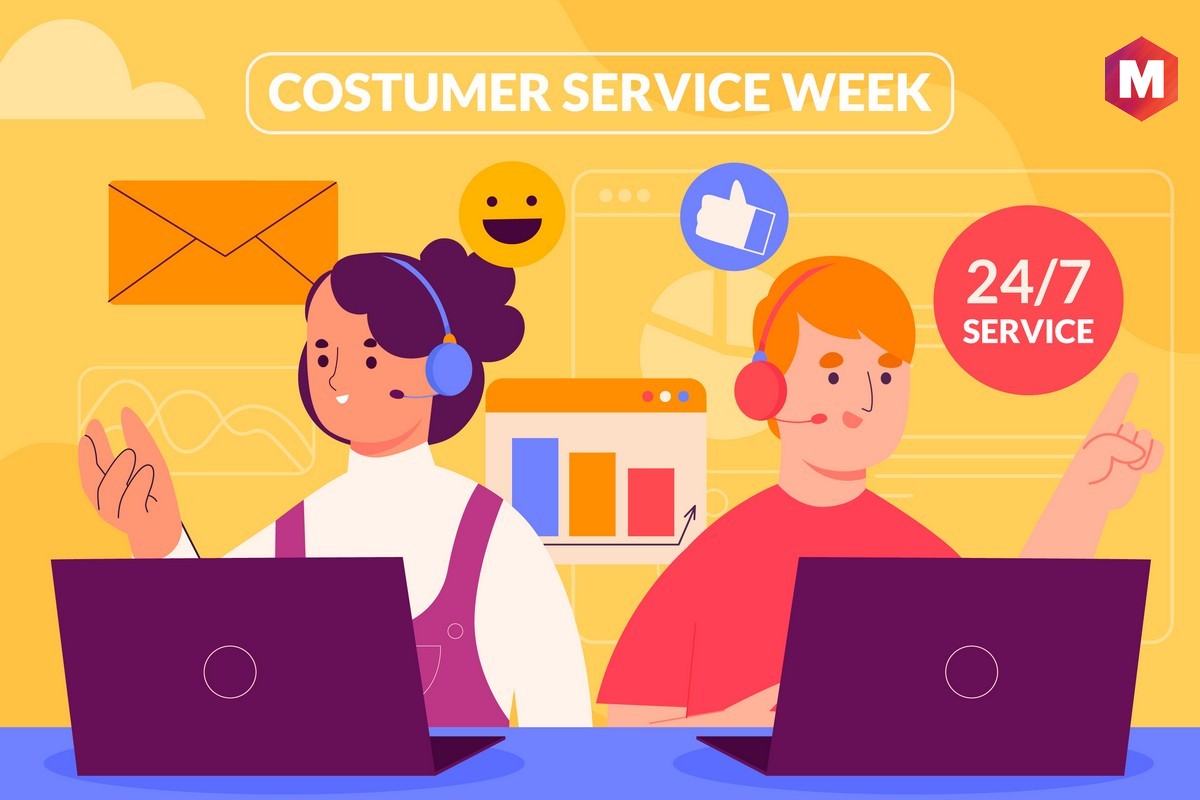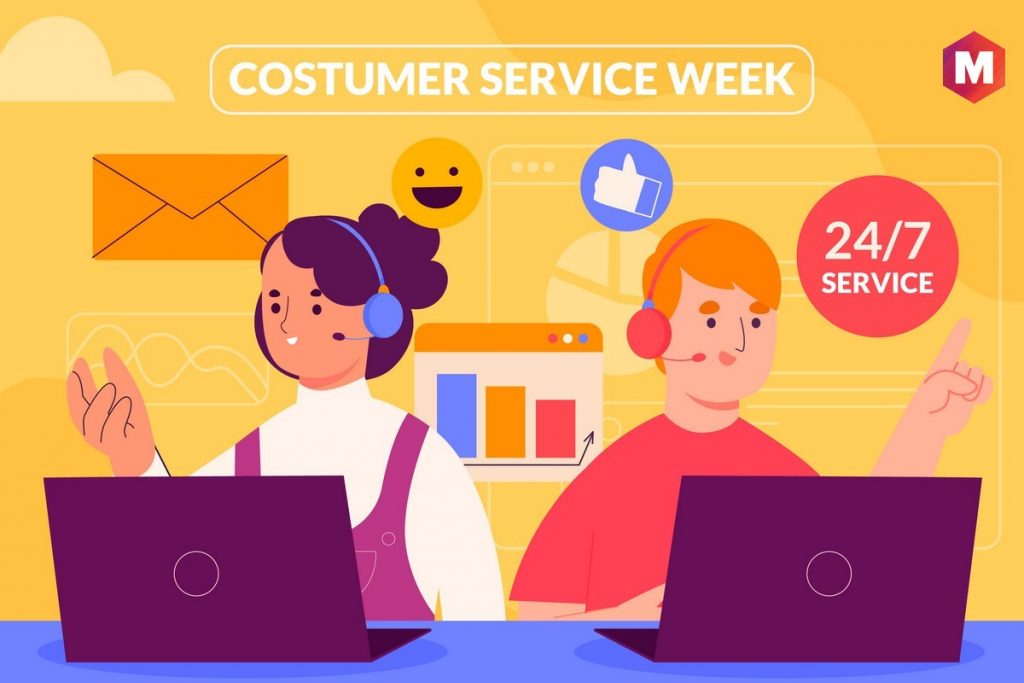 Customer service is the key to customer satisfaction, which involves providing assistance and support before, during, and after a purchase. It's all about creating a positive experience for customers that encourages loyalty and trust in your company.
As an example, good customer service could include –
A customer service representative answers customer inquiries promptly
Responding to customer complaints and resolving them as quickly as possible
Providing helpful resources such as instruction manuals, tutorials, and FAQs
Offering personalized customer service experiences with tailored solutions for each customer
Keeping customers informed on any changes that might affect their purchase or account, etc.
Understanding Customer Service
Offering exceptional customer service is essential for any organization to thrive. Not only does it aid in fostering loyalty and brand recognition, but also has a positive effect on sales.
This ranges from portraying excellent customer relations to handling product inquiries, resolving issues efficiently, and offering follow-ups post-purchase; the list of services required by businesses goes far beyond this!
Customer service representatives are crucial parts of the purchasing process, enabling customers to have a tailor-made experience and easily interact with product vendors.
For most retailers, direct customer interaction is crucial in ensuring buyer happiness and encouraging loyalty. Even with automated self-service systems being used today, many businesses still understand the need to offer customers the option of speaking to a real person.
Key Components of Good Customer Service
Some of the key components of an excellent customer service team are –
Attending promptly to customers' inquiries, concerns, or complaints
Building strong relationships with customers by being polite, friendly, and helpful
Showing empathy and understanding toward customers
Treating customers with respect and dignity
Being patient, proactive, and professional in dealing with customers
Following up on customer inquiries or complaints promptly
Solving customer issues quickly and efficiently, without creating further hassles for them
Keeping customers informed about the progress of their inquiries or complaints
Going the extra mile to ensure customer satisfaction, etc
Why is customer service important?
Quality customer service is important because it is the spine of any flourishing business. It can be the crux between a delighted consumer and one who exits with disappointment and discontentment. When customers abandon a company due to an undesirable experience, it's clear that businesses must see every support interaction as a chance to acquire loyal followers and upsell.
As per stats, 86% of existing customers discontinue interactions with businesses because of their negative experiences.
Offering exceptional customer service is the key to generating more revenue. By delivering a unified experience that reflects an organization's goals, customers can benefit from superior quality and satisfaction.
Research has shown that U.S. businesses suffer an annual loss of over $62 billion due to inadequate customer service, and seven out of ten consumers confess they are willing to pay extra for a business that offers outstanding service standards.
Providing exemplary customer service experience is not only key to ensuring that customers remain content, but it can also prove pivotal in elevating a company into greatness.
15 Customer Service Skills
From connecting and converting new customers to retaining existing customers, following customer service traits are very crucial in a customer service professional –
1) Problem-solving skills
Customers may not always recognize the correct cause of their issue, so customer service representatives need to take a proactive approach by reproducing and troubleshooting any problems before providing a solution.
2) Patience
Possessing a great deal of patience is an absolute must for customer service professionals, as customers contacting support tend to be distressed and may feel lost.
3) Attentiveness
Offering exemplary customer service requires attentiveness; this is paramount for a variety of reasons. Not only should you pay attention to each customer's experience, but it is also essential that you are responsive and cognizant of the feedback from others.
4) Emotional intelligence
To provide excellent customer service, it is essential to be able to comprehend and regulate emotions. Customer support representatives must be able to relate with customers on an emotional level, stay calm under difficult circumstances, and always maintain a courteous atmosphere in their interactions.
5) Clear communication
Exceptional customer service reps not only possess the ability to effectively communicate in both spoken and written forms, but also to provide clear explanations of processes and solutions. Moreover, they can furnish supplementary resources or details as needed for customers' best understanding.
6) Writing skills
Crafting flawless writing is indispensable to accurately portray reality. Though often overlooked, being a skilled wordsmith is an invaluable asset when hiring customer support representatives.
7) Creativity and resourcefulness
Not only is finding a solution to the problem paramount, but taking it one step further and striving for creative approaches that add an extra layer of fun can be even more rewarding.
8) Persuasion skills
To succeed in their roles, customer service representatives must demonstrate persuasive skills by encouraging customers to purchase more products or services. They should also possess the capability to address concerns and objections with proficiency.
9) Ability to use positive language
Providing excellent customer service is key when dealing with clients and customers. Customer support agents should always remain positive, speaking in a friendly and courteous tone while anticipating any questions or concerns that may arise. By keeping an upbeat attitude, you can create a great experience for your customers!
10) Product knowledge
Expert customer service professionals possess an expansive understanding of the products and services that their company provides. Without a thorough knowledge base, it becomes exceedingly difficult to provide adequate assistance when customers require support.
11) Time management skills
For customer service teams, time management is an essential skill. Prompt and efficient answers to inquiries are mandatory to guarantee that all clients receive the best possible care.
12) Ability to read customers
For your team to effectively gauge customers' emotions and recognize their needs, they need to understand the fundamentals of behavioral psychology.
13) Collaboration skills
Customer service representatives must possess the problem-solving and team-building skills necessary to successfully collaborate with other personnel and departments.
14) Ability to handle surprises
The customer service landscape is dynamic and ever-evolving, requiring agents to be ready for whatever comes their way. customer service professionals must be equipped with the skills necessary to handle unforeseen situations efficiently.
15) Empathy
It could be argued that empathy is more of a trait than an ability; however, since it can be developed and sharpened, we would do an injustice to omit this capability from our list. After all, mastering empathy allows us to better comprehend the emotions of others and also cultivate meaningful relationships.
How to deliver Excellent Customer Service?
Following customer service tips will help you deliver excellent service to potential and existing customers –
1) Prioritize agent training
Prioritize your agents' training to ensure their success. Investing in comprehensive and ongoing learning opportunities is essential for cultivating a knowledgeable, efficient workforce that will benefit both you and your customers alike.
2) Leverage Artificial Intelligence to enhance your services
As AI and automation become the new standard in customer service, businesses across many industries are swiftly prioritizing strategies to inject both intelligence and automation into each customer encounter.
3) Personalize every experience
Every customer interaction should reflect their individual needs and preferences, sans any cookie-cutter approaches. Customer service agents must take this into account to guarantee a unique experience for each patron.
4) Examine existing customer support channels
To remain dynamic and competitive in our customer-driven world, consider reviewing your current customer service channels and take advantage of the benefits offered by newer ones. By keeping up with changes, you'll ensure that your enterprise remains agile and successful.
5) Focus on business impact
Customer service is not only about providing clients with a pleasant experience but also about the influence it has on your business. Hence, customer service representatives should be thoroughly trained and given the autonomy to make decisions whenever necessary.
6) Integrate systems to create a cohesive and efficient infrastructure
Leverage the power of Customer Relationship Management (CRM) systems to unify your client service activities with all other areas of your business. This will help construct a more integrated and productive environment, leading to enhanced customer interactions!
7) Utilize Customer Analytics
By leveraging customer analytics, businesses can gain invaluable insights into their customers and optimize operations accordingly. Through the power of these metrics, companies can identify areas for improvement in both daily practices and customer service experiences.
Principles of Good Customer Service
Friendliness: Courtesy and politeness are fundamental needs required for satisfying customers.
Empathy: Customers must be aware of the organization's understanding and appreciation for their desires and situations.
Fairness: Customers want to know they're receiving the necessary focus and appropriate, justifiable answers.
Control: Customers need to perceive that their opinions are taken into account.
Alternatives: To ensure satisfaction, customers require the option of choice and flexibility from customer service; they need assurance that there is a range of methods accessible to them.
Information: Customers need to be informed of products and services in a concise, timely manner; over-selling can easily turn them away.
Time: Time is of the essence to customers, and companies should respect that. Make sure agents have all the customer information they need at their fingertips so customers don't have to wait around while agents search for details–for instance.
Types of Customer Service Channels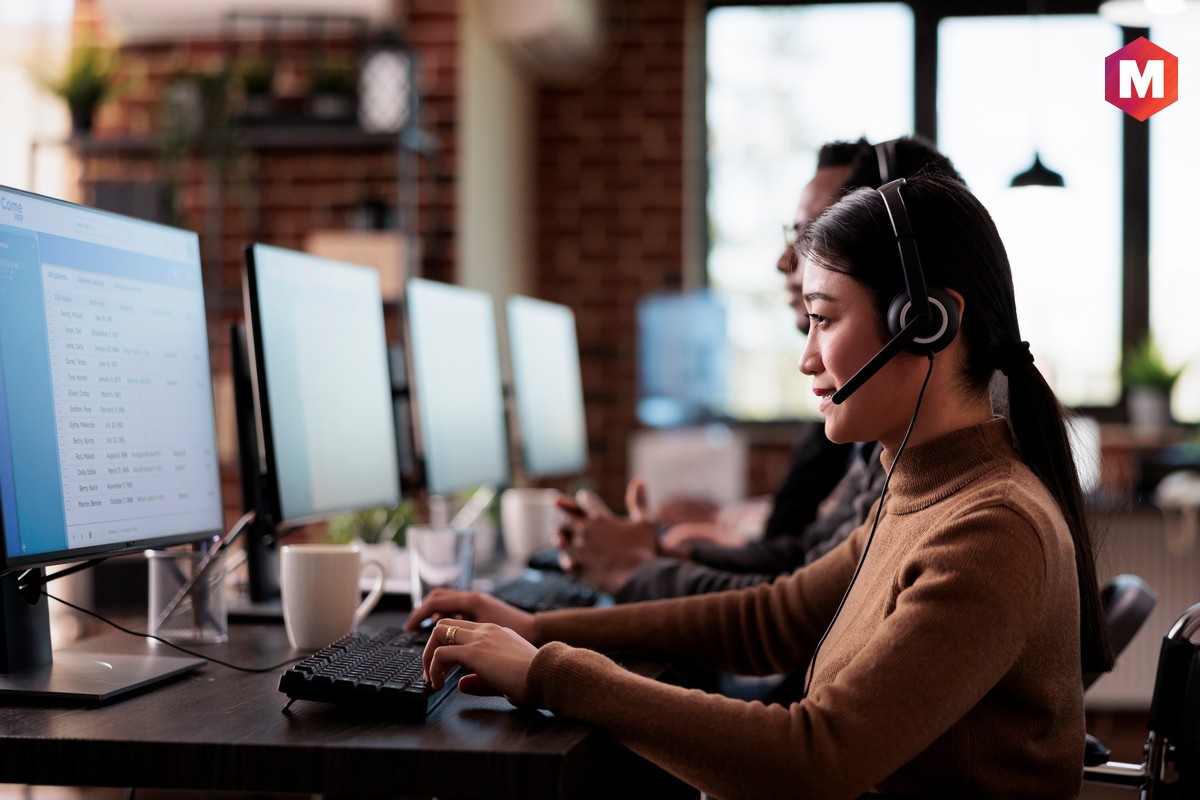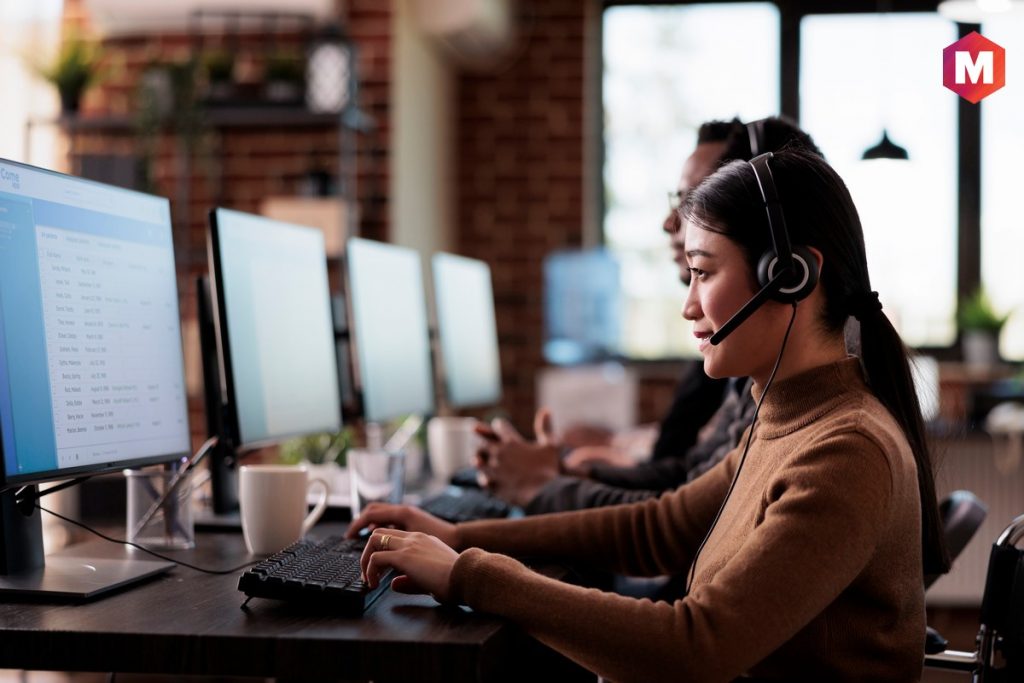 From traditional phone calls to the more technology-driven options like chatbots, customers have many ways to seek assistance.
No matter what your business offers or customer preferences are, you must provide a range of service channels for quick response times so that your clients can get their queries answered efficiently.
Popular customer service methods include –
Phone Calls
Social Media
Mobile Messaging
Video Chats
Emailing
Chatbot Technology
Self-Serve Options, etc
Benefits of Good Customer Service
Offering proactive customer service enables you to create a more personalized and rewarding experience for your customers, boosting loyalty in the process. It optimizes lead generation, connection, conversion, and sales. Some of the other upsides of offering great customer service are –
Improved customer loyalty and customer retention
Increased sales and revenue
Improved reputation among customers and competitors
Greater customer satisfaction
Better relationships with your customers, etc
Disadvantages of Poor Customer Service
Poor customer service experience can cause the following disadvantages-
Lost Sales
Negative Reputation
Poor Brand Recognition
Low Customer Satisfaction
Increased Cost, etc
Examples of Good Customer Service
Some of the examples of good customer service strategy that big brands use to optimize customer service interactions and delight customers are –
1. Amazon's Customer Obsession
Since its creation in 1994, Amazon has placed utmost importance on the satisfaction of its customers. Online support can be effortlessly accessed through a variety of channels and customers are often given solutions to any issues they may have within minutes.
2. Zappos' Customer Service Guarantee
Shopping with Zappos guarantees an easy and painless return or exchange process, along with expedited delivery. Additionally, their customer support line is always ready to help – 24/7 – staffed by friendly and knowledgeable representatives.
Customer Services Job Requirements
To ensure excellent customer service, representatives must be reachable, informed, and polite.
To master the art of conflict resolution, one must possess exceptional listening abilities and an eagerness to discuss possible solutions. Achieving ease in this realm can be achieved with proper training.
Having excellent verbal communication skills is critical, especially for phone personnel. This necessitates speaking with clarity and patience while preserving a levelheaded composure despite the customer's reaction.
Customer Services Employer Responsibilities
For employers, here are some of the essential pieces of advice to keep in mind. –
Guarantee that your customer service agents are well-versed, and equipped with the newest information on company products and regulations.
Regularly evaluate the customer service you are offering to make sure it is adding value to your business.
Invite customers to take part in frequent surveys, granting them the opportunity to share their experiences and insights about your service, as well as offer ideas for improvement.
How to structure your customer service department?
When crafting a successful business, customer service is an essential element. It is the foundation of a positive customer experience and can make or break your company's reputation.
But how do you structure your customer service team to guarantee success? Here's what you need to do to get started –
Define Customer Service Goals
Establish Customer Service Processes
Identify Customer Service Opportunities
Hire the Right Customer Service Staff
Implement Customer Service Training
Monitor Customer Service Performance
Invest in Customer Relationship Management (CRM) Software
Take Advantage of Customer Feedback
Conclusion!
When all is said and done, investing in superior Customer Service is absolutely vital to any business. By providing the highest quality experience for customers, you'll be able to build not just trustworthiness but also credibility – both crucial components of a successful venture!
Furthermore, excellent customer service makes it more likely that your clients will keep coming back time after time; an invaluable asset when striving towards success.
Liked this post? Check out the complete series on Marketing