Perishability refers to the property of certain products and services that makes it impossible to store them for sale at a later time. This means that any product or service with a short shelf life must be sold immediately. For example, perishable foods such as fruits, vegetables, fish, and dairy products all have a limited shelf life and should be sold in a certain time frame.
In the services industry, this is particularly relevant for businesses offering time-sensitive services. When the services become more perishable, their demand and price also increase. This is called demand pricing, which happens when a product or service is in high demand but limited availability, causing the price to go up.
What is Perishability?
Perishability is a characteristic of certain goods and services that makes them susceptible to spoilage because they cannot be stored for future sale. The concept of perishability is a challenge that many businesses face when dealing with certain products and services.
Perishability can make it difficult or impossible to store these products for long periods and later sale, making them more valuable in the short term. This creates an interesting challenge for businesses, as they must find ways to capitalize on the limited availability of perishable items and services while still making sure they are profitable over time.
For example, hotels must manage their room service to ensure that they are able to capitalize on peak demand and still remain profitable in the long run. Similarly, airlines must carefully manage their sale prices for airline tickets to maximize profits while still keeping them attractive enough to entice potential customers.
Some of the perishable goods and services are
Fruits & Vegetables
Dairy Products
Fish & Meat Products
Flowers and Plants
Prepared foods and meals
Hotel & Lodging Services
Transportation services (e.g., airline tickets)
Ticketed Events (e.g., concerts, sports events)
Professional Services (e.g., medical services, legal services)
Live Performances (e.g., theater performances, music concerts).
Some of the non-perishable goods and services are
Books & Magazines
Household Appliances
Clothing & Accessories
Automotive Parts & Equipment
Hardware Products
Electronics (e.g., computers, TVs)
Furniture & Home Decor
Jewelry
Online Services (e.g., streaming services, software)
Financial Services (e.g., investments, loans).
Why is knowing about perishability important?
Knowing about perishability is important for businesses as it can help them plan and make strategic decisions on how to maximize the value of their products. For example, many businesses that offer tangible products such as hotel rooms or food may need to consider the physical constraints of perishability in order to ensure their operational costs remain low. Let's go through some of the key reasons behind the importance of perishability –
The fresh taste of food
Perishability ensures that customers get the freshest taste of the food. This is especially important for restaurants and they need to plan ahead so that customers get the best experience.
The appeal of novelty
Perishability also appeals to people's desire for novel experiences. For example, limited edition items or seasonal products can be used to create a sense of urgency and uniqueness that customers crave.
Time-sensitive delivery
Perishable items often have a limited shelf life, so businesses must ensure they are able to deliver the items on time. This is especially important for businesses that offer services, such as medical care.
Right pricing
Finally, perishability can help businesses set the right prices for their goods and services. By understanding the key characteristics of perishable products, businesses can better assess and determine the right price to charge for their items.
How does perishability influence services?
Services have a limited time frame for production and delivery, which makes the concept of perishability crucial in this industry. Services require human resources, and there is often a limit to how much labor can be dedicated to any one project.
With services, once the time for delivery has passed, the value they provide is gone forever. This means businesses must be careful to manage their resources and ensure that services are delivered as quickly as possible in order to maximize their value.
Furthermore, perishability can also have an impact on the pricing of services. Since they are short-lived, businesses must be aware of the changing market conditions and adjust their prices accordingly to remain profitable.
For instance, services such as haircuts or massage therapy can be rendered only once at a given time. This makes it important for businesses to manage fluctuating demand and find ways to maximize their service capacity. Dynamic pricing is one-way businesses can address perishability in services marketing.
Hotels face the challenge of perishability due to their seasonal nature and the high fixed costs involved in their services. To stay competitive, hotel management must understand how to capitalize on different market conditions with variable pricing and seasonal hiring.
By understanding the concept of perishability and how it affects their business, hotel managers can make better decisions on pricing, hiring, marketing, and other areas of business.
All in all, the influencer of perishability on services is undeniable, and understanding it can help businesses find the right balance between profitability and customer satisfaction.
How is perishability used in different industries?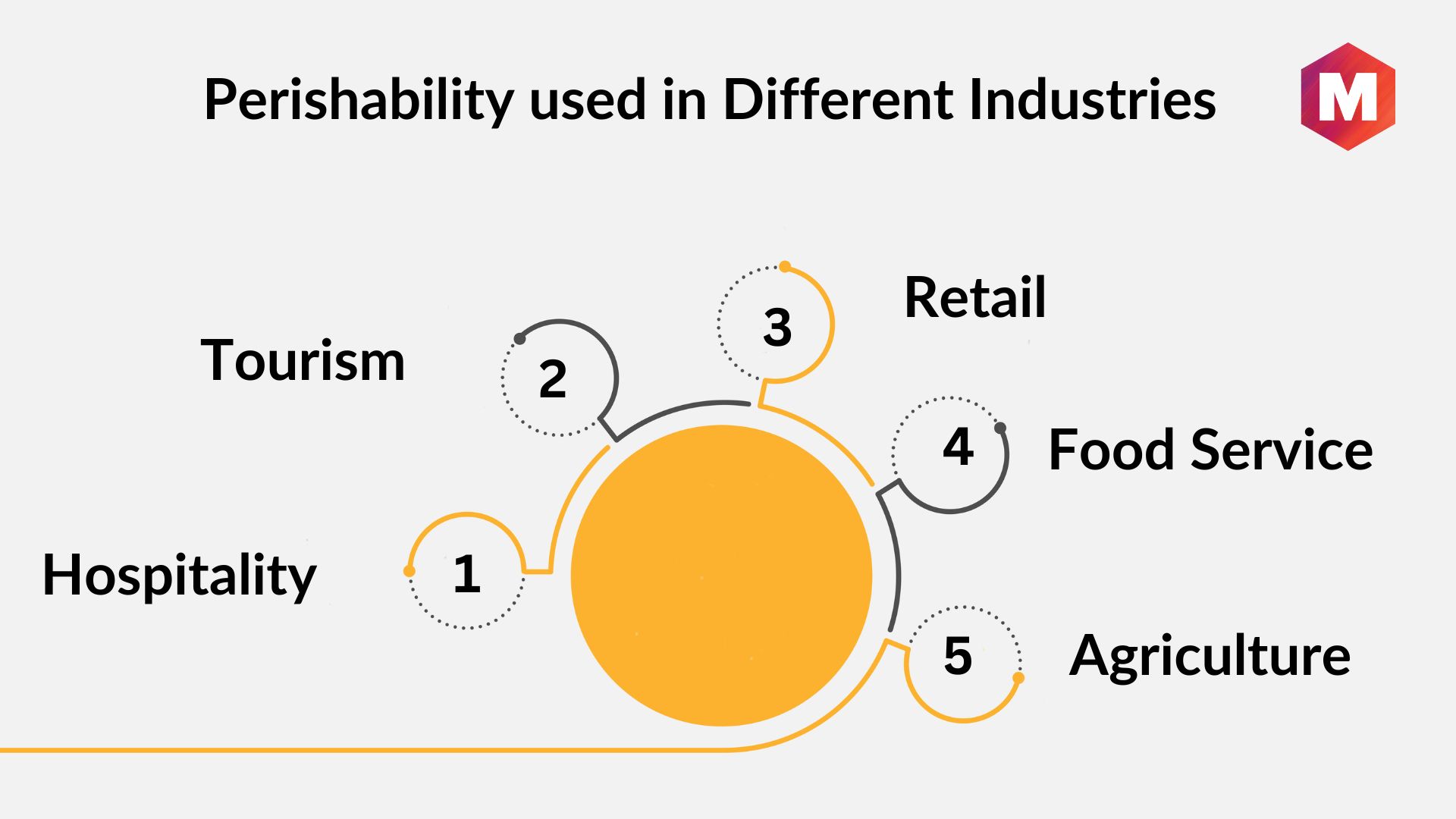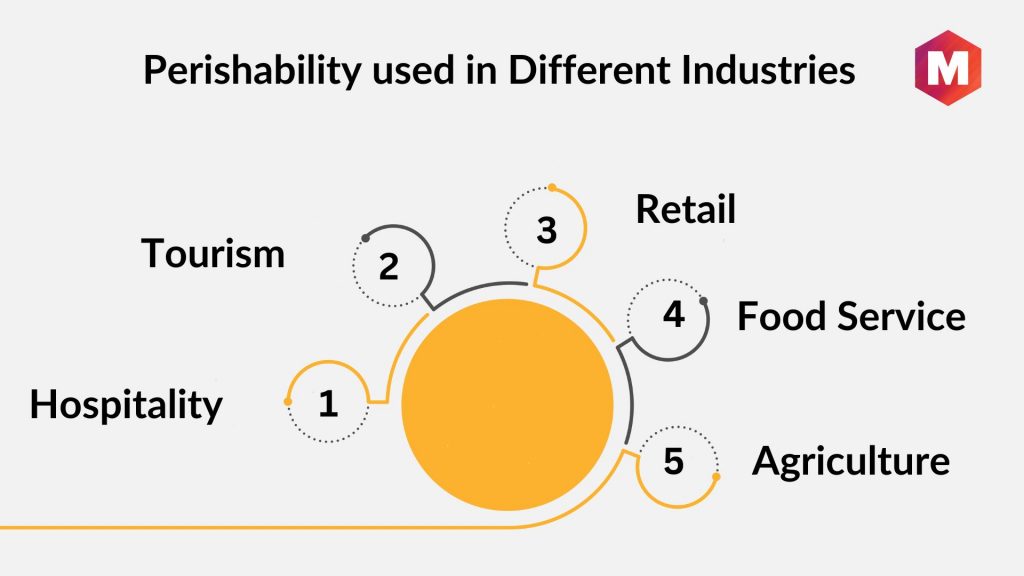 Industries and sectors where the concept of perishability is significant include:
1) Hospitality
Hotels, restaurants, and other hospitality services are affected by the perishable nature of their room nights and food. As a result, they must be able to quickly adapt their pricing strategies and operational structure to remain competitive.
2) Tourism
Tour operators need to be aware of changing market trends and factor that into the pricing of their services. Additionally, seasonal hiring can help them capitalize on peak travel periods with an increase in demand for their services.
3) Retail
Retailers must consider the perishability of their merchandise and adjust pricing accordingly to remain profitable. Additionally, retailers need to be able to manage inventory levels and quickly change pricing strategies as market conditions fluctuate.
4) Food Service
Food service establishments must account for the perishability of their food products to remain profitable. This could mean offering discounts on items that are nearing expiration or offering daily specials.
5) Agriculture
Farmers are faced with the challenge of producing enough crops to meet the demand and preserving them for as long as possible. This requires careful planning and consideration of perishability to ensure that the product is not wasted.
Examples of Perishability
Fast-food services – Fast-food restaurants must be able to provide timely services and goods in an efficient manner.
Travel services – Travel providers such as airlines, hotels, and package tours must be able to adjust their prices quickly in response to changes in the marketplace.
Live entertainment – Live events such as concerts and sports games must be able to respond quickly to the changing demand for tickets.
Perishability of Services
The term "perishability of services" in marketing means that service capabilities cannot be stored, saved, returned, or resold. Business leaders must execute services as quickly as possible in order to maximize their value. This applies particularly to service industries like hotels, restaurants, transportation, and tourism providers.
The concept of perishability is a key concept of the four main concepts in service marketing. Let's review all these concepts to understand perishability better.
Intangibility – Services are intangible in nature and cannot be touched, tasted, or smelled, which makes it difficult for customers to evaluate the quality of service prior to purchase.
Inseparability – Services are inseparable from the provider, which means they must be provided and consumed simultaneously.
Variability – Services may vary in quality depending on the provider, making it difficult for customers to be sure they are getting the same quality of service every time.
Perishability – Services that cannot be stored, saved, returned, or resold can easily go to waste if there is no demand for them.
Understanding perishability and how it affects the service industry is essential for businesses to remain competitive and profitable. It is important to understand these concepts to create effective services marketing strategies and maximize customer satisfaction.
How to manage perishability?
To manage perishability, businesses must try to ensure accurate forecasts and adopt flexible pricing strategies. It is also important to provide additional services that differentiate the business from competitors and offer customers something unique.
For instance, airline bookings have to take into account perishability due to high demand for certain flights. Airlines must accurately forecast demand and use dynamic pricing to remain profitable.
The challenge of perishability is even greater for a business that offers a type of non-mass-produced product, such as handmade jewelry or artisanal food. In these cases, businesses must focus on providing a unique service and experience that cannot be replicated.
In conclusion, perishability can pose a significant challenge for companies. Managers can make better decisions on pricing, hiring, marketing, and other areas of business by understanding how the concept of perishability affects their business. By implementing appropriate strategies and techniques, they can maintain profitability in various market conditions.
Perishability FAQs
1) What are the four characteristics of perishability?
Ans – The four characteristics of perishability are: immediacy, variability, irreversibility, and non-storability. These characteristics differentiate perishables from non-perishables.
2) How can perishability be used in service marketing?
Ans – Perishability in services marketing is an important concept and can be addressed through dynamic pricing, seasonal hiring, and other strategies to capitalize on different market conditions.
3) What are the implications of perishability for businesses?
Ans – Perishability affects many aspects of a business, from pricing and hiring to marketing and customer satisfaction. By understanding the concept of perishability, businesses can find the right balance between profitability and customer satisfaction.
Liked this post? Check out the complete series on Marketing