Marketing budget is an estimation of the amount of money that is required in the promotion campaign of products and services of a business. It is a vital part of both the marketing plan and the overall marketing process. It outlines the estimated costs a business intends to spend on all marketing-related projects on a quarterly or annual basis.
Any company aims to keep the costs as minimal as they can. It especially applies to small businesses that need to focus on scalability while on a budget. The firm's size does not matter in the end, as every business needs a marketing budget. It usually includes all types of promotional costs. Every company has to bear costs, like public relations, advertising, customer surveys, gifts, swag, or freebies.
What is a Marketing Budget?
Definition – A marketing budget is defined as a spending plan that a business makes to outline how all the money will be spent on marketing-related projects over the quarter or year. Marketing Budgets vary from industry to industry. However, marketing budgets have increased over the years. Trends suggest that B2C companies spend more on marketing than B2B companies. A well-planned marketing budget covers all the costs a company needs to market its products and services successfully.
The marketing budget plan revolves around different expenses such as promotion, paid Social Media Advertising, Sponsored Web Content Marketing, a registered blog domain or company website, brand awareness campaigns, marketing automation software, etc. Creating a marketing budget ensures that the company realistically carries out its marketing campaigns. Therefore, a lot of planning and research goes into creating a marketing budget. The research includes analyzing the market and industry as well as the company's performance and competition.
Why Businesses Need a Marketing Budget Template?
Here are five reasons why a firm needs a marketing budget to check and decide the spend on marketing for a small business as well as for a big brand:
1. Keeps track of all finances
The purpose of any budget is to stay on top of one's finances. Similarly, a marketing budget helps a company keep track of its finances. A company can determine whether it is overspending or has money to spare. If that is the case, then it can determine where the funds can be invested. Without a marketing budget, it is straightforward for a company to lose track of its finances and easily overspend.
2. Helps allocate funds in the right avenues
A marketing budget requires planning and research. Researching and reflecting on one's past performance can clarify which aspects require more work. As a result, a company can determine where it should allocate funds on a priority basis. Having a hold of its finances can allow a business to understand where it lacks and improve itself. Channeling funds into the right place is a challenging task, but budgeting and planning make it easier.
3. Helps set goals and benchmarks of performance
Setting goals is the very first step of any planning activity. A well-planned budget helps a company set not only realistic goals but also achieve the same. A goal also serves as a metric of your progress as a company can compare its current state and progress and know what it needs to do to fulfill its goals. As a result, the success of various marketing channels can be evaluated along with the success of the different marketing strategies.
4. Helps in long-term planning
Budget planning gives a company a sense of direction in which their business is growing. It creates the right environment for thinking about the long haul. It also saves costs if long-term planning starts early on. As essential as it is to remain flexible, planning provides a sense of flexibility to a company. As a result, a company can create more successful and consistent marketing strategies.
5. Acts as an investment in your business's growth trajectory
Planning a marketing budget is not a cost incurred by companies but an investment undertaken for a better future. It helps a company grow and develop through meticulous planning and avoiding unnecessary risks.
What are the various Marketing Costs?
When planning the marketing spend allocation, many companies keep the following costs in their mind:
1. Software
Marketing software is a tool that helps companies to execute their inbound marketing campaigns successfully. Finding the company's niche and target market to converting leads to sales helps a company with all possible marketing goals. It streamlines the overall process while cutting costs. But to earn money, one needs to spend money. A marketing software makes the marketer's job simpler so, most businesses invest in good marketing software.
2. Advertising
A marketing budget estimates all necessary advertisement expenses and costs that a business plans to incur in the coming time. It is a simple marketing trick that costs a little money but, it particularly successful in promoting a product or service. The end goal of advertising is to entice as many people as possible to buy the product or service. A business spends money on native ads, physical ads, sponsored content and posts, search engine ads, and social media ads.
3. Freelancers
Most companies are in constant need of freelance marketers. This need is especially dire for temporary or one-off marketing projects that call for a specialist. This is when a freelance marketer comes into the picture. Before hiring a full-time employee, it is easier to try new marketing strategies with a freelancer. It helps companies decide whether they like these new marketing strategies or not.
4. Content Creation
It includes photos, videos, blog posts, etc., that grabs customers' attention and engages them. However, it comes at a cost like all good things. This is why companies decide how much money will go into content creation and adjust it according to the return on investment. Content creation is a great way not only to reach new customers but also to retain old customers.
5. New Personnel
Hiring full-time staff members include a host of costs. It covers everything from salary and benefits to their computer and technology.
Apart from these costs, the following are everyday expenses borne by companies:
Office space
Fixtures and fittings
Travel costs
Other direct and indirect marketing costs, including marketing communications costs
Public Relations
Personal Selling
Printing and Mailing
Brochure Design
Website Design
Proposal Development/bid submittal
Networking
How to Create a Marketing Budget?
The following tips help to budget a marketing campaign and decide marketing spend adeptly-
1. Determine the brand's niche
Planning a marketing budget first needs understanding the target market. Before planning a marketing budget, a brand must understand its niche. It helps a brand in building a practical budget plan for its marketing endeavors.
An excellent way to do so is to analyze the competition. Using various competitor analysis tools helps you learn about the strategies they apply and understand their audience. The competitor's audience will be similar to your audience, if not the same.
Tools like CompetitorSpyFX will help you analyze competitor campaigns and get ideas to guide your marketing team. DIfferent monitoring tools can also be useful for you in keeping track of what people expect from the brands like you.
2. Ascertain the sales cycle to know your buyer's journey
The sales funnel is a vital component of the marketing budget, and it should be first established before creating the budget. Ascertaining the sales funnels helps in estimating the various costs the brand will undertake in the future.
A sales funnel is the channel that a potential client goes through on their way to become a paying customer. A typical sales funnel has four stages that are:
Awareness: This is the first stage of the funnel wherein the potential client becomes aware of any problems they have and start thinking of solutions.
Consideration: In the second stage of the funnel, the potential client starts to look at the various available options.
Decision: In this stage, the lead has reached a decision-making point in their journey.
Action: This is the final stage of the funnel wherein the potential client chooses your brand and becomes a paying customer.
Being aware of your business's sales funnel will let you use the right marketing strategy to help you keep more people from falling out of the funnel. Your buyer's journey is understood as different steps that your potential customer takes from being prospects to paying customers.
3. The Percentage of Revenue Rule
Each niche has its form of a "rule of thumb." A company should aim to spend around 2 to 5 % of its sales revenue on marketing. It may not be a very significant number, but it is pretty reasonable and cuts unnecessary costs.
Companies looking to grow or gain greater market may opt for a higher percentage generally around 10 percent. However, this percentage varies by company and industry. For example, companies that are competing in highly competitive industries like consumer products, retail, or pharmaceuticals even spend 20 to 50 percent of revenue on their marketing efforts. Hence, two factors that have to be considered while deciding the marketing budget are0
Industry-wise Budget- Rule of thumbs act as a guiding force but relies on hasty generalization. Marketing spending changes based on which industry is in question. As a result, a company should study its industry and its competitors to determine how much money should be spent on the marketing budget.
Industry-wise Expenses- Each industry faces various expenses that factor into its budgeting decisions. The costs of B2B products and services differ from B2C products and services. Each type of industry requires marketing but based on their niche, their expenses and overheads vary.
As per a recent CMO Survey, B2B companies generally spend an average of 6.9% on marketing, while on the other hand, B2C companies spend around 8.4% of the budget on marketing.
4. Be aware of outside and hidden costs
A reasonable marketing budget always has a solution for contingencies. A brand must first determine its outside costs like the salary and other fees of employing staff, the cost of running the business, or additional operational costs.
After which, a brand can keep a safety buffer for unforeseen situations. These unexpected or hidden costs can appear simultaneously, and a brand must always be prepared for them.
5. Choosing Marketing Channels
Finally, a company needs to determine which channels are the most suitable for a business. This is because not every marketing channel will be as successful in driving people to your brand. Proper budgeting decisions can help find and capitalize on these channels.
Different marketing channels whose analysis should be comprised in your marketing budget are-
Digital marketing
Inbound marketing
Outbound marketing
Brand awareness campaigns
6. Determine the strategies the brand should use
This is a critical component of planning the marketing budget for a brand. A marketer must be 100% certain about the strategies they want to use to benefit the brand. There are various strategies like
Search Engine Optimization or SEO: Search Engine Optimization is an integral part of digital and social media marketing. It helps in increasing the brand's online traffic. It focuses on both the quantity and the quality of the traction that the brand receives.
PPC advertising: Pay-Per-Click or PPC is a digital marketing strategy that yields almost immediate results. Here the advertiser pays as a user clicks on the ad.
Social Media Marketing: SMM is a long-term process.  Researching, identifying opportunities, studying its impact, engaging with customers are a few goals. It builds lasting customer relations.
7. Tracking Marketing Budget ROI
Before making any investment decision, a company calculates the return on investment to determine whether the investment is worth it. The same can be done with marketing campaigns. Companies need to determine what revenue can be earned from the money spent on such marketing campaigns.
When marketers or business owners keep a tab on where their marketing budget is being allocated and cross-checking their marketing spend with the results they get, it helps them to find out what should be included in the marketing budget and what should be excluded.
Tools like Google Analytics help in tracking the effectiveness of the marketing campaigns and accordingly marketing budget can be tweaked.
Here is a video by Marketing91 on Marketing Budget.
How to allocate Marketing Budget across various channels?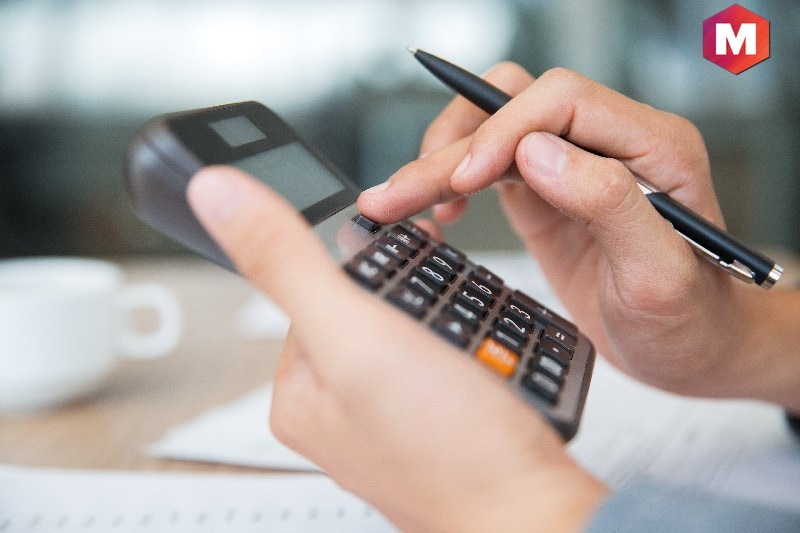 Once the budget is prepared, marketers must decide how to allocate the budget across various channels. This mainly concerns online and offline channels of marketing. An annual survey conducted by Chief Marketing Officers showed that digital marketing is growing at an 11% compound annual growth rate, and the biggest growth is visible in online videos.
The anticipated investments in online videos have doubled since 2016. Even with evolution in the marketing sphere, email marketing has the highest percentage of high ROI results. Social media marketing, however, is slowly catching up.
Research suggests that there is a 50-50 allocation of the budget on online and offline channels. However, digital marketing is slowly and steadily gaining more and more share of the marketing budget.
The following are a few ways you might use for calculating the marketing budget for your brand:
1. Revenue-based
In this way of determining your marketing budget, you need to audit your annual revenue sheets and set a percentage aside for marketing spend. Generally, businesses allocate around 6.5% to 8.5% for marketing budgets, however, this percentage can be higher for newer businesses.
While talking about the spending on marketing, some of the experts suggest that ventures that are less than five years old may try spending 10% to 12% of their revenues on marketing.
2. Top-down
By using top-down marketing budgets, you will not have any specific calculation on how much money you should spend for the execution of your marketing strategy.
Instead, in this, company management would come up with a figure and ask the marketing team to make their budget template accordingly, and implement the marketing plan within those parameters.
3. Competition matching
Another way to get started with a marketing budget can be based on the amount of marketing spend your competitors are spending.
4. Goal-driven
With the help of goal-driven allocation of marketing budget, the marketing team and company management would g determine their goals and set budgets to accomplish those goals.
Free Marketing Budget Templates
To assist marketers to make their marketing budgets, some templates can alleviate the whole process for them-
1. Annual Marketing Budget Template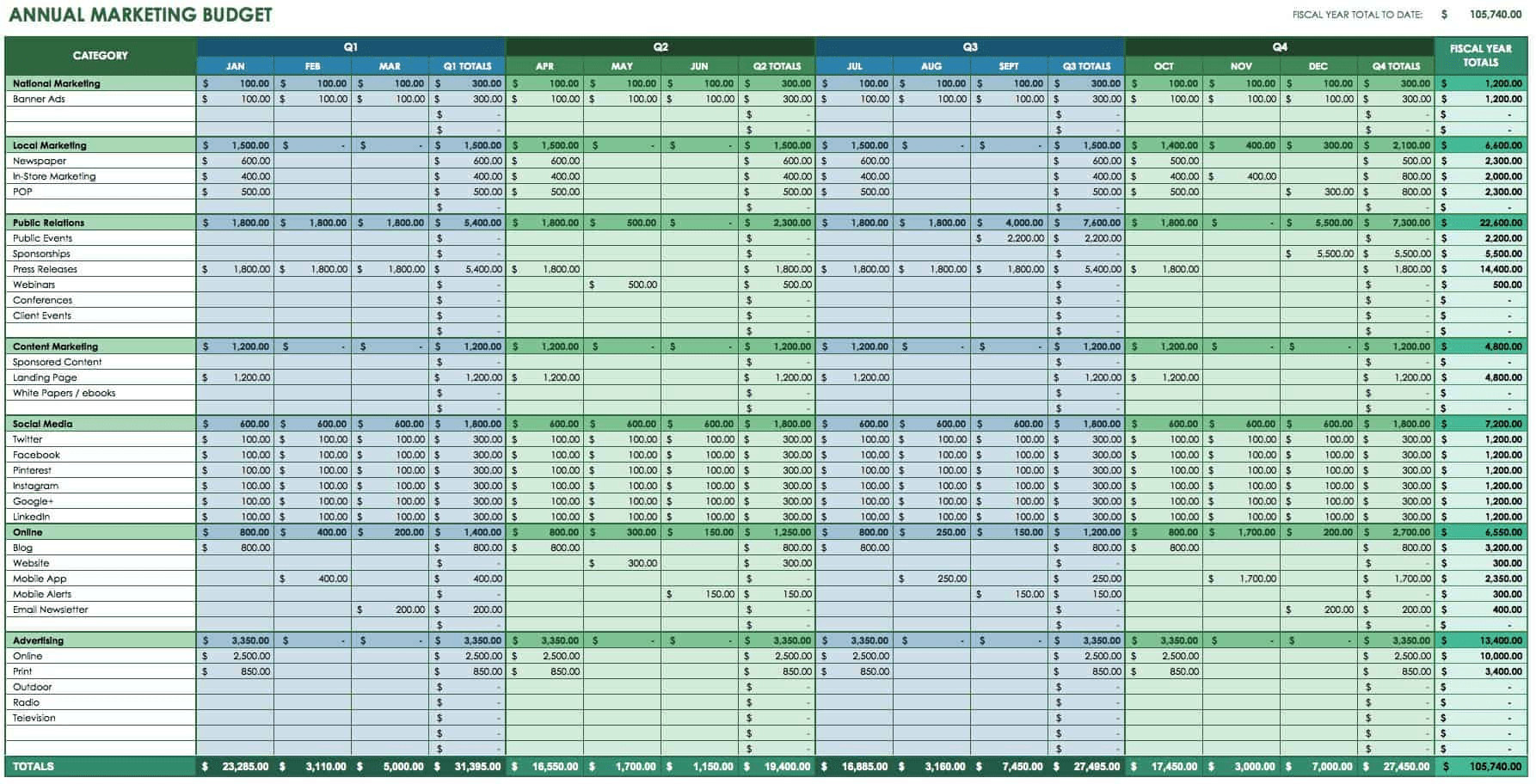 With the help of this marketing budget template, you will get a simple layout with columns for monthly, quarterly, and yearly costs. It comprises categories for market research, public relations, branding, lead generation, digital marketing, sales support, events, and travel to help you arrange your annual marketing plan and track monthly expenses.
2. Quarterly Marketing Budget Template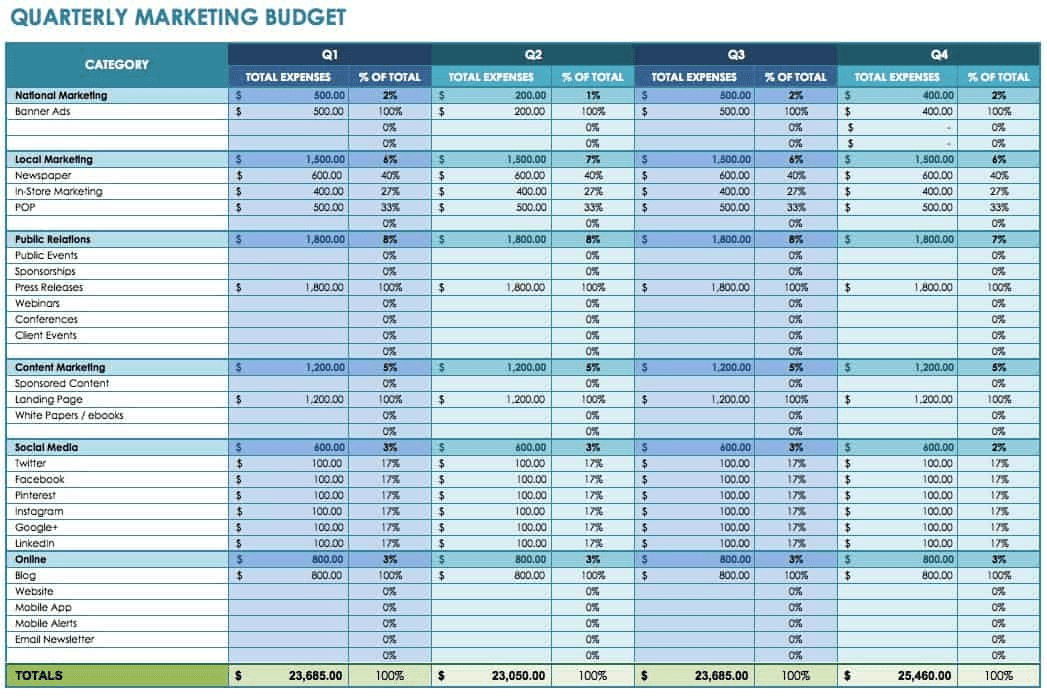 By using this template, you will be able to organize your quarterly marketing budget. In this, marketing categories can be seen on the left, while their quarterly tallies are mentioned on the right. You can use it for keeping track of your itemized and total expenses for every quarter.
3. Digital Marketing Budget Template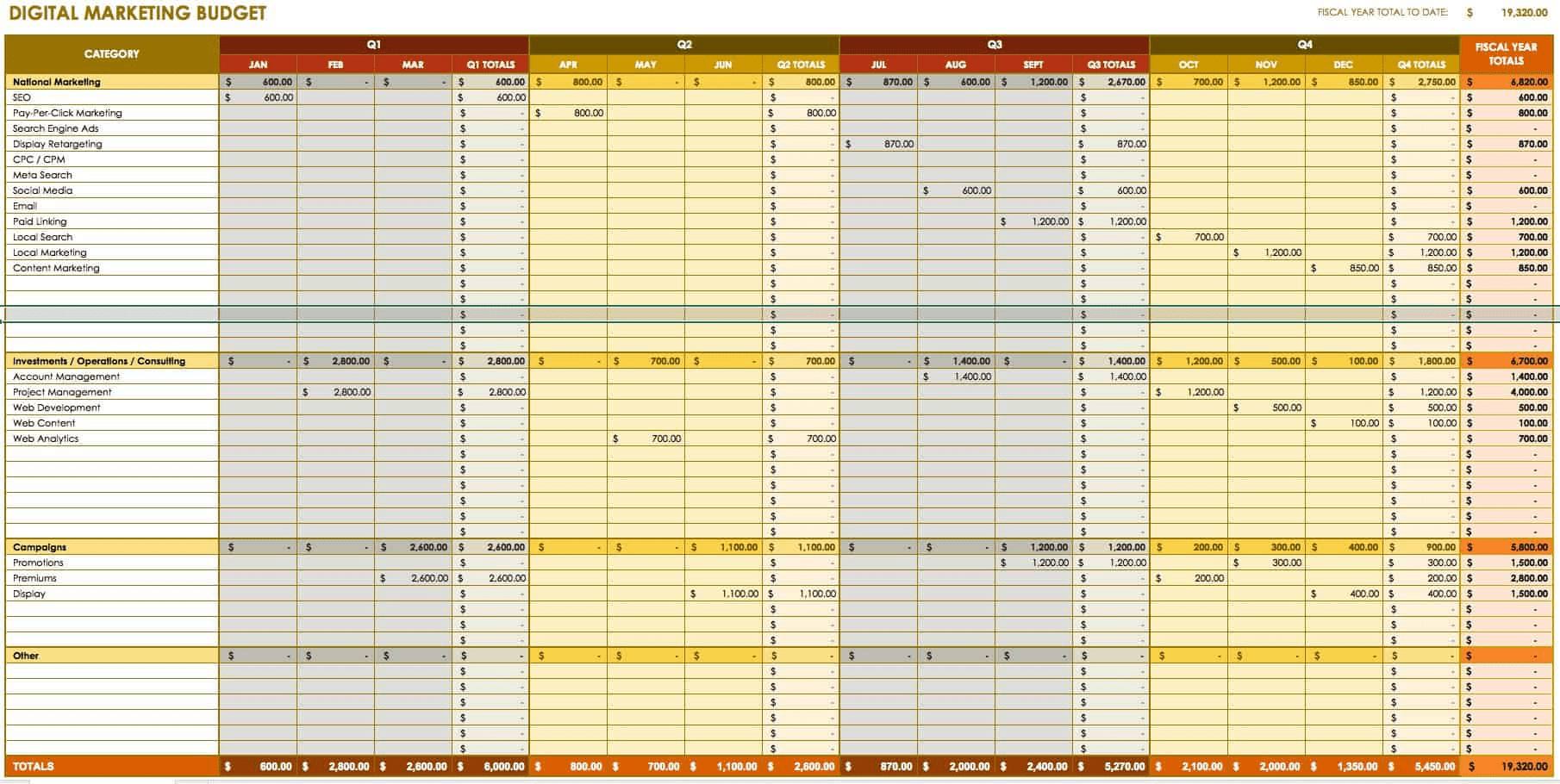 This template would be quite useful in focussing on your digital marketing budget. It includes different digital marketing categories such as website development, ongoing optimization, paid to advertise, web analytics, SEO, email marketing, social media, etc.
If you liked this article, we bet that you will love the Marketing91 Academy, which provides you free access to 10+ marketing courses and 100s of Case studies.