Allocating a precise marketing budget is vital for any company that seeks to amplify its brand recognition. With carefully-planned marketing budgets, you can acquire the necessary advertising and promotional materials that will help elevate your standing within the industry.
To maximize marketing success, your marketing budget allocation should be tailored to the needs of your business and its sales objectives, as well as any specific goals you're aiming for. Regularly tracking and evaluating what works best enables you to make informed decisions.
What is Marketing Budget?
A marketing budget is a spending plan that outlines the funds allocated for any promotional activities in a given period. Strategic marketing budgets are essential for taking advantage of your return on investment.
It's vital to think about where you should allocate your funds, how much to spend on each type of promotion, and if it fits into the greater scope of your marketing strategy and brand image. Therefore, it is essential to use your marketing budget wisely, which can involve marketing costs associated with –
Traditional & digital marketing channels
Investing in paid advertising
Creating sponsored digital content
Hiring new personnel with a background in marketing
Using CRM
SEO
Social media marketing
Inbound marketing, etc
How much do small businesses spend on advertising and marketing?
The amount of money that small businesses shell out for advertising and marketing can differ drastically depending on their target market, industry sector, product, or service.
The U.S. Small Business Administration recommends that profitable businesses with yearly sales under $5 million should ideally allocate 8% of their total earnings towards marketing expenditures to experience optimal results.
Digital media has become the primary source of advertising expenditures both in the U.S. and around the globe, comprising over fifty percent of overall spending on ads. This encompasses campaigns that are tailored to consumers who use desktop computers, search engines, video streaming services, social networks, mobile devices, etc.
To ensure optimal results, it is critical to strategize when assigning marketing budgets so as to get the most out of your expenditure.
Marketing Budget Breakdown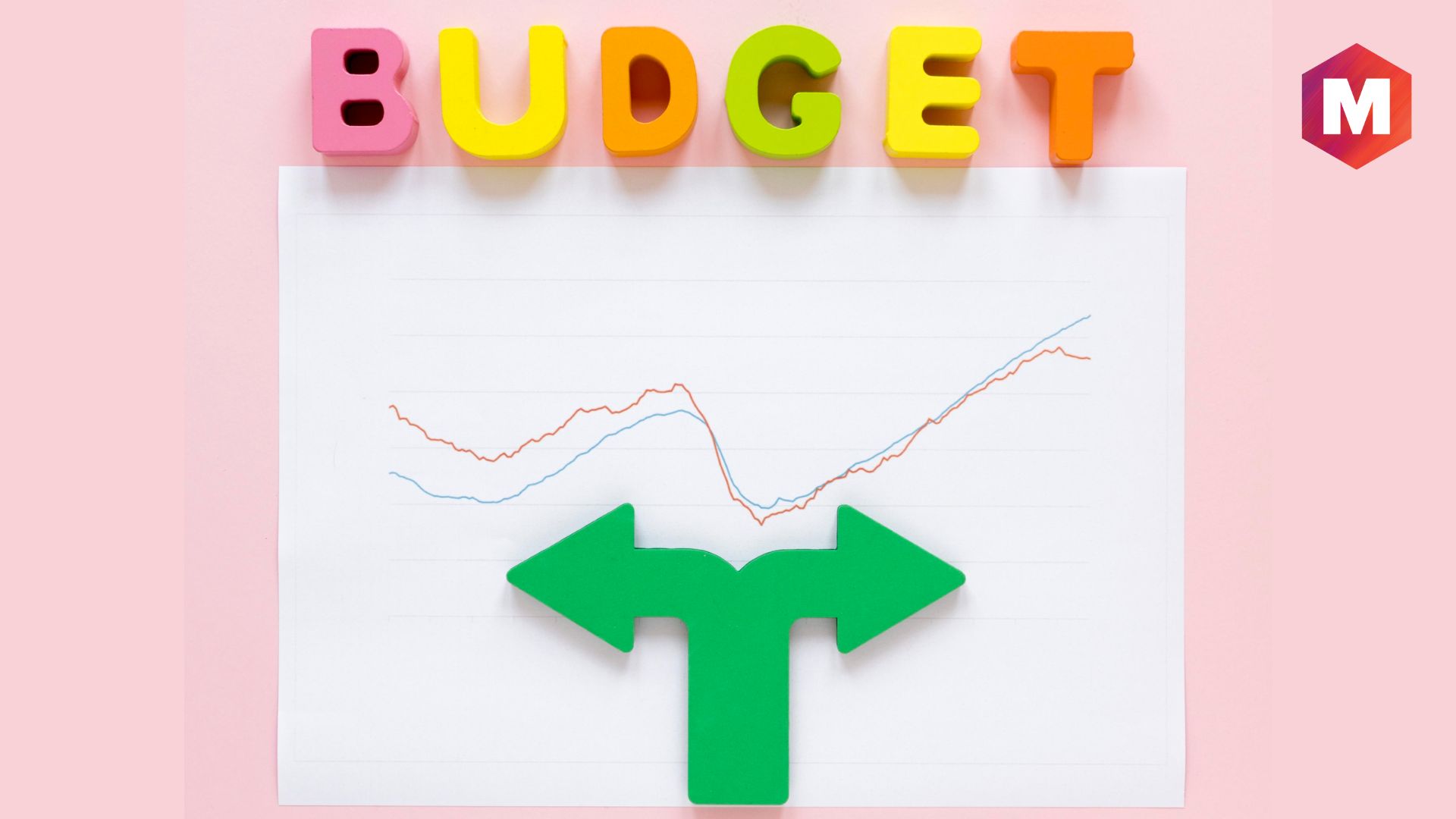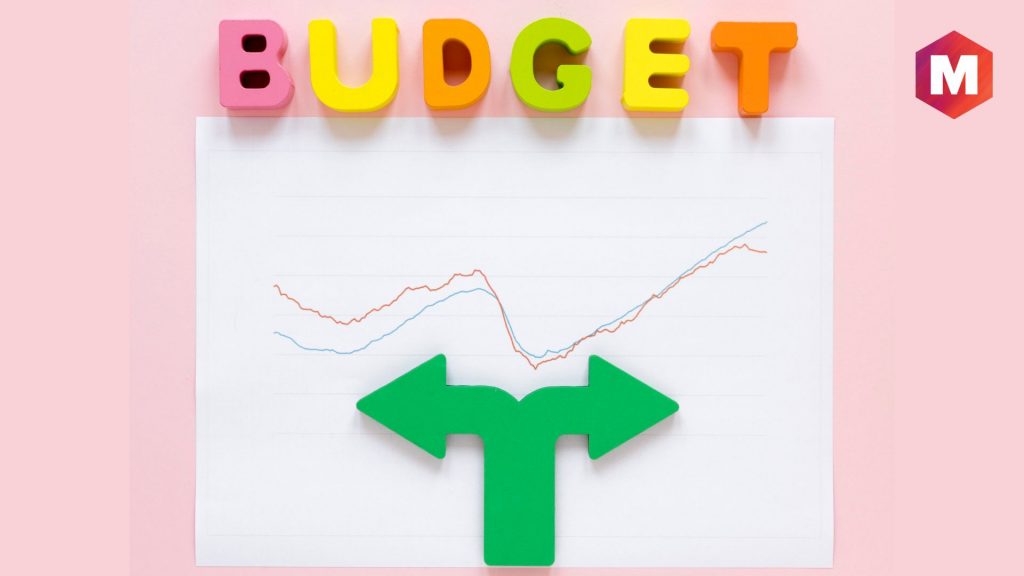 Generally, businesses set aside between 7-10% of their total revenue for marketing purposes.
If you're unsure about where, to begin with, your budgeting plan, the standard guideline many uses is the 70-20-10 rule. This will provide you with an excellent benchmark from which to start –
Invest 70% of your budget in tactics that have already proven to be successful.
Set aside 20% of your budget to invest in innovative strategies that will take your business to the next level.
Set aside 10% of your budget to try out innovative strategies.
Some of the other ways that can help you in breaking down your marketing budgets are-
Revenue-based – To decide on a marketing budget, review your annual revenue figures and allocate a percentage of that. Generally speaking, businesses ought to invest between 6.5% and 8.5%. But if you are just starting out or have been operating for less than five years, allot 10-12% towards marketing efforts instead as this is ideal for newer ventures.
Competition-matched – Leveraging existing research, you can also plan a budget that is in line with what your competition is investing.
Top-down – With a top-down budgeting system, there are no pre-assigned calculations of how much to spend per quarter or year. Rather, management establishes the amount and entrusts the marketing division to stay within those limits.
Goal-driven – Prioritizing objectives over a budget, goal-driven marketing initiates with management and marketing identifying the desired outcomes before allocating resources to realize them. For instance, businesses seeking to maximize website traffic should invest their budget in strategies that expand visibility and reach.
Marketing Costs to consider in a Marketing Budget Allocation
Some of the key marketing costs you should pay heed to while allocating marketing budgets are –
1. Software
If you're looking to make a splash with digital or print media, the right software can be instrumental in helping you design successful marketing campaigns and streamline your daily operations. You can find tools or software for almost all types of marketing activities-
Customer relationship management (CRM)
Lead capture and lead generation
Marketing automation
Conversion rate optimization
Social media optimization and marketing
Online advertising
Digital asset management
Email marketing
Content creation and design
Team collaboration
Data reporting and analytics, etc
Their charges may vary, so do your research and pick the best one for your needs. Small business owners need to make prudent marketing investments in such tools to empower marketing strategies and optimize company revenue.
2. Freelancers
If you only need assistance for a very specific project or to test out a fresh marketing strategy, then hiring a freelancer on a short-term basis can be the ideal choice before committing to bringing someone on board as an employee. Before you hire a freelancer, it is essential to astutely assess your budget as they often charge by the hour.
3. Full-time Marketing Personnel
If you choose to onboard full-time employees, bear in mind that there are associated costs such as computer hardware, technology needs, benefits, and training. Industry research reveals the typical cost per employee is a hefty $4,425!
4. Advertising
To ensure that you stay within your budget, be sure to allocate the right amount of money for paid opportunities such as physical ads, native ads, sponsored content, search engine advertisements, and social media promotions.
5. Content Creation
Crafting content for your blog, photo gallery or video channel requires a significant amount of hard work and dedication. Content marketing has the potential to generate three times more leads than traditional strategies, so investing funds in this venture is worthwhile. Make sure you designate an appropriate budget for content creation as it will allow you to evaluate its ROI and modify your approach if necessary.
How to create a marketing budget?
If you want to create a successful marketing budget, be sure to follow these useful steps –
1. Find out your marketing goals
Crafting an effective marketing budget requires you to think strategically about both short-term and long-term goals, as well as set KPIs (Key Performance Indicators) that are in line with your overall vision.
By building a sales funnel or generating direct sales, you can increase gross revenue while making sure your money is spent wisely so it's worth the investment.
Short-term goals can be decreasing bounce rate, increasing average time on page, and increasing website visits.
Crafting an ambitious long-term plan may involve launching a new product, creating an exclusive loyalty program, or increasing brand awareness.
2. Understand your target audience (buyer personas).
When trying to identify your ideal customer, crafting a buyer persona can be extremely useful. For example, the marketing budget for a startup will vary as per the target demographics for a specific marketing campaign.
To guarantee dependable representation and precision when it comes to data-driven decisions, remember to incorporate ethnicity, age, gender, job title, income level, and profession – amongst other qualities.
Possessing a precise buyer persona is essential in constructing the correct marketing budget. You can do it by surveying your current customers, using analytics tools, or interviewing your potential customers.
3. Know your buyer's journey
The buyer's journey is the path your target audience takes in becoming a paying customer.
By understanding how they interact with your marketing, you can uncover effective methods to reach and convert customers—and set achievable goals for budgeting.
Knowing your buyer's journey means more efficient campaigns that bring results.
You can do this by asking questions like how your leads and customers find your products, what information your audiences need before making a purchase, what is the ratio of lead generation and conversion, etc.
4. Understand your market and competition.
By learning more about your customer's demographics through market research, you can gain an in-depth understanding of who your target audience is.
You can analyze their general demographic information, influencing factors as well as wants and needs, etc to understand the market better.
To gain a better understanding of the competition, observe their tactics for connecting with customers and identify how those approaches vary from your own.
By understanding how your competition is spending its marketing budget, you can identify and take advantage of market gaps to quickly establish yourself as a competitive player.
5. Choose your marketing channels.
To get the most out of your marketing budget, it's essential to target those areas where your buyer personas are spending their time. Four fundamental channels will help you in achieving this goal-
Online Marketing – Social media strategies, Search Engine Optimization, Digital Advertising, Social Media Ads, Website Marketing, Search Engine Marketing Initiatives, etc
Traditional Marketing – Radio, Newspapers, Out-of-Home Advertising
Inbound marketing – Content Marketing, Referral Marketing
Outbound marketing – Cold Calling, Direct Mail, Traditional Advertising.
Brand awareness campaigns – Focus on improving brand visibility and recognition.
6. Set Marketing Goals & Analyze Results
Achieving success begins with having clear goals.
Construct a timeline of specific, quantifiable ambitions such as augmenting organic traffic or achieving a set number of app downloads prior to deciding on your budget.
To monitor progress systematically, install analytics tracking and tools for your marketing campaigns.
7. Measure ROI
Tracking your marketing ROI is essential for ensuring that you are using your marketing spend efficiently. When you pay close attention to which channels or campaigns bring the best results, it becomes easier to identify what needs improvement and then you can adjust your average marketing budget accordingly.
By regularly refreshing and optimizing your budget based on performance data, you can make sure that every dollar invested in advertising yields maximum returns.
How to track your marketing budget
Tracking marketing budgets can be daunting, and there is no one-size-fits-all solution. Factors such as the industry you are in, what your marketing spend is, and the size of your business, all need to be considered when crafting a comprehensive approach that works for you. The following ways can help you in tracking your marketing budget –
Campaign tracking – To better organize your campaigns, create a single line item for each that includes the campaign name and expenditure. Additionally, note down all staff salaries along with the total time required to complete every campaign accurately. Finally, make sure you keep track of any necessary changes or adjustments related to both time and cost.
Lead tracking – For each lead, add a line item of information that includes the date acquired, origin source, advertisement or campaign used to attract it, assigned sales representative name and contact details, any relevant notes pertinent to the lead's progress as well as its current status and total revenue generated.
Marketing Budget Templates
To give you a helping hand, consider utilizing a marketing budget template. Some of the Smartsheet marketing budget templates that you can use are-
1. Simple Marketing Budget Template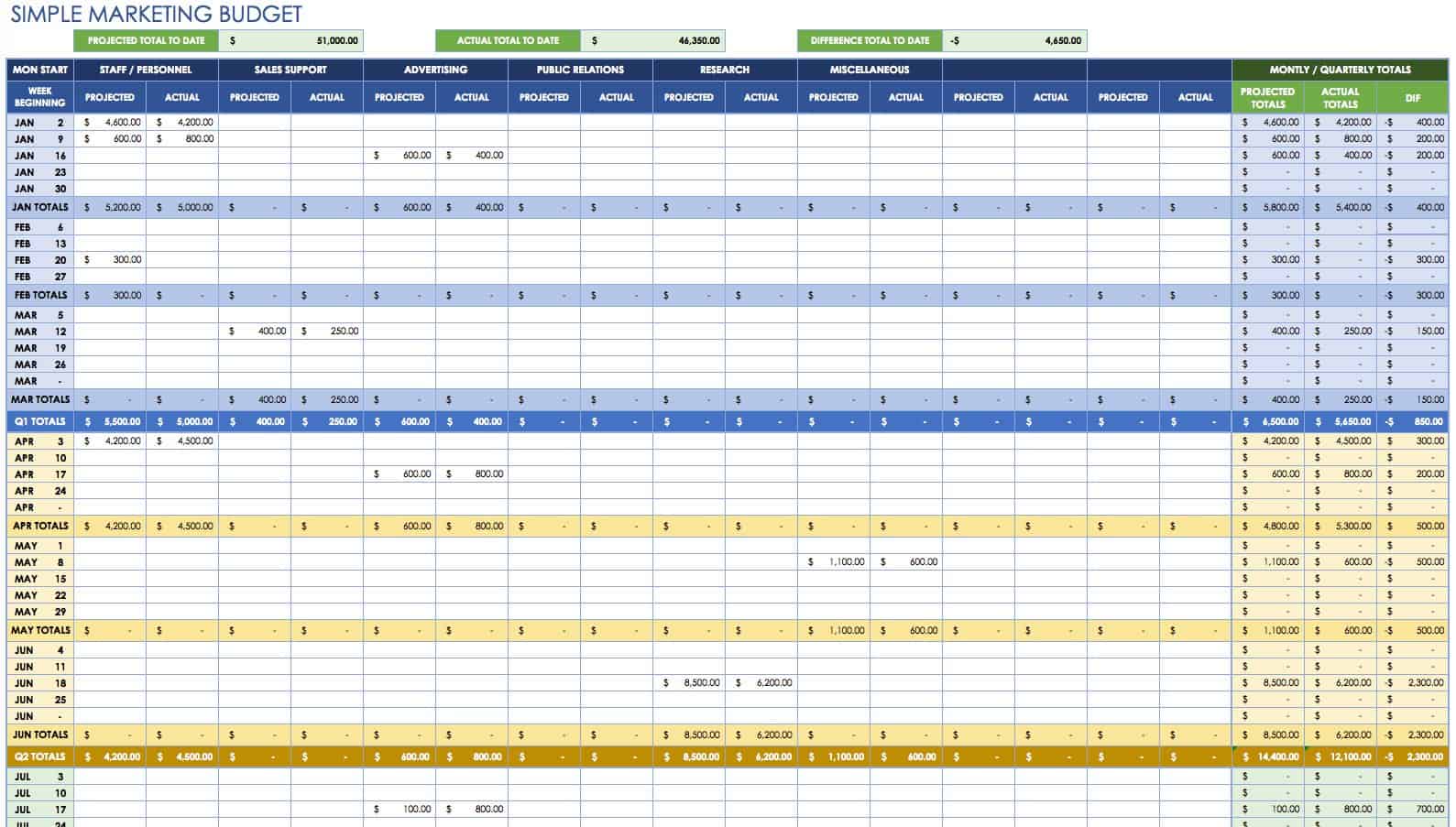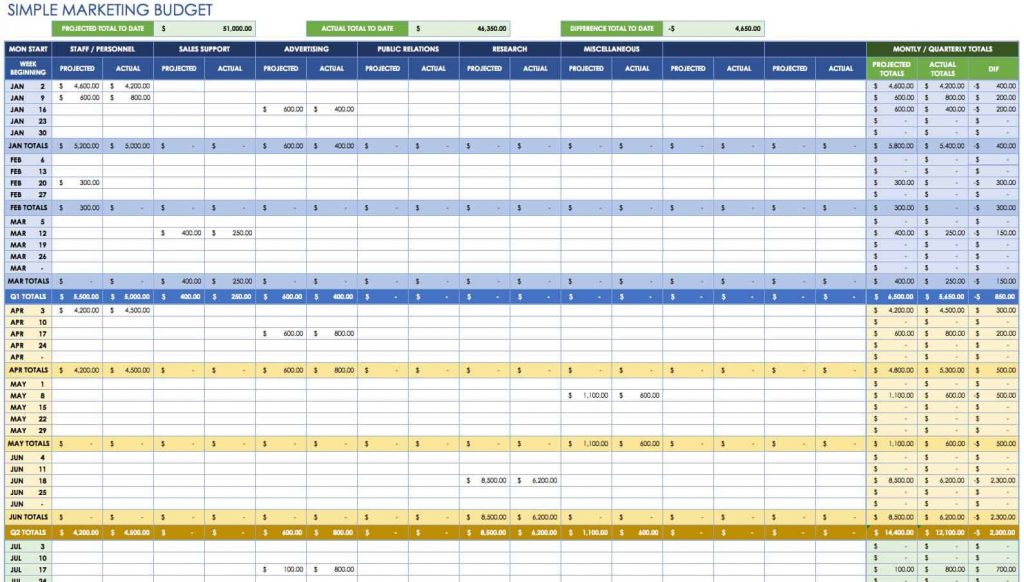 This streamlined marketing budget template lets you compare projected and annual costs for multiple categories side by side. You can assign expenses every week of the month so that you can keep an eye on your total outlay over periods of one month, three months, or a year – whichever is most convenient to you!
2. Social Media Marketing Budget Sample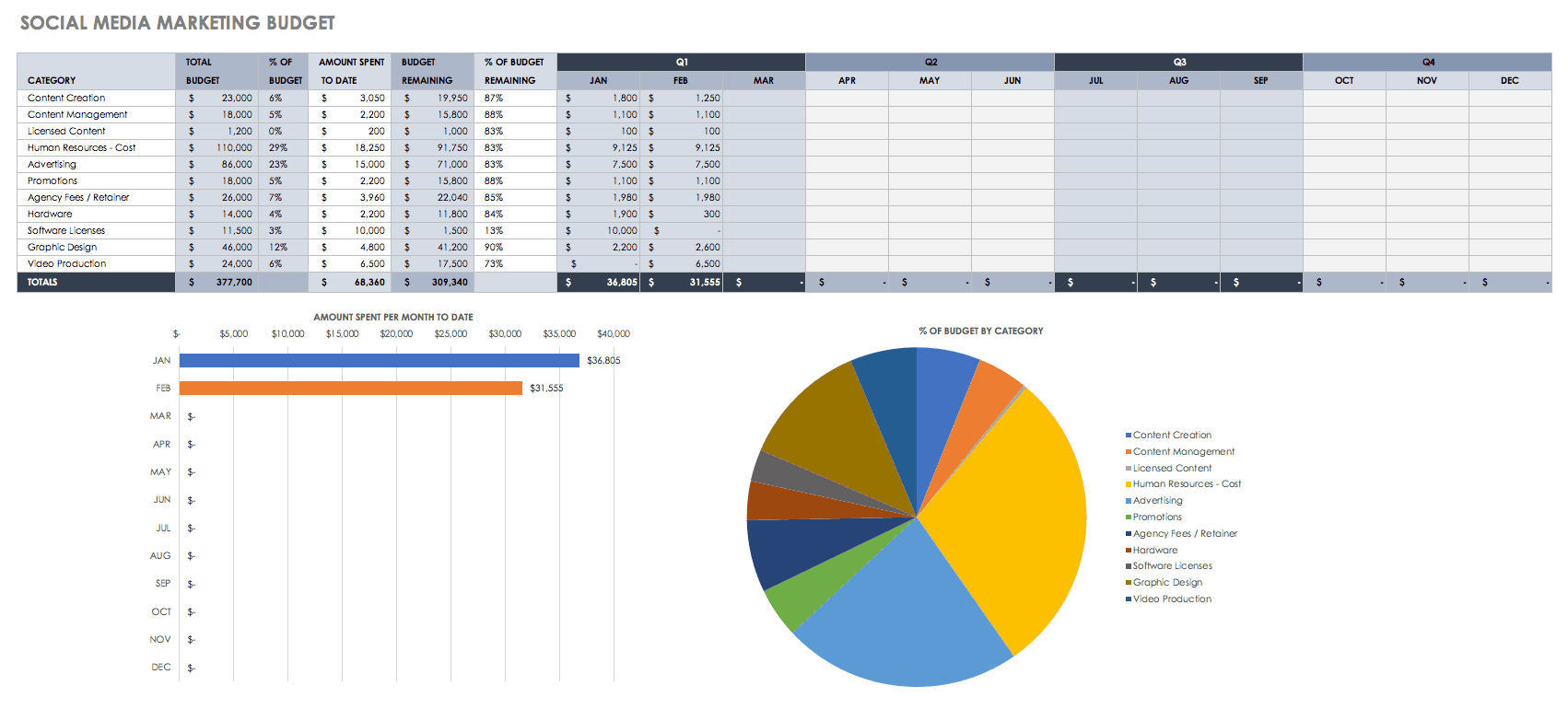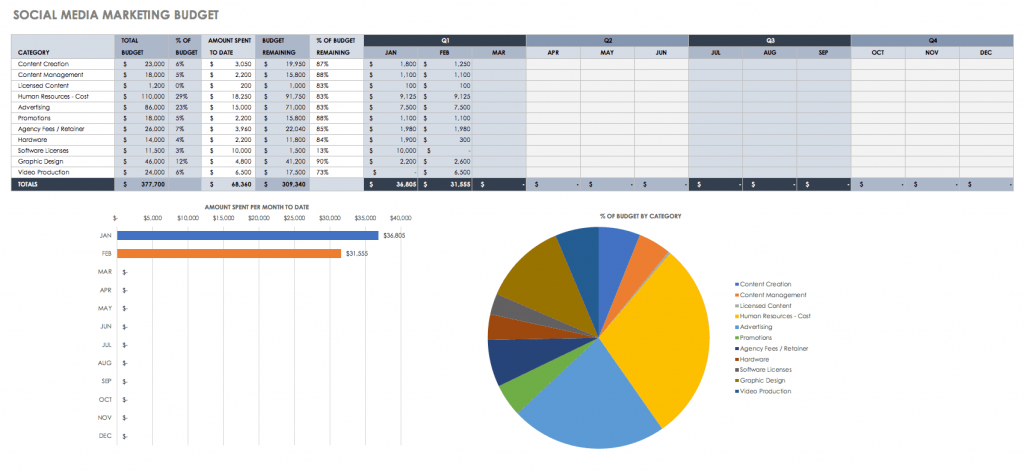 Keep tabs on all of your social media expenditures, from personnel and agency expenses to content production or campaigns, with this free marketing budget template.
3. Content Marketing Budget Sample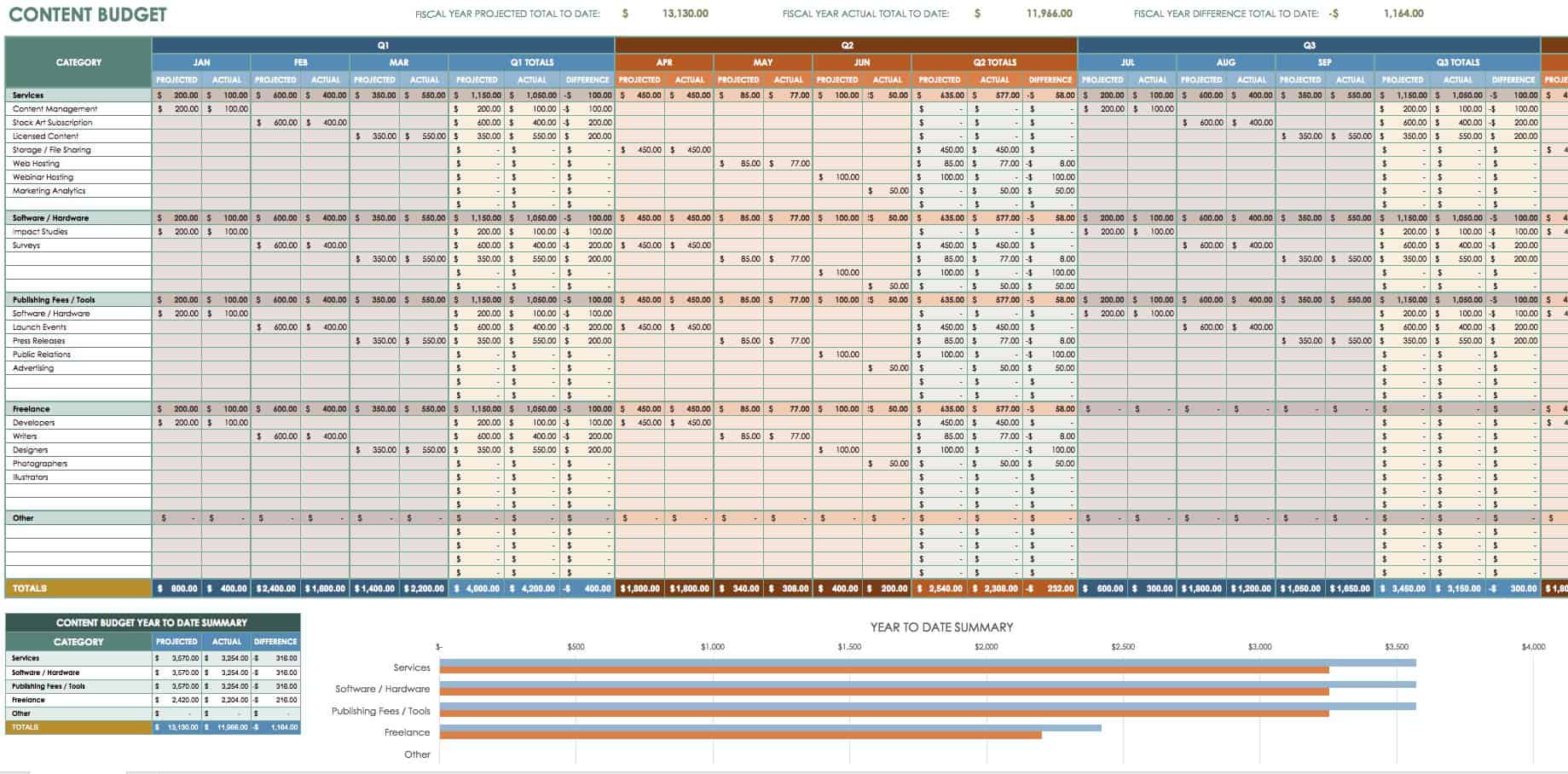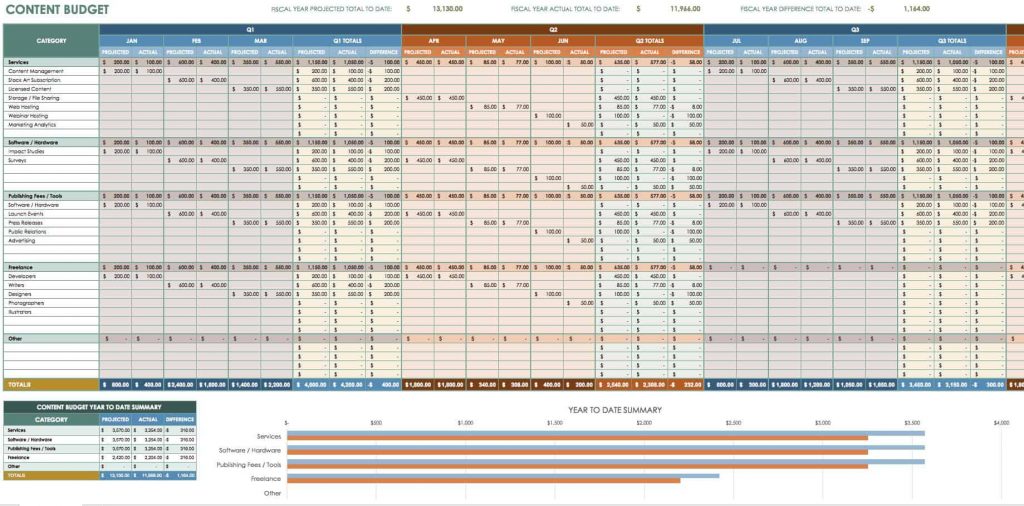 No matter the scope of your content marketing strategy, it's essential to have a budget that accounts for expenses such as freelancers, stock images, publishing tools, video hosting services, and analytics. This comprehensive budget template enables you to calculate costs on a monthly or quarterly basis in addition to forecasting yearly expenditures.
Create a Strategic Marketing Budget that Propels You Toward Your Goals!
Ultimately, a key component to success is establishing a marketing budget that will cater to your business goals. Whether those are aimed towards promoting brand visibility or propelling more sales and leads, it's essential that you realistically assess how much can be spent on the campaign and where these funds should ideally be distributed.
If you invest the time to evaluate your current scenario, establish goals, research your target market, and analyze the competition, then you can craft a strategic marketing budget that will help propel you closer to achieving those objectives.
Liked this post? Check out the complete series on Marketing