What is a moment of truth (marketing MOT)?
Moment of Truth marketing refers to the type of marketing that takes place at the moment when a customer interacts with a product, brand, or service, and forms or changes their impression about it.
An example of a moment of truth marketing is when a customer visits the store and has a positive experience with the staff or product. MOT marketing seeks to shape how customers perceive that experience so that they have a positive opinion of the product or brand.
Jan Carlzon, CEO of Scandinavian Airlines Systems, first came up with the idea of the "moment of truth" in the 1980s, and A.G. Lafley later developed it further while serving as CEO of Proctor & Gamble.
The potential outcomes of Moment of Truth marketing can be great. With the right message and experience, customers can be persuaded to choose a product or service over its competitors. Companies can use MOT marketing to increase customer loyalty, build brand awareness, and boost sales.
Moment of Truth Definition
The moment of truth is defined as a particular moment when a user or a customer changes or forms an impression about a service, product, or brand after an interaction or contact with it. This is also described as an opportunity to change the perception of the firm.
The moment of truth is considered an essential aspect of business dealings because if the experience is positive, then the brand has gained a loyal customer.
Importance of Moment of Truth Marketing
A customer interacts with a brand numerous times and forms an impression that might be positive or negative depending upon the circumstances. The aim of a brand is obviously to ensure that the impact is positive on the user. During the customer's journey, some key event might happen that helps him to change his opinion about a brand, its product, or service. This is described as an MOT.
This matters a great deal because the consumer market is full of numerous products that are mostly similar in most ways. The brand and its products can differentiate themselves based on the service they provide. In this competitive market, every rival brand is in a rush to fill a gap if it exists in the market and so the importance becomes greater.
The fact is that if a customer is delighted after his interaction, then it means that the outcome was positive. In such circumstances, he will stay with the brand he was impressed with and not turn to another brand.
Types of Moments of Truth in Marketing

In a customer journey, there are several critical moments that can influence their purchasing decisions. These include the following –
1. Less Than Zero Moment of Truth (<ZMOT)
This moment of truth happens before the customer even interacts with the product. It is when a customer starts researching and forming an opinion about a product or brand.
It refers to a moment when an event takes place and instantly motivates you to think about making a purchase.
2. Zero Moment of Truth (ZMOT)
The consumer generally researches a brand, product, or service in the online market to decide so that he can make a purchase or reject that product. This is the first point of contact, and the interaction happens before a consumer makes a purchase and is known as zero moments of truth (ZMOT).
The concept of ZMOT has been introduced to the world by Google and describes the point when the online customer starts searching for information about a service, product, or brand of his interest. The customers visit reviews and feedback before moving forward.
3. First Moment of Truth (FMOT)
The first moment of truth (FMOT) is described as the first few seconds when the customer chooses one product over another from a rival brand. It is the first time that the customer comes into contact with that brand, and this can be both offline or online.
These first seconds are very precious as they create impressions and can turn a browser into a buyer. The concept was introduced by Procter & Gamble and emphasized the brief moment when the presentation and information have a more profound impact on a person.
4. Second Moment of Truth (SMOT)
The customer has now purchased the product or service and has used it for the first time. This is when the second moment of truth (SMOT) occurs as the customer gets a hands-on demonstration of the product or service. It tells him the reality of his decision and whether the outcome has been as per his perception.
There can be several second moments of truth because every time the consumer uses the product, he continues to form his opinions. This is critical as it decides whether the customer will keep on associating with the brand or will move away and choose another over it.
This has a direct impact on brand reputation and customer reach.
5. Third Moment of Truth (TMOT) or Ultimate Moment of Truth (UMOT)
The reaction of a consumer towards a brand or product or service through consumer feedback is often considered the Third moment of truth (TMOT). Will, the consumer, now become a brand advocate and give back the brand word-of-mouth publicity, is dependent upon this MOT.
It is generally the stage when the user starts sharing his experiences with others and can create several other zero moments of truth for the brand. This was added by Procter & Gamble and dealt with the product's ability to fulfill the needs of a customer.
This experience helps to shape the customer's emotional response towards the brand and nudges him to write and share his opinion with others. Will he become a return customer and influence others is a million-dollar question that depends on a customer's experience at this stage.
6. Actual Moment of Truth (AMOT)
The actual moment of truth (AMOT) is used to describe the experience gap that occurs when the consumer has purchased a product in the online market but has not yet received it.
In order to make sure customers have a positive experience during all of these moments of truth, customer service agents play a pivotal role. They help in creating more loyal customers by providing excellent customer service and collecting feedback from them.
With the help of customer feedback, companies can better understand their customers' needs and further improve their products or services. This is why customer feedback is so important for businesses to stay competitive and relevant in the market.
Potential Outcomes of Moment of Truth Marketing

There are two potential outcomes, and these are
1. Magical moments
A magical moment of truth is one when the brand can meet the expectation of the customer in full and in most cases, can exceed them. The brand does not have to make grand gestures because sweet gestures that are unexpected have the same ability to move a person.
It helps in creating a regular and loyal customer base which is very rare in today's competitive times.
2. Miserable moments
No one likes to think about miserable moments, but they are a reality that the customer often has to face. These not only are awkward and suck but are bad for business. Miserable moments occur when the brand, product, or service is unable to meet even the basic expectations of the customer.
There is a good chance that the customer will talk about his miserable moments with friends and family members and thus will make way for bad publicity for the brand. It is essential to explain that in some cases, the miserable moments have turned into magical moments. Sometimes the brand comes to know about them and tries very hard to resolve issues and change the negative impression to positive outcomes.
There is a chance of a neutral outcome, but in reality, the chances are meager as either a brand makes an impression on a customer or fails to do so.
Pros and Cons of Moments of Truth Marketing
Moments of truth marketing helps a brand in understanding how customers interact with their offerings. It allows brands to identify the areas where they could make improvements in customer experience and service. Moreover, it helps them to stay ahead of the competition by providing better services than others.
On the other hand, moments of truth marketing require a lot of resources and time to be successful. Moreover, it is not possible to please customers in every situation, which can lead to negative customer feedback. Additionally, if mishandled, moments of truth marketing can backfire and cost the brand more in the long run.
Personalized communication is where MOT's power lies. But, if the "moments of truth" fail to meet a person's expectations, there is a high likelihood of negative consequences, including low customer satisfaction rankings.
Examples of Moment of Truth (Marketing MOT)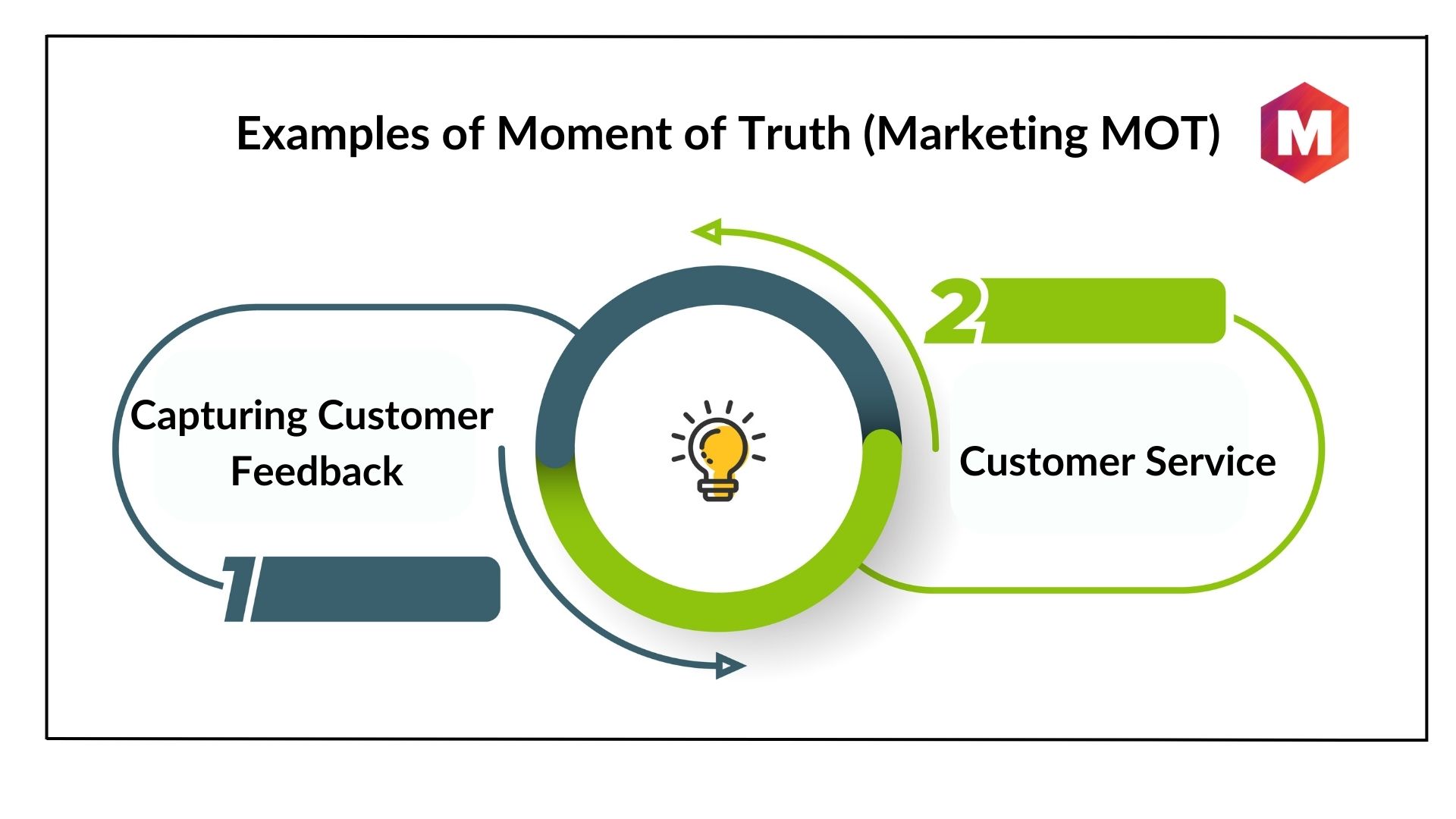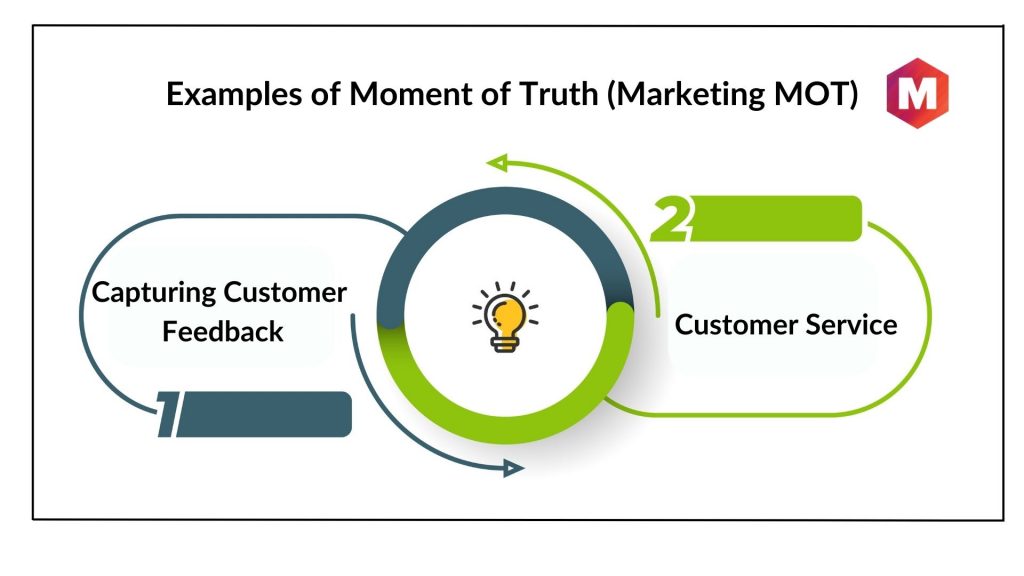 Capturing customer feedback
Customer feedback is a key moment of truth. It provides insight into the customer's opinion and experience with the brand. Companies must be able to swiftly capture this data and use it to further improve their service or product.
Most companies do this by surveying customers after each purchase, as well as through online reviews. Through all these channels, customers can share their experiences and rate products to provide immediate feedback which the company can then use for improvement.
Customer service
Customer service is a major moment of truth and can often make or break customer loyalty. When customers face difficulties, they tend to reach out to the company's customer support team for assistance. If their queries are not resolved quickly and efficiently, it may lead to negative experiences and loss of goodwill towards the brand.
For this reason, businesses strive to ensure that their customer service is top-notch. They should have a team of friendly and patient customer service agents, who are knowledgeable and quick to respond to any query from customers. Companies also need to ensure that their customer service agents are available round the clock, so customers can get help as soon as they require it.
How to Use Moments of Truth to Build Customer Relationships?
Moments of truth is a term used to describe the moments when customers interact with your business. These interactions can be in-store, over the phone, online, or even when your customer is using one of your products or services.
By understanding these moments of truth and how they influence customer journeys, you can build meaningful customer relationships that drive long-term business success.
To get the most out of your moments of truth, you must know how to identify them. The easiest way to do this is by tracking individual customer purchases. For instance, if a customer uses your website to buy something from you, then that purchase can be considered a moment of truth. On the other hand, if they come into one of your stores and ask for assistance, then that can be considered a moment of truth.
Once you understand the moments of truth, you need to create strategies that will enable you to use them to build relationships with your customers. This could include offering special promotions or discounts as an incentive for customers. You may also want to use these moments of truth as opportunities to upsell other products or services.
Finally, you should leverage moments of truth to gain insight into customer behavior and preferences. This will help you tailor your interactions with customers in order to provide them with a more personalized experience.
Liked this post? Check out the complete series on Marketing