The product adoption process refers to the process through which new customers learn how to use a product or service and become familiar with it.
The opposite of churn is product adoption. Churn occurs when users decide to not use your product. Once customers choose to adopt your product, it means they have made the decision to use it.
What is a Product Adoption Process?
A product adoption process is a method or plan that you utilize to guide individuals from being completely unaware of your product to recognize that it is suitable for them in a way that they prefer loyally using that product.
To move from the introduction stage to the consideration stage, it's essential to make potential customers aware of your product, explain its functionalities, and convince them of its benefits. Once customers are informed, it's crucial to guide them toward making a purchase by giving them thorough information about the product and having an efficient sales plan in place.
Is product adoption the same as new user acquisition?
No, product adoption is not the same as new user acquisition.
User acquisition aims to increase the number of people who try out your product, while product adoption is about assisting users in becoming acquainted and devoted to it.
User acquisition refers to the stage when a consumer chooses to try out your product for the first time. But on the other hand, when a user experiences enough success with your product, they decide to invest in using it and stop searching for other solutions. This is known as product adoption, and the user becomes a regular user.
Why is the product adoption process important?
It is 5 to 25 times more expensive to acquire new customers than to retain existing ones. The consumer adoption process helps in retaining existing customers. According to research, if customer retention rates are increased by 5%, profits can increase by anywhere from 25% to 95%.
Understanding and optimizing the product adoption process is crucial for SaaS businesses as it directly impacts their revenue, profit, and growth potential. If you're using a SaaS product, you'll likely be paying a subscription fee. If the product fails to consistently provide value, customers will cancel their subscriptions.
Your business must retain and expand its customer base by demonstrating the lasting benefits of your product to users. Using product expansion strategies to increase revenue through upselling is most effective with adopted customers.
Types of Adopters in Product Adoption Curve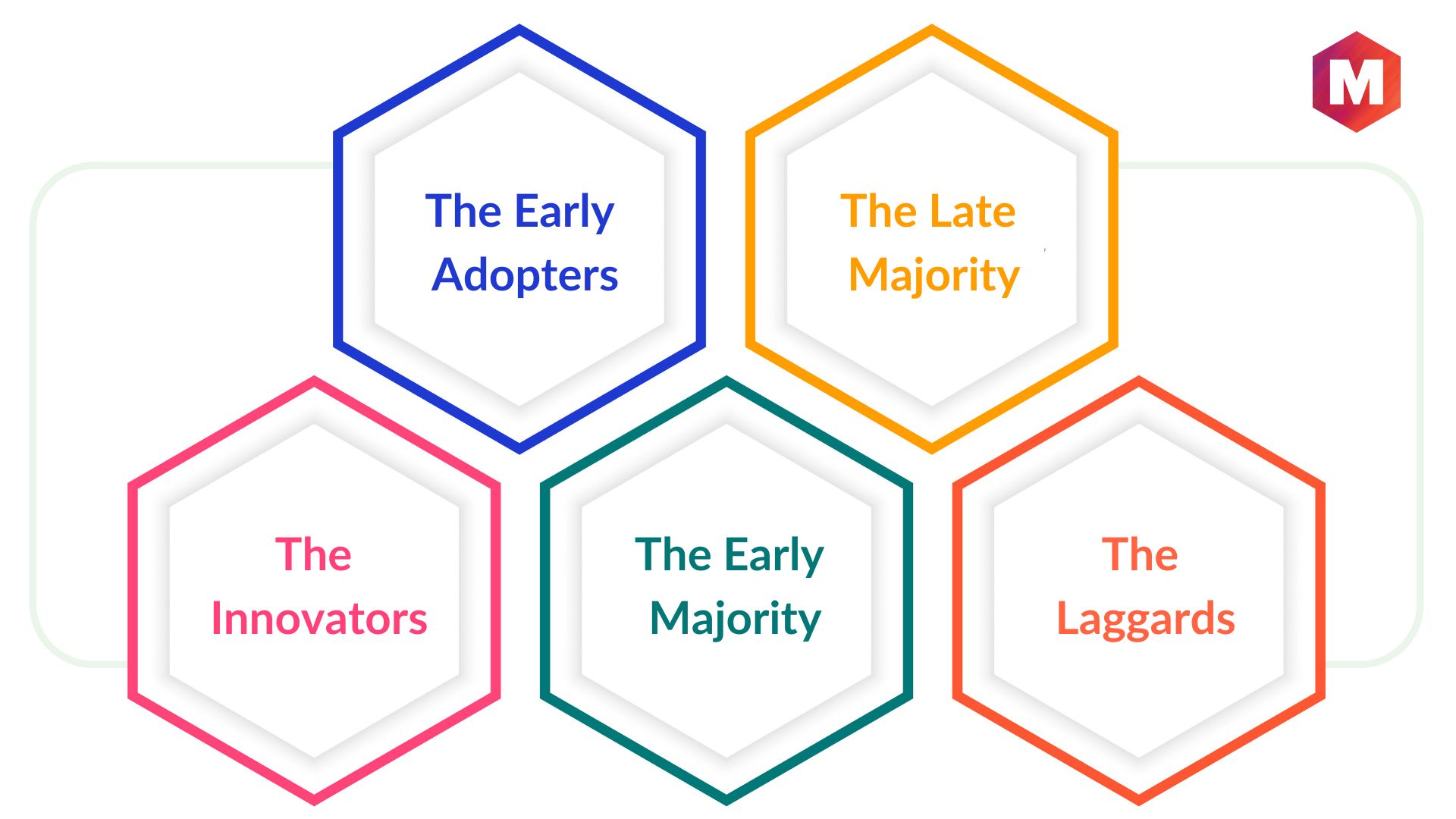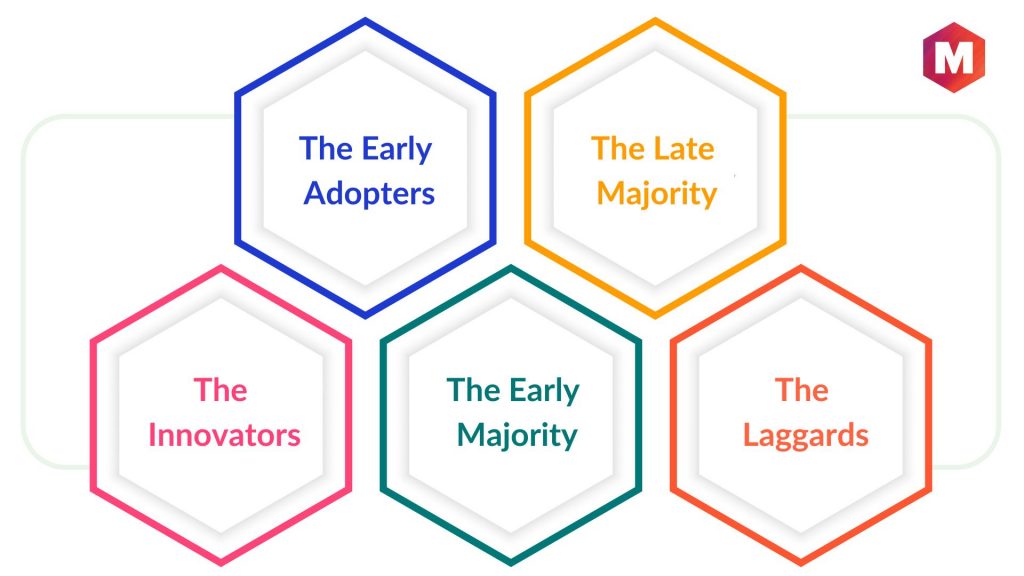 1) The innovators
The first group of users to adopt a product are called innovators. They make up 2.5% of the market and are enthusiastic about new technology. Even if there are issues, they are willing to try it out. Early feedback from innovators is valuable, but their long-term commitment to using the product is not guaranteed.
2) The early adopters
About 13.5% of the market consists of early adopters. They are individuals who have a greater desire for trying out new products and more financial resources to spend on solutions. These people are interested in innovation and expect the product to efficiently solve their problems, not just be something new. Attracting early adopters can help you build a positive reputation and fix any glitches in the product.
3) The early majority
The early majority group makes up 34% of the market and prefers products that have a good reputation and are already established. They tend to avoid risks and need to trust the first two groups before feeling secure enough to make a purchase. However, once they have made a decision, they are likely to become loyal customers because they seek long-term solutions.
4) The late majority
The late majority makes up 34% of the market and shares similarities with the previous group. However, they are more cautious and less tolerant of technical problems. They will only adopt your product once they feel completely confident in its reliability.
5) The laggards
The laggards make up the last 16% of the market and tend to be less open to trying out new products. They prefer to stick to the technology they already know and will only make a change if it's necessary.
What are the Six Stages of Product Adoption Process?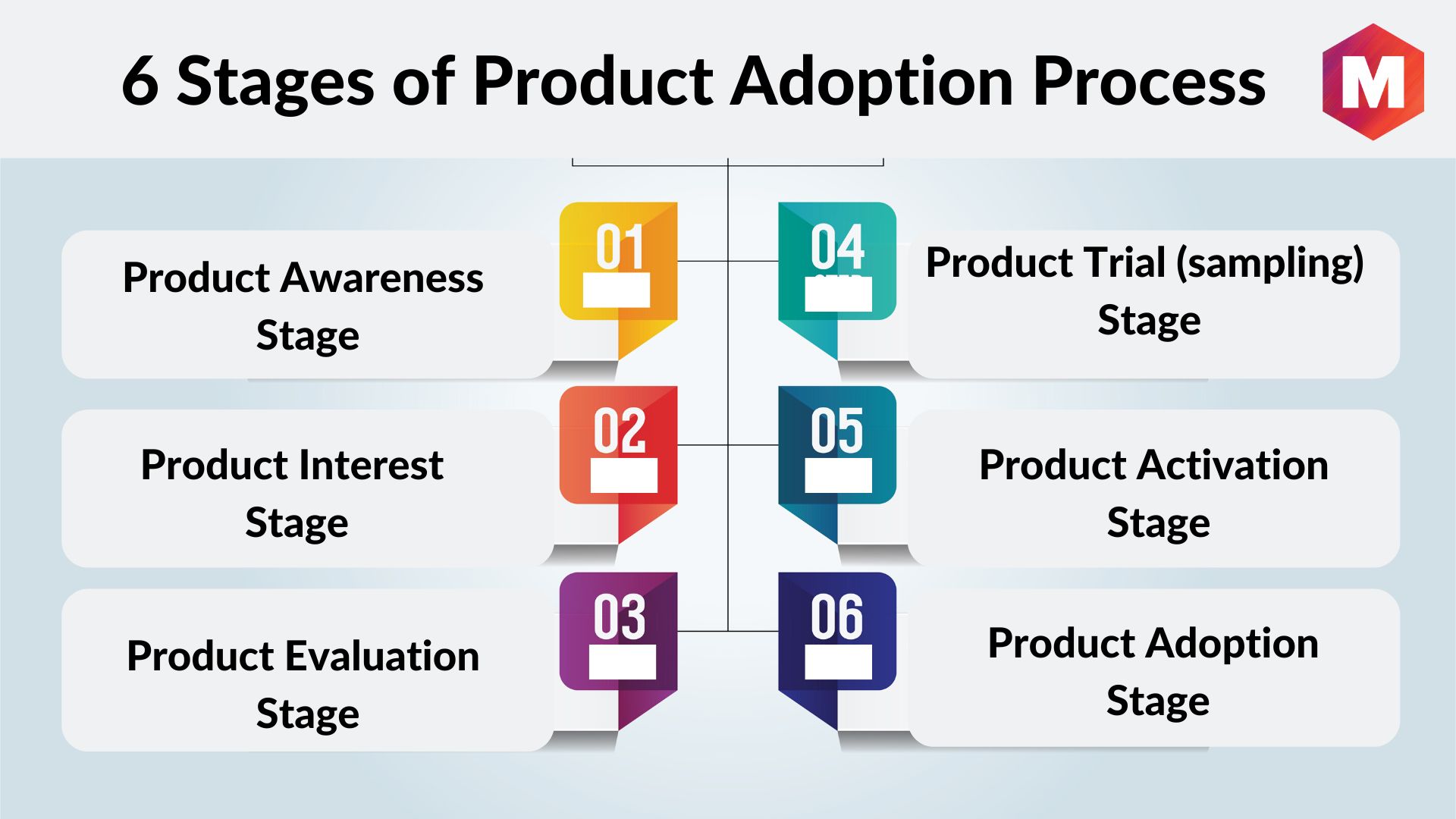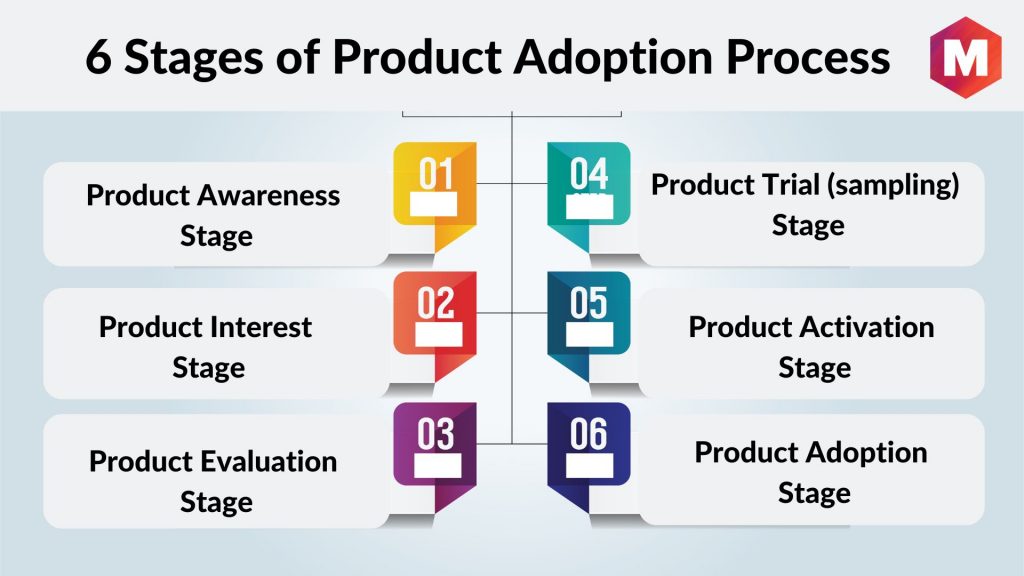 1) Product Awareness stage
The first stage in adopting a product is becoming aware of its existence and understanding its function. Having a familiar brand helps new products gain awareness more easily. Otherwise, marketing campaigns must focus on differentiating the product from existing alternatives as a solution to a common problem or bring attention to a lesser-known problem and its solution.
2) Product Interest stage
When the product information aligns with the task the customer is trying to accomplish, they transition from being aware of the product to being interested in it. This stage is known as the Product Interest stage.
The specific details requested vary depending on the product adoption group that the user belongs to, as well as their intended use cases. The user message lacks clarity and needs to be rewritten for better understanding. The message should include information about features, pricing, and customer support.
3) Product Evaluation stage
In the Product Evaluation stage, the customer narrows their focus and weighs the advantages and disadvantages of trying your product compared to others.
In this phase, it is important to concentrate on showcasing the optimal ways to use your product, emphasizing its strongest features and advantages over competitors, and reducing the perceived burden of testing the product.
4) Product Trial (sampling) stage
At this point, the prospect has decided to test your product. This could either be through a free trial, free samples, a product demo, or by making an initial purchase, which helps to lower the cost that they may have been concerned about earlier.
In this, users evaluate your service to determine if it meets their specific needs. This includes testing if it fulfills its value proposition, determining whether it is compatible with its technology, assessing the level of effort required, and other relevant factors.
5) Product Activation stage
We have added a Product Activation stage to our usual five-stage breakdown because we believe that moving from simply testing a product to committing to it long-term is a significant transition that cannot be treated as a single step.
It's too early to try to get everyone to start using it. We need to wait until users have tried it and seen the benefits before we try to convince them to stick with it.
To ensure quick delivery of benefits to newly-acquired customers, make sure to incorporate an Activation stage.
6) Product Adoption stage
In the final stage, the product team must persuade activated users that the product is worth their investment of time, money, and attention by consistently delivering enough value and outperforming competitors.
The best way to measure consumer adoption for SaaS products with free trials is when users decide to start paying, while for others, it is indicated by user renewals.
What Factors influence the adoption process
Ease of use
If your product is more user-friendly than other options, it can make it easier and quicker to get started, making it more appealing to customers. This is because it reduces the effort required to learn how to use it and provides value quickly.
Product visibility
To boost product adoption, it is helpful to increase the visibility of your product. This means not only positioning it as a better solution than alternatives (pull), but also making people aware of a problem they may not have realized they had (push).
Pricing
The way you price your product can impact how likely consumers are to use it. If the pricing is incorrect, there may be more resistance and concerns from customers, but if it's done correctly, it can decrease those concerns and create more interest.
Product quality
To determine a product's effectiveness, it is important to evaluate if it solves a genuine problem more efficiently than other options available. The benefits of the product should outweigh any concerns, and the degree to which this occurs is indicative of its quality.
People's Readiness
People have varying levels of willingness to embrace new products, services, opinions, and ideas. Certain individuals tend to always opt for new market offerings. The group of adventurous people, who enjoy taking risks, are younger, hold higher social status, and possess favorable financial positions are regarded as innovators.
People who value respect and see themselves as careful tend to adopt products early and are often seen as opinion leaders. On the other hand, those who are hesitant and tend to follow the crowd usually wait for a larger number of people to try the product before adopting it.
People who are hesitant to embrace change and hold on to traditional ways of thinking may feel more comfortable using a product once it has gained popularity among a large group of people.
Personal Influence
As social beings, we are always susceptible to being influenced by others when making decisions, but the level of influence varies based on the individual and the specific buying scenario.
In certain situations, our purchasing decisions may be influenced more by other people. This susceptibility to interpersonal influence is determined by our personality type.
In situations where buying is complicated, particularly when purchasing expensive items, personal influence has a greater impact compared to situations where buying is simple and involves small items.
Innovation Characteristics
There are five characteristics of an innovation that affect how likely it is to be adopted such as-
Relative Advantage – New products that are considered better than existing ones are likely to be adopted swiftly.
Compatibility – Innovation will be adopted quickly if it aligns with the values and experiences of individuals.
Complexity – If a group of people finds innovation complicated, they will be slow to embrace it.
Divisibility – If we can test or sample the innovation, there is a greater chance that it will be adopted sooner.
Communicability – Innovation that can be easily described or observed will be adopted quickly because of its benefits.
Metrics important for improving Product Adoption
To measure product adoption, you can use the following metrics –
1) Time-to-value (TTV)
The term "time-to-value" means the amount of time it takes for users to discover the usefulness of a product in addressing their problem and begin benefitting from it.
2) Product-qualified leads (PQLs)
Product-qualified leads are potential customers who are likely to purchase your product.
3) Average revenue per user (ARPU)
The ARPU metric provides a useful way to compare your business performance to that of competitors. A high ARPU indicates a higher rate of product adoption and boosts overall profits.
4) Conversion rate (CVR)
The conversion rate is the percentage of visitors to your website who achieve a specific goal among all visitors to the site. By working on improving product adoption, you can also boost the conversion rate and the average lifetime value.
5) Customer lifetime value (CLV)
To clarify, if you increase how many customers adopt your product, you will have fewer people leaving, which ultimately leads to an increase in how much money each customer is worth to your business throughout their lifetime. This is referred to as customer lifetime value, and having a higher CLV means that your customers stay with your business for a longer period.
6) Product activation rate
Before you measure the user activation rate, you should identify a particular milestone or event within the app that indicates activation. The activation stage varies for every product and occurs after the "Aha! Moment."
7) New features adoption
Measuring the feature adoption rate is crucial in assessing the value customers derive from interacting with your SaaS product, as developers embed much of its value within its features. This helps determine how much value customers may be missing out on or not fully utilizing.
8) Customer engagement score (CES)
Measuring customer engagement is essential for delivering value from your product. To assess the risk of churn and potential expansion opportunities, you can calculate the Customer Engagement Score (CES). To do this, you need to consider various aspects such as user actions, usage frequency, and completed tasks for each customer and combine them. Remember that customers only benefit from your product when they use it.
9) Purchase frequency
If a product has a high user adoption rate, it will likely have a high purchase frequency and the opposite is also true.
The Implication of the Adoption Process for Marketers
To begin with, we should use promotions to increase overall awareness about the new product and its advantages. We can also arrange for the distribution of samples or simulated trials to assist potential buyers in making their initial purchasing decisions.
During the evaluation stage, marketers need to highlight their commitment to quality control and offer strong guarantees to support the buyer's decision-making process.
It is crucial to connect production and physical distribution to the way in which customers adopt products and make repeat purchases.
How to Make Potential Consumers Adopt the New Product
Relative Advantage – How much better is the innovation compared to the products that already exist?
Compatibility – How well the innovation aligns with the values and experiences of possible consumers.
Complexity – It refers to how challenging it might be to identify or utilize the innovation.
Divisibility – It is referring to the possibility of testing the innovation on a smaller scale.
Communicability – The degree to which others can observe or understand the results of using the innovation.
Conclusion!
Adopting a product doesn't have to be hard. By factoring in important aspects like user needs and goals, you can make sure your product gets adopted easily and efficiently. A good strategy can make product adoption successful.
Products adoption FAQs
What is the product adoption lifecycle?
The product adoption curve illustrates how different customer segments adopt a product at various stages of its lifecycle. It identifies the innovators, early adopters, early majority, late majority, and laggards and provides insight into their size and characteristics at each stage.
How do you drive product adoption?
To increase the use of your product, develop a strategy for product adoption using some proven tactics. These tactics include creating high-quality products, enhancing the onboarding process, establishing customer support, interacting with users within and outside the app, and using customer feedback to improve the product's functionality.
Product adoption vs. product adoption lifecycle: What is the difference?
Product adoption is when users become aware of a product and its benefits and start utilizing it. On the other hand, the product adoption lifecycle displays the different customer groups' adoption rates of a product in various stages of the product's life.
Liked this post? Check out these detailed articles on
Topic of Marketing
Alternatively, check out the Marketing91 Academy, which provides you access to 10+ marketing courses and 100s of Case studies.