Impulse goods have been defined as commodities that individuals buy randomly without thinking things through. Impulse goods have no connection with planning, budget, or need of a particular item.
It is, in fact, a sudden occurrence where our emotions take over our brain and prod us to step forward and buy that item irrespective of the fact that perhaps we do not need them currently or even urgently.
Remember, there are certain items that are essential for day-to-day living, but impulse goods have no connection with them. We do not have an urgent need for it but are buying because the goods are enticing us to forget our resolutions and make a purchase at that particular instant without any rhyme or reason.
During an impulse, buy the buyer leaves behind his logical reasoning and gives in to the emotional side of his nature.
Meaning of impulse goods
Buying on an impulse or at the spur of the moment is what Impulse goods are all about. Generally, we all have a budget and plan in accordance with it to create a purchase list. Most times, we stick to our resolution and buy things as per our schedule.
It is at rare times that our impulse takes over and prompts us to buy something unscheduled. You will be surprised to know that these are in most cases, general items like snacks, chocolates, and candies that we want to avoid as part of our daily routine.
People give in to the impulse of buying costly items very rarely because firstly their pocket does not allow it and secondly by the time they think of taking out their wallet the good sense prevails.
Large amounts are difficult to spend, even during impulse buying. For example, if you see a beautiful but a costly dress, the first thought that comes to your mind is that you need to buy it immediately.
By the time you look at the price tag, you start remembering your own position and generally do not give in to the impulse. But if you are in front of a cafe and want to drink a cappuccino, you can give in to the impulse and have it because it was not something that would have a profound impact on your budget.
Examples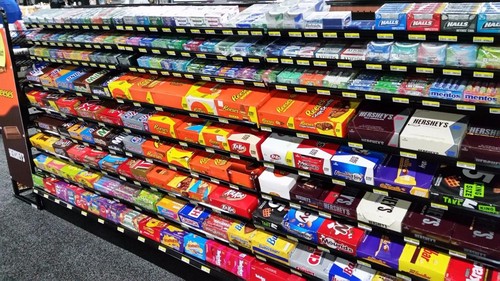 The impulse goods are those that stimulate our sense of satisfaction and are not rational purchases by any account.  The marketers are exploiting the human tendency of instant gratification to sell certain items. Their manipulation is a success as individuals give in to the temptation easily because these are affordable and do not make a heavy dent in their pockets.
I went to buy one single lipstick at a reputed outlet, and while I was waiting for the salesperson to bring forth my specific request, she started showing me some other products.
Although I was determined not to make any further purchase when she started telling me about the latest offers on those items, I gave it to my baser instinct and purchased one more.  Although I did not have any urgent need, it suddenly became impossible to resist the impulse buying of the product.
Sometimes friends decide to go for a coffee but indulge in several items that look and smell delicious in that cafe. Chips, mints, cold drinks, chocolates, and cakes are some of the most common impulses buys that a customer often indulges in.
The other important impulse goods are perfumes and body sprays. Their attractive smell often encourages buyers to buy them even if they do not have any need for it.
If a reputed brand launches any add-on product with any of its high-selling product, for example, a beautiful mobile cover for its already launched phone buyers are going to give in to the impulse of buying it even though they did not have any need for it earlier.
A good retailer or marketer is always on the look-out to increase his sales figures by enticing the impulse buyers at a moment's notice.
Marketing of impulse goods
Marketing of impulse goods is not an easy task. You need to make proper strategies and plan things through. Think about the general items that can appeal to the customers.
Make sure that they are affordable, and a person can make a purchase if a sudden desire overtakes his mind. The best thing about these items is that they are easily available at convenience stores, petrol pumps, check-out counters, and corner shops.
The best customers of impulse buying are children, and marketers love families who are even browsing at their stores. They are confident about a child's ability to give in to the habit of impulse buying and forcing their parents to bow down and buy those items for them.
They place colorful and attractive items at strategic locations so that these are the first things that a child sees and makes a demand.
An important way of marketing impulse goods is by placing certain items near the areas that garner maximum customers. The chance of additional purchase increases as once the customer is in buying mode an item that looks tempting is easy for him to buy. It is important to display items on offer at best places so that the buyer can buy that item.
Marketers are always on the look-out to exploit human desire by placing items that they consider as impulse goods at strategic places to tempt the customers.
If you place something tasty like a chocolate bar or a cupcake near the cash counter, you are increasing the visibility of that item and increasing your sales figures.
It is important to train your employees in such a manner that they can make suggestive options and recommendations to the buyer and encourage them just to check out a specific product.
Once he/she directs the customer's attention to the product, it will become next to impossible for them from controlling their basic impulse and not making a purchase.
Liked this post? Check out these detailed articles on
Topic of Marketing
Alternatively, check out the Marketing91 Academy, which provides you access to 10+ marketing courses and 100s of Case studies.