Owned media is the collection of media assets that a company or organization owns and controls. Examples of such assets are websites, blogs, social media accounts, podcasts, and any other digital content that is under the owner's control.
By utilizing owned media, companies can manage their message and connect directly with their desired audience. The POEM (Paid, Owned, and Earned Media) model is a great way to think about how owned media fits into the overall marketing plan.
Paid media is when a company pays for media placement to reach the desired audience. Owned media is where the company controls its message and how it will be seen by its audience. Earned media is when a company earns credibility and recognition through word-of-mouth endorsements or other forms of organic promotion.
What is Owned Media?
Owned media involves the use of company-owned assets like websites, emails, apps, podcasts, blogs, and others to give companies full control over their content. It is an incredibly effective form of marketing that puts the power in the hands of the company.
Through a pull marketing approach, owned media attracts more customers and increases the demand for products, which differs from the push technique of paid media or paid ads.
Compelling content is the key to successful pull marketing, which starts by providing value to the audience rather than attempting to convince them to take action. This allows them to act whenever they feel it's best for them, without being pressured.
Why is Owned Media Important?
Owned media is important because it enables companies to improve their interactions with clients and potential clients. Additionally, it aids in the development of a distinctive brand, interacts with the intended market, and leads to customer conversion.
Owned media allows companies the chance to develop trust with their potential customers by providing different content formats like blog posts, videos, and podcasts that offer beneficial answers. Businesses can do this to increase their credibility and position themselves as a reliable source of information.
Finally, owned media is a fantastic tool for companies to increase awareness and connect with more people. Businesses may improve their search engine rankings and expand their customer base by producing content that appeals to their target market.
Owned media vs Earned Media vs Paid Media
Owned media – The term "owned media" refers to the websites, blogs, and social media profiles that a company owns and maintains. Businesses can use effective owned media properties to reach their target audience and have total control over the content they post. A successful owned media strategy calls on companies to produce pertinent, worthwhile content that appeals to their target audience.
Earned media – Earned media is the word-of-mouth and reputation built by current clients or influential individuals. Positive comments, client recommendations, or even media coverage might be examples of this. Additional examples of this kind of communication include public relations, consumer feedback, sharing by brand evangelists, and proposals from influential people. Earned media is a crucial component of a company's marketing strategy since it enables them to establish credibility and trust with their target audience.
Paid media – Paying for commercials, campaigns, and promotions is known as paid media. Paid media refers to banner adverts, sponsored content, and search engine and social media advertising. It's crucial to remember that bought media can be a useful tool for increasing exposure and directing people to your company's page or website.
Owned Media Channels
1) Websites and Blogs
Website and blog content are considered "owned media" because you control the content. By regularly updating your website or blog with fresh, engaging content, you can attract new visitors and keep existing customers informed. Content should be regularly updated in order to remain relevant and interesting.
2) Social Media Platforms
Reaching your target audience using social media sites like Facebook, Twitter, Instagram, and LinkedIn is also a terrific idea. You may interact with customers, share material, and develop connections through these platforms. The best method to increase your following and the number of people who see your material is to keep your postings interesting and useful.
3) Email Marketing
Email marketing is a fantastic way to stay in touch with your customers and inform them of new goods, deals, and other things. You can improve sales and cultivate a devoted following by providing special access to material or discounts in exchange for an email address.
4) Smartphone Apps
Because they enable users to interact with brands while on the go, mobile apps are growing in popularity among businesses. You may provide users with features like loyalty programs, rewards, and other interesting material by developing a branded app.
5) Forums
You can both improve engagement and forge bonds with your customers by setting up a forum for them. Forums are excellent for boosting brand loyalty and providing consumer help. They can also be used to gather information and client feedback.
Owned Media Process
1) Pre-Planning Stage
Decide on what type of owned media you want to create, how it will serve your customer base, and what resources you'll need to create it. Some of the steps involved in this are –
Creating SMART Goals: SMART is an acronym for Specific, Measurable, Achievable, Relevant, and Time-Bound goals. These are the best practices for setting goals for any type of project.
Researching Target Audience: This involves understanding your target audience's needs and preferences before creating the owned media.
Competitors Analysis: Knowing what your competitors are up to is also essential in this stage of the process.
Finalizing a CMS: Once you have an idea of the content and format for your owned media, you'll need to decide on a Content Management System (CMS).
2) Creating a Content Strategy
This involves crafting a content strategy document that outlines the various types of content you'll be creating, including topics, formats, timelines, and other relevant details. Some of the steps involved in this are –
Performing content audit: This step involves auditing the existing content you have on your owned media, such as blog posts, webpages, videos, etc.
Creating a content calendar: This step involves creating a schedule that outlines when and how you will publish your owned media.
Determining the tone of voice: This step involves deciding on the overall tone of voice you will use in your content.
Setting measurable goals: Setting measurable goals helps you determine the success of your content. You should also assess your resources.
3) Decide a Content Creation Workflow:
This step involves deciding on a content creation workflow that works best for your team and outlines how you will create, review, edit, approve, and publish your content. A few steps that you need to follow here –
Keyword research: Researching relevant and popular keywords helps you produce content that will rank better in search engines.
Content creation: This includes creating content such as blog posts, articles, videos, infographics, and other forms of owned media.
Proofreading: Proofreading your content helps ensures that it is free from typos and grammatical errors.
Editing: Editing your content can help you refine it and improve the flow of ideas throughout.
Approval: Approval from stakeholders ensures that the content is accurate and up to date.
Publishing: Publishing your content on relevant channels helps you reach your target audience.
Analytics: Analyzing your content helps you understand what's working and what needs to be improved.
Optimization: Optimizing your content helps you improve its reach and engagement.
4) Content Distribution:
Distribution of your content through owned media channels helps you reach a larger audience and increase brand recognition. Owned media channels include websites, blogs, social media accounts, and email lists. Some of the ways to do this are –
Outreach: Reach out to other people in your industry or influencers and ask them to share your content.
Advertising: Use tools such as Google Ads, Bing Ads, or Facebook Ads to reach more people and promote your content.
Collaboration: Work with other relevant brands to cross-promote and share each other's content.
Social Media: Use social media channels such as Twitter, Facebook, and Instagram to promote your content.
Content Syndication: Publish your content on other websites or platforms to different audiences.
5) Measurement and Feedback
Measuring the success of your content marketing efforts and understanding how it is performing is essential for growth. To do this, look at analytics such as website traffic, leads generated, and conversions. Some of the ways to do this are –
Quantitative analysis: Use tools like Google Analytics to measure quantitative performance.
Qualitative analysis: Ask the audience directly for feedback and insights.
A/B testing: Test different versions of content and compare their performance.
How to Measure Owned Media?
Content that you produce and publish on your own website or platform is referred to as owned media. Here, organic traffic, engagement, and conversions are the three primary performance indicators. Pageviews, time spent on page, number of pages per session, bounce rate, and user behavior are all important metrics to consider when evaluating the performance of owned media.
A critical aspect of assessing your owned media is looking at the social networks you utilize. This aids in your learning and provides you with the knowledge you need to move toward personal improvement.
A few of the social media analytics tools that offer a complete picture of how well your content is performing on social media platforms are Sprout Social, BuzzSumo, HubSpot, and Google Analytics. You can track your social media activities very carefully with the help of these tools.
To improve the performance of your content, you can analyze the achievements of your competitors. Evaluate how your own content channels are performing and use the insights to identify what is working and what is not. Making minor adjustments to your blog posts, articles, and social media updates can significantly improve customer satisfaction.
To evaluate the effectiveness of your content and gauge viewer satisfaction, examine metrics such as comments, likes, conversations, recommendations, retweets, mentions, and impressions. These indicators can provide valuable insight into the performance of your material.
Owned Media Examples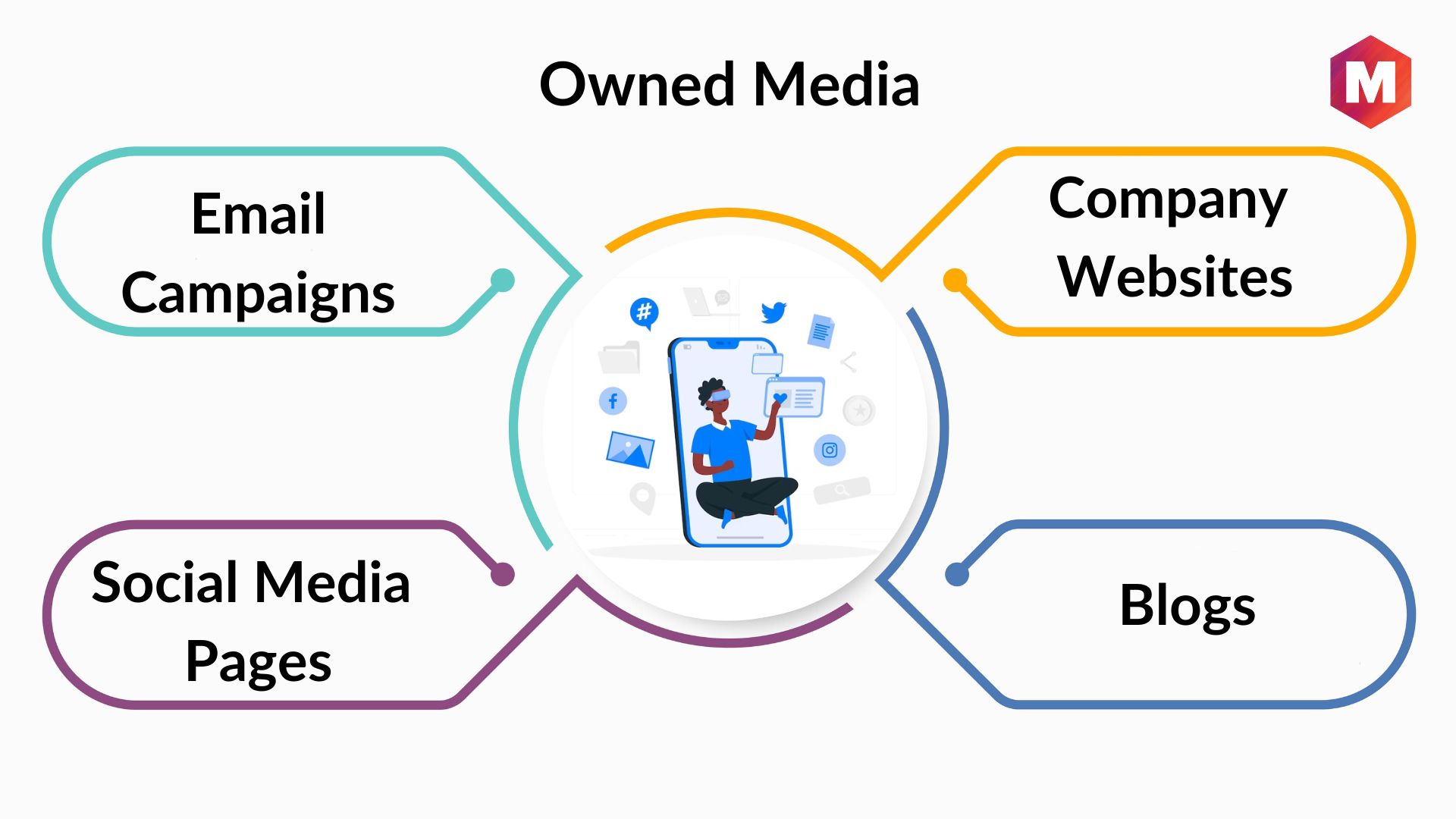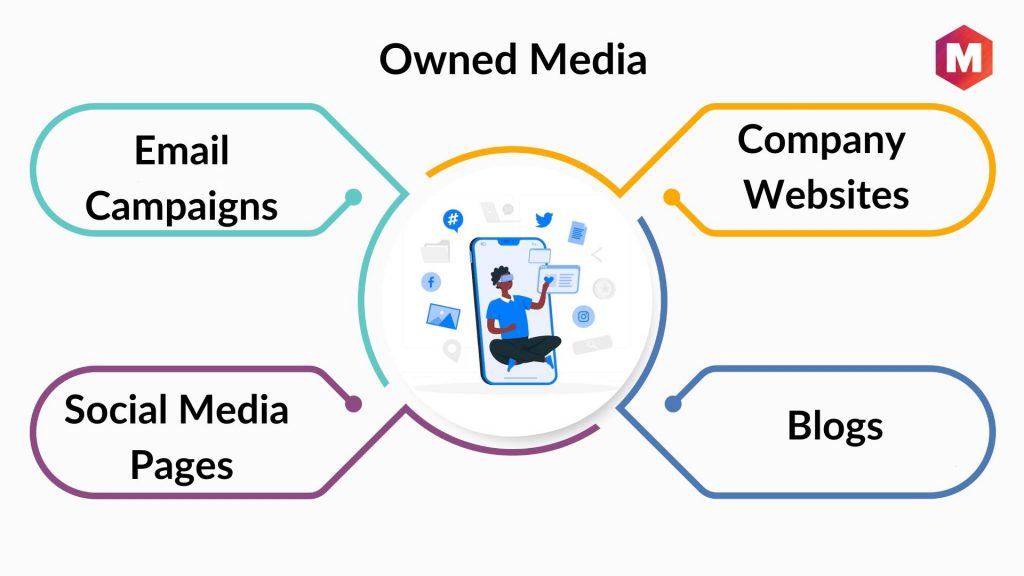 Some of the examples of owned media strategies that offer you complete control and optimize your owned media efforts are –
Company Websites
Websites are the hub of your owned-digital content. Your website should be well-designed, easy to navigate, and feature relevant content.
Blogs
One of the best methods to engage your audience and increase website traffic is blogging. It enables you to contribute information that is beneficial to readers while also showcasing your skills and experience.
Social Media Pages
You can interact with your audience on social media, spark discussions, and spread material if you have an active presence there. Social media posts are one of the best techniques to enhance website traffic and brand awareness among social media users.
Email Campaigns
Reaching clients and prospects who have previously shown interest in your company or goods via emails is a terrific idea. Email marketing may be used to advertise your content and tell your audience about fresh goods, services, and deals.
Advantages of using Owned Media
Creating a positive reputation: Owned media may assist you in developing an authoritative web presence and in establishing a good reputation for your company. You have total control over the material you post, which enables you to establish a recognizable brand identity.
Increasing SEO visibility: By ensuring sure your material is optimized for the proper keywords, owned media may assist your website's search engine rankings. You may be able to reach a wider audience and draw in more quality leads as a result.
Building relationships: Owned media provides you a chance to create connections with your audience. You may use it to reply to client comments and demonstrate your appreciation for their viewpoints.
Creating trust: Your consumers will be more inclined to trust your brand and buy your goods or services as they get more familiar with you via your owned media. Regularly communicating with clients may also promote brand loyalty and boost client retention.
Optimizing brand awareness: Owned media may also assist with brand awareness optimization. You may broaden your audience and improve your exposure by consistently producing and distributing information.
Conclusion!
In the end, owned media is a crucial component of any digital marketing plan since it enables companies to increase brand recognition, get awareness, reach a larger audience and ensure higher engagement.
A business may broaden its audience and attract more attention from potential customers with the correct owned-media content strategy. Such strategies include using quality content for relevant marketing channels to channel direct traffic and optimize conversions.
Liked this post? Check out the complete series on Marketing