What Is Shared Media?
Shared media is the practice of companies creating and distributing content on social media to their customers and followers, with the purpose of users sharing the content further. It allows companies to raise awareness and build relationships with their customers, as well as drive engagement.
For example, a business could share a funny and creative post on its social media channels, which could encourage your friend to engage by commenting, sharing, and even tagging other friends. As a result, you would also get to see that same content and may also comment on it, which in turn, your own friends could see.
This marketing strategy engages customers through communication, setting it apart from owned and paid media. It differs from owned media by not requiring direct resource investment and from paid media by utilizing user-generated content rather than advertisements.
Shared Media Channels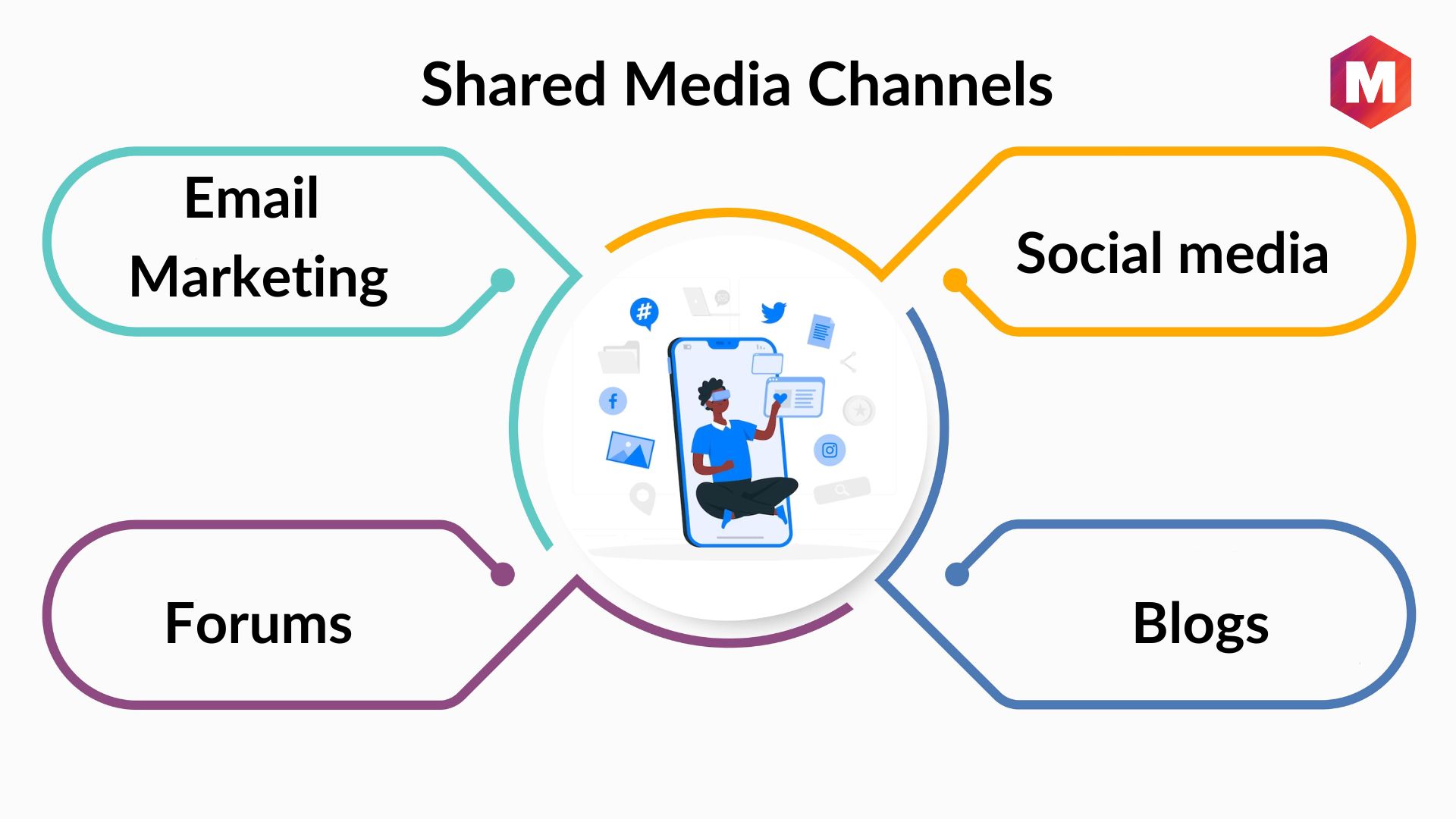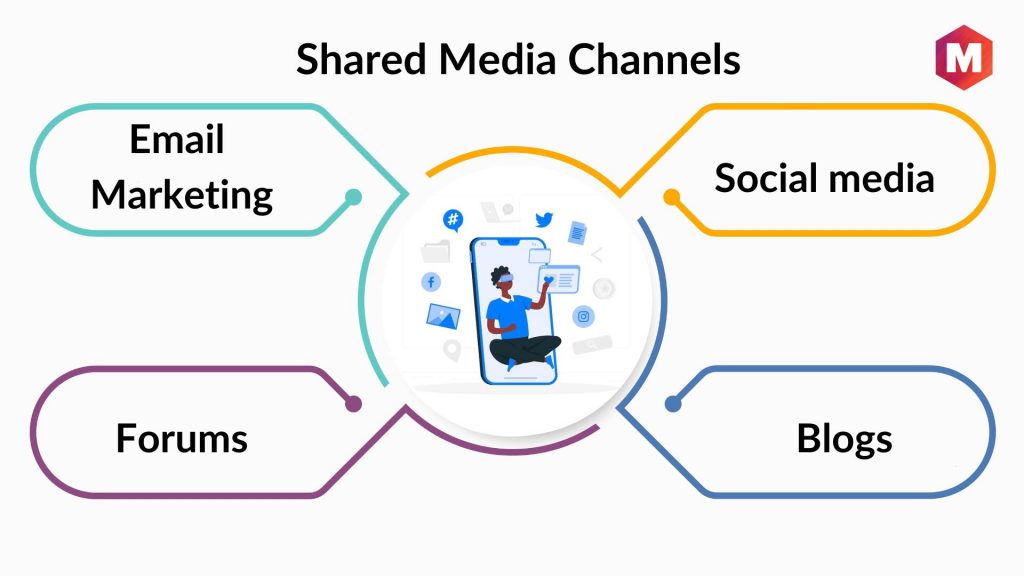 Social media
Social media sites like Facebook, Twitter, Instagram, and LinkedIn are the most common forms of shared media. Social media campaigns allow brands to post images, videos, and other content and can be used to build relationships with customers, promote products and services, and interact with influencers.
Blogs
Blogging is another great way of engaging with your audience. You can create interesting content, provide helpful advice, and share news about your product or service. Blogging also allows you to create relationships with customers and build trust by providing valuable information.
Forums
Online forums are an effective way to build relationships with customers and get feedback on products or services. They allow users to share ideas, offer advice, and exchange opinions. Forums are also great for interacting with influencers who can help spread the word about your business.
Email Marketing
Email marketing is an incredibly effective way to reach your audience and build relationships. You can send out newsletters with helpful information, promotions, or updates about your business. You can also use email to stay in touch with customers and let them know about new products or services.
Benefits of Shared Media
Brand Awareness – Shared media can help your business reach a wider audience, increase brand awareness and gain more exposure. People who see your content shared on their feeds are more likely to check out your business and become a customer.
Engagement – Shared media can help you engage with customers and build relationships. People are more likely to interact with content that is shared on their feeds, and you can use that engagement to build relationships with your customers.
Lead Generation – Shared media can be used to generate leads for your business. You can use it to promote special offers or discounts and encourage customers to sign up for emails or newsletters that will keep them informed about your business.
Improved Customer Relationship – Shared media can also be used to improve your customer relationships by connecting with them on a personal level. You can use it to get feedback from customers, answer their questions, and provide them with useful information.
Optimized sales – Finally, shared media can be used to optimize sales by increasing visibility and engagement with your target audience. You can use it to create compelling content that will attract potential customers and encourage them to make a purchase.
Why is Shared Media Important?
Boosts Brand Visibility and Awareness: Sharing material across numerous platforms may raise a brand's exposure and awareness since more people will see it as a result of each sharing.
Increases Consumer Engagement: By sharing media, businesses can speak with their customers directly, answer their questions, and get feedback right away. Building a loyal customer base via an active connection with consumers.
Promotes User-Generated Content: You may utilize shared media to encourage user-generated material for your brand. This provides a platform for consumers to express their thoughts, views, and ideas, which may build a devoted following for your company.
Cost-effective Marketing Strategy: Shared media offers businesses the advantage of reaching a wider audience without having to invest a lot of money, making it a more cost-effective substitute for traditional advertising channels.
Fosters Trust and Authenticity: When consumers exchange material about a company or its goods, it may contribute to the development of an environment that values authenticity and trust. This demonstrates the reputation and credibility of the brand.
How to use Shared Media Successfully?
Some of the steps that could be taken to use shared media successfully include –
Understand Your Audience: To have a successful shared media strategy, you need to understand your target audience by knowing the platforms they use and the type of content they prefer to interact with and share. This understanding will help you create tailored content that will attract your audience and increase the chances of them engaging with and sharing your content.
Create Shareable Content: To encourage people to share your content, it needs to be interesting, useful, and meaningful to them. One way to improve clarity is by creating informative materials such as how-to guides and infographics, emotional content like inspiring stories, entertaining materials such as funny videos, or timely content like news and trending topics. Also, add clear and visible share buttons to make sharing easy. Remember that content is the heart of shared media.
Engage With Your Audience: To effectively use shared media, it's important to actively engage with your audience through your content marketing strategy. This means responding to comments and queries and showing appreciation for shares. By fostering a strong relationship with your audience, they are more likely to share your content.
Leverage User-Generated Content (UGC): Encourage your users to create and share content about your brand, such as reviews, testimonials, or a branded hashtag campaign. Utilizing user-generated content is beneficial because it is deemed more authentic and trustworthy. Make sure to ask for permission before sharing user-generated content on your brand's social media accounts.
Analyze and Adjust: To enhance your shared media strategy, utilize the analytics tools provided by social media platforms to keep track of your engagement and reach. Analyze the data to determine what content is connecting with your audience, and modify your approach accordingly. Regular experimentation and adaptation are crucial for a successful shared media strategy.
What is PESO Model?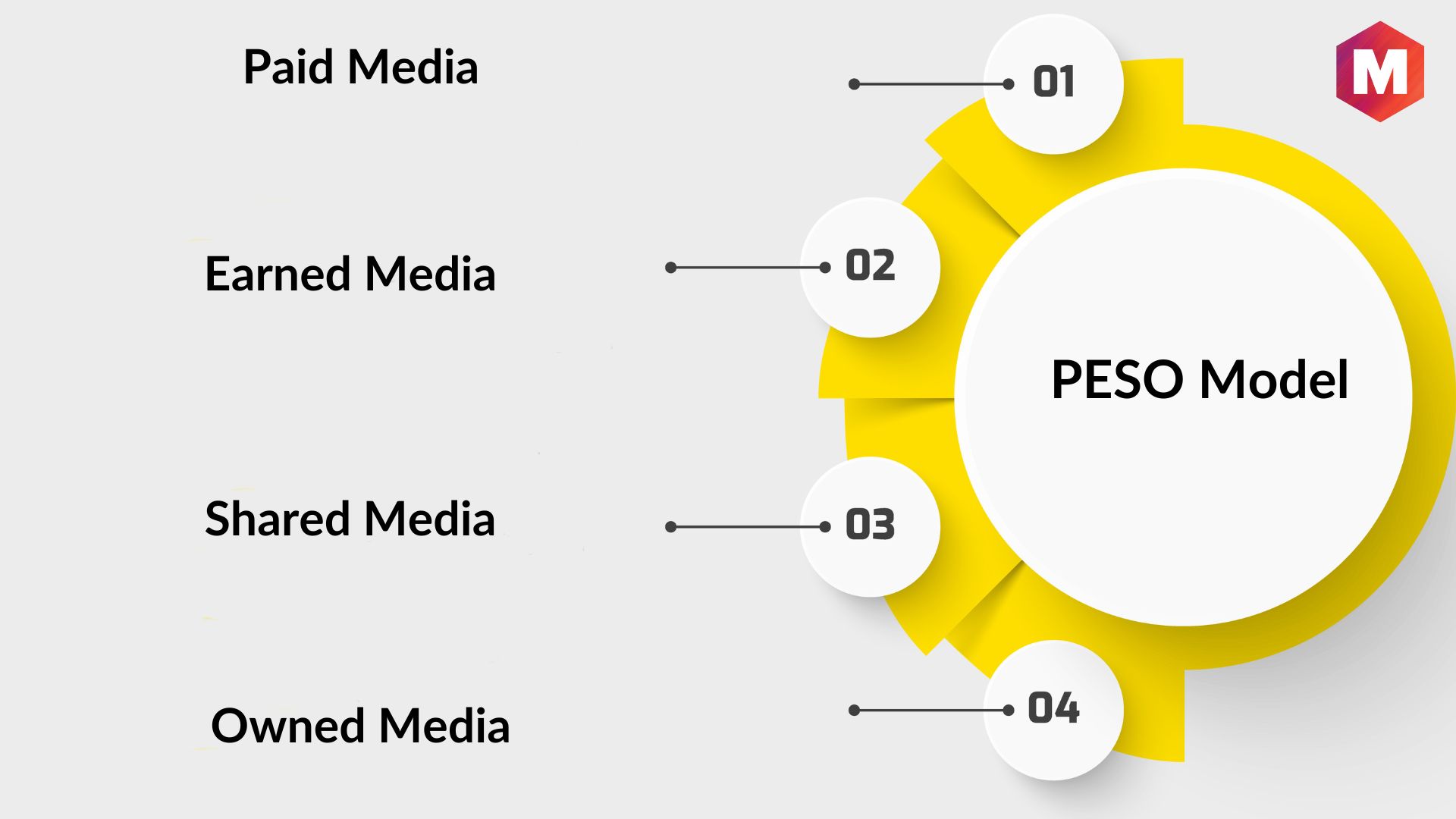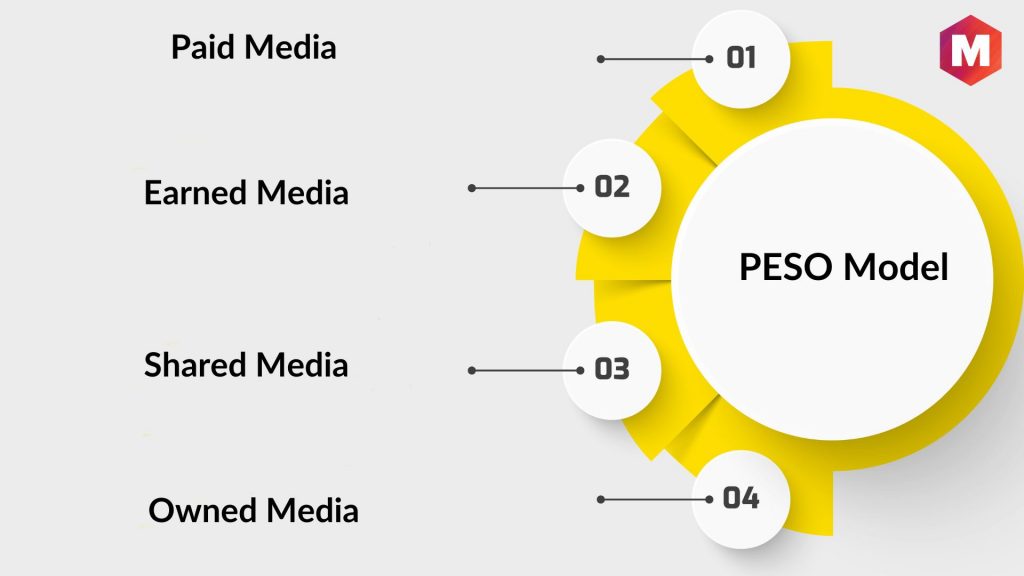 PESO Model stands for Paid, Earned, Shared, and Owned Media. It is a modern approach to media strategy that takes into account the different types of media available today.
Paid Media
Paid media is any type of advertising, such as pay-per-click campaigns, sponsored posts, display ads, native advertising, TV commercials, newspaper ads, radio ads, etc.
Earned Media
Earned media consists of any type of press coverage or influencer marketing. This includes reviews, interviews, podcasts, sponsored content, and more.
Shared Media
Shared media consists of any type of content that is shared among users, such as social media content, blog posts, articles, videos, and images.
Owned Media
Owned media is the content that a brand owns and controls, such as its website, app, email list, event page, etc. A brand will have complete control over these mediums. You can use search engine optimization to optimize the reach of such marketing efforts.
Future of Shared Media Channels
The evolution of shared media is expected to continue in the future, considering the patterns and innovations in technology. Some of the trends that you'll notice are –
Increase in User-Generated Content (UGC): As consumers prioritize authenticity over scripted advertising, the use of user-generated content will continue to rise. This will prompt brands to utilize their users to create more trustworthy and engaging content.
The Role of Artificial Intelligence (AI) and Machine Learning (ML): Many businesses currently utilize AI and ML to focus their advertising efforts and comprehend customer preferences. Over time, it is anticipated that this technology will go even more, enabling more individualized experiences.
Video and Livestream Content: Live streaming and shareable media are growing in popularity among millennials, giving businesses a chance to connect with a new audience. By easily streaming video on sites like Twitch, YouTube, and TikTok, marketers can reach a larger audience and provide more dynamic and engaging experiences.
Rise in Voice and Visual Search: As consumers seek a quicker method to find out information, voice and visual search are also growing in popularity. By making their material voice search-friendly and using graphics to improve search results, businesses may profit from this trend. This will enable businesses to connect with people who favor voice and visual search over more conventional techniques.
Augmented Reality (AR) and Virtual Reality (VR): As AR and VR gain more and more traction, companies may use these technologies to provide clients with immersive experiences. Brands can develop interactive experiences that let consumers explore their items in a more interesting manner and get a better notion of what they're purchasing via the use of AR and VR.
Conclusion
Shared media is a valuable tool for businesses looking to reach new audiences, drive organic traffic and build an engaged community. Paid media techniques like native ads offer a way to quickly get visibility, but they lack the organic nature of shared media that can lead to a viral post or leave comments. The key differences between the two approaches are understanding and utilizing their unique capabilities to maximize reach, engagement, and brand visibility.
Liked this post? Check out the complete series on Marketing