The concept of top-of-mind awareness can be defined as the first and foremost brand that comes into the minds of customers when prompted about a certain category of products in the market. As per the theory of top-of-mind awareness, the brand name should come into the mind of the customer on an impromptu basis. Factors such as brand loyalty, perceived quality, brand awareness, brand recognition, and association affect the aspect of top of mind awareness.
An example of top of mind awareness can be a situation when you are asked to recollect the first premium car manufacturers, you might recollect BMW, Audi or Mercedes, or Lamborghini (any of them based on your personal preference). If most of you recollect Audi, then Audi is the brand with the highest top-of-mind awareness.
It is seen as a measure to calculate the strength of the brand in the marketplace in comparison to its competitors. It is usually calculated and figured out in a percentage form. The firms create top of mind awareness positioning through promotional activities such as television commercials, Google Promotions, print advertisements, magazine ads, social media banners, and more. It helps the firm to enhance its market reach and market share beating the competition in the industry.
What is Top of Mind Awareness?
Top of mind is a marketing metric that refers to the first brand or product that comes to the mind of the customers when they think of any specific niche or industry. It is the measure of how high any brand would rank in the consciousness of the public when compared to its competitors.
High top-of-mind awareness is extremely important for any business or brand, as it implies that it has a strong presence in the market and can effectively capture the attention of customers over other competing brands. Some of the examples of top-of-mind awareness include Apple in Technology, Nike in Apparel, and McDonald's in Fast Food.
Having a strong top-of-mind awareness can help businesses to –
Increase brand recall, as customers are more likely to remember a name or logo associated with it due to frequent exposure.
Enhance branded search volume and enhance the credibility of the company.
Improve brand recognition by building brand awareness.
Strengthen customer loyalty, as customers are more likely to trust and stay loyal to a company they have heard of many times before.
Increase sales by creating an interest in the products among customers.
Monitor performance metrics such as brand awareness metrics for a better understanding of customer needs and preferences.
Importance of Top of Mind Awareness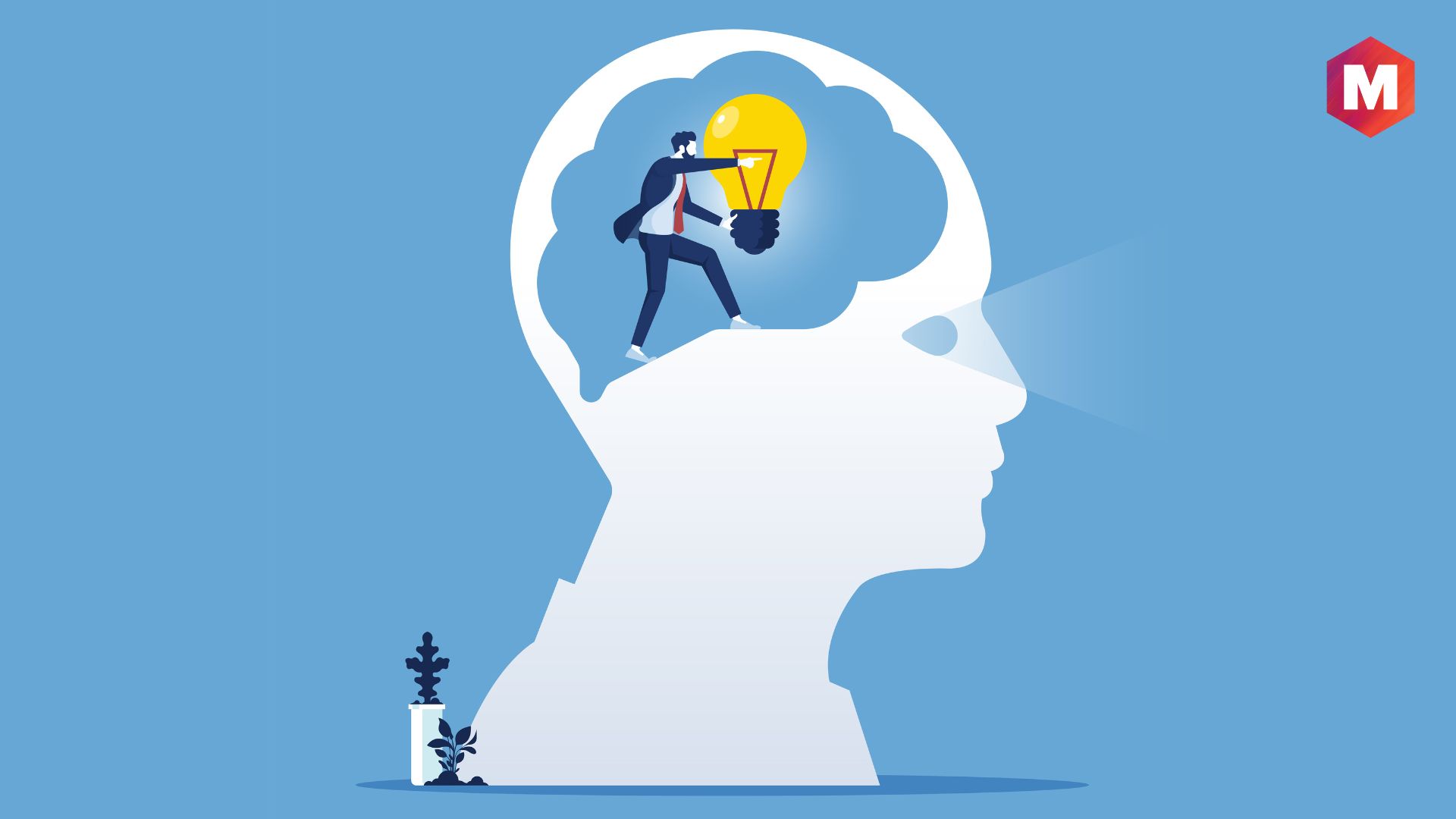 Having a strong top-of-mind awareness is essential for any business looking to compete in the market and grow its customer base. It enables businesses to create brand loyalty, increase consumer recall and recognition of their products or services, as well as build trust among customers.
Ultimately, businesses that can establish a strong top-of-mind awareness will be better equipped to stand out in their industry, grow their customer base, and capitalize on social media marketing opportunities. Therefore, businesses need to invest in strategies that will allow them to get into the minds of their customers and increase their visibility in the market. Some of the reasons behind the importance of top of mind awareness are-
Optimizes effectiveness of marketing campaigns: A strong top-of-mind awareness ensures that customers are more likely to remember a brand's name or logo and recognize it when they come across it. This can help optimize the effectiveness of marketing campaigns and improve their ROI.
Increases engagement: With a high level of brand visibility, customers are more likely to engage with businesses through various channels such as social media or websites. This can help companies better understand their customers and develop strategies that are tailored to their needs and preferences.
Improves brand loyalty: Having a strong top-of-mind awareness enables businesses to create a sense of trust among customers. Customers will be more likely to choose the brand they recognize over one they don't, thus increasing customer loyalty.
Boosts branded search volume: A high level of top-of-mind awareness will also lead to a boost in branded search engine queries, as customers are more likely to seek out information about businesses that they're familiar with or have heard of. This can help improve brand visibility and website traffic, which in turn can result in higher conversion rates and more sales.
Top of Mind Awareness Examples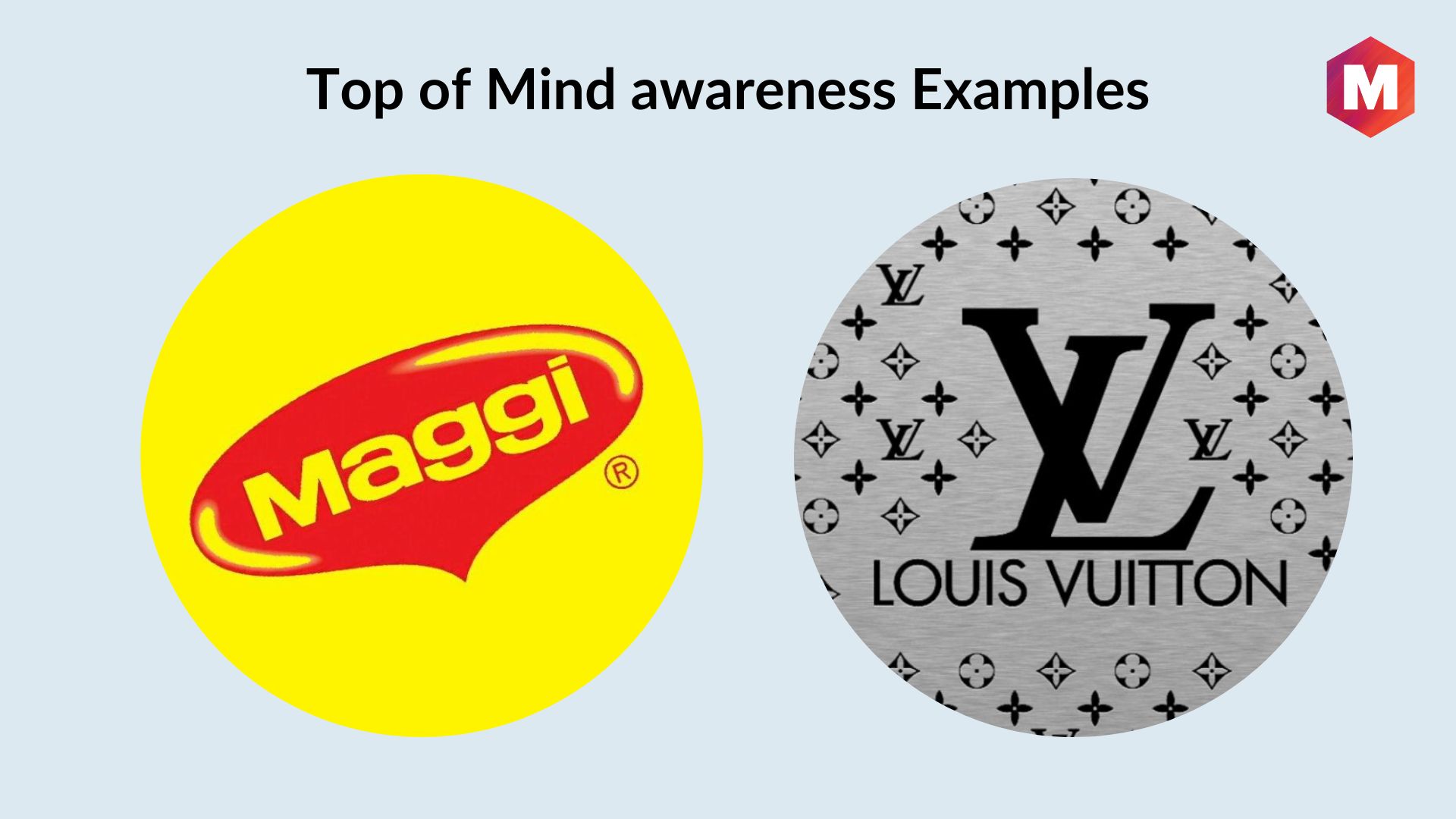 1) Maggi Noodles
When we come to talk about the staple food item that is readily available in every household and to satiate the evening hunger pangs, Maggi noodles work the top of mind awareness and recall factor.
Talk about the 2-minute or instant noodles, Maggi is the brand name that is on everybody's mind.
2) Louis Vuitton
Louis Vuitton is one of the most sought-after luxury brands in its native as well as international markets. It is specifically popular amongst women's fashion lovers for its collection of handbags having its signature elements and designs. It is on the top of mind awareness of niche and upscale fashion lovers.
How to Measure Top of Mind awareness
The companies and the various market research agencies conduct the experiment wherein the group of consumers is shown promotional marketing materials such as television commercials, print advertisements, and more of various brands selling similar types of products in the market.
And after a gap of almost 30 days, they are questions related to that specific product and note down the brand that comes to their mind whilst discussing the product.
And the percentage of people mentioning the different brands is singled out which helps the researchers to figure out the brand tops the list of the top of mind awareness.
The concept and theory are also quite helpful to measure the performance of the various marketing and promotional campaigns of the firm.
Types of Top of Mind Awareness
1) Permanent Favorite
When the brand offers the best products and the finest customer service experience, the customer gets addicted to the same. And the brand becomes their favorite as compared to the other brands in the market.
2) Customers who are not very sure
Some of the customers are not very sure about what they like. But they are damn sure of what they don't like. And the brand avoids such customers from its potential target list as they work on a negative perception.
3) The right amount of exposure to customers
The brand needs to give the right amount of exposure to its customers about its product offerings. And it should be regular intervals constantly as they say 'Out of sight, out of mind.'
Advantages of top of mind awareness
It helps the brand to enhance its brand value in the market as it is recognized for offering the best products and customer service experience to its target audience in the market.
The brand can gain a competitive advantage owing to the higher market share and elevated levels of sales and profits.
The brand is high on the aspects of innovation as it offers products that are novel and unique in ideation and approach. The product range solves the pain area of the customers.
The brand is known for its innovative marketing and promotional techniques as it carries out the same to increase the top of mind awareness amongst its target audience.
The brand can accomplish its short-term and long-term objectives.
Disadvantages of top of mind awareness
One of the few disadvantages of top of mind awareness is that it requires a huge investment for the brand promotion and marketing of the products.
It is a long-term process and takes a lot of time for the brand to create the required amount of awareness in the minds of the target audience.
Many a time, customers get confused between the brands and their offerings as the product features and attributes are similar.
How to Increase Top of Mind Awareness?
Top of mind awareness can be built through different strategies such as content marketing, social media platforms, competitions, and rewards. Content marketing is a great way to create engaging and shareable content which helps to build brand awareness by creating conversations around the specific brand or product.
Social media platforms such as Facebook, Twitter, and LinkedIn are also great tools for businesses looking to increase their top-of-mind awareness. By providing valuable content that resonates with customers in their newsfeeds, businesses can create an emotional connection with their customers that will stay in their minds. Some of the other ways that can help you increase top of mind brand awareness –
1) Offer a product that is high in quality
The customer nowadays is quite aware and agile about the latest happenings in the market and even what your competitors are offerings. And along with the price that is quite reasonable, they look for a product that is high on the parameters of quality.
Hence, to attain the objective of top of mind awareness, you have to offer quality products to your customers so that your brand and its offerings are on the tip of their tongues even on an impromptu basis.
The qualitative product is layered with the benefits such as long-lasting durability, use efficiency, and quite effective in its overall approach. And when the customer uses your products and realizes every single day how qualitative the product is, your brand will be on his top-of-mind recall.
2) Offer excellent levels of customer service experience
Along with offering a product that is high on the aspects of quality and class, you also have to provide the finest levels of customer service experience. The product will wear out one day or the other, but it is the experience that remains etched in the minds of the customers for the longest period.
When there is an amalgam of high-quality products with the best customer service experience, your brand is sure to win high on the top of mind awareness and recall.
3) Target smaller groups
For better results to measure the top-of-mind awareness of your brand, it is always advisable to target smaller groups and niche audiences. It works as a better yardstick to understand their likes, dislikes, pain areas, tastes, and preferences in an effective manner.
Also, going for the bigger groups can make the entire exercise a jumbled-up and confusing one for your brand and the customers as well.
4) Plan a 360-degree media and marketing plan
Even before taking the plunge to carry out the exercise of top of mind awareness, it is advisable to plan and execute a 360-degree media and marketing plan to promote your product or service offerings.
Right from the various digital mediums such as Facebook, Instagram, and Google Promotions to taking the conventional route of hoardings and print advertisements amongst others; your plan has to be a potent mix of the best of both worlds.
Conclusion!
The concept of top of mind awareness is one of the best and most sought-after a mechanism to understand your brand reach in the competitive market. It also gives thorough insights into what customers feel and think about your products and brand as a whole.
Overall, top-of-mind awareness is an important part of any successful business strategy. It can help businesses get into their customers' minds, increase engagement, improve brand loyalty, and boost branded search engine queries.
Investing in strategies that will help build a strong top-of-mind awareness should be a priority for companies looking to stay ahead of the competition. Social media marketing can be an effective tool for achieving this, as it allows businesses to reach out directly to customers and create positive associations between their brand and its target audience.
Liked this post? Check out the complete series on Marketing