The ability to perceive and know things how to feel cognizant about the events is called awareness. It is being conscious of something. Awareness is seen as a relative concept its main focus on the internal state of mind such as feeling or external events. In the business world, every leader has to be aware of something or the other like being aware of the competition, about the changing nature of industry, self-development, etc.
4 Types of Awareness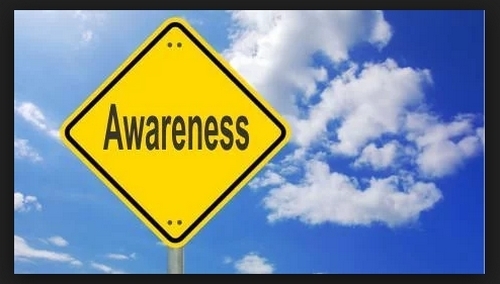 1) Time awareness
Getting lost in thoughts common phenomenon which every one of us faces. Things go on autopilot. Doing the same thing again and again without even being aware is common with every one of us. Things have to be done in a certain way in certain time for a certain reason and being aware is the least you could do.
Keeping a journal regularly and consistently tracking what you do, why you do and when you do helps to make your important decisions. It makes you aware of the fact that time is being wasted and you should do everything you could to prevent it. This is why Time is one of the Important Types of Awareness. If used wisely, time acts as a major productivity factor but if we waste it, there is no other more important resource.
Making yourself productive choosing how to spend time and home to spend time with is important for time awareness. In the business world when you are the manager of people, you need to be aware of time and spend it very cautiously in order to get the most out of your productivity. Being unproductive is not bad that should be certain times when you should be unproductive in order to help your brain boost. Taking a break once in a while and being and productive is not bad at all while taking a break all the time is not good too.
2) Task Awareness
As the name suggests, you should be aware of the tasks that you do on regular basis. You might have a big to-do list but which ones of them are really important and necessary should be judged by you. Many times we all have unproductive tasks in the list of to-do's but what is important over here is you have to prioritize them.
Prioritizing is the only way to unclutter your to-do list and make sure that you give enough time to enough task as per its importance. The best way to go ahead with task awareness is to start writing a journal of the things that you do all day. Mention every single task and do not analyze any of it for at least two weeks. Post 2 weeks you can sit and analyze where you have been wasting time the most and are the priorities things getting proper attention and time.
If they are not you can always reallocate them to be more productive about your task and timings. This makes you aware about the tasks that you have been given time but may not be very important to you at all and in fact, they are the ones eating most of your time and getting only that is of work done.
There is a rule by the name of Pareto rule which says that 80% of your tasks idling 20% of the time and 20% of your tasks take up more than 80% of your time. This Pareto rule over it is commonly known as 80-20 rule applies to every single aspect of our life including task awareness. Make sure that the p unproductive things that you have on your to-do list are managed within 20% of your time and vice versa.
3) Result awareness
Being busy doesn't always been being productive. Once you learn to manage time and task you automatically become aware of your results. A person can be busy most of his day but not productive at all ergo no results. On the other hand of a person who manages time and tasks effectively can utilize this time of all but still be productive than everyone.
It is very important that once in a while, you analyze the tasks that you are doing and the things that are taking up your time and determine if you are being productive and getting results out of it or not. It is very important that you maintain a balance and do not apply this to every single aspect.
For example, if you are a doctor it is important that the time you invest in surgery results in successful operation which means you have got a result. But on the other hand, if you are a salesperson you can invest your time and task in just talking up with customers and this, in turn, will be the base for future sales.
While this may seem that it is eating up your time it is, in fact, necessary and it will act as the stepping stone for a future and greater result. It is necessary that you enjoy the process but it is equally important that you focus on details and do not forget the big picture. Having a vision helps you stay aware of the result that you are after and does not let you drift away from your aim or goal. You can always maintain a journal writing your weekly or monthly achievements. It would not matter if their significant or not as long as you achieve those results. Writing about it makes you aware of whether your tasks and the time that you are investing in, are being productive or not.
4) Self-awareness
Amongst the most important types of awareness is always being aware of the self. There has been a lot of writing done on self-awareness get some people to believe that we have not even scratched the surface. Being self-aware is being conscious of the fact that you are doing something or being something or simply being aware of yourself.
Applying self-awareness during your tasks results or time management can help you increase your productivity as well as help you achieve your targets and goals, may it be personal or professional. Being self-aware is very important during all of the times whether you are with your friends or with your family or in your workplace. You should be aware of your talking about what you are saying how you are talking and how you are saying.
This does not mean that you are wrong in any of the areas, but it simply means that you need to focus all the things that come out of your mouth or out of your behaviour so that they do not impact negatively to anyone else. Being self-aware about the nature of the business is equally important. Part of being self-aware is writing down your vision and mission statement and ensuring that anything you do is in alignment with the stated vision and mission. What is very crucial that you perform this analysis for yourself as well as your colleagues and seniors so that everyone is on the same page.
Liked this post? Check out the complete series on Marketing