What is Convergence Marketing?
Convergence Marketing is a strategy that looks at the entire marketing landscape and converges it into one cohesive plan by focusing on connecting different marketing channels, and assets. It allows marketers to develop a holistic approach to interacting with customers by using multiple tactics merged across various touchpoints.
One good example of convergence marketing is an omnichannel approach, where all channels are used together to create a unified customer experience. By combining digital and traditional methods such as television, radio, print media, and online advertising into a single campaign, businesses can reach customers in a more personalized way.
All in all, convergence marketing aims to develop a seamless and unified customer experience that leads to higher brand fidelity and more sales. It is a powerful tool for any business, whether they are just starting out or are already established. By utilizing the power of convergence marketing, businesses can create an experience that will stick with customers and keep them engaged.
Definition
Convergence marketing refers to customer-centric marketing in which coordination of marketing, design, sales, and IT team occurs to ensure that the company can present a uniform, consistent, unambiguous, and engaging message through all media channels they utilize.
Meaning of Convergence in Marketing
Convergence in marketing combines traditional marketing efforts, such as direct mail and television advertising, with digital marketing communication channels like email, search engines, and social media.
By utilizing all of these channels together, businesses can develop a comprehensive marketing strategy that increases customer engagement and captures the attention of potential customers. Convergence marketing strategies also allow companies to get creative with their campaigns and track customer data gathered from different sources to create more targeted and effective campaigns.
Examples of Convergence Marketing
From advertising campaigns that combine digital, print, television, and radio to websites that feature multiple content types such as video, audio, and text, convergence marketing is becoming more popular every day. Companies like PepsiCo have even created mobile app-based loyalty programs that reward customers for engaging with their brand in a multitude of ways. Some of the other examples that will help you understand convergence marketing better include –
1) Smartphones
In the field of IT, convergence typically means combining various technologies into one device.
For instance, mobile phones are not limited to communication any more. They possess features of computers, gaming devices, and TVs. As a result, various forms of media have become more portable and interactive.
Convergence marketing has emerged as a result of this need. Nowadays, businesses must alter how they advertise their products. This is largely because television and other traditional forms of media are no longer the sole sources of information available.
Before the internet and digital devices became affordable to the general public, companies primarily used television to reach their audience. Jim Stengel, the CMO of P&G, stated that in 1965, three 60-second TV spots could get 80% of adults, but today it takes 117 prime-time commercials to achieve the same outcome.
Convergence marketing in the field of marketing happens when marketers utilize information technology to create a unified, interactive, and consistent message across all their media channels.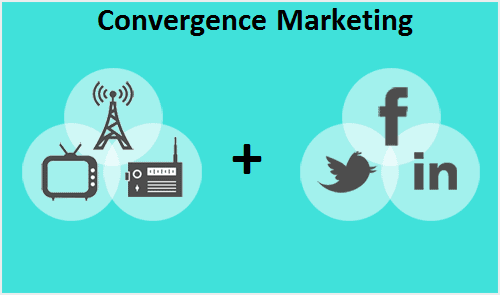 The convergence marketing strategy focuses on the customer and utilizes technology to target them via various communication mediums, such as social media, video sites, news sites, forums, and blogs. This allows for the targeting of like-minded individuals.
2) Online Advertising
An example would be online advertising, where websites are organized based on their specialty. If Dell wants to advertise, it can advertise on technology-based websites as well as entertainment websites that have a large audience.
Additionally, Dell can also use various methods such as creating a jingle on iTunes, developing an app, or conducting email marketing to reach its customers through multiple channels simultaneously.
Marketing specialists are no longer using the term "traditional customer" and are instead referring to a new type of audience known as the "hybrid consumer" or "cyberconsumer." This audience is growing and there are now more channels available to reach them.
The buying behavior of the modern consumer has changed, prompting businesses to adopt convergence marketing to remain successful.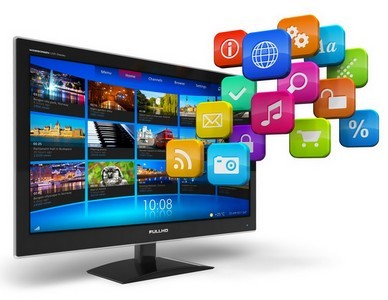 Businesses are now able to establish more individualized connections with customers by utilizing smartphones instead of relying on broad marketing strategies. While this is beneficial, businesses have encountered difficulties with messaging content. The effective communication principle emphasizes that messages should be accessible, easily viewable, and user-friendly.
3) Mixing Online and Offline Marketing
To better grasp the concept of convergence marketing, let's explore a real-life scenario where it is being utilized. With the advent of the internet, virtual communities have emerged, bringing together individuals from different parts of the world who share common interests. Companies can leverage this phenomenon to their advantage.
Yet, each member also belongs to a real-life community. So, the business needs to integrate the virtual and physical communities, while aligning their goals with economic benefits. Essentially, they aim to achieve a tangible ROI from these communities.
These companies aim to enhance the connection between their online and offline communities to achieve their business goals. One way they do this is by organizing events in a particular location based on the purpose of the community they have created, and then sharing invitations through their online platform.
The merging of virtual and physical communities enables various activities like sharing emails and creating viral videos.
Hence, one of the most effective ways convergence marketing is practiced is by combining online and offline channels. Nowadays, customers prefer to be reachable through various means of communication, such as visiting in person, calling, or visiting a website. Therefore, they anticipate an unbroken conversation over all these channels.
Companies need to create strategies that integrate online and offline methods and give customers the freedom to choose their preferred mode of interaction.
Overall, companies now recognize the importance of catering to tech-savvy consumers. Therefore, they need to keep up with the latest technology and utilize convergence marketing to maintain their profitability while maintaining high-quality standards.
Departments Where You Can Apply Convergence Marketing To
A business can apply convergence marketing to various departments, such as sales and marketing, customer service, product development, research and development, etc. Here are some examples of how convergence marketing can help improve a company's performance:
1) Sales and Marketing Departments
This is where convergence marketing comes into play the most, by allowing companies to create meaningful and impactful campaigns that target customers from different channels. Companies can integrate their cross-channel marketing strategies to create consistent customer experiences that will result in higher sales.
2) Customer Services
By applying convergence marketing to the customer service department, businesses can provide a streamlined experience for customers by providing assistance and information across all channels. This helps build stronger relationships with customers as they can get the help they need efficiently.
3) Management
Convergence marketing also helps managers create better strategies and decisions for their company by providing them with the data they need to make informed decisions. This includes understanding customer behavior, sales trends, market changes, and more.
4) Communications
By utilizing convergence marketing, businesses can ensure that their customers are constantly kept informed about new products and services through direct mail marketing, email campaigns, online communication, and other channels. This helps to create a better customer experience as they will always be up-to-date with what's going on.
5) Product Development
Companies can use the insights from convergence marketing to create better products and services tailored to their customers' needs. This allows businesses to stay ahead of the competition while creating a better customer experience.
Convergence Marketing Advantages
Convergence marketing is increasingly becoming more important in the current digital landscape. By leveraging the potential of modern technologies, businesses are able to create a unified message across all their channels and platforms—giving them an advantage over competitors who focus on disparate campaigns from multiple sources. It also allows them to better understand their customer's behaviors and preferences, allowing them to deliver more tailored and targeted marketing messages. Some of the notable advantages are –
1) Optimized customer experience
Convergence marketing enables businesses to create a personalized, unified customer experience that will lead to higher brand loyalty and greater sales.
Convergence marketing refers to merging different marketing channels and strategies to form a unified customer experience. This approach helps businesses to optimize their customer's journey and ensure they are provided with an exceptional experience that will lead to more sales.
2) Improved brand recognition
By creating a unified, consistent message across all channels, businesses can improve brand recognition and create a more memorable impression on customers. This consistency also creates trust in the brand; when customers see a recognizable logo or message, they are more likely to trust the company and be willing to purchase from them.
3) Breaking down silos
Convergence marketing helps break down organizational silos and encourages collaboration between departments. By uniting different teams, businesses can leverage the strengths of each department to create a more unified message that will help them reach their goals.
4) Customer-centric approach
Convergence marketing allows businesses to adopt a customer-centric approach, which is essential for success in today's competitive landscape. By understanding their customers and delivering tailored messages, businesses can provide an experience that meets their customer's needs and stands out from the competition.
5) Increased ROI
By combining different tactics and strategies, businesses can create more effective orchestration of offline and online marketing campaigns that result in higher ROI. This approach also ensures that the resources used are optimized; instead of investing in several different strategies, businesses can focus their efforts on creating an integrated message that will maximize their return.
Tools to Enhance Convergence Marketing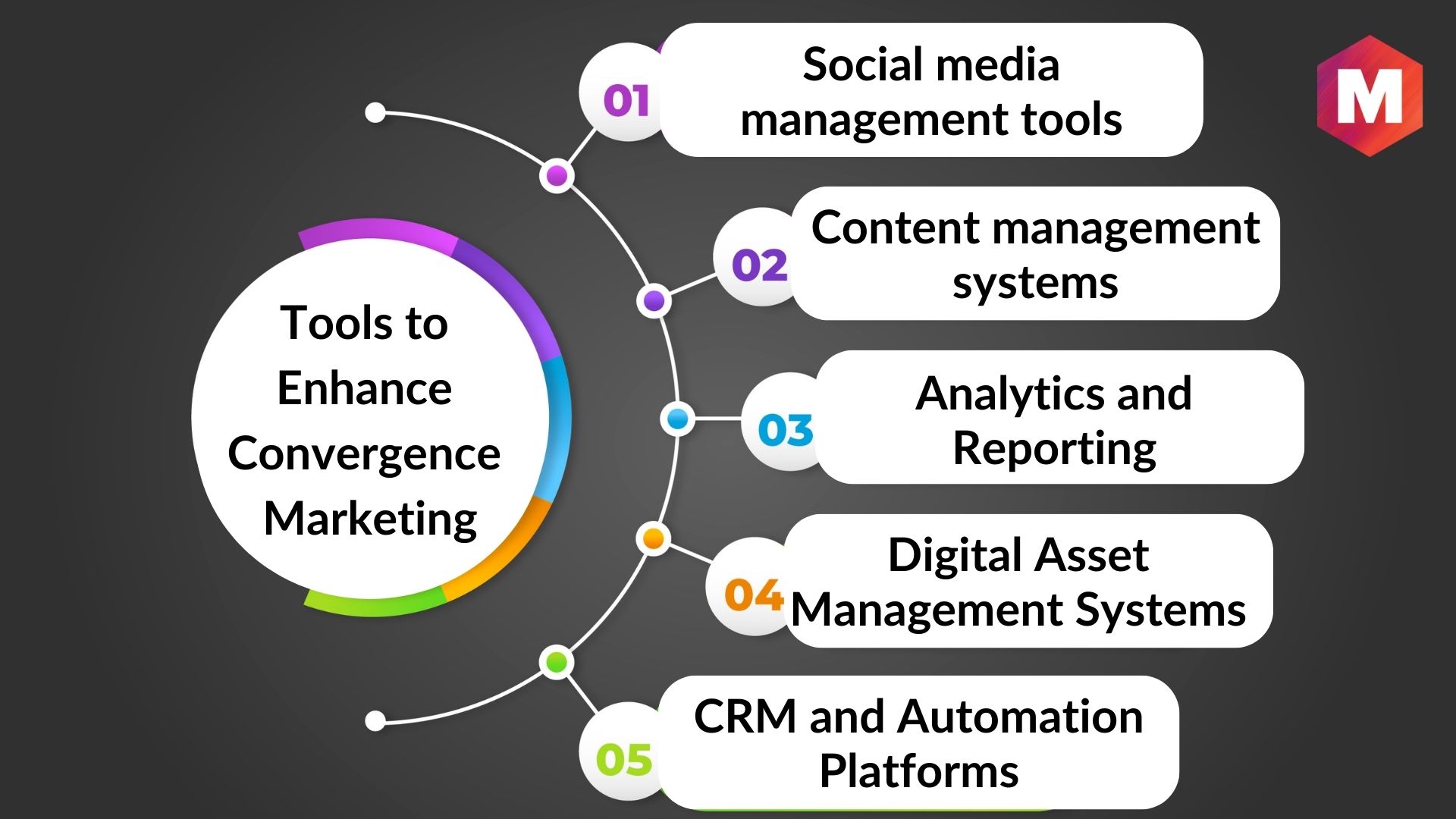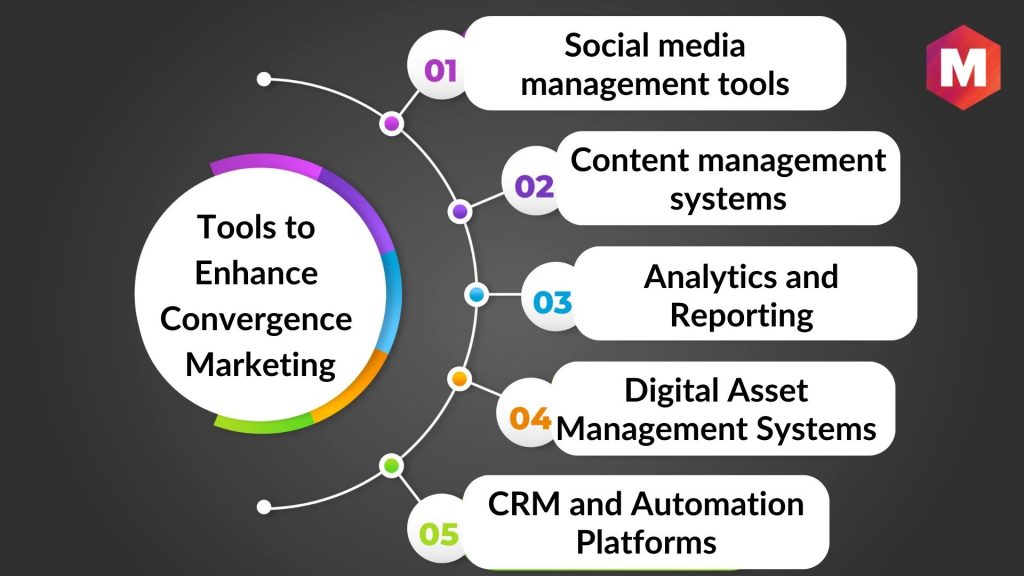 Some of the tools that you can use for optimizing your convergence marketing campaigns are-
1) Social media management tools
Social media management tools are used for creating, managing, and optimizing content shared on various social media platforms. These can help you reach out to a wider audience and create meaningful conversations that tap into the power of word-of-mouth marketing. Some of such tools can be Hootsuite, Sprout Social, and Sendible.
2) Content management systems
Content management systems (CMS) provide a platform for managing digital content in an organized manner. They can be used to create websites, blog posts, and other engaging content that is optimized for search engine performance. Examples of popular CMS are WordPress, Drupal, Joomla, and HubSpot.
3) Analytics and Reporting
Analytics tools provide insights into user behavior. They can be used to track key metrics such as page views, time spent on a page, bounce rates, etc. These help you measure the success of a campaign and identify areas for improvement. Tools like Google Analytics and Adobe Analytics are widely used for this purpose.
4) Digital Asset Management Systems
Digital asset management systems provide a platform for managing and organizing all the digital content associated with a brand, such as images, videos, logos, etc. This helps to ensure that your content is accessible when needed and also makes it easier to deliver personalized experiences. Examples of these tools are Bynder and Brandfolder.
5) CRM and Automation Platforms
CRM and automation platforms are used for automating marketing activities. They can help in segmenting customers, personalizing content, automating emails, running campaigns, and more. Examples include Salesforce Marketing Cloud and MailChimp.
Unlock the Power of Convergence Marketing!
Convergence marketing combines the power of all these tools and strategies to create engaging experiences that will drive results. It involves creating an integrated marketing approach, where all the available channels and tools are leveraged for maximum impact.
This can be a powerful tool for any brand looking to boost their visibility and engagement with customers. With convergence marketing, you can harness the power of automation, analytics, CRMs, and other digital marketing tools to maximize your success. So don't wait any longer – unlock the power of convergence marketing now!
Liked this post? Check out the complete series on Marketing