Reverse marketing refers to a scenario where the firm does not actively seek out customers, but instead, the customers seek out the firm. An example of reverse marketing could be a business that becomes popular through word of mouth, such as a small cafe with delicious desserts. Customers hear about the cafe through their friends and decide to visit it and sample its offerings.
Unlike traditional marketing, which relies on advertising campaigns to attract customers, reverse marketing focuses on creating an excellent customer experience. Traditional marketing involves the seller targeting specific customers while reverse marketing involves customers seeking out potential sellers who may have the product they need.
Pages and pages can be written about the importance of traditional marketing for businesses – whether big or small. From nearby Mom and Pop stores to Multinational companies, an effective marketing strategy has helped make or break a business. Keeping this in mind, businesses are adopting varied methods of marketing – from advertising to promotions, public relations, and sales – and are spending a sizeable chunk of their profit on marketing their product or service.
Since Marketing has such a significant impact on businesses, business experts have been coming up with varied forms of marketing strategy – all in a bid to get the attention of their target consumers. Reverse Marketing is one such marketing strategy, which is slowly yet steadily becoming the most preferred way of marketing for businesses.
When Tom Fishburne said "The best marketing does not feel like marketing at all", he was – in all probability- referring to the concept of Reverse Marketing!
What is Reverse Marketing?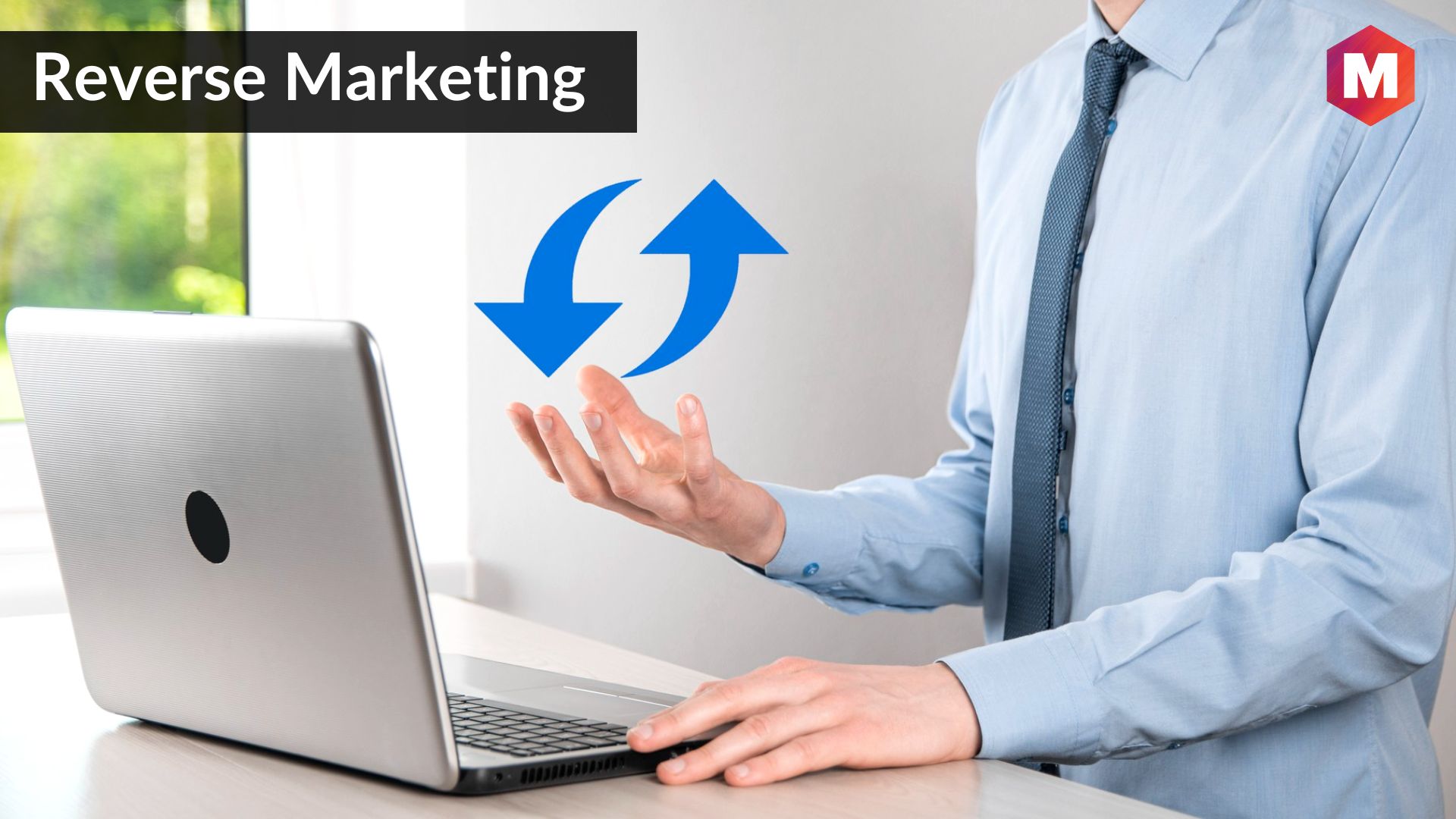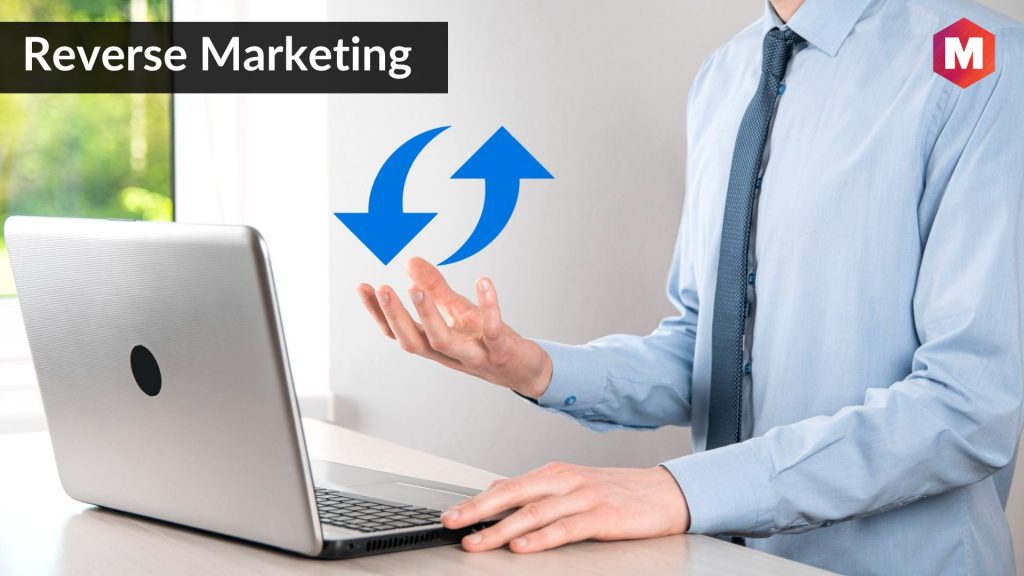 Reverse Marketing is a concept of marketing in which the customer seeks the firm rather than marketers seeking the customer. In fact, this method is similar to reverse psychology wherein we make another person do or say something by telling them the contrary of what is preferred.
Unlike traditional marketing methods that advertise their products or services through various methods, reverse marketing prompts end consumers to seek out a product or service on their own. Traditional marketing methods, which are often nicknamed Coercive marketing, entail businesses finding their target consumers and then convincing them that their product or service not only meets their requirements but is also better than their competitors.
However, in reverse marketing, all that a business needs to do is give information about its product or service to consumers. This information acts as an advisor to the consumers and that too at no additional cost to the consumers. In Reverse Marketing, businesses direct the consumer's attention toward their business's brand and try and create Customer Loyalty. In fact, building brand value is of paramount importance in Reverse Marketing and is one of the primary features of this kind of marketing.
Best Practices of Reverse Marketing
Do not be invasive – it is important to remain as inoffensive as possible during reverse marketing. Remember, the consumer must feel compelled to seek out the product or company on their own. If email addresses need to be collected, ask for permission first. A video advertising campaign on YouTube, for example, could also be made skippable to ensure consumers do not feel as if they are being forced to sit through a message.
Focus on content – the value of premium quality content cannot be overstated. When Dove created their reverse marketing campaign, the company ran a series of professional videos for women of all shapes and sizes with the individual sketching each woman a former forensic artist at the FBI. The videos were released with a frequency that did not overwhelm viewers and touched on meaningful topics that fostered a deeper relationship between the company and its ideal buyers.
Use social media – many companies also use Facebook pages, for example, to post relevant and useful content to their audiences. This positions the company as the go-to source for information on a topic. It's important to provide value first before more strategic posts that sell products start to appear. This approach works equally well on platforms such as Twitter and YouTube.
Evaluate the business –  To achieve success in reverse marketing, businesses must establish goals and assess their performance. Additionally, this approach is commonly utilized to reposition a brand and establish its desired image. To assess your business, consider how the public views your product, service, or company. It is important to assess whether your business comprehends the needs and difficulties faced by your intended audience.
Key Takeaways
Reverse marketing refers to a marketing approach that motivates consumers to find a product or company by themselves rather than being directly targeted.
Trust building is a necessary part of this approach. Companies must create content that is of the highest quality, focusing on providing value to their potential customers before expecting anything in return.
Social media is a great way to engage with customers and build relationships. Companies should strive to post meaningful content regularly, helping them establish themselves as the go-to source for information.
Who uses Reverse Marketing?
Reverse marketing strategies are widely used by companies of all sizes in many different industries. They prefer using it to improve customer relationships, reposition their brand, and gain market insights. Ultimately, businesses that use this approach can build trust with potential customers and increase sales. For example, many apparel brands use reverse marketing to engage with their target audience and encourage them to purchase their products. By providing useful content and building trust, they are able to increase their sales.
Using reverse marketing can be advantageous for companies that provide customers with valuable information without any cost, as it helps to establish the company as an authority in the field. For example, if a business provides free content such as tips and tutorials on its website or social media channels, potential customers are more likely to trust them and purchase their products.
Service providers also use reverse marketing to position themselves as experts in their field and build credibility. They do this by offering free advice and resources on topics related to their services, which can help them stand out from the competition.
Examples of Reverse Marketing
Is reverse marketing useful? Yes! Reverse Marketing if planned and implemented carefully – has been quite successful in recent times. A famous example of successful Reverse Marketing is Patagonia Jacket's "Don't Buy This" campaign.
In this particular campaign, having identified that environmental and economic sustainability mattered to its target consumers, Patagonia launched an online "Don't Buy This" advertisement on Black Friday. This advertisement requested its customers to think twice before every purchase they made and encouraged them to do away with thoughtless consumerism.
Though Patagonia was in no way telling buyers to abstain from buying its products; this clever campaign depicted Patagonia as a firm that was environmentally responsible and had sustainability at its heart – a fact that resonated with Patagonia's customers, and thus actually increased its sales.
Another example of successful reverse marketing is the Dove Campaign for Real Beauty. Its competitors were focusing on the flaws of their consumers and how their products could help cover up or improve their flaws. Dove, on the other hand, focused on the natural beauty of its consumers and celebrated the common women's beauty – rather than promoting its product. Using real women in their campaign, Dove was able to garner sales of above $1 Billion because of this one campaign.
A perfect example of a small business opting for Reverse Marketing would be Swati Spentose – a pharmaceutical company that has launched a foundation for "Rare and neglected diseases". This foundation aims to support people who suffer from neglected diseases like Bone Disorder, Kidney Inflammation, Alzheimer and Urological Disorders and is the perfect example of reverse marketing.
Being a Pharmaceutical company, the message it aims to give its end consumers through this foundation is that they are committed to the well-being of its end consumers and will remain connected to them through this foundation.
Another successful example of Reverse Marketing is Aviva – an Insurance company. This company's advertisements tell its consumers that they are already leading a happy life and that the company would like to make their life more beautiful by helping them learn and try new things. These advertisements are motivating enough for the consumers to choose Aviva India over its competitors.
Why does Reverse Marketing work?
The truth is that no one likes to be told what to do. Have you seen babies doing exactly what they have been told not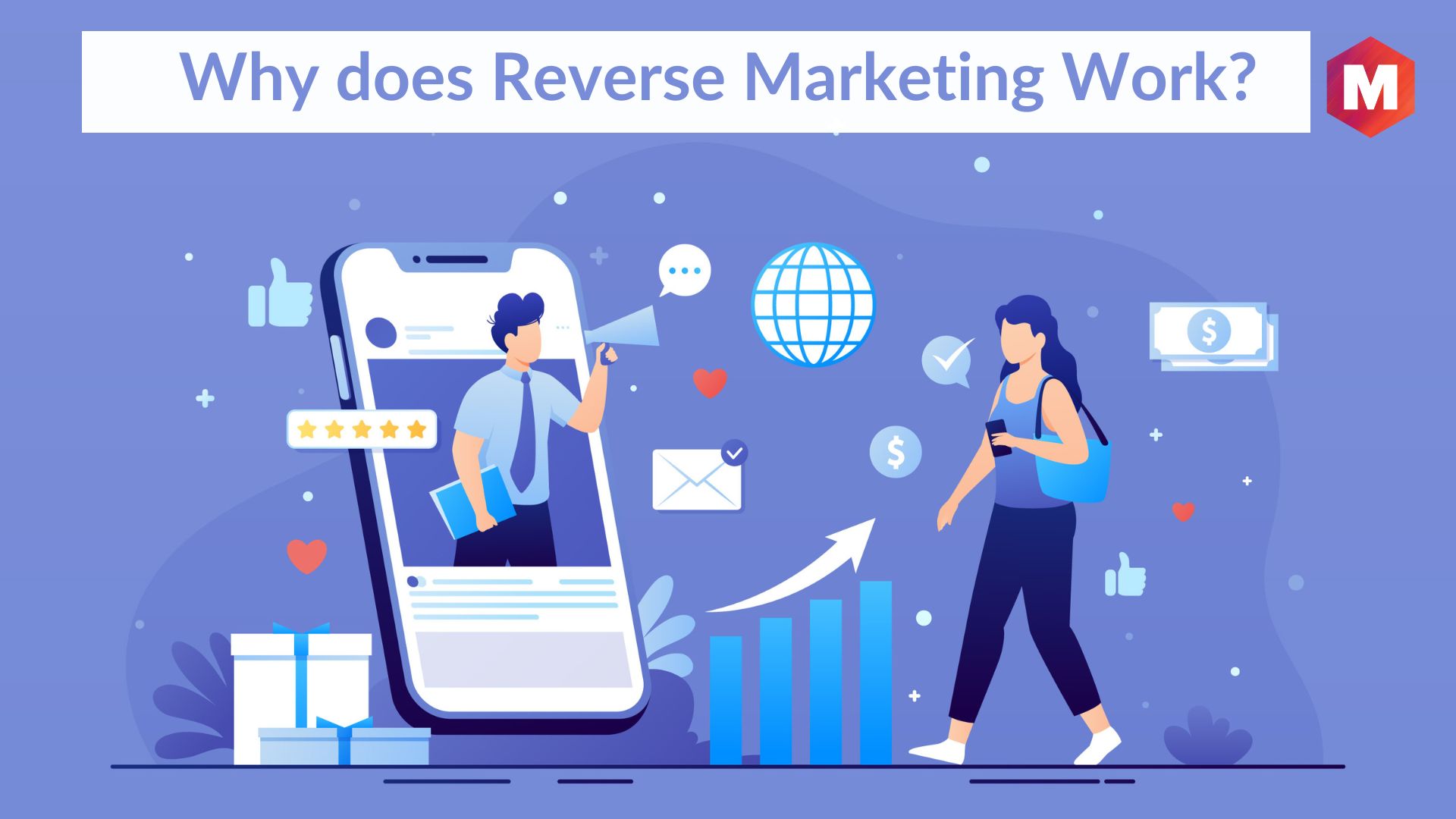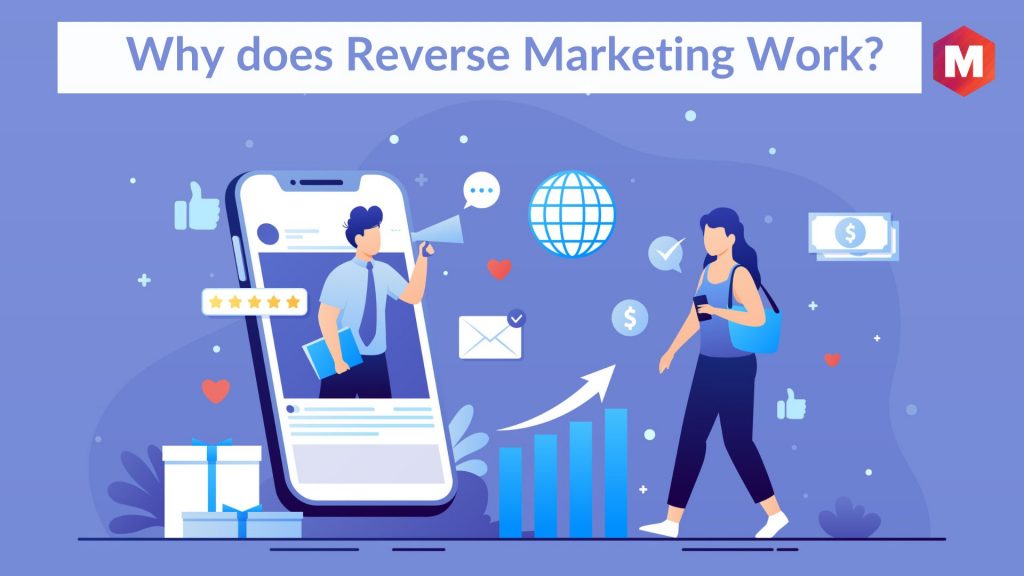 to do? Well, our subconscious mind too is similar to babies and does not want to be directed – unless there is some compulsion.
Advertisements that tell consumers that they would develop wrinkles if they do not use a particular brand of moisturizers or that their car engine would develop a snag if they do not use a particular additive scare the consumer and forces them to buy that particular brand of soap or fuel additive. However, in reverse marketing, the business moves away from "threat strategy" and thus strikes a chord with its target consumers.
How to create an effective Reverse marketing campaign?
Though not rocket science, creating a successful Reverse Marketing needs careful thinking and Strategy making. Some of the points to keep in mind while crafting a Reverse Marketing campaign are:
Do a genuine evaluation of your business's current image and your target consumer groups. Once you have understood this, try to understand what is important for your target consumer and what they value.
Once you have understood the above, tell them about your product or service.
Close the sale but not before you give your consumer something of value.
Difference between Reverse Marketing and Anti-Advertising
Reverse marketing and anti-advertising are both effective strategies used by businesses today, but they serve different purposes. Let's have a look at the difference between the two –
| Reverse Marketing | Anti Advertising |
| --- | --- |
| Reverse marketing works on creating brand loyalty by providing value to the customer | Anti-advertising works by showcasing the harms of using a particular product or service. |
| An example of a reverse marketing campaign could be Apple's Think Different campaign- This campaign aimed to show that the company was a support system for creative minds, unconventional thinkers, and risk-takers. It allowed them to build up their brand image and create positive associations with their brand. | On the other hand, anti-smoking campaigns are an example of anti-advertising – They focus on informing people about the harms of smoking and urge them to quit. |
| | |
Advantages of Reverse Marketing
Some of the advantages of reverse marketing include
1) Increased customer engagement
Reverse marketing allows businesses to get feedback on their products, services, and customer experience from potential customers. This helps the business better understand what its target audiences want and how they can be best served.
2) Improved trust
Reverse marketing can also help to build trust between the business and its customers. By engaging with customers through surveys, polls, focus groups, and other methods, businesses can gain valuable insights into customer preferences, needs, and interests. This makes customers feel seen and valued by the business, which leads to improved trust and loyalty.
3) Increased ROI
By engaging with potential customers through reverse marketing, businesses can also increase their return on investment. This is because businesses can use customer feedback to refine their products and services, optimize marketing campaigns, and create targeted promotions that will bring in more sales. Reverse marketing helps businesses make better decisions about how to reach their target audience and maximize their ROI.
4) Cost-effective
Reverse marketing is also a cost-effective way to get customer feedback. Businesses don't need to invest in expensive surveys or focus groups to gain insights into their target audience; they can simply ask customers directly and use the results to make informed decisions about how best to serve them. This makes reverse marketing much more budget-friendly than other forms of market research.
Disadvantages of Reverse Marketing
1) Difficult to measure
One downside of reverse marketing is that it can be difficult to measure its effectiveness. Since the interactions are customer-driven, businesses don't always have concrete metrics they can use to evaluate the success of their campaigns.
2) Time-consuming
Reverse marketing also requires significant time and effort from businesses. It's not something that can be done overnight—it takes time to build relationships and engage with customers. As a result, it may take longer for businesses to see the results of their efforts than other more traditional marketing strategies.
3) Attracting wrong customers
Businesses need to be careful when using reverse marketing. If they aren't careful with their tactics, they may end up attracting the wrong type of customer—someone who doesn't fit their target audience profile. Businesses need to be sure that they are targeting the right audience in order to reap the most benefits from their efforts.
4) Not works for all industries
Finally, reverse marketing may not be the best option for all industries. Some industries, such as those that rely heavily on one-time purchases, may not benefit from this type of approach as much as others. Businesses need to weigh their options carefully before deciding if reverse marketing is the right choice for them.
What are the Career Options in Reverse Marketing?
Reverse marketing techniques are a relatively new business strategy, but it's becoming increasingly popular as companies realize their potential. There are several career options in this field, including –
| Market Researchers | Market researchers use data to understand their target audiences and develop strategies for engaging with customers. They conduct surveys and focus groups to gather information about customer preferences and trends. |
| --- | --- |
| Social Media Managers | These professionals create and manage social media accounts for businesses, helping to build relationships with customers online. They also monitor customer feedback and engagement levels, providing insights into how effective the company's strategy is. |
| Content Strategists | Content strategists are responsible for creating engaging content that appeals to the target market and drives them toward making a purchase. They use research and analytics to understand customer needs and develop strategies for delivering result-driven content and attracting customers. |
| Copywriters | Copywriters create compelling copy for websites, advertising materials, and other marketing collateral. They work closely with the marketing team and other departments in the organization to ensure that messaging is consistent across all channels. |
| Marketing Managers | Marketing managers oversee all aspects of the company's marketing strategy. They devise campaigns, analyze data, and assess performance to ensure that the company is meeting its goals. |
| | |
A word of caution though!
If you are a new business or are introducing a new product or service, then it is advised to stay away from the reverse marketing strategy. Statistics have shown that only established brands have been able to make the most of Reverse Marketing and that too with products that were already popular.
Liked this post? Check out the complete series on Marketing