Pages and pages can be written about the importance of Marketing for businesses – whether big or small. From the nearby Mom and Pop stores to Multinational businesses, an effective marketing strategy has helped make or break a business.
Keeping this in mind, businesses are adopting varied methods of marketing – from advertising to promotions, public relations and sales – and are spending a sizeable chunk of their profit on marketing their product or service.
Since Marketing has such a huge impact on businesses, business experts have been coming up with varied forms of marketing strategy – all in a bid to get to the attention of their target consumers. Reverse Marketing is one such marketing strategy, which is slowly yet steadily becoming the most preferred way of marketing for businesses. When Tom Fishburne said "the best marketing does not feel like marketing at all", he was – in all probability- referring to the concept of Reverse Marketing!
What exactly is Reverse Marketing?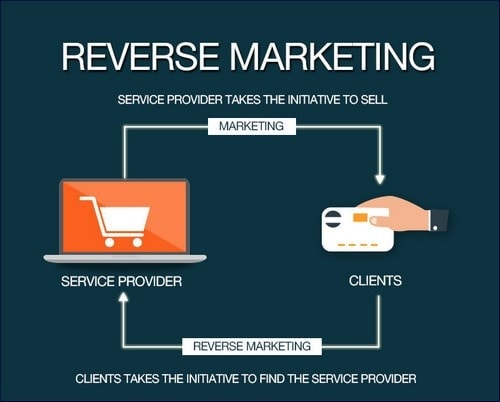 Reverse Marketing is a concept of marketing in which the customer seeks the firm rather than marketers seeking the customer. In fact, this method is similar to reverse psychology wherein we make another person do or say something by telling them the contrary of what is preferred.
Unlike traditional marketing methods that advertise their products or services through various methods, reverse marketing prompts end consumers to seek out a product or service on their own. Traditional marketing methods, which is often nicknamed Coercive marketing, entail businesses to find their target consumers and then convince them that their product or service not only meets their requirements but is also better than their competitors.
However, in reverse marketing, all that a business needs to do is to give information about their product or service to consumers. This information acts as an advisor to the consumers and that too at no additional cost for the consumers. In Reverse Marketing, businesses direct the consumer's attention towards their business's brand and try and create Customer Loyalty. In fact, building brand value is of paramount importance in Reverse Marketing and is one of the primary features of this kind of marketing.
Examples of Reverse Marketing
Is reverse marketing useful? Yes! Reverse Marketing if planned and implemented carefully – has been quite successful in recent times. A famous example of successful Reverse Marketing in is the Patagonia Jacket's "Don't Buy This" campaign.
In this particular campaign, having identified that environmental and economic sustainability mattered to its target consumers, Patagonia launched an online "Don't Buy This" advertisements on Black Friday. This advertisement requested its customers to think twice before every purchase they made and encouraged them do away with thoughtless consumerism.
Though Patagonia was in no way telling buyers to abstain from buying its products; this clever campaign depicted Patagonia as a firm that was environmentally responsible and had sustainability at its heart – a fact that resonated with Patagonia's customers, and thus actually increased its sales.
Another example of successful reverse marketing is the Dove Campaign for Real Beauty. Its competitors were focusing on the flaws of their consumers and how their products could help cover up or improve their flaws. Dove, on the other hand, focused on the natural beauty of its consumers and celebrated the common women's beauty – rather than promoting its product. Using real women in their campaign, Dove was able to garner sales of above $1 Billion because of this one campaign.
A perfect example of a small business opting for Reverse Marketing would be Swati Spentose – a pharmaceutical company which has launched a foundation for "Rare and neglected diseases". This foundation aims to support people who suffer from neglected diseases like Bone Disorder, Kidney Inflammation, Alzheimer and Urological Disorders and is the perfect example of reverse marketing.
Being a Pharmaceutical company, the message it aims to give its end consumers through this foundation is that they are committed to the well being of their end consumers and will remain connected to them through this foundation.
Another successful example of Reverse Marketing is Aviva – an Insurance company. This company's advertisements tell their consumers that they are already leading a happy life and that the company would like to make their life more beautiful by helping them learn and try new things. These advertisements are motivating enough for the consumers to choose Aviva India over its competitors.
Why does Reverse Marketing work?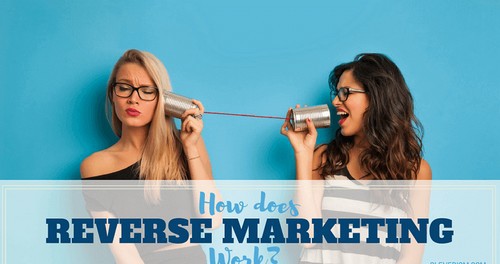 The truth is that no one likes to be told what to do. Have you seen babies doing exactly what they have been told not to do? Well, our subconscious mind too is similar to babies and does not want to be directed – unless there is some compulsion.
Advertisements that tell consumers that they would develop wrinkles if they do not use a particular brand of moisturizers or that their car engine would develop a snag if they do not use a particular additive scare the consumer and forces them to buy that particular brand of soap or fuel additive. However, in reverse marketing, the business moves away from "threat strategy" and thus strikes a chord with their target consumers.
How to create an effective Reverse marketing campaign?
Though not rocket science, creating a successful Reverse Marketing needs careful thinking and Strategy making. Some of the points to keep in mind while crafting a Reverse Marketing campaign are:
Do a genuine evaluation of your business's current image and your target consumer groups. Once you have understood this, try to understand what is important for your target consumer and what they value.
Once you have understood the above, tell them about your product or service.
Close the sale but not before you give your consumer something of value.
A word of caution though!
If you are a new business or are introducing a new product or service, then it is advised to stay away from Reverse Marketing. Statistics have shown that only established brands have been able to make the most of Reverse Marketing and that too with products that were already popular.
Liked this post? Check out these detailed articles on
Topic of Marketing
Alternatively, check out the Marketing91 Academy, which provides you access to 10+ marketing courses and 100s of Case studies.