Many of you would have heard many times the importance to use targeted marketing strategies to link with customers, but then how is it taken care of.
Segmenting your customers into age cronies is one best way to drive up your marketing efforts and to surface the way to have a more targeted approach. Meaning that you will be practising generational marketing.
Well, then what is generational marketing? It is exactly what it sounds like. Your market to a specific generation of people who are bifurcated according to the attitudes, preferences, and upbringings.
This distinguishes them from the various other groups. It is just about switching from the action of sending mass marketing messages to sending customize messages for definite age groups.
When you speak to each customer in the way that they would feel more comfortable, you will be able to gain a competitive advantage as the customer will feel that you are trying to understand their individual requirements.
But then, how do you differentiate the various generations. In the marketing world, the living generations have been separated into six categories, as described below:
GI Generation – People who are born between 1901 and 1926
Silent Generation – People who are born between 1927 and 1945
Baby Boomers – People who are born between 1946 and 1964
Generation X – People who are born between 1965 and 1980
Generation Y or Millennials – People who are born between 1981 and 2000
Generation Z – People who are born after 2001
But do you require generation marketing for your business? Well, it all depends on your business and requirement.
If you belong to a different generation than your target market, then the answer to the above question is yes. You might require generational marketing. It is tough sometimes to connect with a generation that is different from your own.
In order to be aware of your target generation requirement, their experiences, and what they value can effectively make a difference in getting the reactions that you require your business to succeed. When there is a shift in the target market segment, then knowing customer preferences can be done in less time.
Importance of Generational Marketing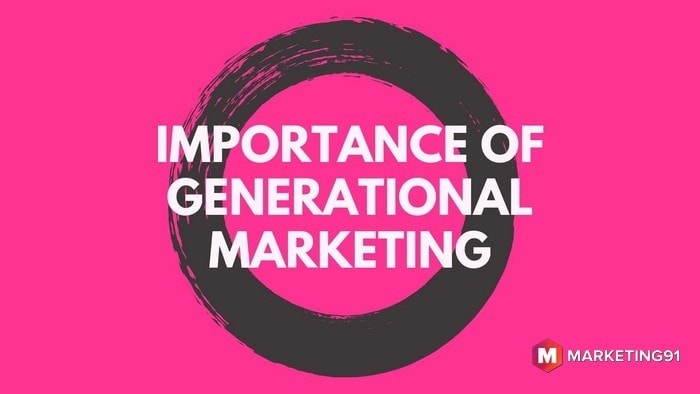 Generational Marketing merely means to understand that each and every generation has its own characteristics that are driven by their experiences, beliefs, and values.
Having these characteristics it will lead to distinct personalities that will govern the behaviors of the segment. Once you have unlocked the necessities of each segment, you will be able to target those segments with its related services and products efficiently.
Having a wide span of generations, it becomes challenging for the business to maintain the range of services that each segment responds.
For example, a person from Generation Z will not prefer to carry a checkbook and would prefer to conduct financial transactions online. But people from earlier generations would expect one-to-one service and would prefer to conduct a financial transaction in a branch.
It becomes quite natural for the business to pay most of their attention and resources on the current high-value member. But however, it is equally important to think of the long-term effect and recognize the budding members.
For example, the current elder's control the major share of deposits, while the future earnings of Generations X, Y, and Z cannot be ignored.
It is important to build associations with the younger generations to imprint the business in their minds as people tend to be attached to a particular business from when they are small.
Example of Generational Marketing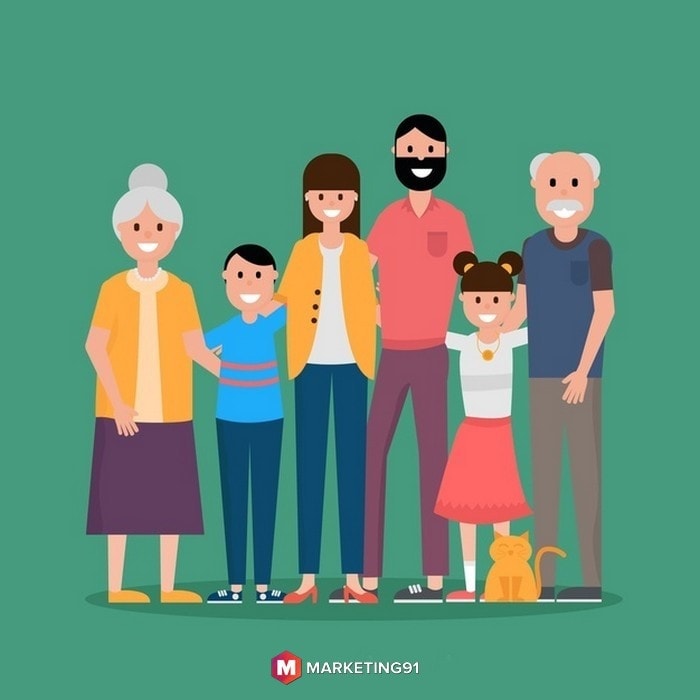 To understand the concept of generational marketing better, let us take an example of three generations shopping in independent beauty stores – Baby Boomers, Generation X, and Millennials. In fact, a shopper who belongs to different category buys differently.
There is a difference in mindsets, preferences, and priorities. Any business who keep all shoppers in one group is less successful than those who segment the customers.
Baby Boomers who are born in between the year 1946 to 1964 do not go much to shopping. Maybe due to physical limitations or financial issues. These people try to hold on their youth, especially their appearance. Boomer woman is more focused to stay young and in better shape.
They will be more into gaining better looks and have good health. Hence, the utmost importance of boomer shoppers is, however, quality and value.
They will not prefer to waste their money or time on products that won't perform well. They are ready to pay more for performance and will not be specific to the brand.
This generation wants something different with respect to their shopping experience and also the products. For the business, they should see that the quality and value of the product is met.
The business should find out means to offer to explain new offerings, and the reason for the product is a better choice. Communication plays an important role in this group. Shelf talkers, direct mail, personal attention, and good customer service will make boomers better customers for life.
Generation X customers who are born between the year 1965 and 1980, are slightly different from boomers. This generation is where most of the kids would have had dad and mom working outside the home. They were, in fact, early adopters of computers and are at present great creators of technology.
This generation customers would prefer authenticity. As a business, you cannot simply make a statement that a particular product reduces wrinkles, but instead have to show them and prove it as well.
These customers will take more time to buy something after doing their initial research. As they have more cash to spend, they end up buying the most expensive product as well. They tend to buy more that are stylish and keep changing the brand and products.
Due to this, they will require more consultation and advice during the sale process to make them decide that the products fit them best. For a business, they should be able to prove the product to a Generation X customer as to how a product works or feels.
Meaning that the business should hold product workshop or sampling session for them. They can also have individual demonstrations to show each customer the way each product performs.
Generation Y or Millennials customers born during the year 1981 and 2000 are quite different from the earlier two generations. This generation use or being raised with the Internet extensively. Instead of researching a specific product or topic, they tend to make contact on Facebook for advice.
They are, in fact, open to new experiences and enjoy trying new things. They are also confident about themselves as what is right for them. As there is a great use of technology, Generation Y customers tend to pay attention to design, to the way the information is displayed.
For any business, the best way to reach generation Y customers is through online, as they spend most of the time in it. For any business without their online presence, will tend to miss out many purchases from this generation.
Advantages and Disadvantages of Generational Marketing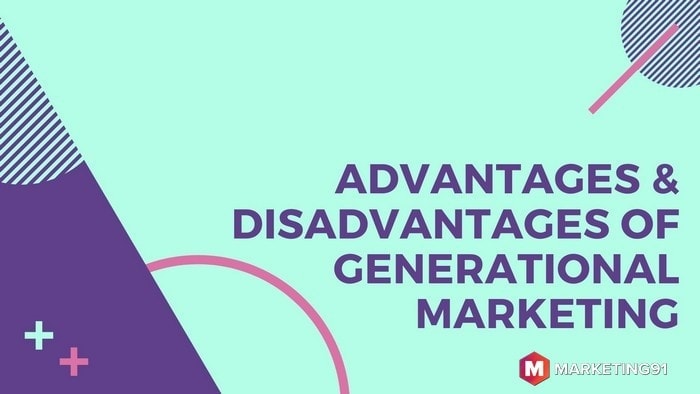 For any business, it is their duty to understand the customers. One way to do this is to analyze the customer's age. However, generational marketing has its own advantages and disadvantages.
Advantages:
A Lot of difference between the social generations. Cater to all type of generations for marketing
It can coincide with information gathered using analytic tools. Many websites have handy software that keeps track of the user's age and their shopping behaviors.
Disadvantage:
Despite tracking personage and shopping behavior, it is quite difficult to determine everything
There are quite many unknown parameters to determine the success factor of marketing
Some customers don't agree with some theory
Conclusion
Generational Marketing has its own merits and demerits. It is not the best tool neither the worst tool to rely on business marketing. Creating content for various generations or generational marketing is not easy considering the fact of their extreme difference in ideas and values.
But constant growing channels and generations flexibility towards them, you will be able to create content that helps your business to create a better association with the customers.