Target market selection is the process of selecting your target market by choosing a specific group of consumers to whom you will promote your new product or service. The market segmentation decision should be based on factors such as demographics, psychographics, lifestyle, and geographic location.
For example, if you plan to release a new health food product, you can focus on people who reside in urban areas and prioritize their health. Conduct market research and surveys to gather more information about your primary target market to optimize your marketing strategy.
What is Target Market Selection?
Target Market selection is a crucial step in identifying a target market while developing and launching a new product or service. It involves refining the target market strategies to ensure success in the market.
It is about analyzing different market segments to identify the most profitable one that can yield the highest return on investment and be penetrated in a reasonable amount of time. Once you know your target market, you can use best suited marketing strategy like niche marketing or mass marketing to target potential customers and convert them.
Importance of Target Market Selection
The activity of selecting a target market comes after a business has segmented its market and analyzed target customers to divide them into broader categories. It helps you find your primary as well as secondary target market so you can target one market segment that can offer you a competitive advantage.
During the market selection stage, the business needs to choose the most profitable market with a larger and growing customer base for higher profits and sustainable growth.
It is important to consider competition in the market if you want your product to succeed. Your success depends on the market share among competitors and your ability to gain a foothold in that market. Additionally, you should be aware of the strategies your competitors may use to compete with your new product.
How Do I Define My Product's Target Market?
To create a new product, it is important to imagine the target audience who will be interested in it. Your new product should address a specific need or offer a solution to a problem, or even both.
To define your target market, consider their demographics such as age, gender, and income level. It's important to consider psychographics, such as values, interests, and lifestyles, as well as geography when determining your target market. Think about whether you are targeting a local or international audience.
To create a successful product that meets customer demand and stands out in the marketplace, it's crucial to choose the right target market. One of the essential steps in developing and improving a product is to imagine the people who are most likely to buy it. This will help you make decisions about how to package, advertise, and position the product.
What Are the 4 Target Markets?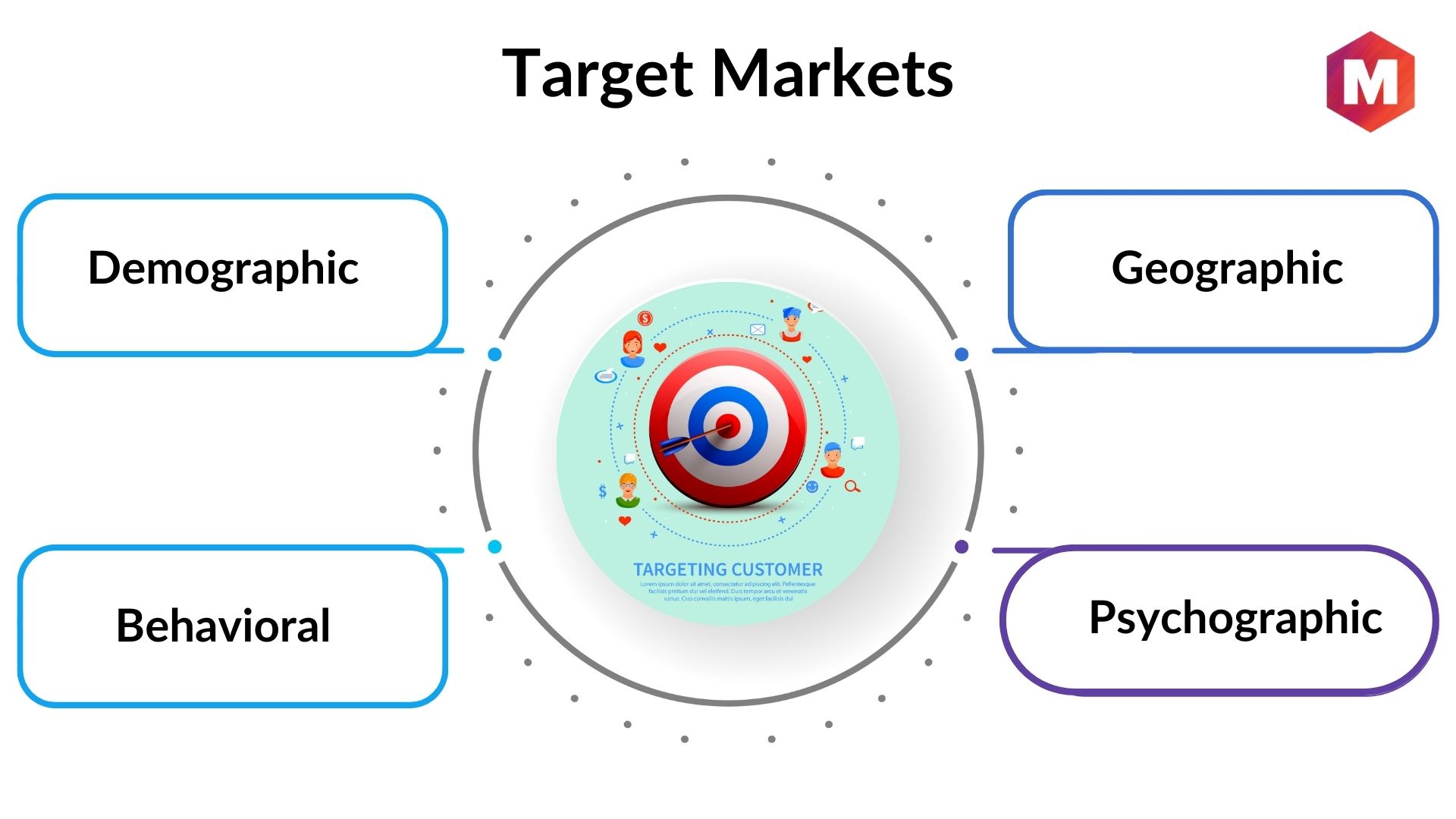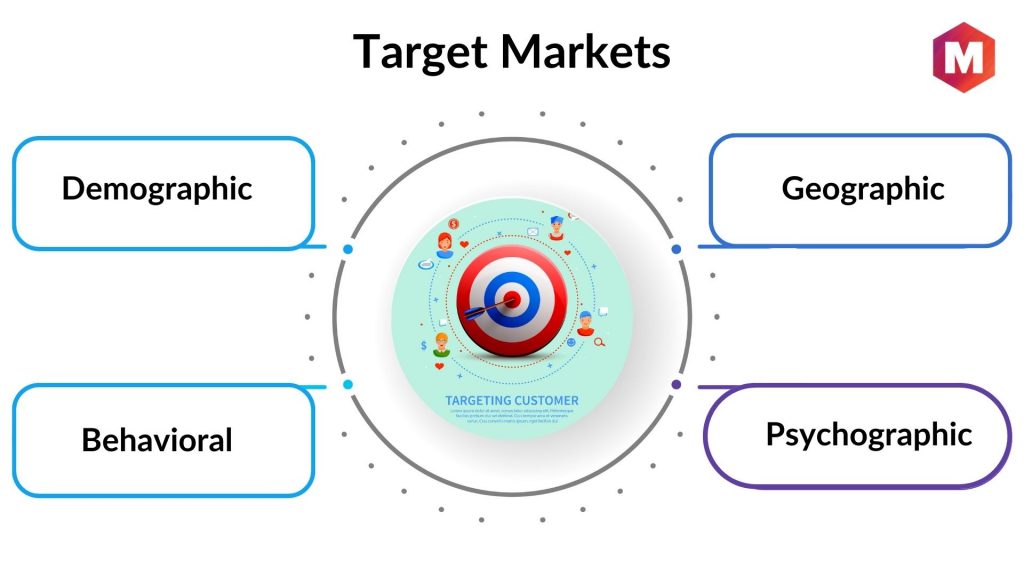 Marketing professionals divide consumers into four major segments:
Demographic – Target audiences are categorized into groups based on various factors including age, gender, race, income level, occupation, education level, and others.
Geographic –  Consumers are classified based on their geographic region such as country, state/province, city/town, and suburb.
Psychographic – This segment does not just focus on basic demographics but also takes into account lifestyle, attitudes, interests, and values.
Behavioral – This segment depends on researching the choices made by the company's existing customers, and past successful products may serve as a basis for introducing new ones.
Two Important Factors that Impact the Selection of Target Market
1) Attractiveness of a given market segment
It explains how well a market segment aligns with a business's goals, abilities, and available resources. To meet your financial targets, it's important to estimate the market share you can realistically attain based on your budget and the amount of money your competition is spending.
You can set quarterly targets to help you reach your overall goals. Determine the minimum market share necessary to recover the investment made in the product line. To determine if a market or market segment is attractive, there are several factors that should be taken into account such as –
Size of the market or market segment – Assessing the size of a market or segment is crucial to determine its growth potential.
The growth rate of the market or market segment – This helps you understand how rapidly your business must expand to keep up with the market's growth rates and prevent losing market share to the competition. This usually requires implementing long-term advertising and publicity efforts.
Segment competition – It is crucial to stay informed about your competitors' capabilities and strategies in order to perform as well as or better than them, taking into account your own business's abilities.
Brand loyalty – Getting new consumers hooked on your product can be challenging if you enter a market with high brand loyalty. However, if you have confidence in the uniqueness and ability of your own product, it can be possible.
Assess your business's ability to establish and secure a significant market share. Being honest about your capabilities will help you achieve long-term success and sustainability. Your margin expectations will be influenced by your current liabilities and desire for growth.
However, your competitors' pricing will also affect your margin. It's important to find a balance between these factors to achieve the best results. Market research and analysis also involve using tools to acquire knowledge.
2) Suitability of market segments to the firm
This refers to how well the market segment aligns with the business's long-term objectives and goals. It is important for the business to investigate and comprehend whether the targeted market or market segment correlates with its own goals, abilities, and resources. A few factors that will help you in gauging this –
The business needs to assess if the product offered has outstanding value or addresses a significant gap in the market.
Will entering the new market segment have a positive or negative impact on the business and its products?
The company should assess its ability to promptly respond to fluctuations in demand and make corresponding operational adjustments.
Furthermore, it should take into account the preparedness of its distribution channel to handle the upcoming release.
It is important to evaluate the capital investment based on the business's existing assets and debts.
Strategies for Target Market Selection
Whether you target niche market or mass market segments, you can use the following strategies –
Single-segment – Your website's resources for launching new products are targeted towards a particular market segment, backed by comprehensive and accurate market research. This approach is typically favored by small businesses because of their restricted resources.
Selective specialization – The product should be marketed using different distribution channels and promotional messages that cater to different market segments. This is a multiple-segment strategy where each segment receives a unique marketing mix for the same product.
Product specialization – The company focuses on one product line but customizes it to suit the requirements of its business markets.
Market specialization – The business can cater to the market segment by offering multiple products that meet the various requirements of that segment.
Full-market coverage – Established businesses with strong financial backing often use various marketing strategies to capture the majority of the new market. They may offer a unique marketing mix for different market segments or provide a single marketing mix for all selected segments.
How to Select the Target Market?
To effectively target their audience, organizations and marketers must identify a specific group of people and thoroughly comprehend their needs and expectations. This helps in creating a target market.
The ideal audience should share similar needs, tastes, and expectations. Products and brands that are similar should be attractive to the people in the target market. Using similar taglines and advertisements can attract the target audience's attention and encourage them to make a purchase.
Organizations must study the following factors in order to select a target market –
The lifestyle of the target audience
The age range of the target audience
Consumers' earnings
Consumers' capability for spending
Education and occupation of those involved
Gender, mentality, and consumer mind patterns
Individuals' social status and the types of environments they are exposed to
Target Market Selection Example
To understand what is target market selection, let us take an example of a company ABC that manufactures running shoes. Different types of target audiences for whom the company can design specific types of new shoes are –
Target Audience 1
For professional runners – Waterproof and sweat-resistant shoes.
Sponsored athletes
Track and field athletes
Target Audience 2
For casual runners – Lightweight shoes with cushioning technology.
Fitness enthusiasts
Office workers who go for morning jogs
Target Audience 3
For style-conscious individuals – Shoes with bright colors and modern designs.
Style influencers
Youth who like to make a fashion statement
Target Audience 4
For people looking for comfort – Shoes with extra cushioning, arch support, and breathable material.
Athletes recovering from an injury
People who suffer from foot pain or discomfort.
ABC can develop a product that fulfills the customer's needs by grasping their preferences, making it less challenging for them to decide on a purchase.
Conclusion!
To differentiate from competitors, it's important to identify distinct target markets and create a product that appeals to them. By selecting the right target markets, businesses can optimize their results.
Liked this post? Check out these detailed articles on
Topic of Targeting
Alternatively, check out the Marketing91 Academy, which provides you access to 10+ marketing courses and 100s of Case studies.