A target market refers to a specific group of potential customers that you aim to sell your services to. This group is usually a subset of a wider market that could possibly benefit from your services.
For example, if are offering a food delivery service, your target market may be people located within a certain radius of your business or those who have particular dietary needs.
To create an effective marketing plan, it's crucial to identify and comprehend your target audience. This will enable you to tailor your message, services, and products more effectively to a particular group of people. When you are defining your target market, take into account variables such as age, gender, income, hobbies, location, and occupation.
What is a Target Market?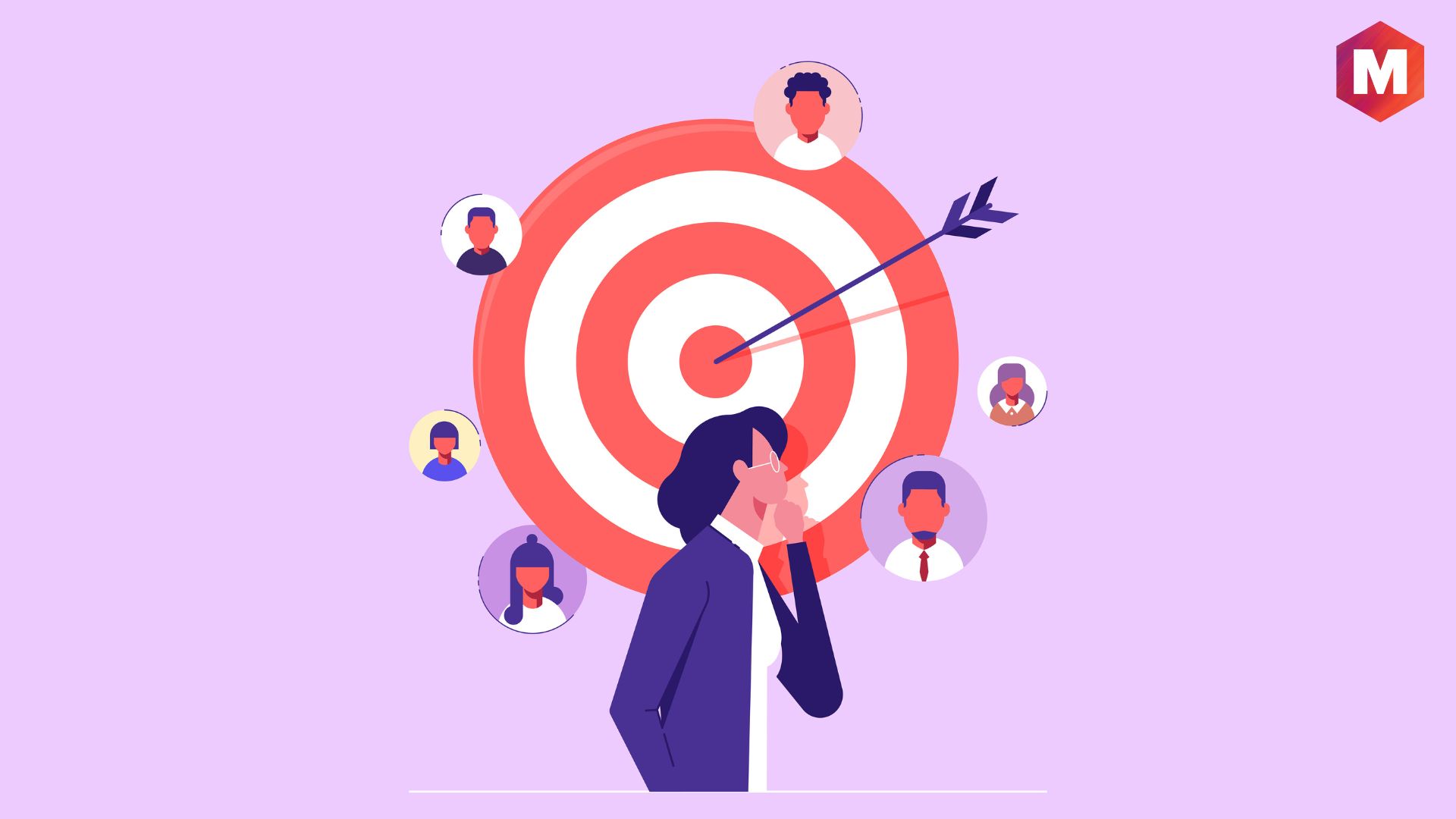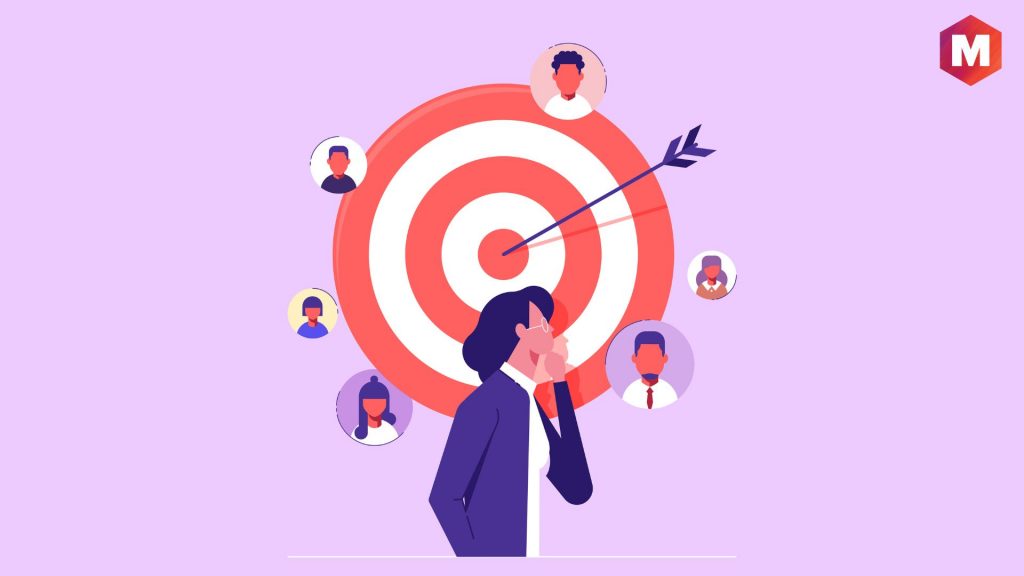 A target market refers to a set of individuals who possess similar characteristics, such as age, income, and lifestyle, and are identified as the most probable audience for a product. It optimizes the favorable outcomes from marketing strategies and makes them more result-driven.
When a company is creating, packaging, and promoting its product, it is important to determine the target market to use target market segmentation. A business can have multiple target markets and marketers need to design a marketing strategy for a specific target market.
What is the Purpose of a Target Market?
Target markets are useful for marketers as they help them concentrate on attracting the attention, curiosity, desire, and commitment of potential buyers who are most likely to benefit from business solutions in the long run.
To achieve the main goal of marketing, which is to influence profitable customer action, it is essential to have an understanding of your target audience. This knowledge will assist you in making informed business decisions. Market research helps with product marketing by identifying the most effective ways to reach potential customers. The research provides the following information about the target market –
Industry/niche/vertical – What industry, specialty, or sector does the target audience fall under?
Product – What issues does your product address for the intended market?
Price – What pricing tactics will result in the target market's most lucrative customer action?
Place – Where will your target market look up and buy your product?
Promotion – Which strategies, distribution methods, and content formats will best help you reach your target market?
Packaging – What visual, tactile, olfactory, aural, and gustatory sensations will draw in your target market?
Positioning – How will your target market comprehend the unique advantages and benefits that only your product offers?
People – What characteristics, buying triggers, research behaviors, and associated purchase habits are common to the target market?
How To Identify Your Target Markets
You need to ask yourself a few fundamental questions about the kind of consumer you're searching for in order to determine your primary target market. These are the questions like –
Who is currently using your goods or services?
What traits do they have in common?
What demands does your offering fulfill for them?
What issues does it address?
Where do these clients search for answers?
How do people choose their purchases?
Through market research, customer surveys, interviews, competitor analysis, and other techniques, you can find the answers to these questions.
Once the traits of your target market have been determined, you can develop a customer profile and use it to develop targeted marketing campaigns that are effective in reaching the right people.
What Are the 4 Target Markets?
Demographic
Your target market can be defined by certain characteristics such as age group, income level, gender, occupation, and education level. This helps to identify who the market includes.
Some common examples of factors to consider for demographic segmentation are age, gender, ethnicity, sexual orientation, income, household size, education, and geographic location.
Geographic
In the era of globalization, it is important to consider regional preferences, making this segment more relevant than ever.
Factors to consider for geographic segmentation include country, state or province, region, city size, type of settlement (urban or rural), weather, and so on.
Psychographic
Psychographic segmentation explores lifestyle, attitudes, interests, and values in addition to demographic information.
During demographic segmentation, it is important to consider personal values, religious beliefs, opinions, attitudes, aspirations, political leanings, and lifestyle as common psychological characteristics and traits.
Behavioral
This segment involves researching the choices made by a company's existing customers, which can help in creating new products that have the same level of popularity as the previous ones.
Some of the examples of factors to consider for behavioral segmentation are purchase history, loyalty, brand engagement, and usage rate.
How to define your target market?
Step 1 – Compile data on your current customers
To determine which group of people is most interested in purchasing from you, start by identifying those who are already using your products or services. Once you have a clear understanding of the common traits of your current customer base, you can target similar individuals or groups.
The amount of information you have about someone may vary depending on how they connect with your business. UTM parameters are codes consisting of a short text that can be added to URLs or links to track and measure the performance of a webpage or campaign.
Combining UTM parameters with Google Analytics can give you valuable insights into your customers. CRM tools can also be useful in this. A few types of data that you need to consider are-
Age
Stage of life
Location (and time zone)
Interests
Language
Challenges
Spending power and patterns, etc
Step 2 – Incorporate social data
Using social media analytics can provide valuable insights into your target audience, including those who engage with your social accounts but haven't yet made a purchase.
Your brand has caught the attention of some individuals. By using social analytics, you can access insights that will help you understand why they are interested. Additionally, you may discover market segments that you have not previously considered targeting.
Social listening can be used to find out who is mentioning your product or brand on social media, even if they are not following you.
To effectively target your audience using social ads, consider using "lookalike audiences" to expand your reach and target individuals who possess similar traits as your top customers.
Step 3 – Check out the competition
It's now time to identify the individuals or entities who are engaging with your competitors, in addition to those who are already interacting with your business and making purchases of your products or services.
To gain insights, it's important to understand what your competitors are doing. Ask yourself:
Do they target the same market segments as you?
Do they target segments you hadn't considered?
What's their positioning strategy?
While you cannot access specific audience details of individuals engaging with your competitors, you can still observe their general tactics and determine if it is leading to effective online engagement.
The analysis will provide insights into the markets targeted by competitors and their effectiveness in those segments.
Step 4 – Clarify the value of your product or service
All marketers need to differentiate between the features and benefits of their products. Merely listing the features of your product/service might not be enough to persuade potential customers to make a purchase. You should also provide an explanation of the benefits that they will receive.
To clarify, your product's features describe what it is or does, while the benefits explain the positive results it brings. It's important to brainstorm a clear list of benefits that highlight how your product can enhance someone's life, and make things easier or more interesting. Creating benefit statements will also reveal basic information about your target audience.
One way to find out how customers benefit from your products is to conduct a survey or a social media poll. By doing so, you may discover that customers use your products in ways you hadn't considered before. This insight could potentially alter your perception of your target market and impact future sales.
Step 5 – Create a target market statement
At this step, you need to gather all your research and create a definitive statement that identifies your intended audience. Creating a statement that clearly defines your target market is the focus for now, and creating a brand positioning statement will be addressed in the future.
When writing your target market statement, be sure to mention the important demographic and behavioral traits you have discovered. For example, a target market statement for an online retail store that sells clothing and accessories might look like this –
"We are targeting young, fashion-conscious women between the ages of 18 and 35 who are looking for on-trend items at affordable prices."
You don't have to stick with these specific identifiers. It's possible that gender doesn't matter for your target audience, but you should include three or four important behaviors in your statement. Creating a target market statement for each market segment is necessary when you offer multiple products or services. To achieve this, it is useful to define buyer personas.
What Questions Should You Ask of Your Target Markets?
The questions you ask in your target market research study will depend on your specific situation and what information is most important to your success. Although growth and demographics play a crucial role, there can't be a universal set of questions for each target market analysis. Some of the questions you may want to consider include:
What are their needs, wants, and goals?
Why do they make purchasing decisions?
How do they prefer to receive information?
What other brands are they loyal to?
What is their preferred method of payment?
What marketing channels do they engage with?
What turns your target customers off?
How effectively your brand meets expectations
What are the primary concerns and difficulties faced by your targeted clientele? etc
Here is a video by Marketing91 on the Functions of the Target market.
Target Market Strategies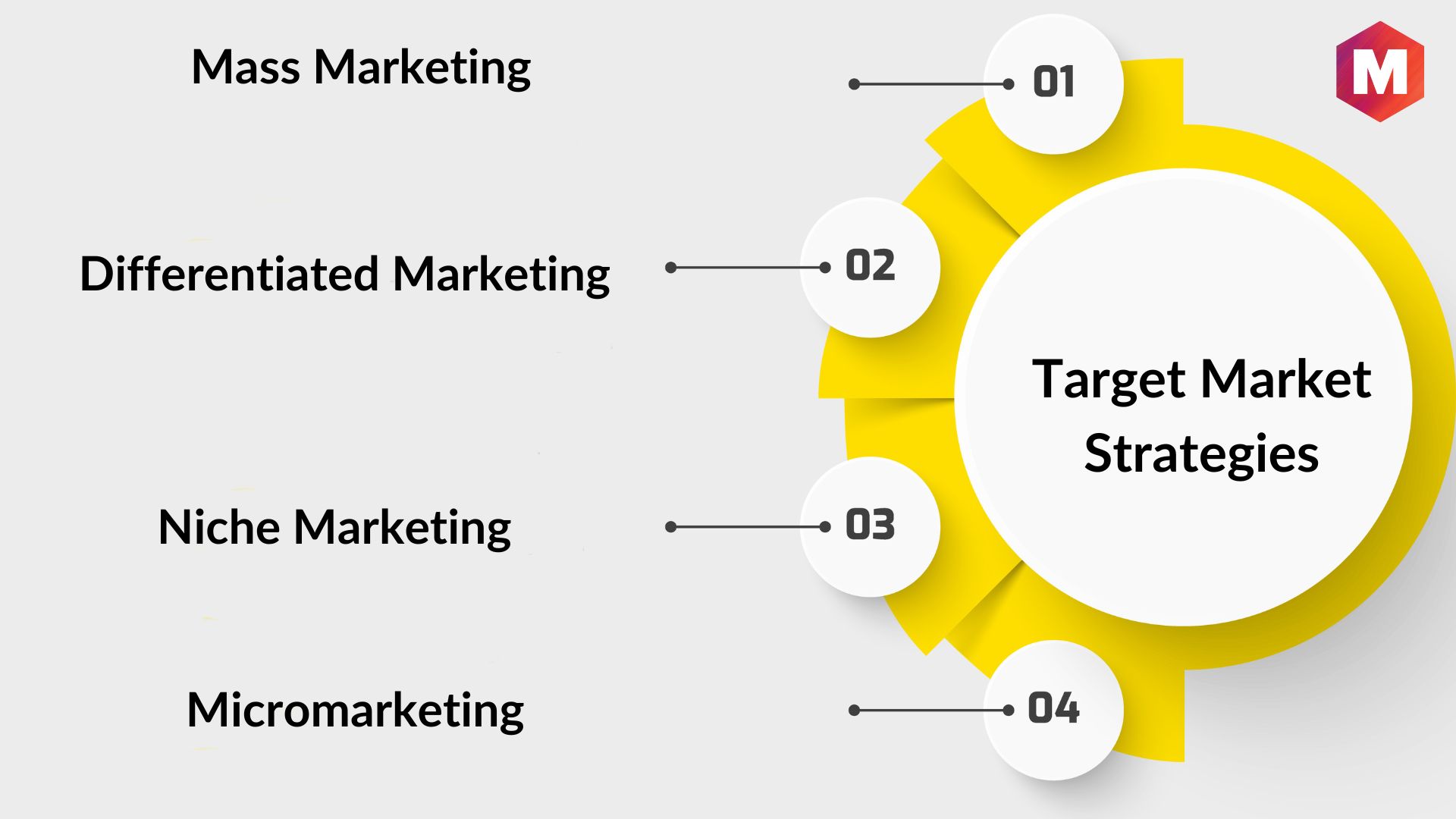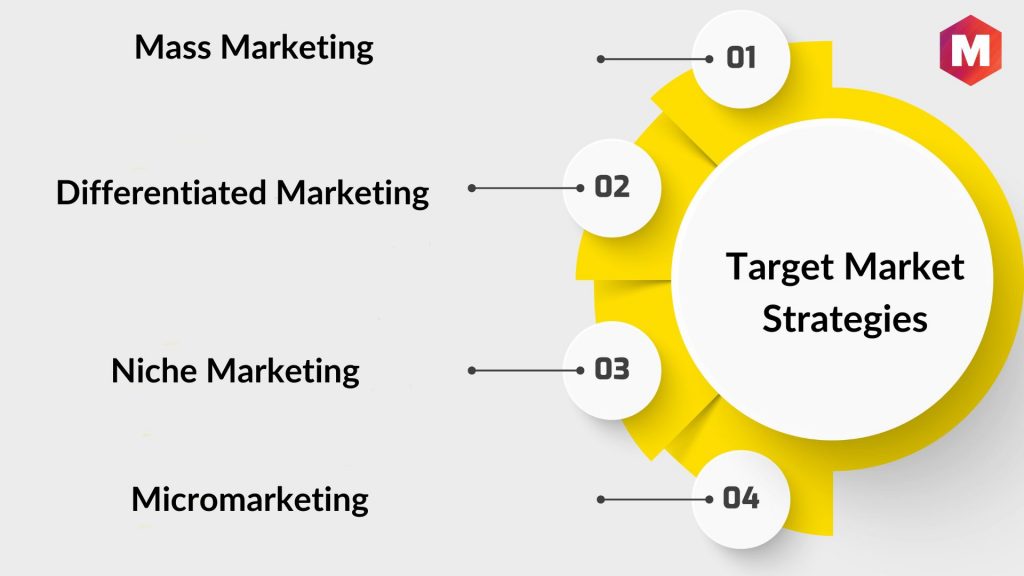 1) Mass marketing
Mass marketing is a marketing approach that does not involve dividing a market into segments and targets the largest possible audience through advertising.
Instead of creating unique campaigns for different market segments, mass marketing employs a single campaign for the entire market. Companies that sell products or services with a wide target audience often find mass marketing to be an appealing strategy.
For example, a fast-food chain such as McDonald's typically uses mass marketing to reach its large customer base.
2) Differentiated marketing
The term "differentiated marketing" refers to a marketing approach where a business develops multiple marketing campaigns that are tailored to appeal to different groups of potential customers.
This tactic helps businesses better explain their unique selling points to different market segments, resulting in a higher likelihood of successful marketing outcomes.
For example, a company that sells high-end jewelry may use differentiated marketing to target wealthy customers and budget shoppers through different campaigns.
3) Niche marketing
The definition of niche marketing is when a business concentrates on a small and distinct group of customers for its marketing activities. This technique aims to cater to the requirements of a particular set of consumers that are not fulfilled by other businesses in the same market. By focusing on a specific niche, businesses can design ad campaigns that are tailored to the interests and preferences of their target audience.
For example, a natural soap company may focus on niche marketing to appeal to customers who prefer organic and cruelty-free products. They can create campaigns that highlight the benefits of their product for these specific customers.
4) Micromarketing
Micromarketing is a type of marketing that focuses on a small segment of a niche market. The target audience in a micro-marketing campaign is usually identified by unique features like age, occupation, location, or gender. Micromarketing, which focuses on a narrow group, may be more expensive than mass marketing. Therefore, it's most suitable for target audiences where the potential benefits surpass the higher cost of reaching them.
For example, a clothing brand may use micromarketing to target young urban women in their 20s who live in the city. They can create campaigns that feature urban-inspired clothing to reach this specific segment of the market.
Conclusion!
To successfully reach your customers, it's crucial to comprehend their needs and preferences regardless of your business's target market strategies.
To effectively reach your target audience, it is important to conduct thorough market research to determine the appropriate strategies. By using the appropriate strategies for your target market, you can attract potential customers and convert them into loyal ones.
Liked this post? Check out the complete series on Marketing