Behavioral targeting is a type of online advertising that monitors and assesses user behavior on the internet. It employs information collected from websites, apps, and other online actions to display ads to individuals who are most likely to have an interest in the product or service being advertised.
For example, if you run an online store that sells sports equipment and notice that a particular user frequently visits your website and looks at baseball-related products, using behavioral targeting can enable you to advertise baseball gear to that user.
What Is Behavioral Targeting?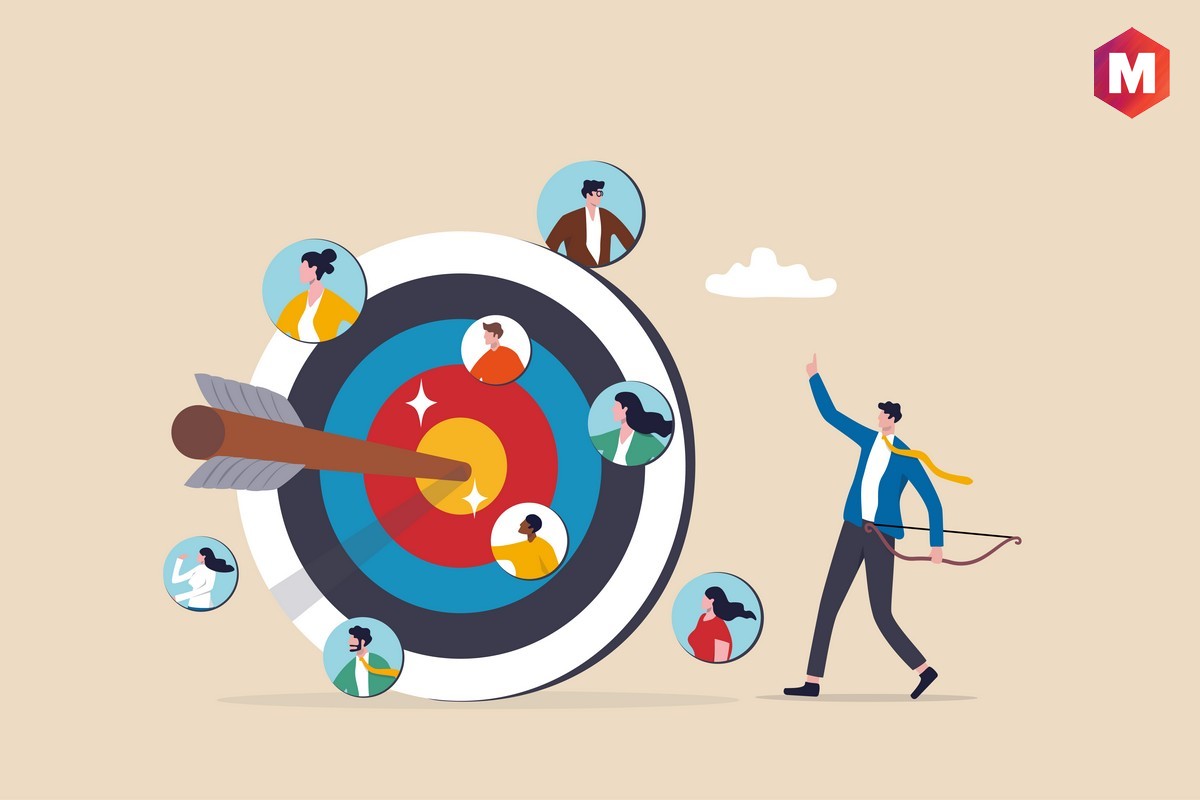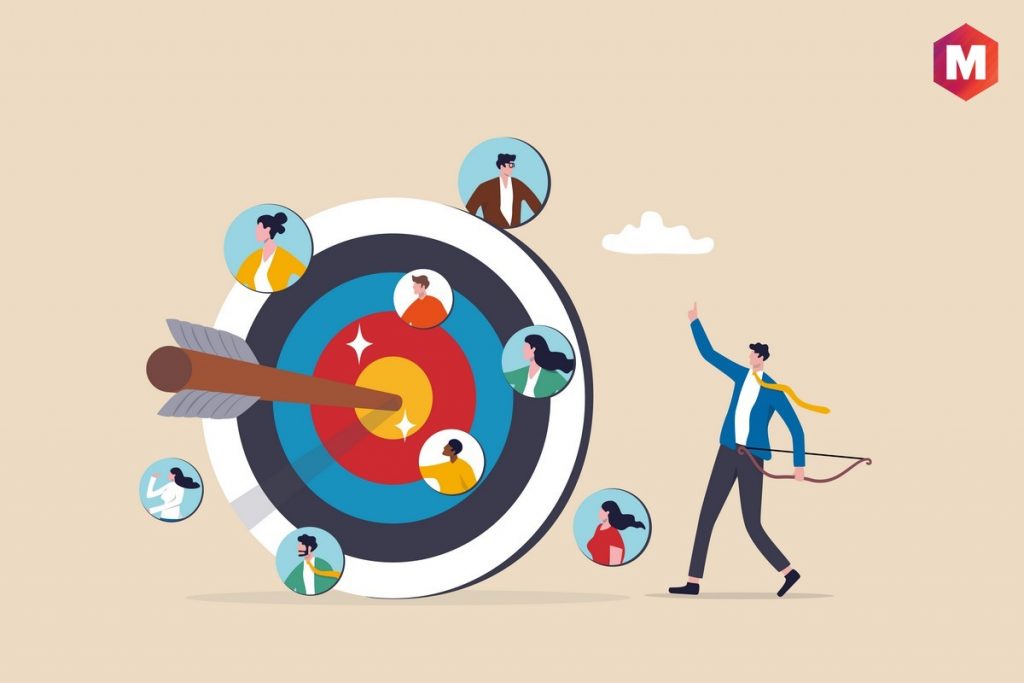 Behavioral targeting is a marketing tactic that uses information about online users to improve advertising efforts. This is the procedure of acquiring information from many sources on the web browsing and purchasing habits of prospective clients.
This information is used to create ads that match a user's habits and interests. The ads are then displayed in the user's web browser by the publisher. This technique focuses on sending advertising messages to the behavioral target markets that have shown the most interest in them, aiming for more effective and targeted advertising.
Behavioral Targeting Examples
1) Restaurant Chain
A restaurant chain ABC could use behavioral targeting to develop an advertising campaign that focuses on people who have already searched for a specific type of cuisine. By doing so, it can customize the ads to better suit the preferences of those customers.
2) Online Retailer
Online retailers can utilize behavioral targeting to send exclusive coupons or special offers to customers who have made purchases from them in the past, thereby acknowledging their loyalty and encouraging them to return.
3) Streaming Service
To personalize the viewing experience for users, a streaming service might use behavioral targeting to suggest content. This involves tracking the user's past viewing history, such as the type of videos or shows they have watched, to generate recommended content.
4) Travel Website
To attract customers who have previously searched for flights or hotels in certain locations, a travel website may use behavioral targeting to create personalized ads. This way, the website can encourage them to choose their platform for booking their next trip.
Why is Behavioral Targeting Important?
By compiling data such as web searches, purchase histories, and frequently visited websites, a complete user profile can be created during behavioral targeting. This profile can reveal what your audience is interested in, what they try to avoid, and what they buy.
By utilizing this information, companies can create advertisements that match the specific preferences and requirements of each consumer, while avoiding messages that may not interest or pertain to them.
Accenture reports that 87% of consumers consider it significant to purchase from a brand or retailer that comprehends their personality.
It has been discovered that personalized marketing material based on observable behavior patterns is more successful than other marketing strategies.
So, the brief of the key reasons why behavioral targeting matters are –
Personalized, relevant content and ideas from behavioral targeting aid online shoppers.
Behavioral targeting improves decision-making as it lets you know what your audience is doing so you may reach them when it matters instead of marketing across platforms or guessing about their customer journey.
Personalization engages visitors, and hence increases click-through and conversion rates that ultimately enhance ROI.
Types of Behavioral Targeting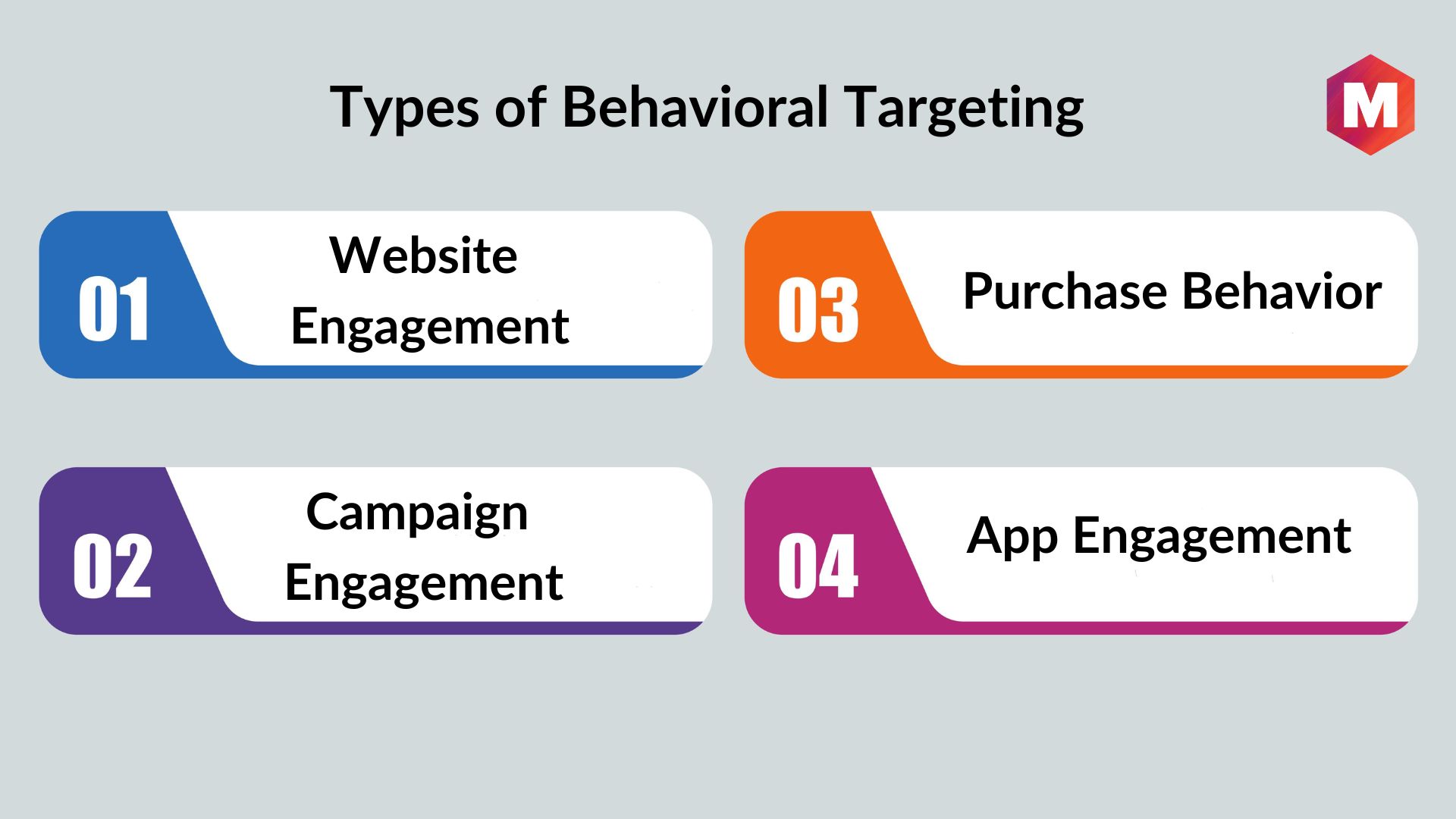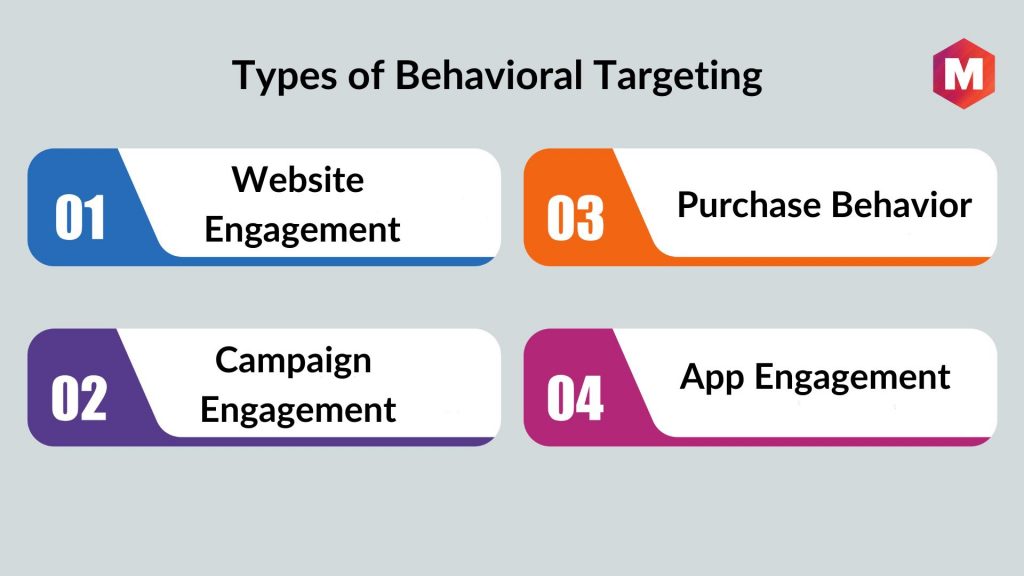 1) Website Engagement
You can personalize the user experience on your website by using website engagement for behavioral targeting. The task will require showing pop-up promotions, advertisements, and links to relevant content on the screen. The onsite behavioral targeting process is effective in optimizing conversions from a behavioral target market.
Website visitors will receive customized advertisements when they visit a particular site that aligns with their interests in products, services, and information. Additionally, Google remarketing ads help to regain the attention of visitors who have left the website.
2) Campaign Engagement
By measuring who opens your emails and what they click on, campaign engagement allows you to better target your audience. Using this data as segmentation criteria can assist you in refining how you organize your audience.
To effectively reach non-openers and disengaged subscribers, consider creating new email campaigns. At the same time, focus on providing personalized content to your most engaged subscribers to optimize favorable outcomes from your network behavioral targeting process.
3) Purchase behavior
One of the most common and powerful sources of behavioral targeting is purchase behavior. Behavioral targeting is the reason why you see suggestions for similar products and businesses throughout an e-commerce website, regardless of where you are, from the homepage to your shopping cart.
Purchase behavior can be utilized to suggest items that shoppers are likely to enjoy, express gratitude, and offer incentives for making a purchase.
4) App engagement
To increase app usage, it's important to use behavioral targeting. This method allows you to send personalized marketing messages based on a user's actions (or lack of actions) within the app, incentivizing them to use it more.
You can group users according to their actions during a particular period. For instance, you could send a message to users of your language learning app to celebrate the completion of their first lesson. Or, you could contact users who have downloaded your app but have not logged in for a week.
What Are the Benefits of Behavioral Targeting?
Some of the benefits of behavioral marketing campaigns are-
Optimized User Engagement – Publishers can use behavioral tracking to identify consumers who regularly interact with certain marketing content. By clicking on an ad, consumers can quickly access the company's online store and learn more about the business.
Higher Number of Ad Click-Throughs – A targeted advertisement that reflects the viewer's interests and requirements is more effective in guiding consumers through the purchasing process compared to a generic banner ad that lacks relevant appeal.
Improved Conversion Rates – Targeted ads are more appealing to the people who see them. This makes it more likely that they will ask for more information or buy something.
Optimized Personalization and On-site Engagement – Behavioral targeting enables businesses to personalize user experiences by customizing content and product recommendations based on a user's browsing history or prior purchases. This helps with creating more focused and efficient campaigns that increase customer engagement, loyalty, and satisfaction.
Enhanced Targeting of Ads – By using behavioral targeting, businesses can effectively aim their ads toward users who have shown specific interests and behaviors. The ads can then be customized to fit the user's browsing history or previous purchases, making them more pertinent to the user and less bothersome. As a result, users are more likely to click on the ads, generating more leads and conversions for the business.
More Efficient Allocation of Resources – Behavioral targeting helps businesses understand their target audience and their interests. This way, they can allocate resources more efficiently by focusing on the channels and strategies that are likely to be effective.
The Behavioral Targeting Process
For running a successful behavioral targeting campaign, you need to follow these steps –
1) Data Collection and Analysis
Behavioral targeting data on website visitors is collected from various sources such as mobile apps, websites, and CRM systems, among other marketing automation systems.
The data contains details about a person's demographics and login information (for registered users) which includes login frequency, specific login times, the number of devices used to log in, etc.
It also includes information about the websites/pages the user visited on the site, the length of their session, the extent of their engagement with the content, and the date of their last interaction as well as the items they purchased.
2) Segmentation
At this stage, we group visitors into different segments based on their behavior.
For example, those who frequently purchase chocolates are categorized together, while those who buy cakes are categorized separately.
3) Data Application
We are now creating and running unique campaigns based on segmentation. By doing this, we can cater to the specific needs of each audience segment and make our advertisements more relevant to them. This adds a personalized touch to our campaigns and improves the likelihood of receiving more responses and conversions.
It is important to not only create campaigns but also to measure and validate the performance of targeted content and personas. This can be achieved through quantitative and qualitative tools such as analytics, heatmaps, scroll maps, and visitor behavior analysis. To ensure you're headed in the right direction, it's important to conduct A/B tests on specific segments within your campaigns.
How Behavioral Targeting Advertising Works
Behavioral targeting helps in running tailored advertising campaigns, and its working includes the following steps –
1) Collect Cookies
Websites place a cookie on users' computers or devices when they visit or sign up. The cookie may be stored temporarily or permanently, either on a local memory drive or the hard drive. This is used to collect behavioral data to display relevant ads.
2) Create a User Profile
Over time, as you visit different pages, click on ads, spend time on specific content, and engage in other activities online, cookies are gathered and saved. These cookies can be used to form patterns that provide insight into your shopping and searching habits.
3) Designate Consumer Groups
Companies can use patterns and profiles to categorize users into various target market groups. By doing so, websites that utilize behavioral targeting can determine the buying habits, preferences, and interests of each specific audience segment.
4) Share Relevant Information With Viewers
From now on, when consumers reconnect to the network or website, they will no longer see random ads. Instead, they will only be shown customized content and personalized ads based on their past behavior.
To ensure success in this process, having a robust data-gathering tool and an effective implementation method is essential. Top advertisers in the behavioral field use a data management platform DMP that provides reliable tools for data collection and advanced analytics.
What Types of Consumer Behaviors Do Behavioral Targeting Companies or DMPs Track?
Companies use data management platforms (DMPs) that allow them to collect data about their audience, store it, analyze it, and use the insights for successful behavioral advertising. Some of the types of behaviors that DMPs track are-
Frequently Visited Pages – DMPs in a particular network initially monitor the web pages that a user views, including those visited once, repeatedly, or regularly. By analyzing these pages, DMPs may identify trends in behavior or interests and determine the reason behind the user's visit.
Webpage Viewing Times – Measuring the amount of time a consumer spends on a specific site is essential in determining their interest level.
Clicked Ads and Links – To understand what kind of language and advertising captures a user's attention, monitoring their clicked links is a reliable method. The links they click on reveal their Internet browsing objectives, the products they seek, and the types of messages that appeal to them.
Personal Web Searches – Web searches can help identify which online users are looking for something specific and what kind of help they need.
Webpage Element Interactions – Web user goals vary significantly from one consumer to another. One way to help narrow down what these users are looking for is by identifying which elements of a particular website they tend to interact with. DMPs analyze data and use it to send targeted and effective messages to specific audiences in the most suitable way.
Transaction Progress – Advertisers can show ads to consumers who are currently making purchases, focusing on products that the consumers have shown interest in buying.
Purchase Histories – DMPs track customers' purchase history on web pages to predict the type of products they may be interested in buying in the future, from the other side of the checkout line.
Time Gaps Between Visits – Advertisers can gain valuable insights for their marketing strategies by analyzing the length of time viewers spend away from a webpage. If a user spends a short time away, it may suggest a high demand for the product.
Behavioral Targeting vs. Contextual Targeting
Behavioral targeting looks at user behavior and preferences, while contextual targeting considers the context of the website, like the content and keywords. Contextual targeting refers to showing ads or additional content on digital platforms that are related to the existing content.
Suppose a marketer displays a pop-up ad offering a product discount to all viewers who visit a product page. This cannot be considered behavioral targeting as the ad would appear irrespective of the user's interactions on the page. It is contextual advertising as it is presenting relevant content within the same digital environment.
Contextual targeting is not as efficient because it doesn't personalize content based on the consumer's behavior patterns or interests. It can even be a hassle when the content is irrelevant to the user and interrupts their viewing experience with unnecessary noise or information. Combining behavioral and contextual targeting allows marketers to show ads on a website (contextual) only to users whose interests match the ad's topic (behavioral).
Is Behavioral Targeting Ethical?
Many major corporations such as Google, Facebook, and Amazon use users' data to create targeted ads, which is known as behavioral targeting. However, some people question the ethics of this practice.
Determining an answer is difficult because using customer data for better ad targeting can improve advertising efficiency and benefit customers and companies. However, it also brings up privacy concerns and the possibility of exploitation.
The ethics of behavioral targeting depend on its usage. If implemented while considering customers' privacy, it can benefit both customers and companies. Customers can receive more relevant ads, while companies can boost their advertising effectiveness and profits.
However, if not done with consideration for customers' privacy rights, behavioral targeting can quickly turn into exploitation. Customers may feel like they are being watched and influenced by companies attempting to monitor their actions and advertise to them.
Organizations need to use consumer data responsibly and maintain ethical standards when using it for marketing purposes. Adhering to ethical guidelines makes behavioral targeting ethical, as it promotes transparency between brands and consumers about the reasons for targeting.
Get started with behavioral targeting Now!
Behavioral targeting can help you boost sales and cultivate better customer relationships. With this tool, you can pinpoint users who have shown specific interests or behaviors and deliver customized messages to them according to those insights.
By using behavioral targeting, you can send customized messages to every customer. This boosts their interest and engagement in your products or services. It's a great opportunity to take advantage of this effective marketing tool and get started right away.
Liked this post? Check out the complete series on Targeting