During the years, more and more companies are looking into new methods to deal with changing customer behavior, recession, increased competition, etc. The purpose of all companies, no matter their size, small or large, is to focus on increasing market share and market exposure, and to become more time effective and cost-effective. Therefore, more and more companies have started to apply the cooperative marketing concept in their businesses.
Cooperative marketing presents the collaboration between two or more partners or companies to achieve common or distinct goals. Most of the time, the companies with related businesses are the ones which benefit the most from this strategy due to the sharing of marketing expenses, man-power, etc.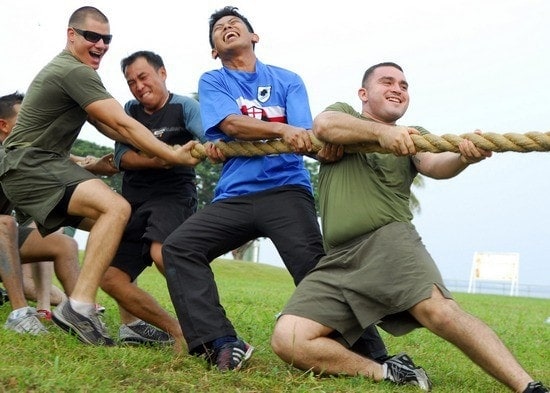 The simplest form of Cooperative marketing is when you find Dell marketing an "Intel inside" logo. Now this form of marketing is useful for Dell because people then trust Dell's laptop. But it is also useful for Intel because people know that Dell has Intel inside. Thus it is beneficial for both and both the companies have to be involved together. Hence it is a practical implementation of Cooperative marketing.
A strategy focused on cross-promoting strategy, the cooperative marketing is also known as fusion marketing and it can appear in many forms, such as: direct mail co-ups, print advertising co-ups, door hanger co-ups or online advertising co-ups.
As a twist of the more traditional, territorial marketing methods, the cooperative marketing requires extensive co-operation and interaction with contract negotiators, lawyers, creative designers, social media specialists as well as management on both sides.
However, there can be issues when the corporate cultures are different and there is difference in the style of management and work flow. In such cases, proper communication and sharing of the responsibilities between both partners can be the best answer so as to avoid all issues.
Any agreement to combine marketing efforts can be seen as cooperative marketing strategy and it can work for both – complimentary companies as well as for direct competitors. The biggest benefits achieved by employing this strategy are represented by the economies of scale, as well as resource sharing and collective bargaining.
In the case of small and middle size companies, this strategy can prove to be very beneficial as it allows the organization to gain exposure.
Despite all these benefits, the process of developing a cooperative marketing strategy can be quite laborious. All of the partners involved in a potential agreement have to clearly outline the responsibilities and must agree to make a financial investment in the partnership.
This investment should be equal to each partner's derived benefits from the respective partnership. Thus, partners can have different equal shares depending on the advantages that they get from the respective agreement.
Project research has to be conducted in order to identify the group of customers to which the offer would attract the most. Basically after the cooperative marketing agreement has been put into a contract, the targeted customers have been identified and the offer has been conceptualized, the plan is implemented with responsibilities being shared between all the parties involved.
Examples of Cooperative marketing
To better understand cooperative marketing, let's take an example of how singers work and also how farmers work. They are examples of cooperative marketing.
The singers usually work in a group so that they can play in a scene / event together. This diminishes the expenses of renting the place as the rent is divided into all the singers. But at the same time, all artists gain exposure to the audience from that single platform.
Similarly, farmers bring all their produce to a common market in order to sell their products. This ensures that the customers all have to come at one spot. Plus the smart farmers can package in their product and supply multiple options at lower rates.
A Starbucks coffee shop can often be encountered in many of the big malls or shopping center around the world. These malls then market the starbucks and at the same time, Starbucks also markets the malls in their ads which promote their locations.
And a final example would be the companies offering frequent flyer miles (such as KLM) partnerships with hotels, car rentals agencies and restaurants.