Psychological pricing is a tactic that manipulates the prices of products to influence a customer's spending behavior and increase sales volume or revenue. The objective is to fulfill the customer's psychological requirements, such as spending less, purchasing a top-quality product, or acquiring a bargain.
An example of psychological pricing can be a product that is priced at $11.99. It appears to be less expensive than if the price was set as $12.00, though $11.99 and $12 are almost the same prices. Marketers capitalize on people's perception of value by creating a 'mental anchor' that encourages customers to make buying decisions.
What is psychological pricing?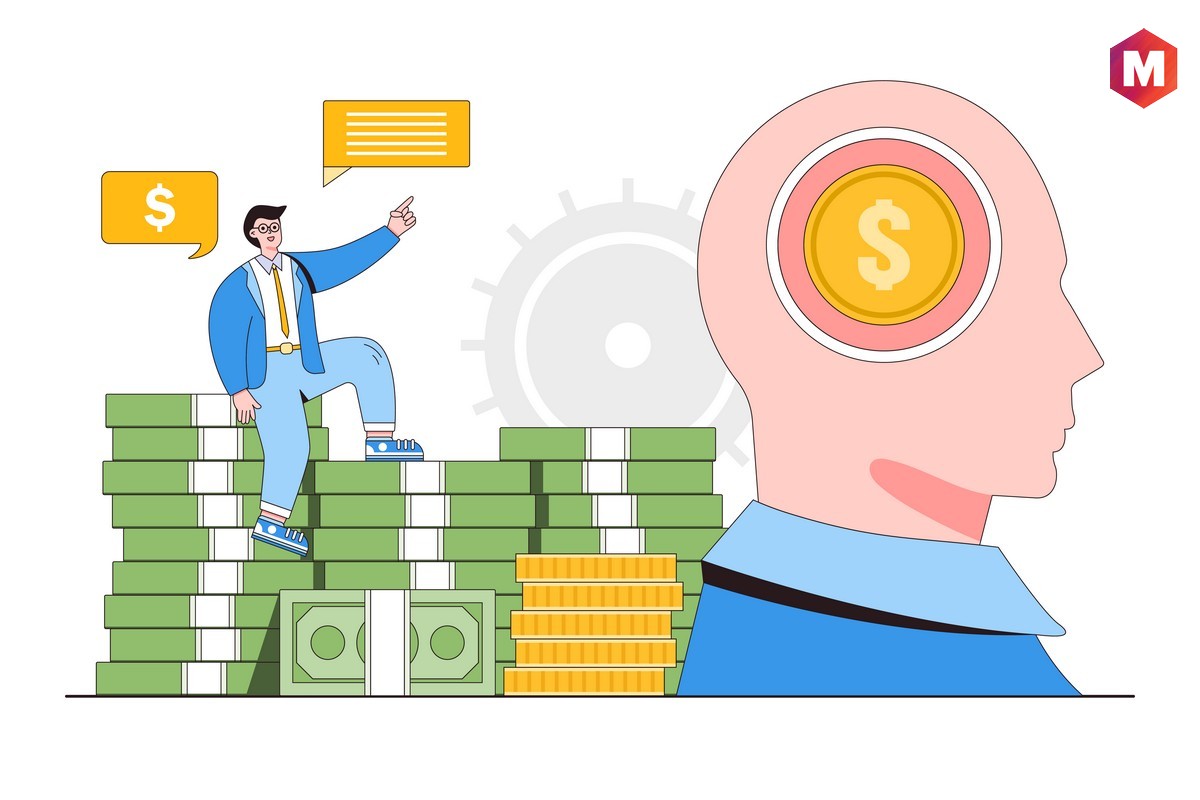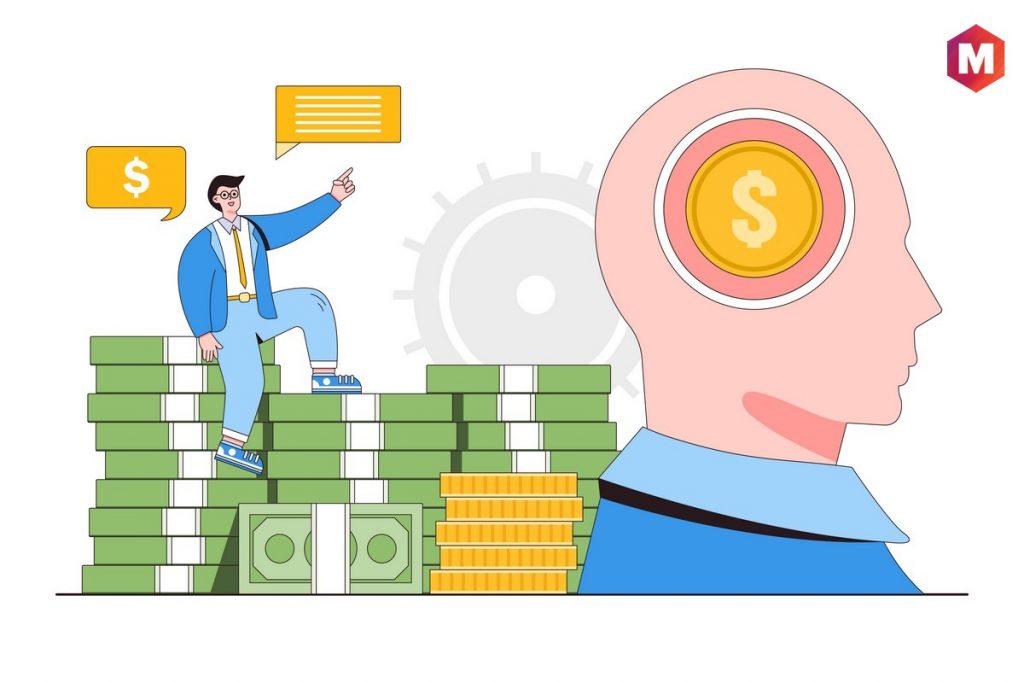 Psychological pricing is a marketing and pricing tactic that suggests specific prices have a psychological effect on consumers. It is used to influence consumer behavior to make a purchase thinking that they have got a better deal.
Psychological pricing is a business strategy where prices are set slightly below a whole number. This is done to make customers perceive the price as lower than it is because of the reduced leftmost digit.
Why psychological pricing is effective?
Psychological pricing is a pricing strategy that is frequently used to influence customer behavior. Studies reveal that specific price formatting techniques can trigger a subconscious reaction in customers, ultimately promoting a purchase. These tactics are both economical and simple to execute, making them an excellent supplement to pricing strategies for improved efficacy.
Psychological pricing takes advantage of the fact that consumers usually don't know the standard price of a product. Our usual way of determining a good deal is either by buying it at a discount or by comparing it to similar products in the same category.
William Poundstone,  an American author, columnist, and skeptic writes in his book Priceless: The Myth of Fair Value about psychological pricing strategy and says –
Marketers had long been doing experiments in the psychology of prices. In the heyday of mail orders, it was common to print up multiple versions of a catalog or flyer to test the effect of pricing strategies. These findings must have dispelled any illusions about the fixity of prices. Marketers and salespeople knew too well that what a customer was willing to pay was changeable and that there was money to be made from that fact.
Companies commonly use this technique to entice people into making purchases by creating a sense of urgency through the use of artificial time constraints. An example of this would be a company advertising "Buy Now! Offer expires in 24 hours!" to motivate customers to act before the deadline.
Types of Psychological Pricing Strategies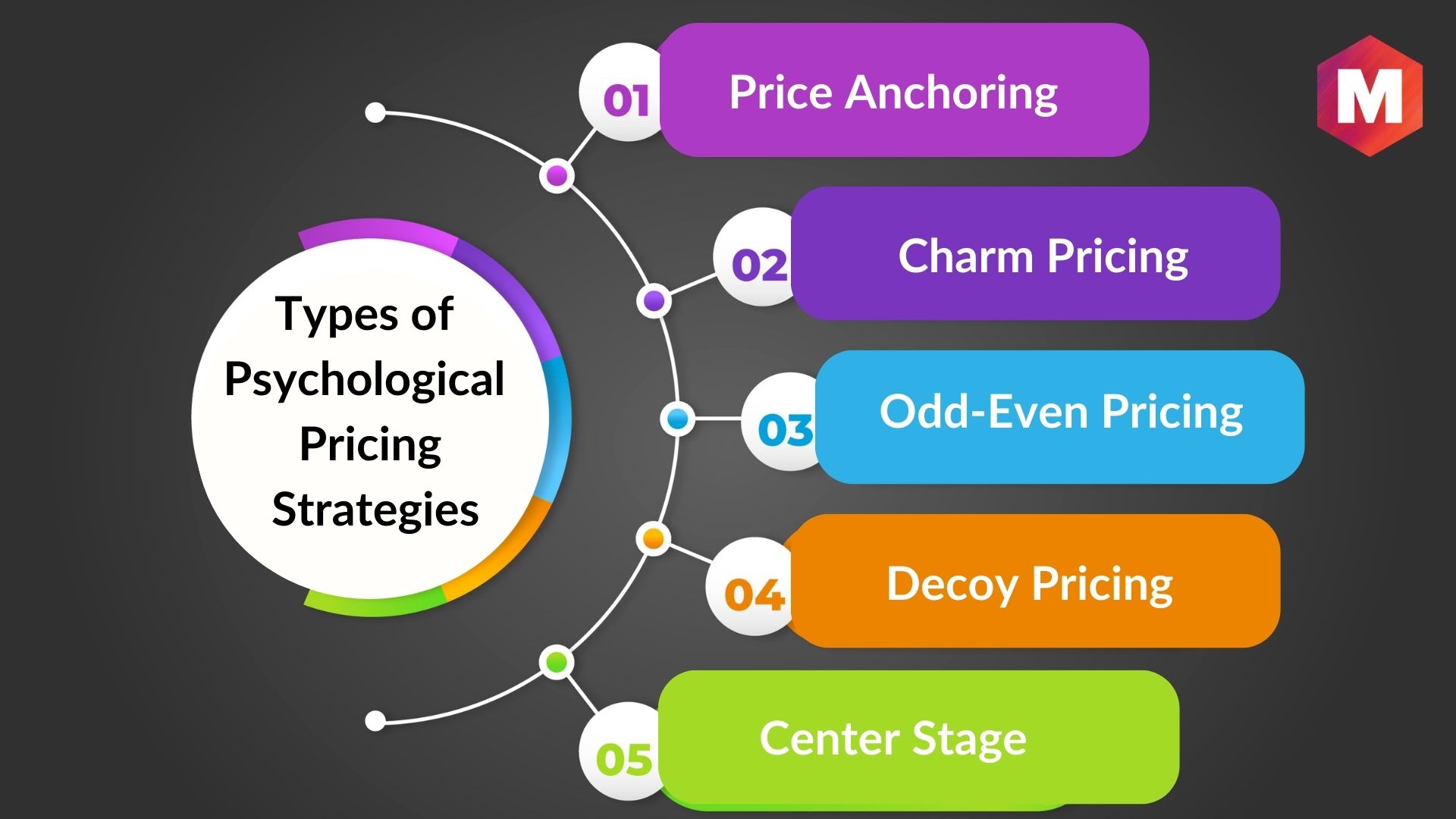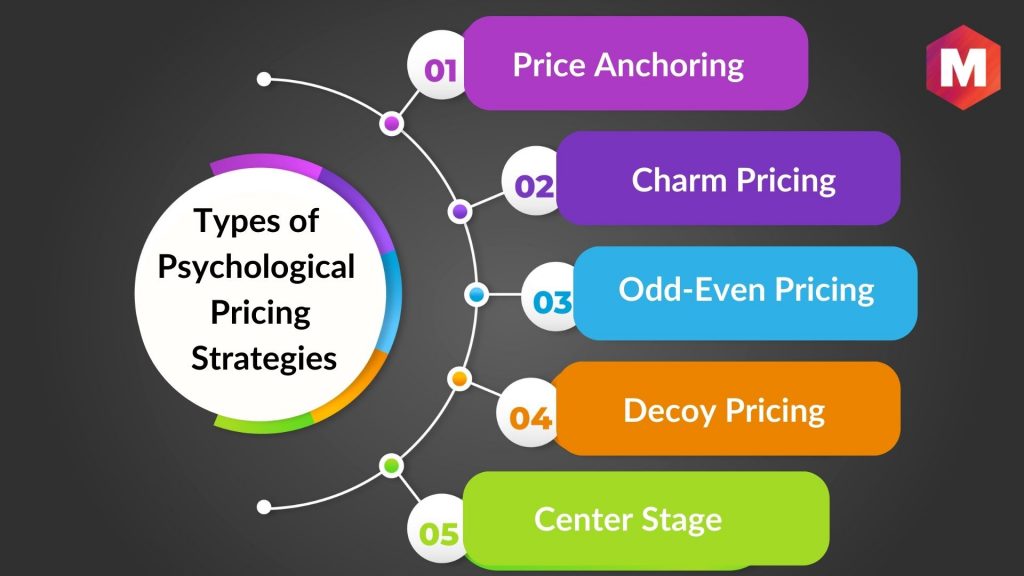 Some of the psychological pricing methods you should pay heed to are –
1) Price Anchoring
The concept of price anchoring acknowledges that consumers often rely too much on the first piece of information they receive (the anchor) when making decisions.
Example – The anchor is set when a company offers an item for sale that has a high price tag, say $499. They then offer a lower price option, say $399. The consumer will see the higher price and be more likely to choose the lower-priced option.
Best for – Some companies have a pricing system that includes multiple versions of their main product, each with different features at different prices.
Advantages – Using the price anchoring tactic can guide customers toward your desired pricing tier and assist them in choosing to purchase from your offering.
Disadvantages – Using price anchoring can be seen as manipulative and unethical.
Requirements – To employ price anchoring, you should have various pricing options for your offerings that are easy for customers to compare.
2) Charm Pricing
A psychological pricing tactic in which prices end with the number nine is called charm pricing. This is because consumers are more influenced by the left-most digit in the price, a phenomenon known as "left-digit bias."
Example – A company may set their product prices to be $19.99, $49.99, or even as high as $999.99 which plays key roles in convincing customers to purchase.
Best for – Companies that offer non-luxury products and want to communicate a discounted price.
Advantage – By using charm pricing, you can influence the way users perceive the price of your product or service by making a small difference of one cent.
Disadvantage – It may be seen as a cheap tactic and can create mistrust between customers and brands.
Requirements – To use charm pricing, you need to be able to adjust the price of your product or service and make sure the final digit is a nine.
3) Odd-Even Pricing
Odd-even pricing is a pricing strategy that is similar to charm pricing, but it is used more extensively. It takes advantage of the belief that buyers tend to be more responsive to specific ending numbers due to psychological reasons.
The term "odd pricing" means that the price ends with 1, 3, 5, 7, or 9 (for example, $9.93). On the other hand, "even pricing" means the price ends with a whole number or a multiple of ten cents (for example, $20.00 or $20.50).
Customers are more likely to purchase items with odd pricing as it gives them the perception that they are getting a deal. However, this does not mean that pricing is irrelevant. Luxury brands often use even pricing to establish a perception of quality.
Example – Adidas employs even pricing for all its regular products, but for items on sale, the company uses odd pricing to indicate a discount.
Best for – Most common products tend to sell better when their prices end in odd numbers, while luxury items sell better with even prices.
Advantage – Using odd numbers in pricing can make customers feel like they are getting a good deal while using even numbers can create the perception of luxury.
Disadvantage – Odd-even pricing may make it difficult to compare prices across different products or brands.
Requirements – Although there are no set rules, companies should make sure that their use of odd-even pricing is appealing to customers and gives their product the intended value perception.
4) Decoy Pricing
The decoy pricing tactic uses the "decoy effect," which means that people tend to shift their preference between two options when a third option is presented, even if it's worse in every aspect except for one. Adding the "inferior" third option makes the other two options appear more desirable.
Example – If a News Media house is selling three items – Digital Copy ($10), Print Copy ($20), and Digital & Print Bot ($22) – the decoy effect steps in when people go to the digital channel and opt for the third option.
Best for – Some companies prefer to steer their customers towards a certain option. This is happening more in the news media industry with the use of decoy pricing, as companies attempt to transition customers from print to digital.
Advantage – To guide customers toward your desired pricing plans, you may employ decoy pricing.
Disadvantage – The downside of decoy pricing is that it focuses on creating an illusion and not on highlighting the qualities of each product. This can lead to customer confusion and frustration.
Requirements – To implement decoy pricing, you must provide your customers with various pricing options, including a less attractive or inferior option.
5) Center Stage
The tactic relies on the center stage effect, which means that when a group of products is shown together, people are more likely to focus on the one positioned in the middle.
Example – If you were buying a car, the dealer might show you an inexpensive model on one side and a more expensive model on the other. The more desirable car is likely to be placed in the middle – psychologically, that's the one you're more likely to go for.
Best for – A company should offer multiple pricing options and express a preference for which option(s) the customer should choose.
Advantages – You can use the center stage effect to draw customers to your preferred or most popular plan without changing any other prices or offerings.
Disadvantage – The biggest downside of psychological pricing is that customers may feel misled or tricked. It's important to make sure they understand the full range of options.
Requirements – Companies need to offer more than one pricing option.
Advantages and Disadvantages of Psychological Pricing
Using psychological pricing can have both advantages and disadvantages. While it can be effective in certain situations, it may not always be the best approach. So let's go through the pros and cons of a psychological pricing tactic are-
Advantages –
Better attention – Promoting your product in a big way can attract more attention. For example, using large red signs in your physical store can grab people's attention and make them curious about what you're selling. Even if they don't buy anything, your brand will get more exposure.
Easy decision-making process – Psychological pricing tactics often make it easier for consumers to make buying decisions. By clearly displaying discounts or promotions, consumers have less to consider. This is beneficial for retail stores that rely on one-time sales.
Better ROI- Utilizing psychological pricing discounts can yield a substantial return on investment for single sales, particularly during high-volume times such as holidays. By offering promotions that appeal to a broad audience, achieving a profitable outcome is feasible.
Sense of urgency – Psychological pricing can create a sense of urgency, depending on the strategy used. This can motivate customers to act quickly and not miss out on a deal. Additionally, it may lead to a quick return on investments.
Disadvantages –
Deceitful – Psychological pricing tactics can be seen differently by different people. While some may perceive it as taking advantage of customers, others may recognize it as essential in the business world.
Misperceived value – When using psychological pricing tactics, there is a risk that customers may not perceive your product/service as valuable. Your pricing strategy communicates the value of your offering to customers, and their perception of your pricing is crucial in this communication.
Not a long-term solution – Using psychological pricing techniques can lead to quick conversions in the short term, but it is not a sustainable approach for long-term pricing solutions. B2B businesses must establish a more stable and lasting plan.
Psychological Pricing and Marketing
Psychological pricing can help you find out the optimal price for the items you sell as well as serve as part of your brand's overall marketing plan.
Using this type of pricing strategy can help you to generate a sense of urgency, stimulate sales, enhance customer loyalty, raise the perceived value of your product or service, and set it apart from your competitors.
Remember to use psychological pricing strategically and thoughtfully, as it may not be suitable for all situations. Keep in mind that psychological pricing involves more than just offering occasional or periodic discounts. Some of the usages of psychological pricing in marketing strategies are-
a) Higher Price Points act as Quality Signals
The pricing strategy used by a business can greatly affect how customers perceive the quality of its products.
b) Pricing transparency improves customer trust
You can also opt for the pricing transparency approach. This involves breaking down the cost of each component of your product such as raw materials, labor, and shipping, and specifying the amount of markup you apply to your products and the underlying reasons.
c) Pay over-time options help ease the sticker shock
Enabling customers to pay for their purchases through services such as Affirm, Klarna, and Shop Pay simplifies the process of affording and justifying larger purchases.
FAQs
1) What are the types of psychological pricing?
There are popular psychological pricing strategies available such as charm sizing, discounts, bundling, ceiling price, BOGO (buy-one-get-one-free), and others.
2) Why is psychological pricing used?
A store would use an effective psychological pricing strategy for a variety of reasons, such as grabbing customers' attention, making their decision-making easier, creating a sense of urgency to buy, boosting profits from one-time sales, and other objectives. An adeptly used psychological pricing method lowers the price appearance more than the actual price.
 3) Why do companies use 99 cents as a psychological pricing tactic?
Customers tend to round down the prices to the next lower unit, meaning that $5.99 is more likely to be perceived as $5 instead of $6. This strategy is particularly beneficial for the sales of cheaper products where a $1 difference can make a significant impact on the sale and the profits earned.
4) How does psychological pricing increase sales?
Psychological pricing utilizes various tactics and strategies to capitalize on the impulsive nature of customers and increase their likelihood of making a purchase. Although customers may think differently, the ultimate goal is to boost their impulse to buy and close the sale.
Topic of Pricing
Alternatively, check out the Marketing91 Academy, which provides you access to 10+ marketing courses and 100s of Case studies.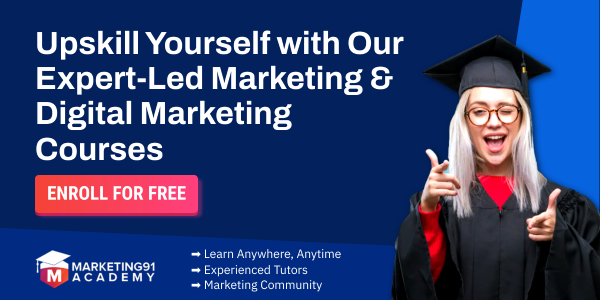 Liked this post? Check out these detailed articles on