When a business sells a core product along with different accessory products or complementary (also known as captive products), it uses a captive product pricing strategy. It involves setting the price of the core product low while pricing accessory products higher. By doing this, businesses can increase their overall revenue and profits.
Some of the common examples of captive product pricing are seen in printers, which are sold at low prices but their ink cartridges can cost quite a bit. Captive product pricing can also be used to encourage people to purchase an entire package. For instance, a SAAS provider may offer a discounted price if users sign up for its entire suite of products instead of individual services.
What is Captive Product Pricing?
Captive product pricing is a strategic approach where a company places a low price on a core product while charging higher prices for associated captive products. In essence, the core product acts as a platform that necessitates the continual purchase of expensive complementary products.
This strategy seeks to maximize revenue by leveraging the interdependent relationship between the core and accessory products. In addition to its profitability, the captive product pricing model can also create customer loyalty by creating a need for repeat purchases.
Key Takeaways!
Captive product pricing is a pricing strategy where a company sells a core product at a low price and makes its profit on the high-priced captive products required to operate or enhance the core product.
This pricing model doesn't only promote profit growth, but it also fosters customer loyalty through repeated purchases of accessory products.
Although highly profitable, businesses must tread carefully with this strategy to avoid appearing exploitative, which could harm their reputation.
2 Factors of Captive Pricing Strategy
1) The Core Product
The core product, which is also known as the "primary" or "base" product, sets the stage for a company to offer its captive products. It serves as an entry point to purchase the entire package of products and services.
2) Captive Products
These are complementary items that typically require more regular purchases for the core product to function properly. Examples of such products can include consumable items, such as printer ink cartridges or batteries, or services like software upgrades for mobile phones.
When Brands Should Use Captive Pricing Strategy?
When a core product naturally has some form of associated consumable item or ongoing service, a captive pricing model can be effective. It allows companies to create a recurring revenue stream while simultaneously providing customers with a complete solution.
Hence, a captive product strategy would work best when:
The core product requires frequent use of the complementary products, and
Consumers have no other option but to purchase the captive product from the same company that offers its core product.
Captive Pricing Strategy Examples
Some of the captive product pricing examples are:
1) Video Game Consoles and Video Game Cartridges
Video game consoles have been using captive product pricing for decades. In this model, the video game console serves as the core product while its cartridges are the accessory products that are required to make use of the core product. For example, for someone to play a PS4 game on the console, they would need to purchase the appropriate PS4 game cartridge.
2) Printers and Printer Ink Cartridges
Similar to the video game console market, printers use a captive product pricing model. In this case, the printer is the core product while its ink cartridges are the accessory products. You can notice most of the printer brands like HP, Epson, Canon, etc. follow the same pricing strategy.
3) SaaS Software
SaaS businesses, such as project management and customer relationship management tools, can also use captive pricing models. In this case, the SaaS software is the core product while additional features or services are the captive products. For example, customers who purchase a basic tier of a CRM tool may be able to upgrade to premium tiers that offer more features.
4) Razor and Blades
The classic Razor-and-Blade pricing model has been used for decades, most famously by Gillette in the shaving market. In this case, the razor is the core product while its refillable blades are the complementary products that are required to use it.
5) Coffee Machine and Coffee Pods:
In recent years, coffee makers have been using a captive pricing model. In this case, the coffee maker is the core product while its single-serving coffee pods are the accessory products that must be purchased to use it.
Benefits of Captive Product Pricing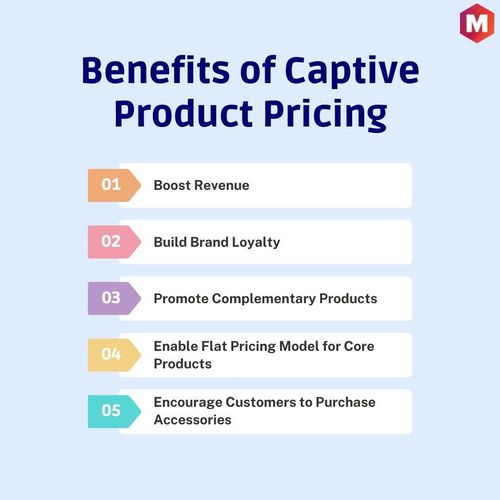 Captive product pricing strategies bring several benefits to businesses:
Boost Revenue: When customers buy the core product, they're bound to purchase the captive products continuously over time. This consistent need for complementary products drives recurrent revenue, making it a profitable pricing strategy.
Build Brand Loyalty: As customers repeatedly purchase captive products, they become accustomed to the quality and experience of the brand. This familiarity often translates to brand loyalty, ensuring a sustained base of loyal customers.
Promote Complementary Products: Captive product pricing is an excellent way to promote complementary products. A satisfied customer is likely to explore other offerings from the brand and make further purchases.
Enable Flat Pricing Model for Core Products: Businesses can keep the price of the core product relatively low, enticing new customers, as they can earn profits from the subsequent sales of captive products.
Encourage Customers to Purchase Accessories: This pricing model can be used to encourage customers to invest in accessories or additional features. As these add value to the core product, consumers often see them as necessary purchases, thus driving further revenue for the company.
Tips for Using Captive Pricing Strategy
Some of the tips for effective captive product pricing that can help you optimize the sale of your core product and complementary product are:
Ensure Value in Core Product: The core product must provide substantial value to the customer. This is the primary product that draws the customer in, so it's important that your core product serves a vital function or solves a problem for the customer.
Differentiate Captive Products: Make sure that your captive products enhance the basic features of the core product. This could be through unique design elements, improved functionality, or superior quality. They should offer something that the core product does not, encouraging customers to continue purchasing them.
Pricing Strategy: Consider offering the core product at a relatively low price, making it the cheapest option for the customer initially. The captive products, which are necessary for the full use of the core product, can be priced higher. This can help to offset the lower price of the core product and increase overall profits.
Complementary Products: In addition to complementary products, consider offering complementary products. These are not necessary for using the core product, but they provide additional features or enhancements that can improve the customer experience.
Promote Add-On Features: Promote add-on features as upgrades or enhancements to the basic product. This can encourage customers to spend more, increasing your average transaction value. Make sure these additional features are genuinely valuable and improve the functionality or user experience of the core product.
FAQs
1) How to use captive product pricing to increase sales?
Captive product pricing can increase sales by:
Adopting a low-cost entry strategy for the core product while pricing captive products (accessories or consumables) higher.
Creating a demand for captive products by enhancing their unique features and making them an essential add-on for the core product.
Offering complementary products that provide additional features or enhancements to the basic product.
Promoting add-on features as upgrades or enhancements, helping customers to spend more, and increasing overall profits.
2) What is the difference between captive product pricing, flat pricing model, and optional pricing?
Captive product pricing involves creating a demand for the captive products by making them an essential add-on and pricing them higher than the core product.
The flat pricing model means that there is a single pricepoint and all customers pay the same amount regardless of usage or value provided.
Optional pricing entails providing multiple products at different prices, allowing customers to choose which one suits their needs.
3) What is a captive line pricing example?
A captive line pricing example is when a company offers different products or packages at different price points. For instance, a phone maker might offer its basic model with the option to buy additional accessories or features at extra cost. These items are known as 'captive' products and can include items such as warranties, cases, chargers, etc.
Liked this post? Check out the complete series on Pricing