In the world of business, pricing strategies can make or break a company's success. Prestige pricing, for instance, is a fascinating approach. This method works on the principle that higher prices denote superior quality, luring in consumers who seek premium, upscale products. It's a strategy that transforms the mundane act of purchasing into a status symbol.
The strategy aims to make customers perceive a certain product as valuable and associate it with high status. The product is given an impression of luxury by creating an aura around it. If your product lacks uniqueness or special features, setting a higher price to make it appear exclusive and high-quality may result in fewer customers being attracted.
What Is Prestige Pricing?
Prestige pricing is a method of setting prices where higher prices are used to indicate higher quality and exclusivity. This pricing strategy is often used by high-end brands. For example, Louis Vuitton, Rolex, and Mercedes Benz are all luxury brands that use prestige pricing.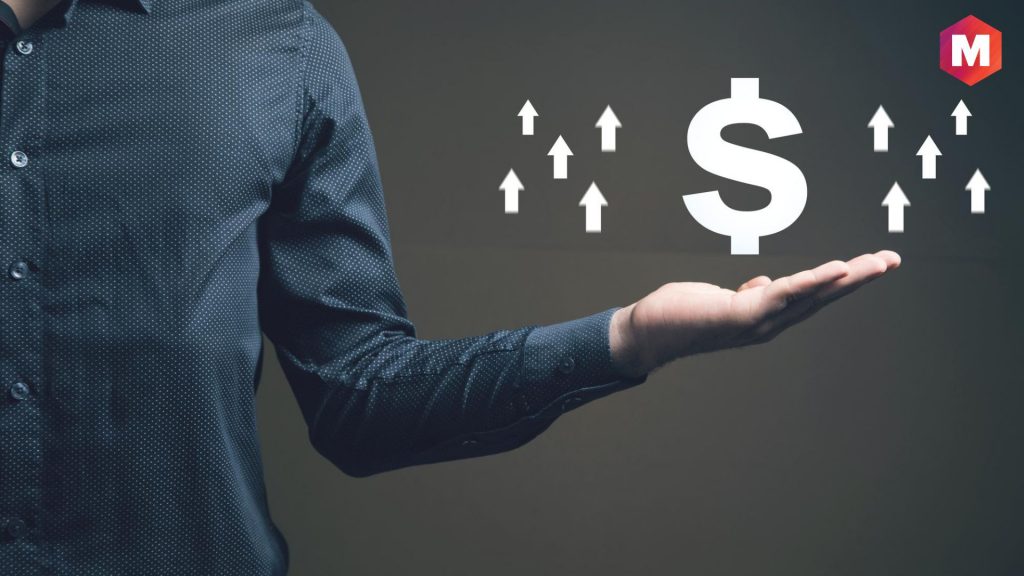 It is a pricing technique in which prices are intentionally set at a higher-than-average level. It is also understood as image pricing because prestige prices create brand perception, brand image, or brand value as a luxury brand. This acknowledges that consumers will view a product with a lofty price tag as being of higher quality.
The company sets a high price for luxury products to cater to the expectations of the niche group of customers who value quality and associate it with their sense of self-worth. This is a common pricing strategy used by many companies. Though their production costs are similar to other brands in the market prestige pricing works by targeting a high-end customer base that likes to pay a prestige price to showcase their affluence and class.
Key Takeaways!
Prestige pricing is a strategy where prices are set significantly higher than average to imply exclusivity and superior quality.
This pricing approach targets a specific demographic of high-end customers who associate high cost with high status and exceptional quality.
Brands using prestige pricing, like Louis Vuitton or Mercedes Benz, strategically position their products as symbols of luxury and affluence.
Prestige Pricing Examples
1) Rolex Watch
https://www.youtube.com/watch?v=OE0E8BmrvnI
Rolex is a company that uses a prestige pricing tactic. This means that they price their products at a higher price point according to their brand image. To further promote their brand, they even hire celebrity endorsers. Their target customers pay more for the Rolex logo and image than they would for the same product from another brand.
2) Rolls Royce

Rolls Royce is a perfect example of prestige pricing. The prices are set incredibly high and offer the customer quality and luxury that no other brand can match. With every Rolls Royce purchase, customers get access to their exclusive service department with a team of mechanics and technicians who specialize in servicing all models of Rolls Royce vehicles. This is part of what customers are paying for when they purchase a Rolls Royce.
3) Louis Vuitton

The iconic French fashion house is the epitome of luxury and sophistication. They use prestige pricing to position their products as symbols of status and class. From handbags to shoes, they charge a premium for their products due to their high-end craftsmanship and quality. Louis Vuitton's pricing strategy has enabled it to remain one of the most sought-after luxury brands in the world.
Key Elements of Prestige Pricing
1) Establish Your Image
To charge higher prices, it is important to create a unique brand image that distinguishes your product or service from the competition and portrays it as the most valuable option available. For instance, brands like Apple are well known for their prestige pricing and create an aura of exclusivity by limiting access to their products.
2) Increase Perceived Value
To enhance the value of your popular products, it's important to create pricing strategies that target specific audiences. Psychological pricing uses the price of a product to affect how consumers perceive its value.
3) Make the Most of Choice
To establish a premium brand, it is important to provide users with a set of choices that guide them toward your desired option. For example, you can create a tiered pricing that allows users to select different levels of services which would be priced accordingly.
4) Focus On Quality
To make your price seem reasonable to potential customers, it's important to have high-quality products. This can be achieved by improving sourcing, using better production techniques, and offering superior customer service. These actions can help convey that your business is worth the price you are asking.
5) Intelligently Constrain Supply
Effective prestige pricing also involves limiting the supply of your product. Although it may seem reasonable to make it available to everyone who can afford it at first glance, the revenue gained in the short term is often overshadowed by generating enthusiasm for products that are not easily accessible.
Prestige Pricing Strategies with their Examples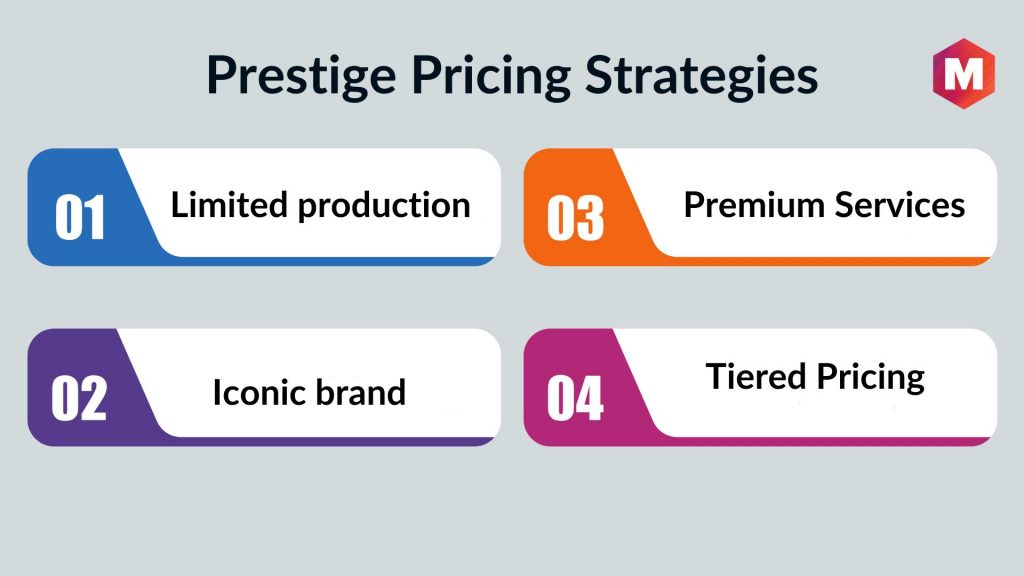 1) Limited production
Companies often produce products in large quantities to achieve efficient production and make them available at low prices to gain market share and generate revenue. However, with prestige pricing, exclusive products are created for a select group of potential buyers instead of offering low prices.
Example – Nike has limited production of its shoes, which are not available everywhere.
2) Iconic brand
Prestige pricing involves building a brand reputation by maintaining a clear message and a dedication to high-quality standards. As time passes, customers may begin to value the brand name just as much, if not more than the actual product.
Example – Popular brands like Louis Vuitton or Tiffany & Co. are instantly recognizable and associated with high status, making them valuable even before the customer has seen any of the products.
3) Premium services
Services related to luxury goods may also be offered at a premium price. Customers who are willing to invest in experiences and services that go above and beyond their expectations will be willing to pay a higher price for the privilege.
Example – Luxury spas offer more than the typical spa experience, providing guests with holistic treatments and high-end amenities. These spas can charge a lot more for their services because customers will be willing to pay for the added luxury.
4) Tiered pricing
Companies often use tiered pricing as a prestige pricing strategy, where similar products are offered at different price levels. This pricing approach suggests to customers that higher-priced products are of better quality. Using it can also persuade customers to switch from lower-priced products to higher-priced ones.
Example – Apple's pricing strategy with its iPhones is an example of tiered pricing, where different models are offered at different price points. Like iPhone 14, iPhone 14 Pro & iPhone 14 Pro Max all have different prices and features.
Applications of Prestige Pricing Strategies
1) SmartPhone Industry
Apple has a reputation for selling its mobile phones at high prices and with high-quality standards. As a result, the brand is deemed superior and recognized as a top player in the industry. This pricing applies when the product is one-of-a-kind has no comparable substitutes, and is considered to be of superior quality and luxury.
2) Diamonds
The diamond industry sets high prices as a way to maintain the exclusivity of diamonds, which can only be afforded by a small group of consumers. The pricing strategy observed here is called royal prestige, wherein diamonds are perceived as a symbol of high status and riches, renowned for their superior quality.
3) Airlines Industry
Many companies in the airline industry offer services, but Etihad Airways caters specifically to top executives and business-class passengers. They have fewer seats and offer the best services, which comes with a higher booking price of almost 200% compared to regular flights. Despite the higher cost, business and top-class passengers prefer Etihad Airways for its excellent services and are willing to pay the prestige pricing without concern.
4) Automobile Industry
Mercedes-Benz and BMW charge more than other car manufacturers due to their brand reputation as symbols of luxury, success, and power. Furthermore, they are highly regarded for their exceptional quality and craftsmanship.
5) Watches
Many people in the high class prefer Rolex watches despite their high price because they offer quality assurance and represent the wearer's financial wealth and social status, especially considering the wide variety of watch brands available in the market.
6) Clothing and Sports Equipment
Under Armour stands out among clothing and sports equipment brands for its high quality and prestige pricing. As a result, those in the upper echelons of society often choose Under Armour over other brands.
Advantages of Prestige Pricing
Brand image – Selling items with premium pricing can attract wealthy customers and differentiate a brand from competitors offering similar products. It offers a psychological marketing advantage of creating a perception of a high-quality product or high-value brand.
Increased revenue – Using a prestige pricing strategy can boost profits for current products. By implementing successful prestige pricing, companies can earn more per sale without making significant changes to their products.
Access to new markets – Raising the price of a product can create an impression of exclusivity which may aid a company in expanding into new markets while also attracting customers who appreciate exclusivity.
Disadvantages of Prestige Pricing
Buy-in risk – Raising the price of a product may result in a loss of customers who do not agree with the new pricing. To minimize this risk, companies should perform thorough market research and improve their marketing tactics to attract and retain customers.
Higher marketing costs – To establish a unique brand identity, it's crucial to have effective marketing strategies. If a company plans to raise its prices, it may allocate more resources toward marketing efforts.
Lower sales volume – To maximize profits, companies may raise product prices, but this tactic could result in reduced sales volume. To prevent losses, it's important to determine if the revenue gained from a price increase is sufficient to make up for any potential loss in sales.
Frequently Asked Questions (FAQs)
1) What is the advantage of prestige pricing?
This pertains to products with specific brands that do not have a lot of alternatives available in the market. The focus is on ensuring higher quality instead of producing more quantity and keeping prices affordable. The primary goal is to provide customer satisfaction and build trust, which in turn enhances the value of the brand.
2) Where is prestige pricing generally used?
Many sectors utilize it, such as aviation, timepieces, jewelry, clothing, sports equipment, automobiles, and telecommunications.
3) Does prestige pricing work?
While a higher price doesn't always guarantee a better product, it does boost the perception that the item is of superior quality and hence it works.
Prestige pricing is a marketing tactic that can make customers think a product has more value because it costs more. This takes advantage of the customer's belief that a higher-priced item is better quality than a lower-priced one from a competitor brand.
Many companies and brands like Apple, Mercedes-Benz, and Gucci have also benefited from prestige pricing as it is a great way to differentiate their product offerings and attract customers.
Liked this post? Check out the complete series on Pricing