Specialty Products are the cream of the crop of consumer goods. Whether it's a rare vintage wine or an exotic spice, or a luxury watch, a specialty product stands out in terms of quality, craftsmanship, and rarity. In today's world of mass-produced goods, specialty products offer something unique and special that can't be found in any store.
Companies that specialize in these types of products often have passionate, knowledgeable staff that can guide customers to the best selections for their needs. Specialty stores also tend to have higher prices than more common merchandise, because they require more effort to source and produce.
What are Specialty Products?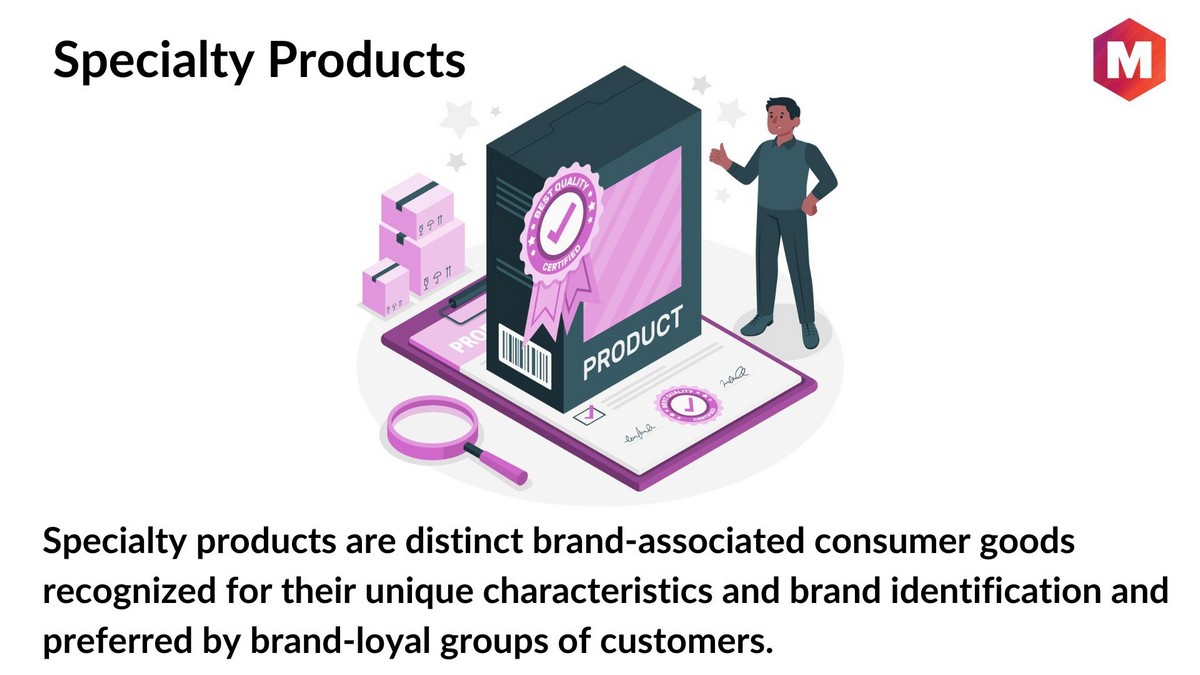 Specialty products are distinct brand-associated consumer goods recognized for their unique characteristics and brand identification and preferred by brand-loyal groups of customers. They often include food products, luxury items, and a variety of other niche or exclusive items.
Brands typically focus on a specific product line, offering special features that differentiate them from mass-market products. These can include anything from collectibles, unique food products, specialty goods, luxury items, and more. Consumers tend to make special purchasing efforts for these products due to their singular nature and perceived value.
Specialty products are often found in exclusive stores or niches in the market, and their price range can be higher due to their exceptional quality and rarity.
Characteristics of Specialty Goods
The services associated with specialty products also play a vital role in defining their specialty status. For instance, these products often come with exceptional customer service, warranties, and after-sales support, further enhancing their appeal to discerning consumers. Consequently, marketing and selling specialty products require a deep understanding of the customers' needs, preferences, and buying behaviors.
Specialty goods are characterized by several unique traits which distinguish them from ordinary goods. The inherent nature of these items, coupled with their unique value proposition, stimulates a niche market segment's interest which is quite different from other products. Some of the key characteristics of specialty products are-
1. Distinctive Branding: Specialty goods are often heavily branded. They carry a distinct brand identity that appeals to consumers who are brand conscious and seek uniqueness.
2. Limited Availability: Rather than being widely available, specialty goods are often sold in specific stores or online platforms, which enhances their exclusivity.
3. Higher Price Point: Due to their unique features and quality, specialty goods often come with a higher price tag compared to regular goods.
4. Consumer Effort: Consumers are generally willing to make special efforts to purchase specialty goods. This could be traveling to a specific store or waiting for a product release.
5. Brand Loyalty: Consumers of specialty goods often display a high level of brand loyalty. Once they find a brand that fulfills their specific needs, they tend to stick with it.
How a Product Becomes a Specialty Product?
A product becomes a specialty product through a combination of unique characteristics, top-notch quality, and significant market demand.
Often, it's not just the physical attributes of the product, but the brand story, experience, and reputation that elevate it to a specialty status. In the realm of sales, these products are marketed with a focused approach, targeting a particular segment of consumers who value the distinctiveness of such offerings.
Some of the steps that you need to follow for converting a product into a specialty product –
1) Devising a Lifestyle Marketing Approach
Lifestyle marketing is about aligning your brand and products with the lifestyle of your target consumers. This strategy involves understanding the day-to-day lives, activities, interests, and values of your potential customers. The aim is to integrate your specialty products seamlessly into their lifestyle, making your brand a natural and desired part of their lives.
2) Merging Specialty and Regular Products
This strategy involves offering a mix of specialty and standard goods to cater to a broad spectrum of customers. While the standard products attract the mass market, the specialty items cater to the needs of a niche audience seeking unique and high-quality products. This combination can enhance the appeal of your brand and boost your overall market penetration.
3) Moving Towards a Luxury Brand
Transitioning into a luxury brand involves elevating the perceived value and exclusivity of your products. This can be achieved by improving product quality, implementing premium pricing, and cultivating a brand image associated with sophistication and luxury. The goal here is to create a brand that appeals to consumers who value exclusivity, quality, and prestige.
4) Amplifying an Existing Brand
Enhancing an existing brand involves building upon your current brand image and reputation to further improve your market position. This can involve diversifying your product range, improving product quality, or even rebranding. The aim is to increase your brand's appeal and drive customer loyalty, thus ensuring continued success in the market.
Importance of Specialty Products in Marketing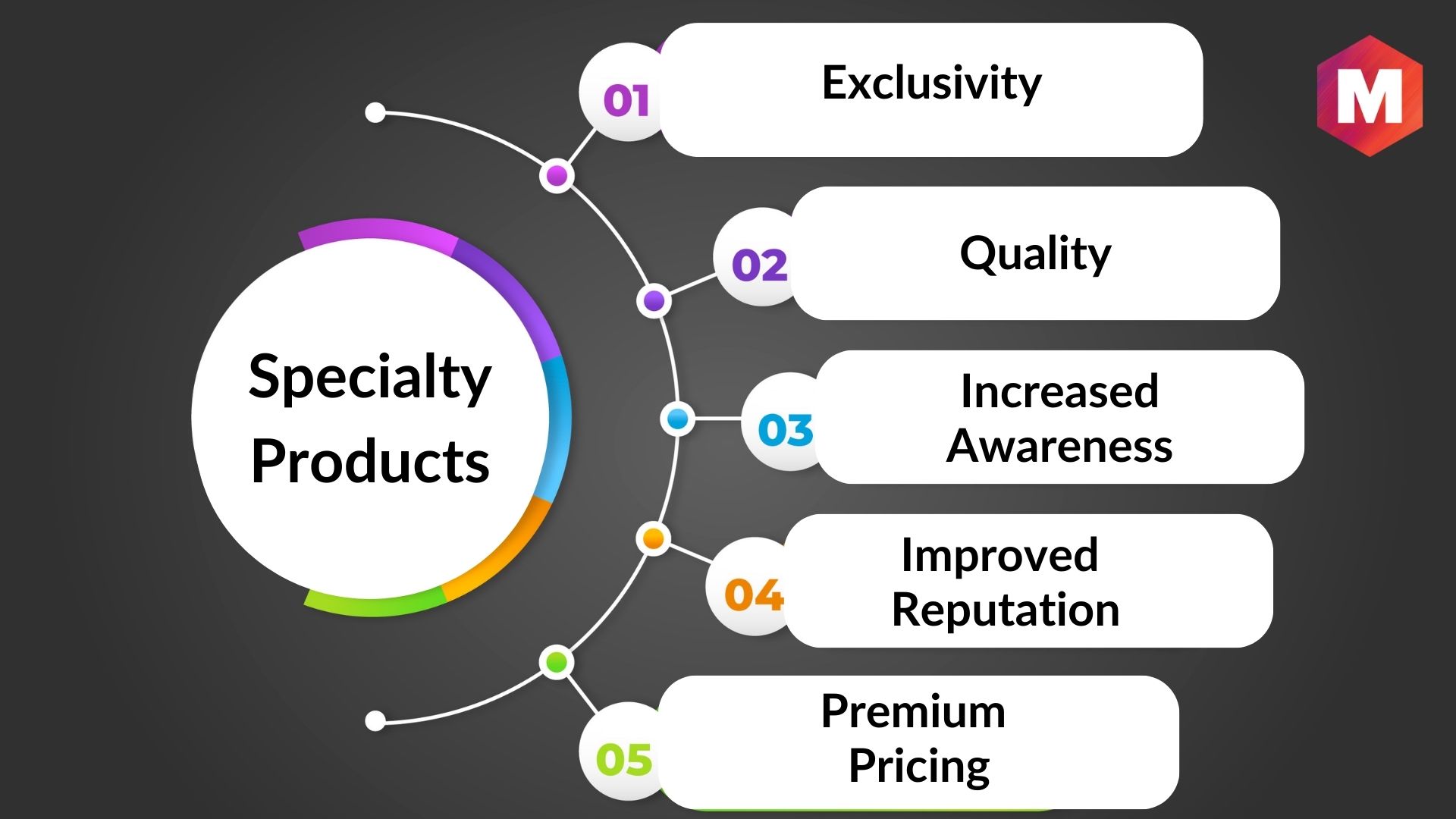 Specialty products serve as the backbone of many successful marketing strategies, setting brands apart in a sea of competition. They fulfill unique customer needs, providing a sense of exclusivity and offering a compelling reason for customers to choose your brand.
Some of the reasons behind their growing importance are-
1. Exclusivity: Specialty products offer a unique value proposition that other products cannot provide. This exclusivity drives customer interest and can be used to differentiate your product from the competition.
2. Quality: Specialty products are designed with quality and craftsmanship in mind, setting them apart from standard mass-produced items. This higher level of quality gives customers a reason to invest in your brand.
3. Increased awareness: Specialty products can be used to create buzz and draw attention to your brand, resulting in increased awareness and customer engagement.
4. Improved reputation: Customers associate specialty products with prestige and luxury, which helps to improve the overall reputation of your brand,
5. Premium pricing: Specialty products can be positioned at premium prices, allowing you to generate higher sales revenues.
How to do Marketing of Specialty Products
Marketing specialty products requires a thorough understanding of your target audience and their unique expectations. It's crucial to highlight the distinctive qualities of your product, the craftsmanship involved, and the unique experiences the product offers.
A well-executed marketing strategy can lead to improved brand reputation, increased customer engagement, and higher sales revenues. Some of the steps you need to follow here are –
1) Understanding Your Company's Data
Data is a key asset in today's digital age, and leveraging it can provide substantial insights into your customer's behavior and preferences. By analyzing your company's data, you can identify trends and patterns, which can guide you in tailoring your specialty products to meet your customers' unique needs.
2) Pricing Your Specialty Products
Setting the right price for your specialty products is crucial in maximizing profits and ensuring the perceived value aligns with the actual offering. Consider factors such as production costs, market trends, competitor pricing, and the perceived value of your product to the customer when setting your price.
3) Optimal Product Placement
Just as important as the product itself is where it's placed. The right product placements can significantly amplify visibility and sales. Consider various channels such as brick-and-mortar stores, online platforms, and strategic partnerships with other brands to position your product for maximum exposure.
4) Implementing Effective Marketing Strategies
Executing a well-thought-out marketing plan can significantly impact the success of your specialty products. Consider a mix of traditional and digital marketing strategies that are proven to work for your specific target market. This could include SEO, social media marketing, email marketing, influencer marketing, and offline promotions.
Specialty Products Distribution
Distributing your specialty products also requires careful consideration. Analyze your potential customer base and determine the most efficient and cost-effective distribution channels available to reach them. Leveraging a blend of online and offline distribution solutions can often be beneficial in optimizing sales and profits.
A few steps a distributor should follow when distributing specialty products include:
Researching the market and understanding your customer profile.
Developing an effective distribution strategy that meets the needs of your target customers.
Establishing relationships with vendors to ensure a smooth delivery process.
Analyzing sales results to determine which channels are performing best and what changes may need to be implemented.
Specialty Products Examples
1) Custom-made jewelry: Jewelry is a great example of a product that can be customized to fit specific customer needs. Consider offering various customization options such as engraving, stones, and colors to give each piece of jewelry an individualized touch.
2) Luxury handbags: A luxury handbag is another item that can easily be tailored according to a customer's preference. Allow customers to customize certain aspects of the bag such as size, fabric, and hardware to create a truly unique piece for them.
3) Organic skincare products: Natural and organic skincare products are becoming increasingly popular. Investing in high-quality natural ingredients can help to ensure your customers get the best possible results from their products.
FAQs
Q: What is a specialty products company?
A: A specialty products company focuses on producing unique, high-quality items that cater to specific customer needs, like custom-made jewelry or organic skincare products. These products often have unique characteristics and features that set them apart from mainstream products.
Q: Are online distribution channels effective for specialty products?
A: Yes, online distribution channels can be highly effective for specialty products. They allow companies to reach a global audience and provide customers with easy access to unique items that may not be available in their local retail stores. Additionally, online distribution channels can help distributors reduce costs associated with inventory management and transportation.
Q: What is an example of a specialty product?
A: An example of a specialty product could be a custom-made car. In this case, the vehicle is built according to the manufacturer's alignment specifications, ensuring the highest standards of engineering and design. This type of specialty product is typically made to order, ensuring each customer gets a vehicle that matches their unique preferences and requirements. All components and service parts used in the assembly process are sourced organically, ensuring sustainability and a lower environmental impact.
Liked this post? Check out the complete series on Product Management