If the sales of a firms new product is high because of decreasing sales of its existing and established product then we can say that Cannibalization has occurred. In brief we can say that the firm is actually eating away its own market by not focusing on Cannibalization issues.
A good example of Cannibalization would be Hyundai Santro. They have introduced Santro Xing as a new product in the market. In other way they have cannibalized their own market. A person who wanted to buy Santro old model will now buy a Xing as it is the latest product.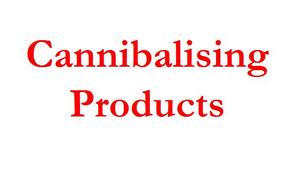 Thus they are not capturing new customers but converting their own customers to a product within their brand through Cannibalization. However, if they were able to make a person buy their product where he was planning to buy some product of Maruti then it is not Cannibalization. Thats plane old marketing – breaking the competition via Cannibalization strategy.
If you want to avoid Cannibalization, the new product should not be identified too closely with established products. Instead Cannibalization should be targeted with new appeals to different market segments. Cannibalization is desirable when margins on new products are higher than those on established Products. In highly competitive industries, Cannibalization is often desirable to induce target customers to trade up to the firm's newer products.
Cannibalization best strategy to avoid cannibalize
This strategy is adopted by Videocon International, Which entered the market with a low priced color TV with basic features and then introduced more sophisticated models and increased the price scale in order to ensure that customers in medium as well as high range segments would buy Videocon products.
Liked this post? Check out the complete series on Product Management