Definition: Market cannibalization refers to the decrease in sales that happens when a company introduces a new product that replaces one of its own older products. An example of market cannibalization is when Apple released the iPhone 14 Pro and iPhone 14 Pro Max, which replaced the iPhone 13.
Businesses need to consider market cannibalization when expanding market reach. Market cannibalization occurs when a business gains market share in an existing market by taking sales away from other products that the same company produces. This can lead to a decrease in overall sales volume, even if new customers and the same customers are buying more of that particular product.
It stems from newer product launches that displace an older product's market, resulting in decreased demand. Market Cannibalization might decrease the demand for the old, existing, or original product because of the introduction of a new product. When cannibalization occurs because of new products, businesses face losses in market share as well as revenues. Businesses face market cannibalization due to product launches similar to an existing item and hence sharing the same target audience.
What Is Market Cannibalization?
Market cannibalization is when a business's new products or services reduce the market share of other similar products that the same business produces or sells. It is a term used to describe the effect of introducing new products or services that replace existing ones. This usually leads to lost sales, as customers choose the newer offerings over the older ones.
It can also occur when opening a new store in the same market, as customers would likely choose one store over another if they are located close to each other. This can lead to existing product sales being cannibalized as customers shift their spending away from the older store and towards the newer one.
Generally, launches of new products cause market cannibalism unintentionally, while some of the time, it can also be a deliberate strategy for growing and expanding the new product market. The impact of market cannibalization on sales growth, online sales, and store sales is an important consideration for businesses when launching new products or entering new markets. If it leads to a reduction in overall sales, lost sales and reduced sales revenue could be the result.
Importance of Market Cannibalization
Market cannibalization is an important concept for any business to understand, as it's the process of a company's market presence being taken away by another product or service offered by the same company. It can have a significant impact on your business if not managed properly. That's why effective market research and understanding your strategies are so crucial.
When it comes to cannibalization, companies need to be aware of how their current marketing strategies could potentially impact the market traction of other products or services offered. For example, if a company launches a new product that competes with an existing one, it should consider how this may affect the sale and share of the existing product.
Ideally, cannibalization should be managed carefully to protect the share of existing products and maximize the potential of new ones. A good way to do this is through market research. Understanding market trends can help companies determine which strategies will work best for their products and services. This allows them to create a cannibalization strategy that minimizes market share losses and maximizes market opportunity.
By understanding cannibalization, companies can identify opportunities to maximize profits while avoiding market share losses. A well-executed strategy can help companies to maximize their presence, drive innovation and improve overall profitability.
How Market Cannibalization Works
When a new product is introduced, market cannibalization can occur. This is when sales of an existing product decrease as customers switch to the new product. Cannibalization can be a good thing for companies, especially when it is done strategically.
Marketing strategies that take it into account can help to minimize the negative effects of decreased sales from existing products and maximize the potential of new ones. Companies can utilize market research to stay one step ahead of potential cannibalization and craft strategies for the future.
If market research forecasts a new product will potentially chip away at the market share of an existing one, companies can analyze whether to lower the price or concentrate more on marketing and leveraging current customer relationships to retain sales. Additionally, companies may choose to market their products in different ways depending on how cannibalization could affect their presence in the market.
Although cannibalization can cause disruption, it's a natural part of the product sales cycle. Companies that have an effective market strategy in place can use cannibalization to their advantage and come out ahead of the competition. By doing regular market research and taking proactive steps, companies can ensure their market strategies are always working in their favor.
Calculating the Cannibalization Rate
To measure market cannibalization, one can calculate the cannibalization rate. By analyzing the necessary data, a company can identify how much a new product's sales will impact the sales of existing products.
Formula for Cannibalization Rate
Cannibalization rate = Sales Loss of Existing Products / Sales of New Products
Types of Market Cannibalization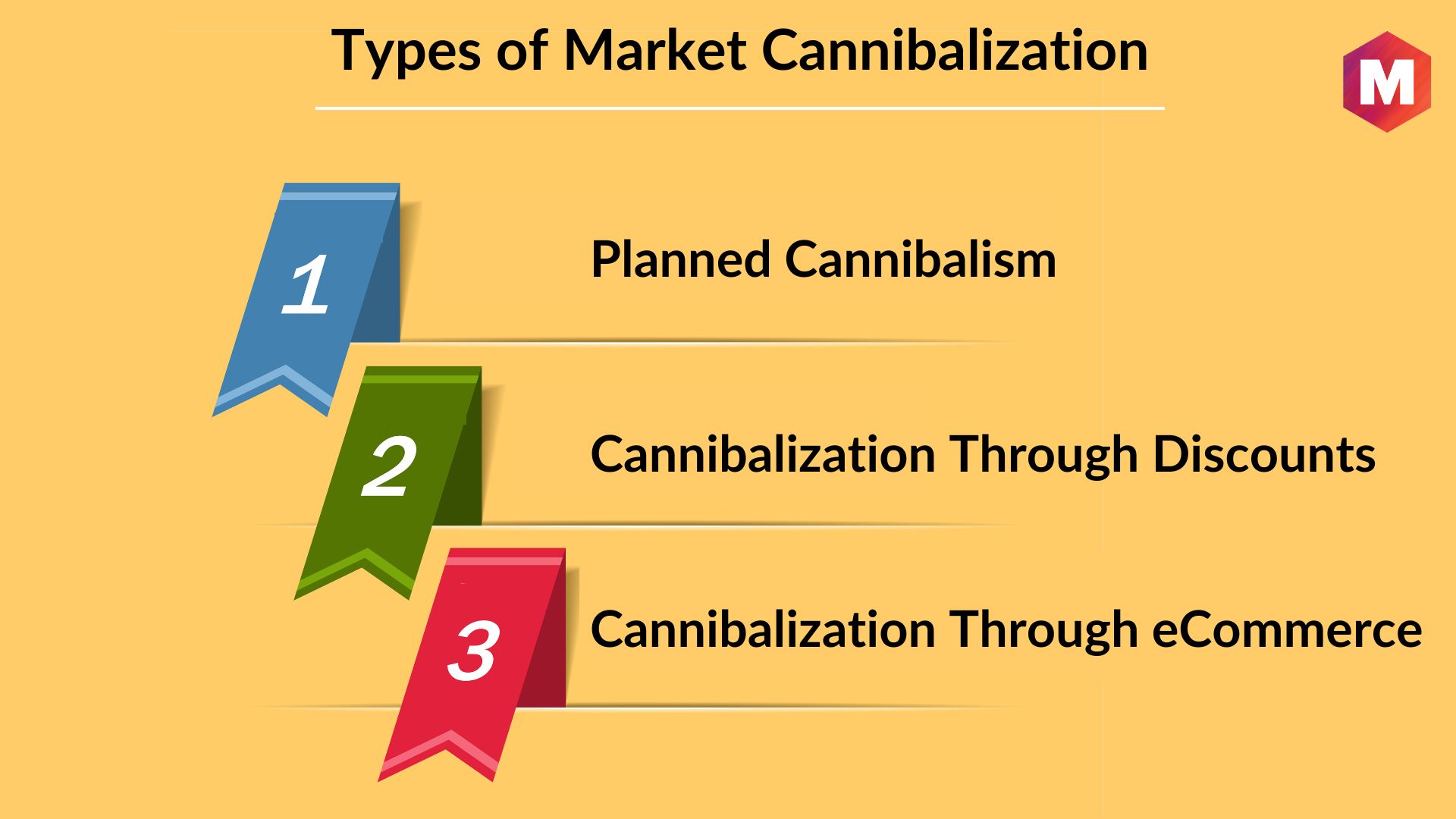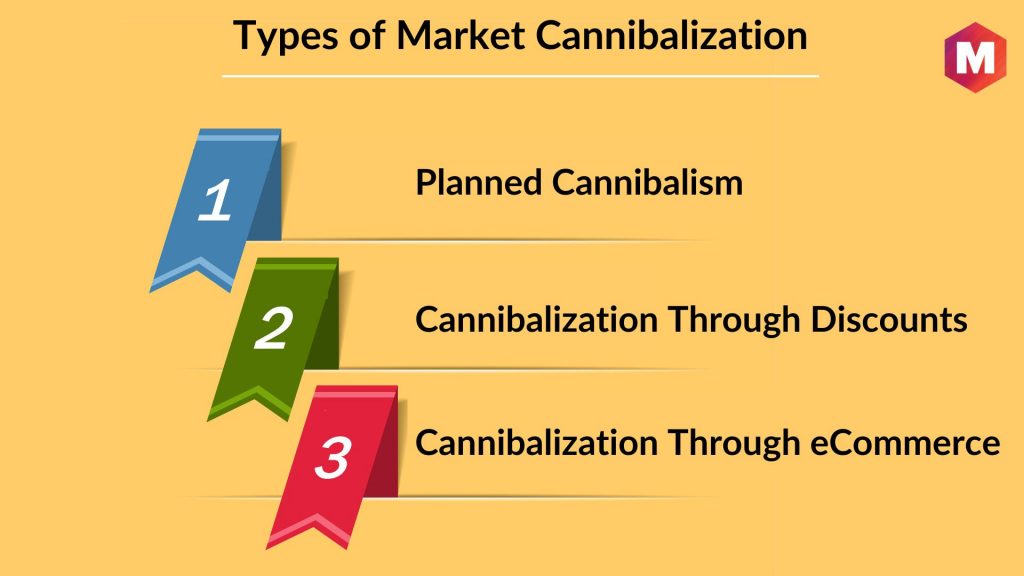 1. Planned Cannibalism
This type of cannibalization is when a company deliberately launches new products or services that target the market traction of its existing offerings. This strategy is used to increase market reach, drive innovation and increase sales.
2. Cannibalization Through Discounts
Companies also use discounts to attract customers away from their existing products or services, to boost sales of more profitable items. This type of cannibalization can be especially damaging if the discounted offering targets a market segment that would otherwise be profitable.
3. Cannibalization Through eCommerce
With the rise of eCommerce, cannibalization has become even more common. Companies can use online marketplaces to target customers searching for similar products or services and offer them an alternative option with lower pricing or better features. This type of cannibalization can be especially effective if the market is not yet saturated and there is ample opportunity to capture market reach.
Intentional Corporate Cannibalism
However, cannibalization is also seen as a marketing strategy for growth deliberately undertaken to mar the opponents.
A brand, for example, opens up a newer store in the vicinity of its older store. Knowing that the newer store will capitalize on the older store's solid customer base and eat out the sales figures of other players. Since the newer store is going to eventually give a tough time to the competitors by stealing their market reach & forcing them to be out of business.
Local Market cannibalization occurrence is often related to the opening up of the same company's brand stores in the same vicinity eating out the majority of the market share. This aspect of cannibalization is often intentional.
Unintentional Corporate Cannibalism
A newer engaging product is often marketed through advertising campaigns to generate interest among the customers, thereby side-lining an already established item. This eventually has a wide and long-lasting impact on the company's revenues and earnings.
When the release of new products into the market pulls in a major proportion of its current customer base that ultimately does not help the company in increasing its market base then cannibalization occurs.
How to prevent Market Cannibalization?
1. Do proper planning
Cannibalization can be prevented from occurring in the first place through effective planning.
2. Identify the target market for specific products
It does not necessitate closing on manufacturing the existing goods in totality. The first step in the process entails identifying the target markets for each of the specified products.
It is done to decipher and study the gaps. Mostly to get a clearer perspective of what the old item offers and caters to. This information comes in handy as research data for manufacturers planning on launching a newer product. The item is to be on similar lines to the older product.
3. Assess the market demand for new products
The second process that aids in preventing cannibalization is assessing the market demand for the new to-be-launched item. The possible study for the new proposed product must uncover the total income to be generated from the launch.
A series of steps from the evaluation of the total costs of production to the advantages that decipher the total revenues to be accrued needs to be chalked out.
Enough, any new item launched in the market does not immediately register exemplary revenues. Sales volumes often see a colossal rise for a shorter period and fall eventually in the longer run. Thus, forcing a company to abide by its original item and not charting on newer discourses.
What is Product Cannibalization, and how is it different?
Product cannibalization refers to the process wherein a new product subsequently dominates the market presence and gains prominence. It is growth in sales that brings the older existing product downhill.
It says how existing products' standings are at the expanse of newly launched products or new stylization of an existing product.
Newer products are seen cannibalizing older products. The conquests lead to competition within the same company or business rather than external competitors.
When Market Cannibalism Is Unavoidable
Sometimes market cannibalism is inevitable. For example, when a company has hit market saturation with one product and there's no room for growth in that market, it may have to develop new products to target its existing customers. This can lead to cannibalization, where the sales of an existing product are reduced due to the introduction of new products.
It can also result from companies expanding into new market segments or launching products that compete with existing ones. Many businesses have found success by diversifying their product lines and creating more specialized offerings – but this strategy can also lead to cannibalization if the new products are not properly aligned with market demand.
Advantages and Disadvantages of Market Cannibalization
Market cannibalization is a business strategy that involves taking market traction from existing goods or services to gain market dominance. It can be beneficial to companies, as it allows them to tap into an already established market, but some drawbacks must be taken into consideration.
It can provide immediate market penetration, giving companies access to a market that already exists and is familiar with the product or service. It can also create an economy of scale, allowing businesses to benefit from lower production costs and higher market share.
However, it can also be detrimental to companies if not managed properly. Companies risk alienating their existing customer base, as well as reducing market loyalty. It can lead to increased competition within the market, making it more difficult for a company to differentiate its product or service from that of its competitors. Finally, it can lead to increased pricing of products or services as companies compete for market presence.
Overall, it's important to weigh the advantages and disadvantages before deciding if it is right for your business. While it can be a great way to gain market share in an already established market, businesses must also be aware of the potential risks associated with this strategy.
Examples of Market Cannibalization
1. Online Stores cannibalizing Brick and Mortar Stores
It is true in instances where every store has somehow breached the four-walled barricades of stores to sell online. Digital advancements have taken over brick-and-mortar stores and online shopping has jeopardized the sales figures of these stores.
The majority of departmental stores have an up-and-running online store cannibalizing retail businesses. Having an online presence is mandated to negate the internet competitors doing away with market share.
2. Release of new iPhone
A bigger example is Apple Inc. Here market cannibalization is witnessed with each of its new releases of iPhones. But the company has churned out its newer releases to its advantage.
Newer launches like iPhones see mega releases tossing up record-breaking numbers for their online release to its availability in chain stores. All of this works in favor, even though it leads to a drop in older iPhones' sales figures.
But the latest updated features and characteristics of iPhones aid in capturing the interest of its existing customers and draw in newer customers, increasing its overall market revenues and clientele.
3. Amazon Go
Amazon is another biggie that has crafted cannibalization to work in its favor. This is through the launch of a series of convenience stores called "Amazon Go." This aids in selling products that are not available on the website, like fresh meals that are ready to eat. The truest example where Amazon's physical presence does not cannibalize the online operations.
Takeaway!
Corporate cannibalization occurs when a new product pulls in the current customer base of a company instead of widening market reach by covering an additional segment of the market.
However, if it is done adeptly in a well-planned fashion, it might give favorable outcomes to you as it has been favoring Apple and Amazon.
So what are your thoughts about marketing cannibalization? Do you find it favorable or unfavorable?
Liked this post? Check out the complete series on Marketing