Competitive rivalry, a key element in Porter's Five Forces Analysis, refers to the intensity of competition between existing players in an industry. It's like a high-stakes game where organizations constantly vie for the top spot.
In Porter's Five Forces Analysis, competitive rivalry is crucial as it shapes the profitability and overall landscape of an industry.
When rivalry is intense, companies may need to constantly innovate, improve their products or services, opt for price cutting, make more ad expenditures, and strategize to gain an edge.
On the flip side, a low level of rivalry can provide firms with the opportunity to increase prices and generate higher profits.
What is a Competitive Rivalry?
Competitive rivalry is a measure of the competition between businesses in the same sector or industry, which can range from mild to fierce. Adopting a competitive strategy and business strategy is essential in managing competitive rivalry. Essentially, these strategies map the course of action a firm takes to establish a competitive advantage in its industry, enabling it to stay ahead in the race.
A bit of healthy competition is often beneficial for companies, as it spurs product and service development while keeping prices affordable to customers. Conversely, too much competition can be difficult for certain businesses to overcome.
Companies in fierce competition strive to gain a competitive advantage over their competitors by heavily promoting and marketing their products or services. This could mean offering cost-effective prices, investing greatly in advertising campaigns, or providing something the opposition doesn't have. All of these measures can help build an edge that gives your business the upper hand!
Competitive rivalry is one of Porter's five forces. Porter identified a five forces model that talks about the key sources of competitive pressure in any industry which are-
Competitive Rivalry
Supplier Power
Buyer Power
Threat of Substitution
The Threat of New Entry
1) The Threat of New Entrants
The threat of new entrants refers to the risk posed by new competitors entering the industry. New entrants can shake up the market dynamics and force existing players to either lower their prices or increase their value propositions to maintain market share.
Questions to consider:
How easy is it for a new firm to start competing in your industry?
Are there any barriers to entry, such as high startup costs or regulatory hurdles?
2) Bargaining Power of Suppliers
The bargaining power of suppliers captures the ability of suppliers to increase the price of goods or services. Higher bargaining power among suppliers can squeeze profit margins and limit the growth potential of firms.
Questions to consider:
How many suppliers are there in your industry?
Can you easily switch to a new supplier without incurring significant costs?
3) Bargaining Power of Buyers (Customers)
The bargaining power of buyers (customers) refers to the ability of customers to demand lower prices or higher product quality. When customers have more bargaining power, they can exert pressure on margins and dictate terms.
Questions to consider:
How many buyers do you have?
Can they easily switch to a different product or service?
4) Threat of Substitutes
The threat of substitutes refers to the potential for your customers to find a different way of doing what you do. For example, if you offer a unique software product that helps with customer relationship management, your customers might substitute it with a manually maintained spreadsheet or open-source software.
Questions to consider:
How many alternative products or services can your customers choose from?
How easy is it for your customers to switch to these substitutes?
5) Competitive Rivalry
Competitive rivalry is the intensity of competition among existing firms in an industry. A highly competitive market may result in lowered prices and reduced profit margins. A less competitive market allows for higher prices and greater profits.
Questions to consider:
How many competitors do you have, and how big are they?
Can you differentiate your product or service enough to reduce competitive pressure?
Now, by diving into the next section, you may understand what is competitive rivalry better by going through the following examples –
Examples of Competitive Rivalry
Two restaurants in the same neighborhood that offer similar types of cuisine can be seen as competitive rivals. They are competing for the same customers, which leads to competitive behaviors such as offering discounted prices or special promotions.
Two companies that offer similar products and services can also be considered competitive rivals. This can lead to a "price war" where each company is trying to undercut the other's prices to gain more market share.
Forms of Industry Rivalry
Depending on the resources available to companies, there are many forms of competitive rivalry or industry competition. A few of these competitive forces include:
1. Price: To stand out in a highly competitive market, one of the best ways to make your company look more attractive is by providing lower prices than those offered by competitors.
2. Advertising: Investing in unique or innovative advertising can attract more customers to your business, allowing you to take customers away from the competition.
3. Product or service differentiation: Boosting the quality of your product or service to outshine the competition can be a stellar way to maximize your market share and industry sales growth.
What factors determine competitive rivalry?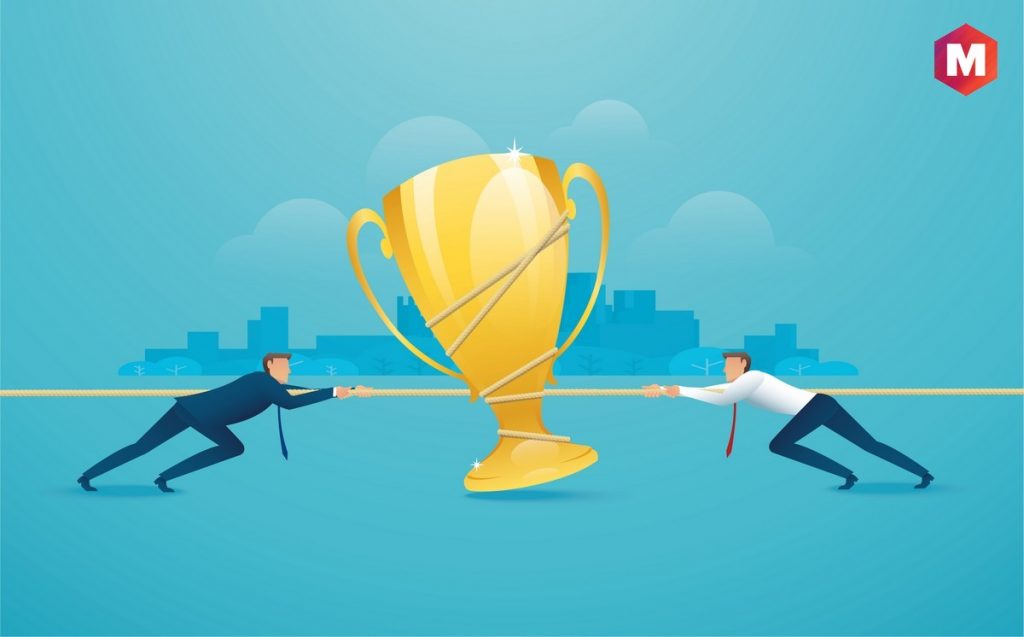 Many elements contribute to the formation and strength of competitive rivalries among existing firms. These factors can play a role in how intense a rivalry is –
1) Market saturation
If a marketplace is saturated with multiple businesses all offering similar services or products, competition between them intensifies and companies often feel the need to distinguish themselves from their rivals. This can cost time and money for these enterprises as they attempt to demonstrate their value to potential customers.
2) Slow market growth
As the market grows ever so slowly, more competitors vie for a share of limited customers. To acquire fresh patrons in this increasingly competitive landscape, you must figure out how to lure consumers away from your rivals and into your corner.
3) High overhead
Industries with costly overheads are often forced to set higher price points to accommodate their fixed costs. In these markets, companies must find alternative means of gaining market share apart from pricing strategies.
4) Lack of differentiation
When an industry does not display noticeable differences between its products or services, competition becomes more intense as customers are likely to choose their purchases based solely on the lowest price or availability. This results in a market that is highly saturated with rivals vying for dominance.
5) Low switching costs
In certain industries, transitioning from one company to another is quick and inexpensive. Consequently, competition in these sectors can be fierce because customers need little motivation to abandon a business for its competitor.
6) Supply and demand
When supply or demand changes, the market's competitive competition can be affected. But in many cases, these rises in rivalry are only temporary.
7) Business Diversity
By diversifying your marketing, pricing, and selling strategies in certain industries, you can have a greater competitive edge. Differentiating yourself from competitors will help to increase market share as some tactics may be more successful than others.
8) Strategic planning
By taking a strategic approach that focuses on long-term growth and progress instead of short-term gains, competition within the market is likely to be influenced.
9) Exit barriers
As some markets are more challenging to exit than others, this can often lead businesses to take drastic measures just to remain profitable rather than seeking an alternate way out. This has resulted in a surge of competitive rivalry between companies.
Reasons for Increasing Competitive Rivalry
1) Opportunity potential
If the opportunity in the market is very high, then the competition rises at a frantic pace, and the competition is tough too. An example of this is the Home PC market of the 1980s which saw strong companies like Microsoft, Apple, IBM, and several others rise and fall.
The 3 brands mentioned stuck around, but several others like Atari and Timex failed to make a mark in the Home PC market. Similarly, when a market promises potential, you will see the competitive rivalry rising fast.
2) Ease of entry
A problem that is facing most localized businesses is the ease of entry of foreign entrants. A hotel that is in Territory 1 can also enter Territory 2, territory 3, or even Territory 10 easily. For them, this is a new area where they have to enter.
However, hotels which are already existing in territory 2 or 3 will see this new hotel as competition and will try to dissuade it from doing business. They will adopt competitive strategies to maintain market share in their territories. This gives rise to an increased degree of competition and an increased competitive rivalry.
3) Nature of the product
How easy is the manufacturing or procurement of the product determines how tough it is to get into the market. The prices of Diamonds and gold are always shooting up. And more and more we see, the companies which are large jewelry buyers and sellers are surviving in this market because they hold larger quantities of these rare products. And hence they demand higher margins as well.
But if it is a bathing soap that can be manufactured anywhere, then we see the competition rising instead of the price rising. Even a dollar change can impact the soap market as there are just so many competitors in it. Moreover, as it is easily manufactured, many top companies put a foothold in this market, thereby causing the competition to rise for the players in the industry.
4) Exit barriers
A problem facing telecom operators as well as Airlines is the exit barriers in these industries. These industries have so many assets, that they just cannot decide to leave the assets and close business. As a result, even though profit is less, they have to survive because otherwise there is a huge loss involved. Thus, as the exit barriers are low, the competitors stick around, raising the overall competitiveness of the industry.
In the end, the old competitors who are making a loss, fight based on price, or value-added products, with new competitors, thereby making a ruckus of the complete industry. The result is that very few of the operators earn a profit and if they do, it is very less. But the industry still promises huge rewards whenever one of the competitors exits the industry.
5) Homogeneity or Very low differentiation possible
Imagine for a moment that you are a pen salesman. There are 10,000 different types of pens in the market, each of them selling and each of them has its demand. It is a homogenous market. The product is required, and there are very few differentiating points in the product. So because of the homogeneity of the market, the competition rises.
Still, the market can be differentiated by targeting frequent users or occasional users. Parker Pens and Mont Blanc market themselves based on status. Hence, their pens are different from the homogenous market. But if you talk about Reynolds, Cello, and Link pens then most of their products are similar or the same, thereby causing a rise in competition between the companies and within the industry.
6) Commitment to the industry
Some brands in the market are hyper-committed to the industry they are in. For example – Gillette is a known Razor blades manufacturer and that is all it does. It dominates that market. So it is a clear industry leader. If a new entrant enters the market, it will find it hard to exist in the market for long.
Still in the US, the Dollar shave club is challenging Gillette by delivering personal grooming products directly to the end customers. This means 2 players are now hyper-targeted towards the shaving industry. How many more do you think can enter? And even if they do, will they be as large as Gillette? When the commitment to the industry of a competitor is very high, and they are leading that industry by a big margin, competition becomes overbearing.
7) Technology
When technology is the major reason for the industry to exist, then it becomes one of the driving factors for competitive rivalry. Looking at the Smartphone market, we can easily see that each of the smartphone makers is bringing new technology into the market (hardware or software-based)
Whenever they bring a new technology, they go for a skimming price and get maximum mileage out of the new product. As the product is copied by other manufacturers, this product becomes old and the technology is adopted in the market fast. Then they have to search for something else. What this does is, makes the whole market competitive, and the leader is the one with the latest technology.
So when Apple launches the IOS with the Apple iPhone and Ipad, Samsung launches the Galaxy and the Edge series as well as Galaxy tablets, and the other competitors soon catch up, all the time promoting the top players to keep searching for new technologies so that they can remain competitive.
8) Economies of scale
Whenever a business has a higher fixed cost, then it has to achieve economies of scale else it will suffer huge losses. If you have assets that are fixed and which are costly, then these assets have to generate revenue, otherwise, there is no meaning in having these assets and the cost will outweigh the profits from it.
A similar case was observed in the Fight between Northwest Airlines and Spirit Airlines. In Detroit, USA, Northwest Airlines had 73% traffic of the complete airport at one time. At that time, the fare was $170. A new start-up, Spirit Airlines came in and started offering $49 as the one-way fare for select flights.
As Northwest could not afford to lose the Detroit airport traffic, Northwest slashed its fare from $170 to $49 for all its flights. As a result, Spirit Airlines had to walk out of the airport and had to raise its prices. Consequentially, Northwest again rose the pricing to $170 and took back the traffic that belonged to the airlines.
If a competitor has already achieved Economies of scale, then fighting against that competitor is difficult because it already has high fixed costs and it will have to make up revenues to match the fixed costs invested. This is why there is a huge competition between large companies involved in large-scale manufacturing (like Reliance vs Aditya Birla).
9) Economic climate
As I hail from India, I can tell you right now that the Economic conditions are right and favorable. The Digital India campaign as well as "Make in India" are two initiatives by the government that are helping entrepreneurs. Naturally, online entrepreneurs like myself are having a field day, by entering industries that were previously unthought of.
Swiggy is a food delivery app. There are apps for hailing taxis like Uber and Ola. There are apps for searching for and applying for jobs. There are apps to stay in touch with your friends. The Economic climate is such that a new guy, with a new idea and experience to implement that idea, can become rich.
This in turn raises competition for old players by new entrants as the economy is favorable. Uber and Ola have caused a lot of ruckus because of taxi drivers being unhappy. Swiggy has taken out Domino's and McDonald's because it allows delivery from your favorite restaurants (which did not have the home delivery option).
So if the Economic climate is positive, there will be more new entrants in the market, causing the competition to rise and the competitive rivalry to increase.
Pros and cons of Competitive Rivalry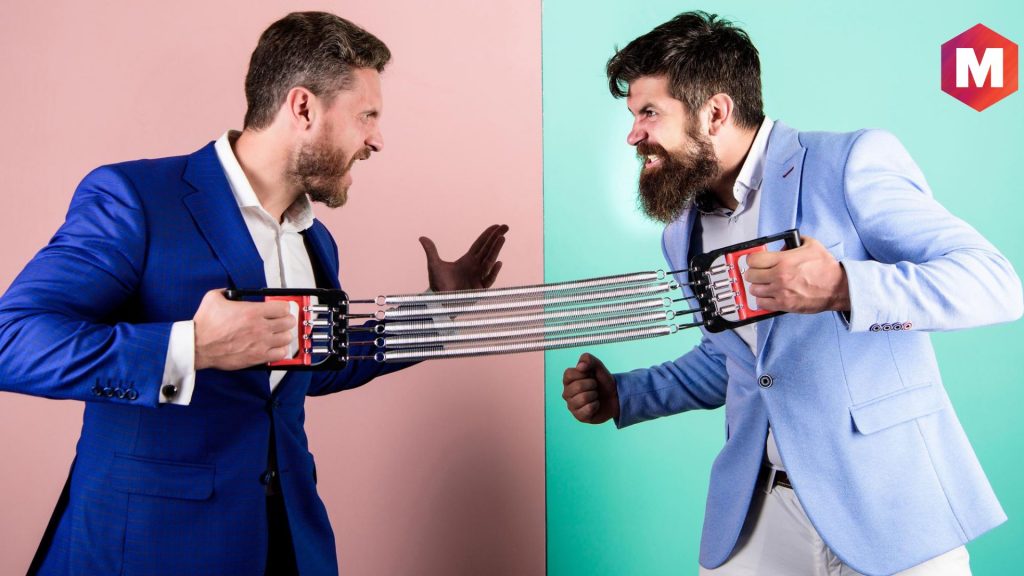 As we all know, competitive rivalry often entails both opportunities and risks for the businesses competing. Let's look at some of the main benefits and drawbacks that come with participating in a competition:
Pros of competitive rivalry
Unleash the power of competition to motivate your organization forward! There are countless possibilities that a competitive environment offers, including:
1. Improved customer service: Enhancing your business's customer service capabilities is a cost-effective and easy way to cultivate customer loyalty.
2. Higher innovation: When you're presented with a saturated market, discover new approaches to innovate and display your creative capabilities.
3. Regular self-assessment: To remain pertinent to your customers and continue expanding market share, you must prioritize uncovering both the strong points and weak spots of your company.
4. Increased customer focus: By refining your customer outreach and focus, you will gain a competitive advantage in the marketplace by acquiring more customers than those who compete with you.
5. Growth in the market: By striving to remain competitive, companies in the industry are compelled to innovate and explore new growth opportunities. This ultimately benefits everyone by creating a thriving business landscape.
6. Identifying industry solutions: When there is an abundance of competitors in the market, it gives them strength as a collective group to negotiate and regulate.
Cons of Competitive Rivalry
Although rivalry with competitors can be a boon for business, it also comes along with certain risks. Here are some of the hazards that come with competing:
1. Increased costs: In an overcrowded market, differentiating oneself is essential and typically requires more funds allocated to advertising.
2. Fewer customers: With an array of choices, companies are inevitably reaching fewer individuals.
3. Development pressure: In a saturated and competitive market, gaining access to fewer customers can be difficult. Therefore, it's important to think outside the box and find innovative ways to broaden your customer base for you to remain successful.
4. Decreased market share: Producing too many products in an over-saturated market can result in drastic discounting and other loss-inducing measures to prevent goods from getting stuck on a shelf or gathering dust in storage.
Tips for Optimizing Competitive Rivalry
Transform your business for the better with a little help from the competitive environment.
To make sure you get the most out of it, here are several tips on how to best utilize the competitive environment in your industry –
1. Know the competition: It's essential to regularly analyze your opponents' offerings, marketing strategies, pricing models, and more – particularly when there is minimal product or service dissimilarity. Insight into what others in the market are doing can help you develop a unique appeal for clients that will set you apart from competitors.
2. Perform a SWOT analysis: Leverage the power of a SWOT analysis to distinguish your company from competitors and capitalize on opportunities in the industry. A SWOT study will help you identify your strengths, weaknesses, prospects for growth, and potential risks.
3. Find your value proposition: Uncover the special aspects of your business that can be highlighted to captivate potential clients.
4. Consider development options: Seek out growth and development prospects to expand your share of the market and set yourself apart from others in your industry.
Conclusion!
In sum, it is clear that the competitive environment in the industry significantly reduces profit margins for global public companies.
When creating effective competitive strategies, companies must take into account the slow growth phase, high fixed costs, as well as other trends within the field.
Moreover, cost reduction tactics and suppliers' bargaining power also play an integral role when attempting to survive a cutthroat market environment.
Liked this post? Check out the complete series on Marketing