There is no doubt that Microsoft is one of the leading technology giants in the world. Microsoft windows OS is one of the most user friendly operating system, one of the reasons for its very fast adoption and usage across the world. It is also the reason that Microsoft is one of the toughest brands in the software market to beat. It is literally dominant due to its Office software and Operating system.
Here is the SWOT analysis of Microsoft
Strengths in the SWOT analysis of Microsoft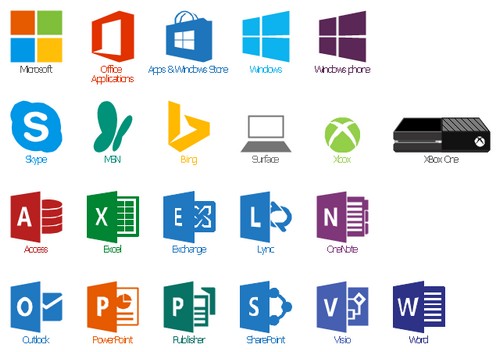 Weaknesses in the SWOT analysis of Microsoft
Legal proceedings: Microsoft is defendant in various unresolved cases against it. It is entangled in various legal proceedings relating to product design, manufacture and performance liability and other litigations relating to contracts, employment issues or intellectual property rights.
Not able to control counterfeit of their software business in developing nations: It is not able to curb the illegal use of their software business specially operating system in the developing nations like china, India etc.
Lagging in innovation – Because of its vast usage, customers of Microsoft have a common complaint that Microsoft keeps upgrading its products but there is nothing new from the bottoms up from the brand. In terms of Operating system capabilities, Apple is farther ahead then Microsoft. Because of which Apple is slowly coming up as the chosen OS.
Opportunities in the SWOT analysis of Microsoft
Shifting to Razor & blade model: Rather than offering expensive software Microsoft can work on Blade & razor model in order to counter illegal use of their software specially Operating system, through which they can generate more revenue.
Strategic Alliances: Company can focus on entering into new partnerships for the development of innovative and technologically advanced products. Such partnerships provide Microsoft a competitive edge and allow it to garner high market share. Like in 2014, the company announced nine new hardware partners for its Windows Phone. The partners provide a direct access to its tools, widening its scope for consumers and launch new price points across several key growth markets. The key partners include Foxconn, Gionee, Lava (Xolo), Lenovo, LG, Longcheer, JSR, Karbonn and ZTE Corporation.
Demand of smartphones: Microsoft can capitalize over the growing demand of smartphones which is emerging as a major growth opportunity in both developed & developing nations.
Threats in the SWOT analysis of Microsoft
Competition: The software market is highly competitive, which may impact the company's performance. The company faces stiff competition in all its segments. Its key competitors in Windows Live software and services include Apple, Google and Yahoo!. Its Internet Explorer product faces stiff competition from the browsers developed by Google (Chrome), Apple (Safari), Mozilla, and Opera Software Company. The company's server and tools products compete against the related offering of IBM and Oracle.
Rapid technological changes: The tech-world is continuously changing. Companies are ending up killing their own offering much before competition kills it.
Pirated Market: It is the major threat company is facing from its software front. Every year company loses billions of dollars due to the circulation of pirated versions across the world. Microsoft loses significant amounts of revenue owing to the piracy rate of 30% or more in several countries. Also developing nations like China, India etc. accounts for major market which are involved in illegal use of Microsoft's software.