Exxon Mobil is a US based Multinational Corporation which operates in the Crude and natural gas sector. It was formed on November 30, 1999, by the merger of two companies named Exxon and Mobil. It has around 73500 people working for them as of 2016.
Chairman and CEO: Darren Woods
Strengths in the SWOT Analysis of Exxon Mobil :
Brand Value: It ranks 51st in the Brand Finance report according to brand value. Its brand value is $19.227 billion. It ranks 4th in the world in the Oil and Gas sector in terms of brand value.
Market Position: Exxon Mobil has a strong market position. It is the largest refiner in the world. It operates in most of the countries and has explored every continent for crude and natural gas. As of FY 2015 Exxon has 23 refineries in 14 countries and has a distillation capacity of 136000 barrels per day.
Extensive Operations:Exxon has exhausted and sells almost every product obtained from crude refining. It is safe to say that it has extensive upstream and downstream operations. It is the world's largest seller of fuels and lubes.
Project Portfolio:Being the largest refiner has its perks. It has strong financial backing and hence has various projects that include conventional, heavy oil, light gas, shale gas, LNG (Liquefied Natural Gas), deep water, Artic and sour gas projects.
R&D:Exxon Mobil undertakes a number of R&D projects to keep itself relevant in the market. Some of which include to develop methods to enable technologies to be able to mine situ bitumen as its source lies very deep for surface mining. It is bent on to lower water use, reduce greenhouse gas emissions, improve bitumen recovery, use of solvents to access undeveloped sources.
Revenue generation: Exxon is not dependent on one or few countries for revenue generation. This gives them a massive edge over its competitors. They have sales from US, Canada, UK, Belgium, Italy, France, Singapore, Germany and many others.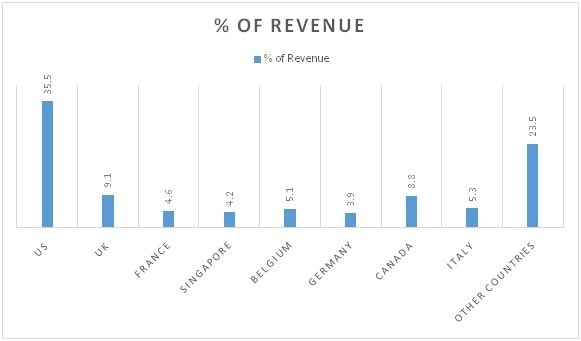 Weaknesses in the SWOT Analysis of Exxon Mobil :
Negative Publicity: Exxon Mobil is involved in many litigations and lawsuits around the world. These legal proceedings range from seeking claims from damages, fines, and penalties. To name one it agreed to pay $225 million as settlement for its New Jersey trial involving contamination at refineries and pollution. These kinds of lawsuits impact the image of the company and resulting in huge financial losses.
Weak Financials: Exxon has suffered a decline in revenues by 34.2%in FY 2015. Its profits have also declined by 50.3%.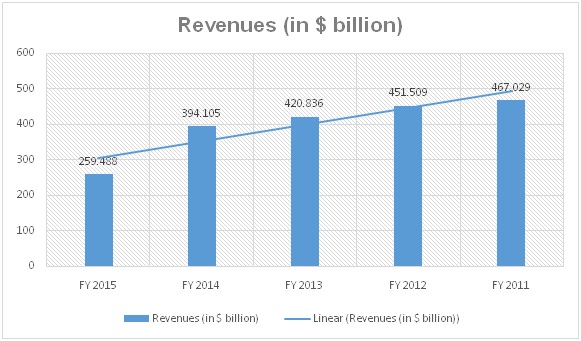 Debt: Exxon has had an increase in debt from $11.581 billion in FY 2012 to $38.687 billion in FY 2015.
Opportunities in the SWOT Analysis of Exxon Mobil :
Rising Demand: The demand for energy is rising and is expected to keep rising in the future as well. This gives Exxon Mobil a huge potential to grow. The expected rise in demand from 2014 to 2040 is about 40%.
Other Sources of energy:The demand for energy in the future is going to have a huge percentage of renewable sources involved. Exxon needs to understand this change and act accordingly. Around 40% of the growth in energy demand will be met by renewable sources.
Increase in LNG demand: Exxon is currently heavily invested in LNG R&D. By 2040 nearly half of the natural gas demand will be met by LNG. Exxon Mobil needs to be ready for this and start commercial sales for the same to take the first advantage of this change.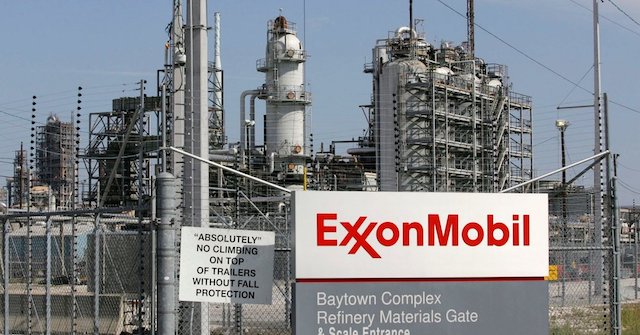 Threats in the SWOT Analysis of Exxon Mobil :
Competitions: ExxonMobil is facing a huge competition from other companies and this has led to a massive fall in their revenues and profits.
Environmental Regulations:The environmental laws are becoming stricter and more stringent. This has made their work more challenging in terms of reducing global warming, greenhouse gases, water usage, etc. This pose a massive challenge in front of them.
Economy: The world economy has undergone through several challenges recently and has made many countries to cut oil imports. Apart from this falling oil prices also pose a huge threat.
Supply Risks: The supply of crude and gas are affected by many factors ranging from natural to man-made. There is also a danger of spills.
Liked this post? Check out the complete series on SWOT