Depending on the nature of the business, sometimes, a firm may have to implement various marketing and advertising channels as well as creative ideas in a single go in an attempt to achieve the required results. In such scenarios, marketers often make use of a wide range of marketing vehicles that are capable of conveying the intended message to a wide customer base. Using multiple marketing plans and vehicles at a time in a bid to attract a potential customer is what is known as Fusion Marketing.
What is Fusion Marketing?
Fusion Marketing is the practice of merging various successful sales and marketing channels into a single, impactful campaign. This refers to a novel approach in the fields of marketing automation and lead generation. Fusion marketing enables businesses to automate the process of creating and managing campaigns to accelerate sales cycles.
It requires the integration of sales and marketing channels, such as a CRM system, social media channels, advertising campaigns, business relationship plans, etc. By combining these multiple marketing strategies, businesses can create a far more powerful message and reach out to their target audience much more effectively.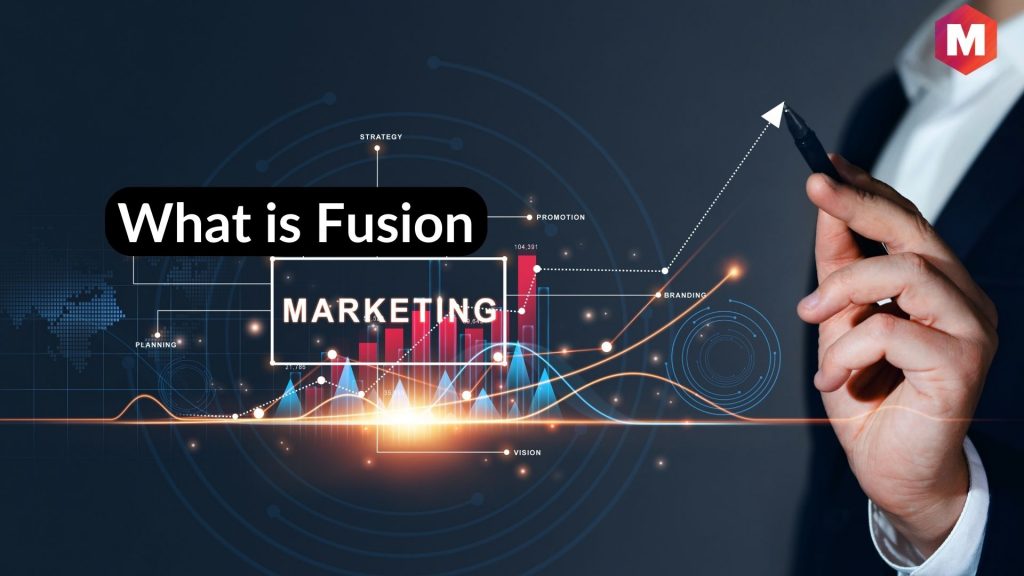 Running creative promos for an event that is yet to take place, or running an advertisement campaign for a book that is yet to be launched, are some simple examples where this marketing strategy can prove to be quite fruitful.
The reason is, these two scenarios need to make use of multiple marketing channels and vehicles to get across the message to the target audience asap. In both cases, the launch date of the final product or service is of utmost importance and has to be embedded into the minds of the potential consumers, only then the sales teams can maximize the sales.
The dire need of highlighting the launch date demands various marketing strategies to be implemented simultaneously and media vehicles expertise carrying this message forward should also be equally diversified and powerful, thus making Fusion Marketing the right tool to launch the campaign.
In an attempt to persuade the customer, a sales team using fusion marketing often makes use of various tools and vehicles such as:
Above mentioned are only a few of the many marketing strategies followed by the firms in an attempt to lure consumers. Fusion marketing believes that using multiple marketing strategies in tandem is bound to bring the target audience to your doorstep.
However, just like any other marketing plan, Fusion marketing also has its own pros and cons — will look at them in the next sections.
Benefits of Fusion Marketing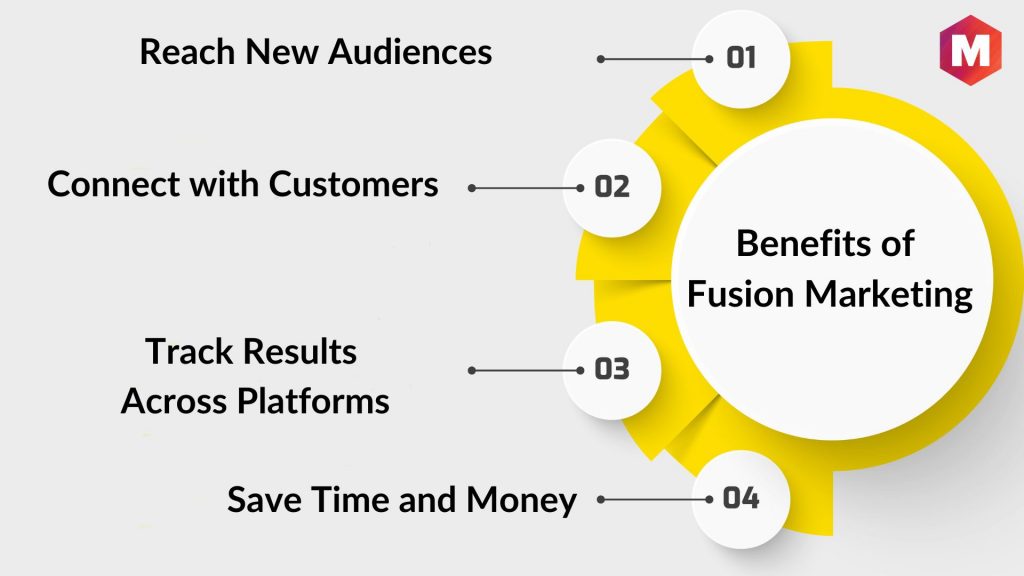 For several years, the future of marketing — fusion marketing is a way to bring together the best of traditional and digital marketing, delivering a multi-channel approach that lets you target consumers across multiple platforms. It's all about using the right combination of the right channels to deliver your message in ways that are most likely to resonate with your audience.
Here are just some of the amazing benefits that come with this type of marketing –
1. Reach New Audiences
It helps you connect with new audiences by using multiple channels. Fusion marketing means you're reaching out to your audience on more than one platform at once—you can create content for Instagram and Facebook, for example, and then share it on Twitter as well.
2. Connect with Customers
It helps you reach different types of customers in one fell swoop. When you combine tactics like emailing potential consumers with SEO optimization for your website, you're able to capture leads from across the spectrum—from people who find your brand through search engines down to those who hear about it through word-of-mouth recommendations from friends and family members who follow along on social media platforms like Facebook or Instagram.
3. Track Results Across Platforms
It allows you to track campaign success across multiple platforms at once so you know what works best where! When you use fusion marketing instead of just one tactic at a time (like email or digital advertising), you're able to track everything at once and see what works best in which channels.
This is especially important if you are trying to grow a brand from scratch because it will help you determine which tactics work best together so you can scale up your efforts quickly.
4. Save Time and Money
It saves you time because it allows you to do more with less. Instead of having multiple departments trying to market your business through different tactics, you can have one group that coordinates all of these efforts for you to make your business a success! This will also save money because it eliminates the need for hiring multiple people for each task.
How to Do Fusion Marketing?
Here's how to run fusion marketing campaigns –
Identify your target audience.
Choose the quality channels where you want to reach them (social media, email, websites, etc.).
Develop a plan for each channel that focuses on the individual strengths of each one (for example, if you want to use Facebook for lead generation, create an ad campaign that uses video).
Create content for each channel that's relevant to your target audience and promotes your business (you can use video, images, blog posts, and more).
Measure the success of each campaign with analytics tools like Google Analytics or HubSpot (if you want help with this, reach out to a digital marketing agency).
Finally, after you've run your campaigns for a few weeks, look at the results and see what worked best for your clients. If you find that one channel is more effective than another, focus on expanding your efforts there next time around (for example, if Facebook generated better leads than Twitter did).
Examples of Fusion Marketing
Here are some examples of the fusion marketing process –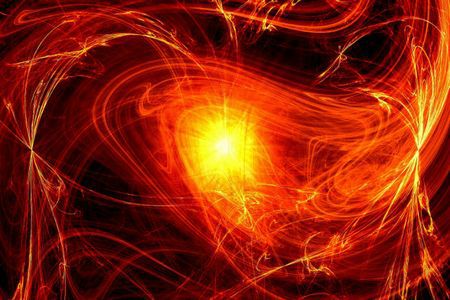 Pros of Fusion marketing:
Cons of Fusion Marketing
It should also be noted that this can also be used in conjunction with other brands. If we take the book launching scenario as an example, and let's say it is being launched on Amazon, both fusion marketing of the book and brand marketing of Amazon can be tied up. In such cases, the firm looking for brand endorsement (in this case, Amazon) may also want to invest in the marketing campaign. Once tied up, the marketing costs of both parties will come down and the book will now become an Amazon exclusive. It's a win-win situation in most cases.
Liked this post? Check out the complete series on Marketing