The market is divided into mainly three types of competition. At the macro level, these are the only three types of competition that matter. These competitors are applicable to all industries, and all business entities.
1) Direct competitors to your product and market–
This type of competition is observed when other businesses within the same sector, offering the same products compete with each other. Competition on the basis of geography covered and price given to customers, is the most common in direct competition. In case of direct competition, your relationship management plays a major role in wooing customers and taking away market share. If a customer gets excellent service from your organisation, he is unlikely to move to a competitors.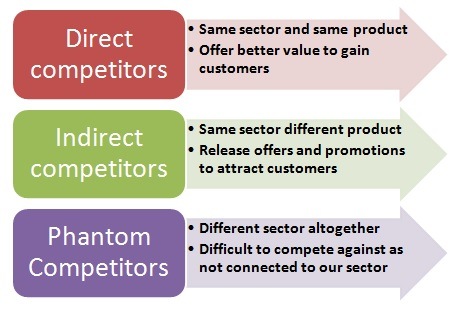 2) Indirect competitors to your product and market –
This type of competition is observed when any small business is taking the customer away from you, by offering a product which does not exist in your portfolio. For example – For bankers who are offering savings account only, indirect competition will be the stock market, mutual funds and other savings accounts, where the customer invests his money instead of keeping it in savings account. So an executive responsible for selling savings accounts, will consider the above options as indirect competition.
In another example, a movie theatre will consider cable television and DVD's as its indirect competitors. This is because people might not be visiting theatres when they can watch the same movie at home.
In case of indirect competition, your strategy should be to give offers and conduct promotions so that the customer does not ignore you. In above savings account example, bankers can increase the percentage returns on opening savings account with them (Like Kotak Mahindra has done) and thereby attract more customers. Similarly, to compete against the indirect competition or competitors the movie theatre can give promotional offers of free popcorn, show classic movies, or do some promotional activity to attract customers to the movie theatre. Such activities help in tackling the indirect type of competition.
3) Phantom competitors in your market–
This phenomenon is observed when instead of buying your service or your product, customer chooses to purchase something else altogether. This type of competition involves business entities which do not exist in the typical frame of mind of customers. Tackling such competitors is very difficult because it is completely in the hand of the customers.
For example – In the above movie theatre example, customer does watch movie in the theatre or at home, he simply chooses to read books, go trekking or visit friends instead of wasting his time on the movie. Similarly, in the savings account example, someone who is poor or someone else who trades with black money (possible, isn't it), is not going to use any financial options the bank or any other financial institution gives. These guys are simply not in the frame of mind to purchase anything of any kinds from your industry.
Your offers will not work on these guys because they are not used to your products and the services you are offering. Due to the presence of phantom competitors, market feasibility studies are done. This is because, marketers like to know the average consumption of the market before launching the product.
They are aware of the direct and indirect competitors, but if a product has too many phantom competitors, and if the product is going to be ignored, then the product will have a very short product life cycle. Against phantom competitors, you need large scale action and involvement of entities like the government, or a change in trend and people movement.
So the above are the three types of competition that exist. You can defeat one of them, tackle the second, but against the third, any action taken by you will not necessarily give positive results against your competitors or competition.
Thank you for reading our article, Hope it answered your questions!
If you liked this article, we bet that you will love the Marketing91 Academy, which provides you free access to 10+ marketing courses and 100s of Case studies.