Boundary spanning is a process of developing external relationships by spanning the boundaries for the accomplishment of business objectives. It refers to a situation where an individual or an organization crosses the boundaries of a social group.
It helps businesses in obtaining necessary information from other organizations. The term boundary spanning was coined by Michael L. Tushman, an American organizational theorist, management adviser, and Professor of Business Administration at Harvard Business School. However, the concepts of spanning boundaries were developed by social scientists from the late 1950s onwards in the large American corporations associated with the R&D laboratories.
What is Boundary Spanning?
Boundary spanning, in the context of social science research and organizational psychology, refers to individuals who play a crucial role in connecting an organization's internal networks with external sources of information within an innovation system. This term highlights the significance of bridging the gap between the organization and valuable external knowledge.
Examples of boundary-spanning activities include joint ventures, licensing agreements, strategic alliances, mergers and acquisitions, research collaborations, and international partnerships.
Boundary-spanning skills refer to efforts within an organization that involves activity aimed at bridging one or more recognized organizational boundaries to facilitate the flow of information across such boundaries. There are many examples over the years where boundary spanner has occurred so that both companies have benefitted. The term was coined after world war 2, and it was found that most of the companies benefitted when they exchanged Intel. The growth was faster and more efficient when boundary spanning was applied.
It is a term wherein you pass the boundaries set for you, for the greater good, or get some work done. In business, boundary spanning is when you cross the boundaries set by your organization and collaborate with someone else to get a task done.
For instance, the united nations were formed so that the countries which are part of the Nations collaborate with each other and make the world a better place. For such collaboration, regular boundary spanning is needed.
Importance of Effective Boundary Spanning
Boundaries narrow down our power of perception and abilities to grow and gain the knowledge crucial for our development. The same thing happens in organizations that have boundaries, as boundaries increase the organizational silos, shrink the worldviews shrink, and reduce the resources.
Therefore, spanning boundaries is an important practice to find out new opportunities and possibilities. It lets the boundaries intersect and collide to channel new forms of collaboration and innovative ways of working. It can help an organization to find out new frontiers for resolving some issues.
Boundary spanning leadership entails establishing direction, promoting alignment, and fostering commitment across five different boundaries –
Vertical: Rank, seniority, class, power, authority
Horizontal: Peers, expertise, function
Stakeholders: Partners, value chain, constituencies, communities
Demographic: Gender, culture, generation, nationality, ideology, personality
Geographic: Location, markets, region, distance.
Boundary spanners work with a great variety of people from differing positions, backgrounds, and locations. Along with managing upward or downward, it is important for managers or leaders to work horizontally, as it will enable them to work with external stakeholders and be cross-functional to work across functions or locations (local or global).
In comparison to managers who know and protect their boundaries, managers who are practicing boundary-spanning systems are becoming more successful nowadays, as they can work with a wide variety of colleagues of different backgrounds, cultures, expertise, positions, locations, backgrounds, communities, etc and optimize their work, innovation, communication, and growth.
All in all, it is critical for developing collaborative skills, attitudes, and mindsets that would ultimately center around the knowledge, acceptance, and adaptability of multiple perspectives, initiatives, and support systems that can even solve some of the most complex issues quite effectively.
What is the Purpose of Having Boundary Spanning Roles and Organization Structure?
Boundary spanning roles and organizational structure are important for organizations to gain a competitive advantage and ensure long-term sustainability.
An effective boundary spanning strategy would allow the organization to identify, consider, and take advantage of opportunities in the external environment that could be beneficial for the organization. It will also help in managing internal and external issues, such as corporate social responsibility, competitive edge, customer service, and global trends.
In addition, having a boundary spanning role would enable the organization to be more flexible and agile when it comes to meeting the needs of diverse groups within an organization. Such roles would help in creating an open environment where informal communication methods can be adopted and feedback can be shared easily.
Boundary spanning in Horizontal Settings: It is important for organizations to also focus on horizontal or cross-functional boundary spanning. This would involve collaborating across functions, divisions, and departments to ensure that all stakeholders are informed and engaged in creating solutions that will benefit the entire organization.
Boundary spanning in Vertical Settings: Organizations should also focus on vertical boundary spanning, which involves communication between levels of authority. This is important for ensuring that decisions are made in the best interests of the whole organization and not just one individual or department.
Through the boundary spanning role, organizations can also bridge the gap between different departments, roles, and levels of authority to create a unified and cohesive culture across the organization.
5 Boundary Types that Leaders Need to Navigate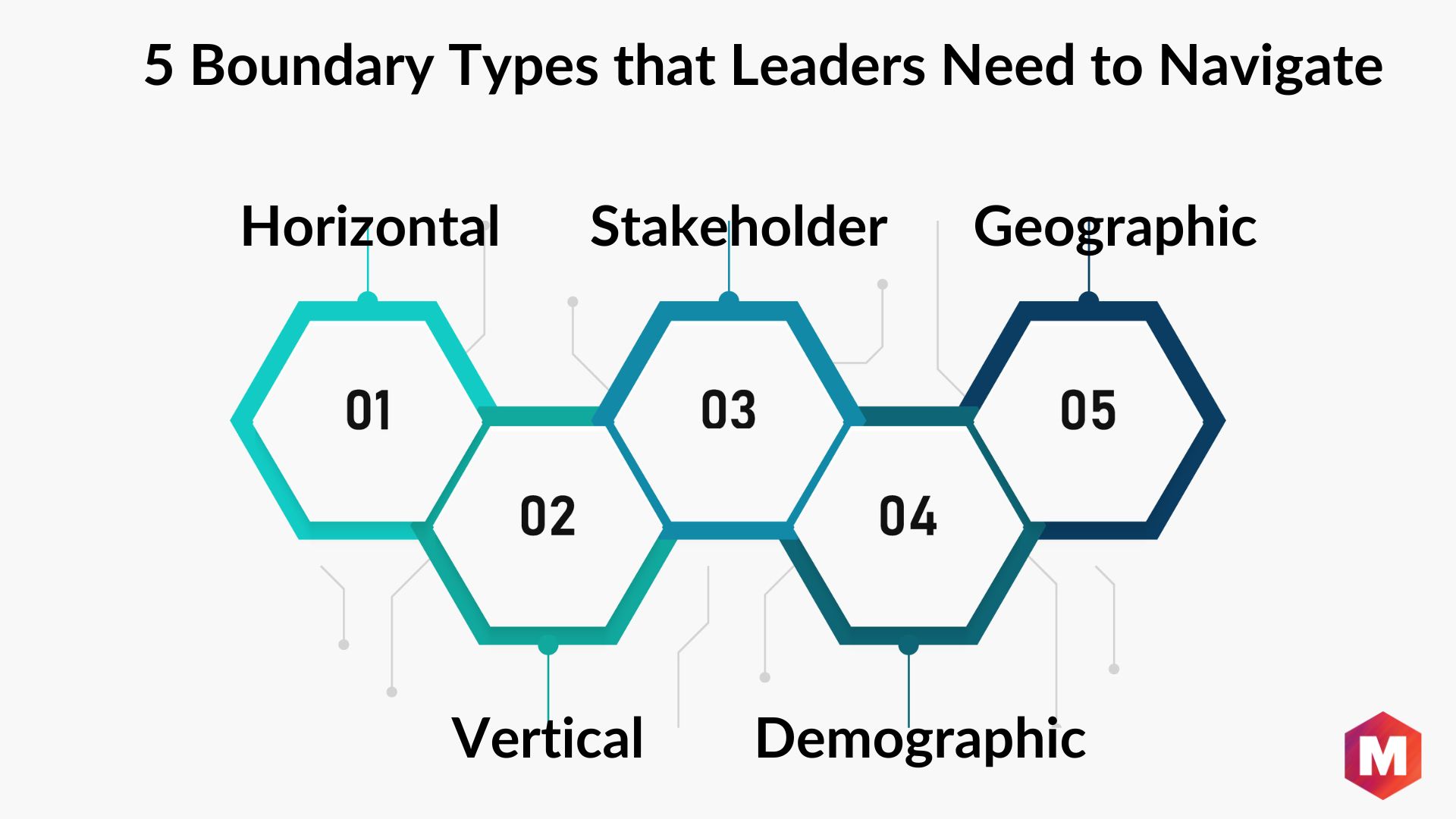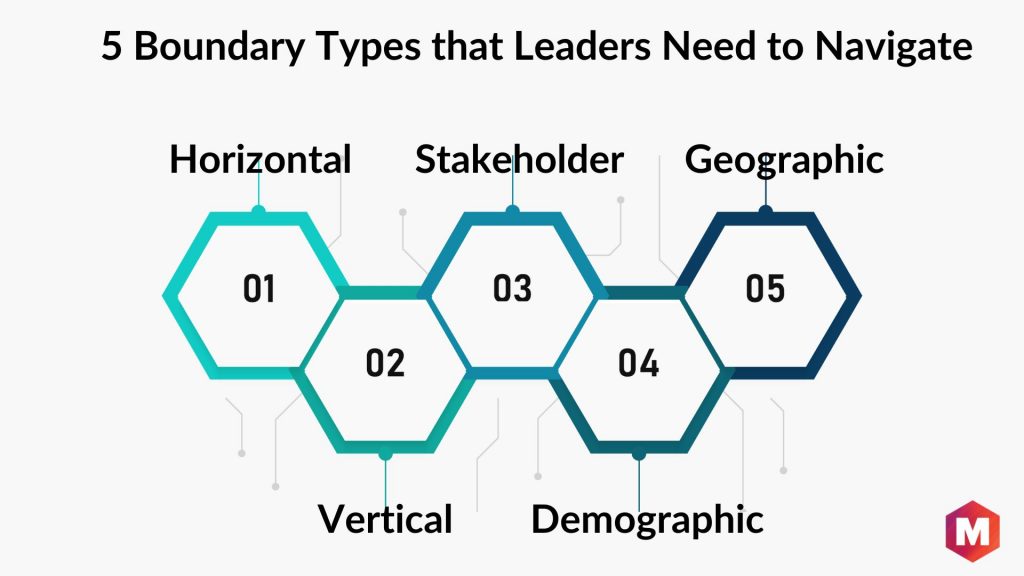 Leadership that navigates across different boundaries helps in collaborating and navigating across boundaries. Different leaders who navigate through some common types of boundaries are understood as boundary spanners. Generally, these boundaries are of five types-
1. Horizontal
These types of boundaries occur between functions of the organizations that are generally associated with expertise, peers, departments, etc.
2. Vertical
Such types of boundaries occur between hierarchical levels of the organizations related to rank, seniority, class, power, authority, etc.
3. Stakeholder
These are associated with different sorts of external groups such as customers, constituencies, partners, value chains, communities, research associates, etc.
4. Demographic
These boundaries revolve around a variety of groups associated with gender, nationality, generation, culture, ideology, personality, etc.
5. Geographic
They occur across a variety of localities associated with regions, distances, markets, etc that leaders need to span through.
Best Practices to Span Across Boundaries
Some of the best boundary-spanning practices are –
1. Looking at the end goal
It is important for the leaders or boundary spanners to always have a look at the end goal for a system and accordingly, they should think of the type of boundaries that they should span through to optimize their success ratio.
2. Developing a common ground is key
For leading successfully, leaders should develop goals that can build common ground. When you focus on the common groundwork, it enables your spinning program to have better greater interdependence and reinvention capabilities across new frontiers on a local or international level.
3. Be creative and Start simple
You should start simply by using one or two tactics that you may easily introduce and implement. Plus, your approach should be creative to access solutions of a wide range across boundaries.
4. Experiment and modify
For accomplishing success in your boundary-spanning leadership, you should always try to experiment and modify your ways of navigating different networks, boundaries, or limitations, as your navigation across boundaries can not always work with a particular tactic. Some of the ways that you may try here are-
4.1. Go somewhere you don't fit
When you try to go somewhere you do not fit, you optimize your adaptation skills, as it lets you solve a specific problem by shifting your perspective around.
4.2 . Work with people you don't like
This is again a very good way to experiment and modify your behavioral inclinations, as this will let you expand across your comfort zone which will ultimately optimize your power of acceptance and abilities to understand different perceptions. It will help you know your weaknesses and skill gaps.
4.3 . Make yourself nervous
It is our fear, nervousness, and anxiety that impede us from working with people who are very different from us. So, when you put yourself in a situation where you feel anxious or nervous, you take risks to expand your horizon. Facing discomfort and uncertainty will empower you to be sharper and more innovative in facing those situations again and hence, it will help you in expanding across boundaries.
How to Span Across Boundaries in an Organization?
1) Within the department
As an individual, you can contact a different individual from the same department to solve a problem. An example would be a sales guy contacting a senior sales guy to solve an issue. The boundary here is just the difference in their levels within the organizations and such boundaries should anyways not exist.
2) Within business units
There can be information and resources exchanged within strategic business units. A most common example is that advertising and marketing costs are generally borne by different business units of the organizations. These units then coordinate within themselves to use the budget appropriately. R&D might coordinate with sales, product management might coordinate with service, and so on and so forth.
3) With other businesses
Many times I have seen that spanning is done when two different businesses want something in common. For example, if 2 businesses have the same customer and the customer wants something unique, then the businesses can collaborate within themselves to give a better solution. Same way, cooperative advertising is a term wherein 3 different business entities are marketing.
Examples of Boundary Spanning
Some of the boundary-spanning examples can be –
Merging: A software developer can merge two separate existing systems into one that is more efficient.
Partnering: A company can partner with another business to develop a new product.
Sharing Resources: Companies often share resources like personnel, information, and money for mutual benefit.
Constructive Conflict Resolution: Companies can come together to resolve conflicts constructively and in the best interests of both sides.
Synergy: Combining two separate entities in an effort to make a new, more valuable entity.
Outsourcing: Companies often outsource certain jobs to other companies with more expertise in the field.
Conclusion!
One point which is most useful for organizations is that spanning a boundary is literally a requirement when you are looking for holistic marketing. Holistic marketing means that the marketing manager is trying to present a united front to the customer. He is trying that each and every customer touchpoint is excellent in its response and it is building the brand for the company.
A holistic approach for organizations can only be achieved through boundary spanning. In an organization, if you want to measure performance and growth, then boundaries will have to be made. But you have to span them from time to time to become a better organization.
FAQs
Q. What is Boundary Spanning Communication?
A. Boundary Spanning Communication is the process of connecting multiple teams, departments, and organizations to achieve common goals. It involves finding ways to bridge different perspectives, cultures, and technologies in order to effectively collaborate across boundaries. It also requires learning how to communicate effectively within each boundary so that information can be efficiently shared and decisions can be made quickly.
Q. What are Boundary Roles?
A. Boundary roles refer to those individuals who are responsible for the exchange of information and resources across different organizations or teams. They act as liaisons or intermediaries between the two groups by employing various methods of communication, problem-solving, and negotiation. Some common boundary roles include project managers, account managers, consultants, trainers, mediators, and facilitators.
Liked this post? Check out the complete series on Marketing