When you run a business, your priority is creating a product that fits well with the requirements of your target customers. Your Value Stream will be those steps that will help you create an offer that kind of product or service that your target audiences are looking for.
In this post, we will dive deep into the world of Value Stream, and try to understand what it is. We will also go through Value Stream Mapping to better learn about the steps that create produce, where value gets added and how the whole process can be improved. So, let us get started with the introduction-
Introduction to the Value Stream
Establishing a business and keeping it stable demands a lot of effort and labor. It comprises several different aspects that majorly include planning, expenditures, execution, and implementation that needs to be taken care of and appropriately assessed for constant growth and a healthy business environment.
There is a procedural chain that initiates from the planning of a product followed by its cost analysis, then moving forward with the actual processing and implementation of the idea and finally producing a finished product.
This chain constitutes a lot of stages wherein cost is added at each mile, and the value of the good is then summed up at the end of the entire process. This whole product generation method involves a commodity commonly known as a value stream.
A value stream is a product in business engineering that does cost evaluation of any item at any specified stage. It even demarcates the value based on internal or external (consumer) parameters, whether production or sales, respectively induce it. It showcases all the activities that have added to the terminating result for a client or shareholder.
A value stream is a merger of the beginning process (creation) and the terminating process (delivery). These are usually referenced in some ways based on their descriptive outlook. Since these depend on all the stages, including the common ones, it is necessary to keep them as small as possible for an efficient outcome.
All in all, value streams are understood as the end to end views on how any particular external or internal stakeholder receives value from a company. These stakeholders are of two types, and hence there are two components of Value Streams. Let us have a look upon those components of value streams-
Elements of the Value Stream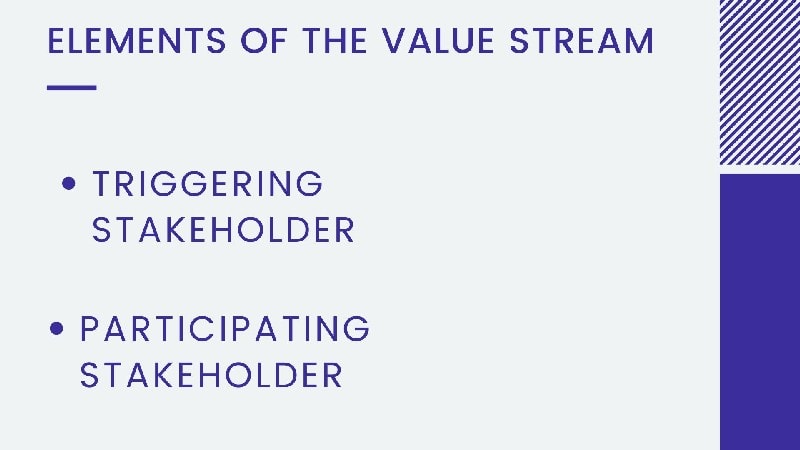 A partner or a stakeholder is a person or organization that invests and becomes a part of a business; the proportion of value spent decides its right and thus share in the industry.
Consequently, value streams are also defined based on this value proportion.
Now, a shareholder can take up any of the two forms in a value stream-
Triggering Stakeholder
Participating Stakeholder
Triggering stakeholders of a Value Stream is the one where an organization or individual takes part in the value stream process as an aftermath of initiating it, thus is known as a triggering partner.
On the contrary, participating stakeholder provides factors equivalent to the delivered value in the stream, hence. Apart from this, the participating shareholders may even receive subsidiary value from it as well.
Understanding the concept of Value Stream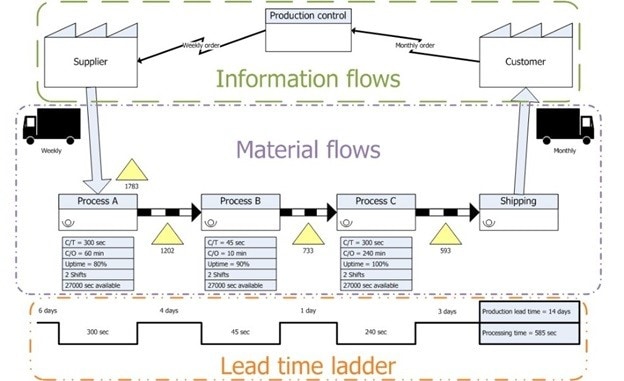 Since the working can undisputedly be exhausting because of the presence of a lot of steps, therefore, to reduce the complexity and have a better and easier understanding, a diagrammatic approach can also be taken under consideration.
The steps from the beginning of the process until the end can be traced and transformed into a diagram, perhaps using a flowchart.
Though implementing the complete layout can be a tedious job to do; its final outlook can still help in regularising the value stream and segregating the inflow and outflow of values at different levels.
A smaller diagram is also suggested for more accurate and efficient results and is even easier to manage. In contrast, a more protracted process may introduce areas of error, and there is a higher risk of inaccuracy and mistakes.
Misconceptions of Value Stream Concept
With every concept comes possible stretches of misinterpretations and errors. A lot of people continue to believe that the value stream is a process and reports how the processing is done; however, it is not a process and explains how the value point is achieved.
It is supposed that the value stream is linked with the diagrammatic process-based method known as the lean methodology of value stream mapping.
There is a considerable difference between the two, while the former gives insight into how a stakeholder gets the share; the latter elaborates on the process involved in locating waste.
Majorly, the value stream focuses on external parameters that include the stakeholders from different organizations; it is a misconception that it keeps track of internal affairs and value is passed on to in house partners.
These are even confused with journey maps whose actual intent is to gain information but on an entirely different criterion with a set of distinct parameters. These maps aim at portraying individualism attained with every customer and emotions.
All these varied fields of misconception add up in deteriorating the real sense of the commodity within the business and affect the numbers substantially.
Value Stream Mapping
A value stream is a stepwise sequence that enumerates value and provides the product or service to the concerned stakeholder or customer depending if it's done on an internal or external basis, respectively.
On the other hand, value stream mapping is a managing element that provides a visual orientation to the stages of the entire process and enhances its productivity with due diligence.
Value stream mapping (VSM) improves the business' credibility, as it imparts a better understanding of the procedure and gives a more straightforward viewpoint to business analytics, thereby improvising the complete process.
Since mapping is comparatively easier to implement, the method can be taught for producing individual products and can be used for any genre of business. It generates a clearer vision about the real cost (value) that is being added and where it is being added, which boosts the overall productivity and effectiveness of the product or service that is to be delivered.
Main Sections of Value Steam Mapping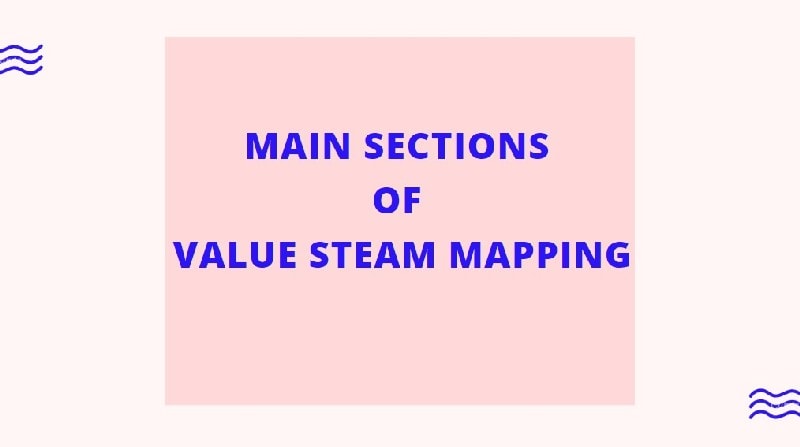 A VSM makes the process simpler and is more beneficial from a company's point of view that delivers a service or from a client's perspective; thus, a lot goes in to bring out a successful map. It's because of these embedded features and various terms that refine any particular process.
Now, with each feature comes a different area to work on, which makes a value stream map unique. It is usually observed that a VS map has colored elements to differentiate between the various predefined sections namely-
1) Information Flow
It produces all the requests and commands being processed and establishes communication between all the information available and facilitates the necessary transmission of data. Based on the target of the map, all the requests are refined and sorted as per the requirements and finally sent to their respective areas of concern.
2) Product Flow
This section is responsible for the entire processing of the information obtained from the first section. It looks after the complete cycle and its development from product creation to its delivery. Again, depending on the type of goal, this section too can be molded as per the needs.
This is an essential section since it briefs about the task that is under process and its assigned team with it. Cycle Time, as well as Set Up Time, abbreviated as C/T and S/T, are also mentioned. To show progress and movement from one stage to another, push arrows are used, and;
3) Time Ladder
It is also known as Lead Time Ladder; here, a comparison is drawn with a ladder to portray a variety of elements that the upper and lower portions of the ladder depict. It defines the basic timeline of the whole processing; the former indicates an average of the time spent while the stages are on standby and the latter sums up the average amount of time when the stage was being operated. This division between the two delivers an exceptional view and better knowledge of the time used.
As follows, these sections hold a definite and essential part in a value stream map as they contribute to creating a simplified and schematic representation of the full operation significantly.
Terminology Used in Value Stream Mapping
Some of the critical terms those are used in VSM are-
1) Lead Time Ladder
It is a compilation of certain aspects that give an estimate of the time taken wholly through the course. These time forms are employed with distinct functions to avoid clustering of the information gathered.
2) Cycle Time and Set-Up Time
They have already been mentioned above, and they denote the time used during each cycle of processing and the time required at the time of setting up respectively.
3) Uptime (%)
It gives a rough idea about the time the stages were being actively worked upon. The stats are generated in a percentage format.
4) Takt Time
It is more like an estimate that tells about the speed or rate at which a product must be processed or delivered to meet a customer's demands.
Benefits of using Value Stream Mapping
The market is flooded with competition, and everyone is pacing up to reach the benchmark. It gets imperative to produce a refined and structured product alongside fulfilling the expectations and demands of the clients and maintaining the face of the company.
With VSM, it gets a lot easier to meet the ends with a systematic approach. It merely binds everything together that smoothens the process and gives an excellent coordinated result.
The vision is direct and bright with a value stream map and does not create the scenarios of varied opinions as it is delivered in a unified way, suiting the interests of not just the client but assigned teams as well.
Different Steps Involved in a Value Stream Mapping
Step 1: Knowing the endpoint is crucial, while a lot of organizations know where to begin from; some continue to contemplate about where to stop. The process is tedious and having boundaries defined helps in structuring the course of stages.
Stage 2: After having an understanding of the initial and final points, the intermediate steps must be defined for a precise movement between the levels and ensuring growth. From sowing to growing and at last shipping, all these stages need to be well defined.
Stage 3: All the requests and information must be collectively studied and segregated to feed into the first section of the map, Information Flow.
Stage 4: Data that gives insight to the time consumed or the intricate details of each process must be gathered to have a better overview of the operation.
Stage 5: The information about the processes and their timeline collected must be carefully summed up on the map.
Stage 6: identify and locate the wastes generated that inhibit growth and profit. As transport does not add to the final value, it is considered to be a waste. The rest of the factors should be crucially examined.
Stage 7: The entire map should be formulated with the data collected from the above pointers.
Drawbacks of Value Stream Mapping
As much as value stream maps make the productivity and utility better, it remains to be a hectic way of sorting since it demands a lot of human resources, timely meetings, reports of each processing and re-evaluation.
Value Stream Wrap Up!
Keeping in mind the various scenarios, it can be quantified that a better solution can be devised to overcome the drawback of being exhaustive and efficient at the same time.
Tallyfy is one such artifact that can be adopted to ease out value stream maps' void. If technology is used right, the speed of processes can be fixed.
However, Value Stream in itself is quite useful in offering you a corporate culture that can provide the best-suited products based upon the requirements and expectations of customers.
Have you ever used Value Stream Mapping in channelizing your business function?
Do you have any example of using Value Stream Mapping? Then share that with us in the comments below.
Liked this post? Check out the complete series on Marketing