Over the years marketers have found several innovative ways to advertize their brands. Ambush Marketing is one of such unique and creative ways of marketing. In general Ambush means "An attack from Hidden Position". In Ambush Marketing, Company capitalize to advertize themselves on the events, in which it's not an official sponsor. There have been numerous examples in which other companies dragged the limelight, without being an official sponsor. Some of the examples are:
FIFA World Cup 2010: Adidas was one of the official sponsors of 2010 FIFA World Cup held in South Africa. Adidas bagged the sponsorship by beating their closest rival NIKE.
NIKE went for Ambush Marketing and launched "Write the Future Campaign". The campaign featured TV commercials consisting of football stars like Rooney, Ronaldo were launched three weeks before the starting of FIFA World Cup. As a result, NIKE was successful in creating a lot of buzz, even before start of World Cup. In a survey published by The Nielsen Company, it was claimed that NIKE was more benefitted from the event, in comparison to official sponsor Adidas. The campaign was so successful that some people misunderstood NIKE as the official sponsors of the World Cup.
Video Commercial "Write The Future Campaign"
Wills Cup 1996: Pepsi was unsuccessful to get sponsorship of 1996 World Cup. But Pepsi used Ambush Marketing to capitalize such event by launching a campaign called "There is nothing official about it". This campaign was targeted to steal the show from Coca-Cola who was official sponsor of the World Cup.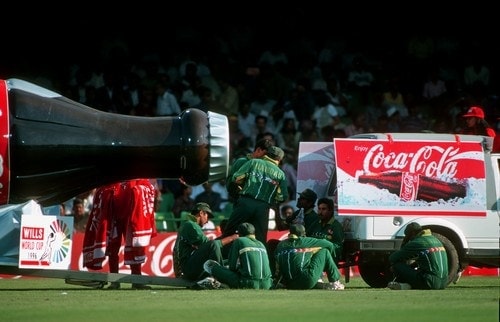 Ambush Marketing still being one of the most cost effective and creative ways of marketing, has still faced a lot of criticism. This criticism mainly comes from the official sponsors, who have spent millions of dollar to get sponsorship. It has been thought increasing use of Ambush Marketing during big events could reduce the value of official sponsorship, which in turn may hinder sponsorship funding.
Upcoming Events: Rugby World Cup 2011

The Rugby World Cup 2011 is one of the most awaited events starting from 9th September in New Zealand. Even before starting of World Cup, Sponsors are worried that some companies may use Ambush Marketing and try to gain popularity through the event at the expense of sponsors. As a result of increasing pressure from sponsors to safeguard their sponsorship rights has forced Government of New Zealand to introduce Anti-Ambush Marketing Legislation as a part of a major Events Management Bill.
This article has been contributed by Manish Badlani who is a management student from IBS (ICFAIBusinessSchool) Mumbai. He is passionate about marketing and likes to analyze the marketing strategies of leading companies as well as the changing trends of the industry.