Performance Based Marketing guarantees that you pay only for the results. It is a type of online marketing where advertisers pay marketing companies depending on the performance of their campaigns.
It is perfect for businesses aiming to target a vast audience since payments are dependent on how audiences respond to your content. This type of digital marketing strategy promises maximum reach and less risk compared to other alternatives. Performance Based Marketing gives you the power to make decisions based on accurate data and analytics.
Performance Marketing is an ideal option for companies looking to increase their ROI. It allows businesses to track, measure and optimize campaigns in real time. Performance Marketing helps you to make the most out of your investments and get maximum returns. It also requires minimal upfront costs, making it ideal for businesses that want to optimize their budget.
What is Performance Based Marketing?
Performance Based Marketing (PBM) is a type of digital marketing strategy that focuses on providing measurable results and clear ROI for marketing efforts. Performance marketing strategies measure the success of a marketing campaign by analyzing how many customers have interacted with the brand, purchased products, or engaged with the content. Performance marketing campaigns focus more on delivering results than traditional brand marketing efforts.
Performance marketing strategy drives not only sales but also encourages loyalty from existing customers and helps create lasting relationships with new ones. Different types of performance marketing campaigns include email, pay-per-click ads, SEM, social media campaigns, content marketing, and more. Performance marketing campaigns focus on a target audience and provide highly personalized content to influence their purchase decisions.
How Performance Marketing Works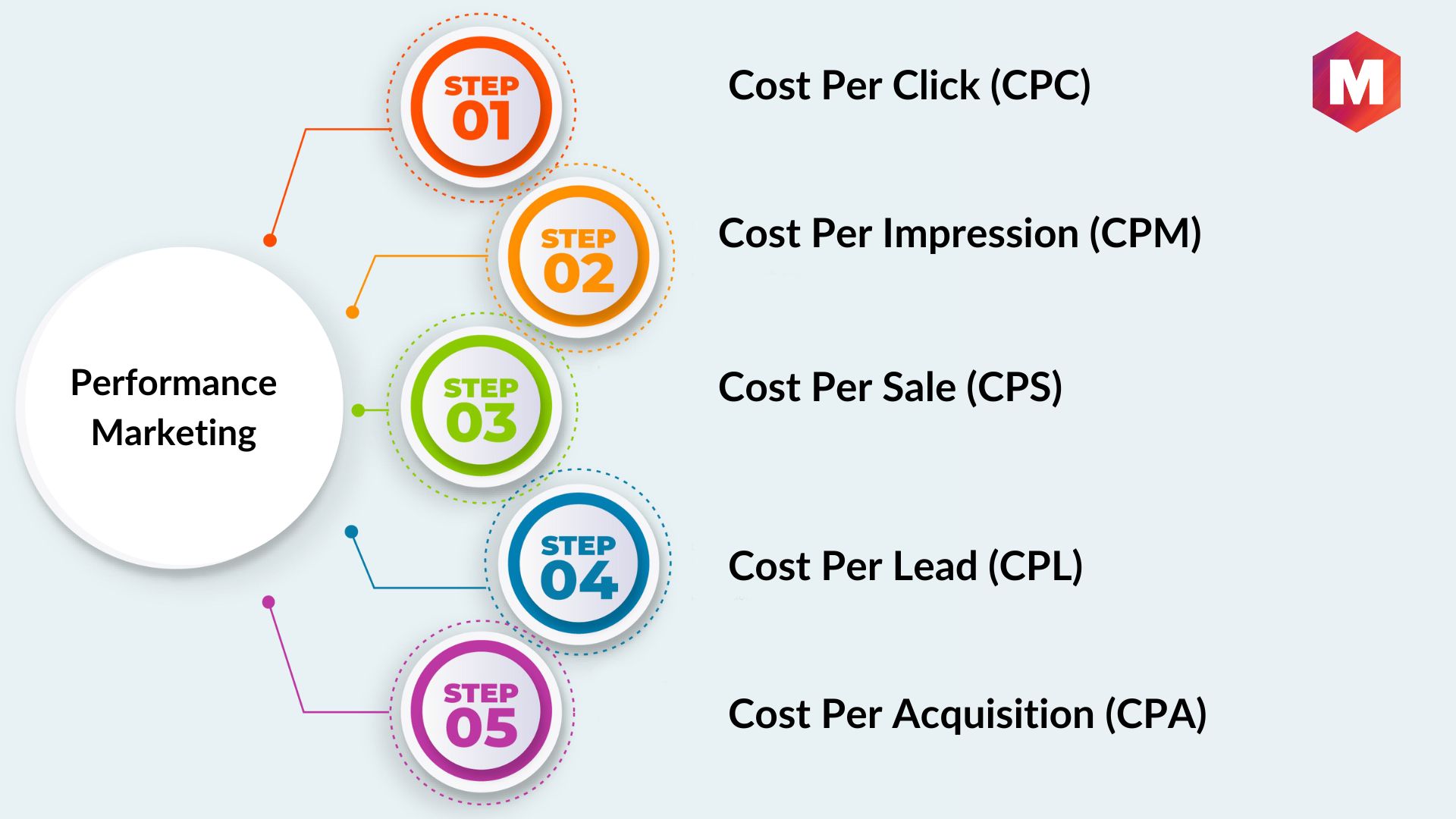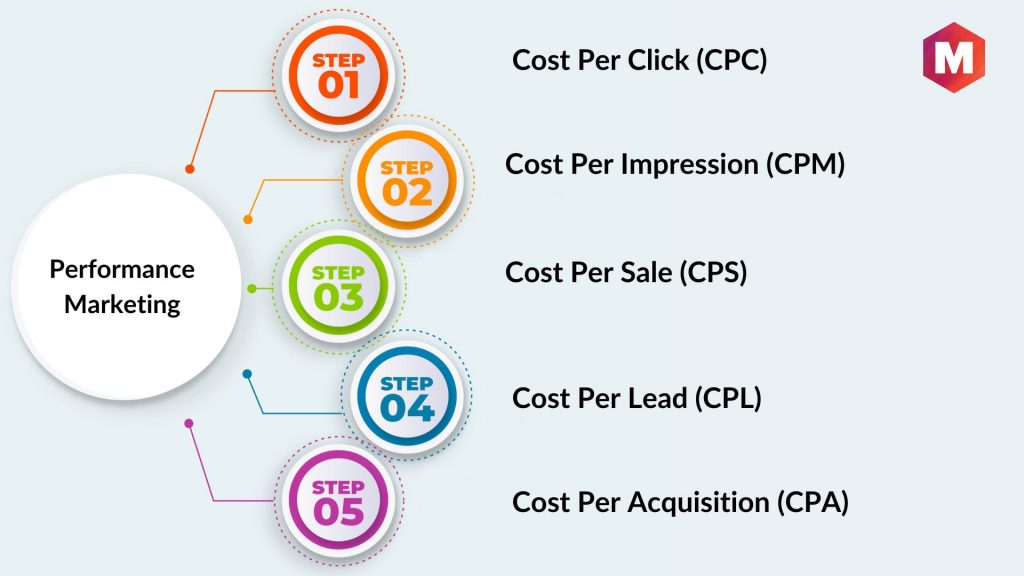 Performance marketing is an incentive-based system that rewards marketers for achieving predetermined results. Rather than being compensated solely for the number of interactions initiated or impressions made, performance marketers are incentivized to generate sales or leads and will benefit from every successful outcome.
Some of the ways through which it works are
1. Cost Per Click (CPC)
Performance marketing through the Cost Per Click model is when advertisers pay for each click on their advertisement. The amount of money paid depends upon the relevance of the ad, the demographic of its audience, and the quality score assigned by search engine algorithms.
2. Cost Per Impression (CPM)
Performance marketing through the Cost Per Impression model is when advertisers are charged based on views or impressions made by potential customers. For example, a banner ad viewed thousands of times can generate revenue for marketers as they're being paid for every view generated regardless of whether any action was taken or not.
3. Cost Per Sale (CPS)
Performance marketing through Cost per Sale model provides a commission-based compensation structure that pays out rewards to marketers once a sale is made. The amount of commission depends on the price of the product or service sold and can range from 5-25% or higher.
4. Cost Per Lead (CPL)
Performance marketing through Cost per Lead model rewards marketers for generating leads that eventually convert into sales. This method differs slightly from cost per acquisition as it only requires a user to submit their contact information rather than make a purchase before being rewarded.
5. Cost Per Acquisition (CPA)
Performance Marketing through Cost per Acquisition model provides the most direct form of compensation since it pays out commissions once customers have made an actual purchase. This particular method has proven to be extremely effective in driving conversions and can provide some of the highest payouts among performance marketing models.
Performance Marketing Channels
1. Banner (Display) Ads
Banner Ads are a Performance Based Brand Marketing tool that enables advertisers to promote their message, products, and services through graphical ads. This method of Performance marketing allows marketers to target potential customers more effectively by using specific strategies like retargeting, targeting a particular audience, and engaging in geo-targeting.
2. Native Advertising
Native Advertising is another Performance Based Marketing channel that facilitates the delivery of highly personalized content in order to engage with the target audience. It involves blending promotional messages into existing content such as website stories, videos, or articles which makes it less intrusive than traditional Performance marketing approaches like banner ads.
3. Content Marketing
Performance-based Content Marketing involves creating branded content in various forms such as blog posts, infographics, and videos to increase brand awareness and engagement with the target audience. Performance-based content marketing is a great way to get your message out there and build relationships with potential customers.
4. Social Media Platforms
Performance-based social media marketing is one of the most powerful Performance Marketing channels. It involves leveraging platforms like Facebook, Twitter, Instagram, and YouTube to engage with the audience in an interactive manner. Performance-based social media marketing enables marketers to reach out to their desired audiences at scale by leveraging different strategies such as influencer marketing, hashtag campaigns, and paid promotions.
5. Search Engine Marketing (SEM)
Performance Based Search Engine Marketing (SEM) utilizes search engine algorithms to increase visibility on search engine result pages (SERPs). Performance-based SEM involves creating optimized content, using relevant keywords, and optimizing website structure which helps to drive more organic traffic. Performance-based SEM also allows for paid ads where businesses can target potential customers by displaying ads when certain search terms are used.
Benefits of Performance Marketing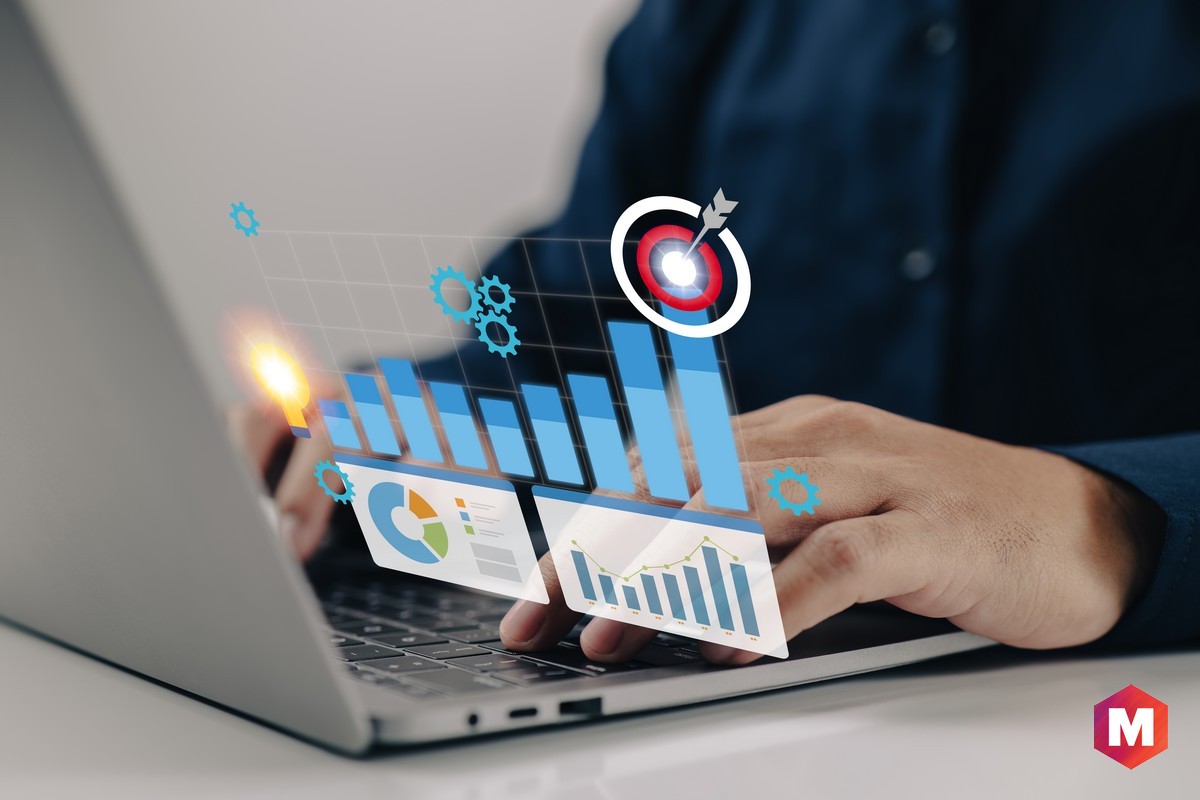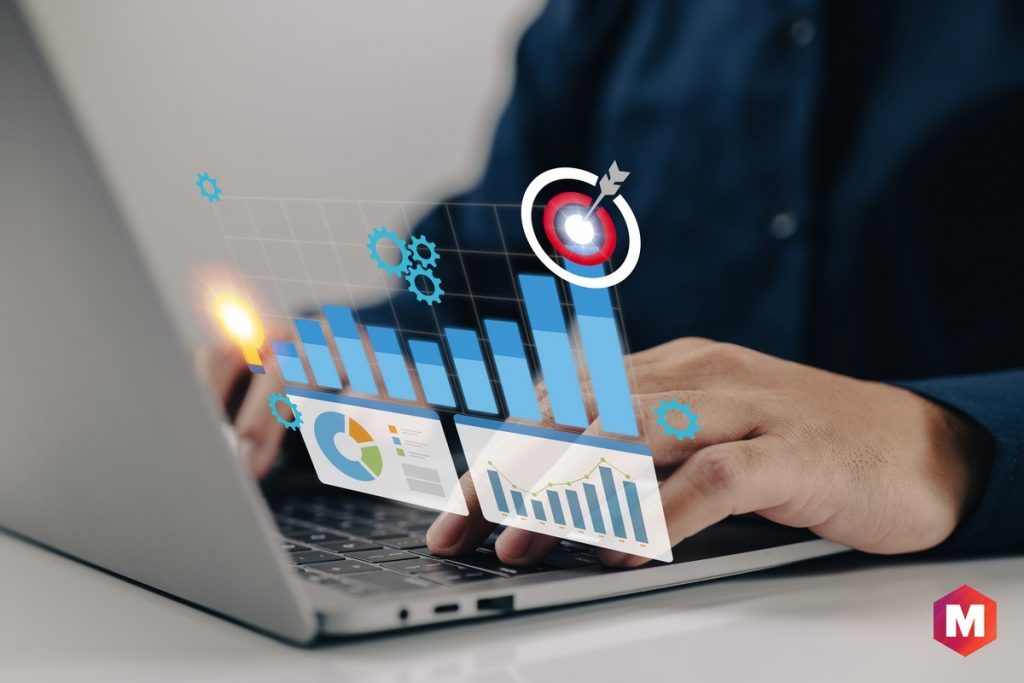 Performance-based marketing offers high-level transparency: It provides marketers with visibility into every step of the process, from ad clicks to conversions. Performance-based models allow marketers to track exactly which parts of their campaigns are working and which aren't, enabling them to adjust in real-time for maximum results.
Performance-based marketing allows you to get the most out of your budget: It focuses on the most successful parts of campaigns, enabling marketing agencies to spend more money on what's working and less on what isn't. This helps maximize ROI.
Performance-based marketing allows for direct targeting: Performance-based models enable marketers to target people who are most likely to be interested in their products, services, and messages. This helps ensure that the right people are being reached with an effective message.
Performance-based marketing provides greater flexibility: Performance-based models allow marketers to adjust campaigns on the fly as needed, ensuring they're always reaching the right audiences with the most effective messaging.
Performance-based marketing is cost-effective: Performance-based models enable marketers to pay only for desired results, eliminating the need to invest more money into campaigns that aren't working. This helps ensure your marketing budget is being spent wisely.
Challenges of Performance-based Marketing
1. Heightened risk of deception or fraud
Performance-based marketing campaigns offer a high degree of transparency, but they also invite fraud. Advertisers pay only when someone takes an action that provides measurable value to the advertiser, such as buying something in a retail store or downloading an app. Therefore, any kind of fraudulent activity can hurt advertisers' bottom line because they are paying for fraudulent actions.
2. Cross-device user journey is difficult to understand
With the proliferation of mobile devices and other digital channels, it is becoming increasingly difficult to understand how users are navigating through different platforms at every step of their journey. Performance marketing campaigns rely heavily on data, so understanding how different users interact with content across various devices is essential to ensure accuracy and optimize performance.
3. Long-term goals may not be prioritized
The focus of a performance marketing campaign is usually short-term, as the goal is to generate immediate results. This can lead to an underpriotization of long-term goals, such as brand building and customer loyalty, which are essential for any business's success. Performance marketing can play a role in these areas, but the focus should always be on delivering higher ROI and measurable results over time.
Steps to measure success in Performance-based Marketing
Establishing business goals: Performance marketing depends on the identification and measurement of goals to ensure that campaigns are successful. It is essential to outline what you want to achieve, such as increasing brand awareness or acquiring new customers. This will give you a benchmark that you can use to measure your performance.
Identifying keywords: Once you have identified your business goals, you need to define the keywords that will be used in your performance marketing campaign. These should be related to the goals you have set and should reflect the audience of your campaign.
Monitoring Performance: Performance measurement is an essential part of Performance- marketing. Once you've launched a campaign, it's important to track its progress and make sure it's meeting its objectives. This means regularly monitoring key metrics such as impressions, clicks, and conversions.
Iterating and Optimizing Tactics: Performance-based marketing requires constant iteration and optimization in order to maximize success. You need to continually assess the performance of each aspect of your campaign – from keywords to creative – and make adjustments accordingly. This could mean altering the messaging of your ads or focusing on different keywords.
Performance-based Payment: Performance-based marketing campaigns allow advertisers to pay marketing companies only when they deliver results. Performance measurement allows the advertiser to make sure their marketing dollars are going to the right place, and that they're getting value for money. Performance-based payment models guarantee that advertisers are only paying for successful campaigns.
What is Performance-Based Advertising?
Performance Based Advertising is a form of digital advertising where an advertiser pays for a desired action to be taken by a customer. This could include anything from making a purchase, subscribing to a service, or downloading an app. Unlike traditional digital advertising campaigns which are typically paid on a CPM (cost per thousand impressions) basis, Performance Based ads are paid on a performance basis.
Rather than the traditional form of display advertising that requires you to pay for ad impressions regardless of whether or not your audience has interacted with them, performance-based advertising enables marketers to get more tangible results and optimize their spending. This type of digital marketing pays advertisers when users click on an ad, make a purchase, or sign up for a service–results that clearly demonstrate success rather than relying solely on impressions.
How Performance Advertising Works?
Defining performance goals: Performance-based advertising starts with setting performance goals. Performance goals are measurable, actionable objectives that guide the success of your marketing campaign and will depend on the type of business you are running. Performance goals could include increasing conversions, driving sales or leads, improving customer engagement, or building brand awareness.
Targeting the right audience: Next up is defining who your audience is so that you can create tailored ads to reach them effectively. Performance Advertising allows you to target specific user segments based on their interests, demographics, and other factors such as age and location.
Choosing the best advertising channels: After selecting the right audience group for Performance Ads, it's time to choose which channels to advertise on. Performance Advertising focuses on creating ads that are displayed to the right audience, in the right context. Performance Advertising allows you to select from a range of channels such as Google Ads, Facebook Ads, LinkedIn Ads, etc.
Crafting your ad content: Performance Ads use highly targeted and personalized ad content tailored to different user segments and contexts. This means crafting engaging copy with persuasive visuals that drive viewers to take action. It's important to craft creative ads for Performance Ads that will stand out in the crowd and attract your desired audience at scale.
Setting bid and budget: Performance campaigns require setting bids and budgets for each channel depending on how competitive the keywords or audiences are within those channels. Performance goals should be taken into account when setting bids and budgets in Performance Ads.
Launching the campaign: Once you've created your Performance Advertising campaign, it's time to launch it! Performance Advertising platforms have automated systems that monitor performance metrics such as impressions, clicks, conversions, etc., and adjust bids accordingly according to the performance goals set for each ad group or keyword.
Tracking Performance: Performance tracking is an essential part of Performance ad campaigns as this allows marketers to assess how well their ads are performing in different channels and user segments at any given point in time. This requires monitoring metrics such as impressions, clicks, cost per click (CPC), cost per acquisition (CPA), return on investment (ROI), etc.
Optimizing Performance: Performance ad campaigns can be constantly optimized and improved by testing different targeting, copy, visuals, or ad formats while tracking performance metrics to identify what works best. Performance optimization helps marketers adjust their Performance Advertising campaign within a shorter period of time towards achieving desired performance goals.
FAQs
1. How to know if performance-based marketing strategies are right for your business?
Performance marketing can be a great way to drive more qualified leads and sales for your business. To determine whether Performance-Based marketing is right for you, consider your budget, goals, and desired return on investment. Performance marketing requires a financial commitment upfront, so it is important to understand the cost and expected return you should expect from your campaigns.
2. What is the difference between performance marketing and digital marketing?
Performance marketing is a special type of digital advertising where you only need to make payments when specific objectives are realized. Digital marketing covers many distinct plans, pricing structures, and distribution channels, however, unlike performance marketing, a digital marketing campaign is not necessarily focused on performance.
3. Is performance-based marketing a scam?
Performance Marketing is totally credible and not a fraud. In fact, it's an incredibly advantageous industry for businesses; they're able to pay fees based on results while keeping their spending limited to remarketing and brand bidding strategies.
Conclusion!
In the end, Performance Based Marketing is an invaluable tool for business owners, allowing them to measure the success of their marketing activities and adjust their campaigns according to customer feedback and search engine trends. Performance Based Marketing also enhances positive consumer perceptions, as it allows businesses to market their services more effectively and efficiently.
As the digital marketing landscape evolves, Performance Based Marketing offers business owners a reliable and effective way to measure their performance and optimize their campaigns to reach their target audience on search engines and other paid advertising mediums.
Here is a video by Marketing91 on Performance-based marketing.
Liked this post? Check out the complete series on Marketing