Internal marketing is the internal promotion of a company's mission, goals, products, and services with the employees and staff members with an objective to help employees understand the organization better and optimize employee engagement.
An example of internal marketing is engaging with the employees in the company's vision and mission. In this process, companies use different channels like internal newsletters, emails, intranet websites, etc, to spread their messaging and ensure successful internal marketing campaigns.
The goals and intentions of the internal marketing efforts of companies are quite different than their external marketing campaigns. By running external campaigns, companies expect to widen their market presence, generate leads, and boost sales while via internal marketing campaigns, companies optimize employee engagement, employee awareness, and employee brand advocacy.
What is Internal Marketing?
Internal marketing is a strategic approach aiming to foster a company's vision, mission, and values within its workforce. It's a process designed to align, motivate, and empower employees, transforming them into active brand advocates.
This approach enhances organizational culture, employee satisfaction, and ultimately, the overall business performance. In internal marketing, the company treats its employees as internal customers. The company ensures its employee's well-being. Hence an effective internal marketing strategy depends on the internal customer's experience in the organization.
Human resources are the main component when it comes to internal marketing. This is for the fact that human resources are responsible for the employee. Through proper communication, it becomes easy for the company to impart adequate training to their staff. Hence resulting in the employees achieving the desired goals.
Importance of Internal Marketing
External marketing helps in achieving the company's goal through brand awareness and sales. In comparison, internal marketing promotes the company's values among the employees that help achieve success.
It is one of the most effective ways to earn employees' enthusiasm for the brand. Such employees are more motivated in increasing their productivity, plus they communicate with enthusiasm with the customers or clients and act as brand advocates. Internal marketing is one of the most important factors behind optimized employee engagement and retention.
Via internal marketing, an organization enjoys a competitive advantage by offering a consistent flow of information and talking points to their employees (in the form of the most current available information) which they can use while interacting with the target audiences or prospects.
All in all, businesses or organizations should incorporate internal marketing strategies to enjoy increased employee engagement that helps in meeting organizational goals. It also strengthens brand values among the employees and helps in empowering the staff, which assists in providing efficient service to the customers.
Components
As internal marketing is the promotion of the brand or business within the organization, the following are some of its essential components that will let your employees and staffs believe in the brand and work as brand ambassadors-
1. Corporate strategy
A result-oriented cooperate strategy helps in narrating the company's mission, values, and objectives. It ensures the proper allocation of the company's resources. With the help of the cooperate strategy, a company can help enhance the employee's experience.
2. Trusting relationship
A good relationship between an employee and its management is important for internal marketing. Employees, when motivated, produce better which results in the company recognizing their efforts. Achieving this result requires a certain level of trust among the employee and management.
3. Effective Internal Communication
Communication plays a big part in internal marketing. Information should be conveyed to the employees at all levels to ensure a speedy and better result. Miscommunication and refraining from sharing certain information could lead to an inefficient result.
4. Experience of the employees
Employees' experience matters a lot and especially the newly-hired ones. Such employees should be inculcated with the company's values, culture, and mission at the time of their training period. A positive experience ensures a better result from the employees.
5. Culture and Value followed in the workplace.
Culture and the values of a workplace have a direct impact on the employees. The employees will feel more motivated to do their work in a positive environment. Managers who appreciate the contribution of the employees ensure a good result from the overall department.
Types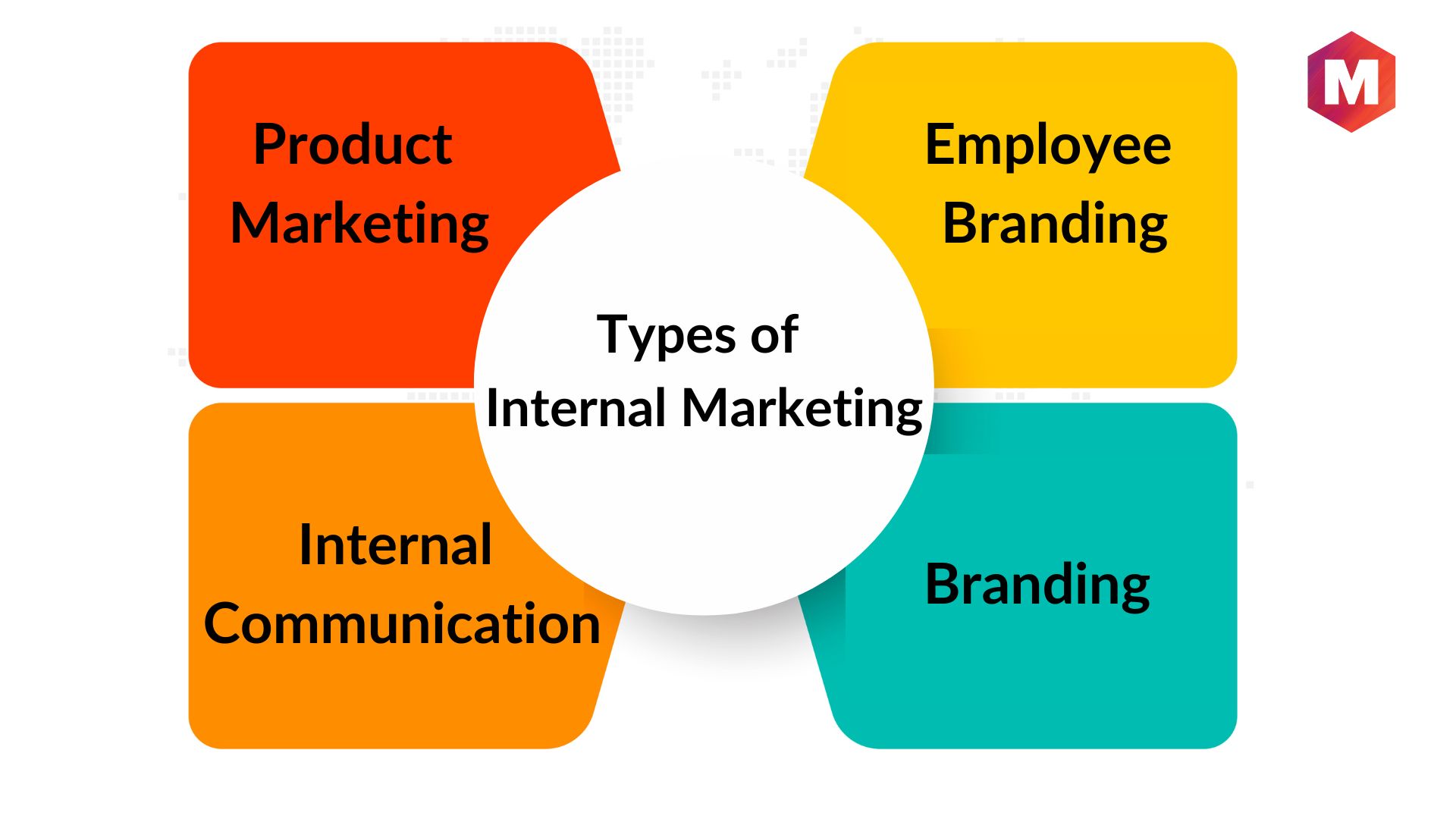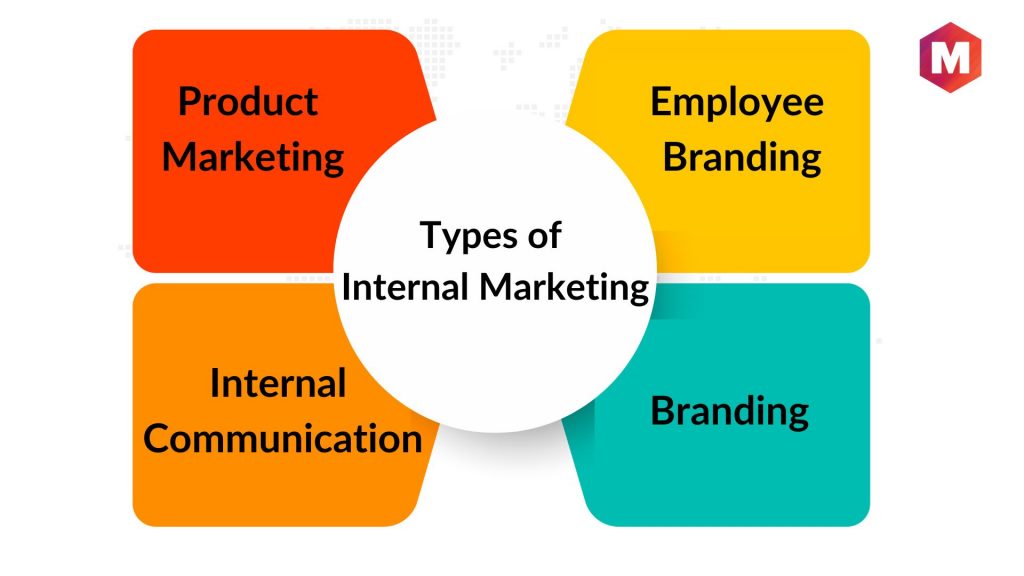 1. Product Marketing: Product marketing is a facet of internal marketing that focuses on promoting and selling the company's products or services internally. Employees should be well-versed with what the company offers, it enables them to effectively communicate with potential customers, and build meaningful relationships based on trust and confidence in the company's offerings.
2. Employee Branding: Employee branding is a strategic approach to internal marketing where employees are not only seen as workers but also as advocates for the company's brand. It involves empowering employees to represent and live the brand, thus influencing their attitudes, behaviors, and interactions with customers. Brands that successfully leverage employee branding have employees who are genuinely passionate about their company and act as brand ambassadors both inside and outside the workplace.
3. Branding: Branding in the sphere of internal marketing refers to the process of shaping employees' perceptions of the company's brand. It involves creating a strong, positive image of the company within the minds of the employees, making them feel proud to be part of the organization, and motivating them to uphold and advance the brand's reputation and values.
4. Internal Communication: Internal Communication revolves around the exchange of information, ideas, and feedback within the organization. The internal marketing team facilitates clear, open, and two-way communication between different levels of the organization, enhancing understanding, collaboration, and transparency. Effective internal communication ensures that every employee is aligned with the company's goals and strategies, leading to improved productivity and overall company performance.
Internal Marketing Strategies that Companies Can Use
Organizations of any size can implement an internal marketing campaign. One has to focus on training their employees. So that it results in making the employees more efficient in their work, it is natural that when the employees have a positive experience, it will be passed down to the customer.
Given below are some of the internal marketing tactics which the company should use-
Find out the areas where the organization comes in contact with its market. Then make sure that the employees who come in direct contact with the customers be trained by the company properly
Get feedback from the best performers about HR issues and the effectiveness of internal marketing strategies, as feedbacks are essential as it points out the area of improvement
Use of the newsletter and related sources to spread the organization's culture, vision, values, and goals
Opening up the product or services to employees to use and getting involved in educating employees about company products or services
At the time when employees are trained, impart them with the necessary knowledge on marketing strategy
Any relevant information should be easily accessible, plus employees should be given incentives according to their performance.
Conduct training programs for the employees at every level and encourage the employees to participate in the various organizational activities
Highlight the success of the employee's contribution and encourage collaboration among the department for better results
Letting employees know that their contributions matter and are essential to the success of the company
Role of Communication in a Successful Internal Marketing Strategy
Effective communication is key to internal marketing. Due to the proper flow of communication, it becomes easier to translate the company's vision and goal to the employee.
This results in aligning employees' results to achieve the company's objective.
However, to establish a proper flow of communication, a company should tackle the following challenges in the given area;
Communication flow from the top management to the low-level associate
Change in strategy due to employee feedback
Encourage the engagement of all the employees
Measuring the internal communication performance regularly
Internal Marketing Communications Trends for 2023
The importance of internal marketing is increasing day by day. Digitalization and the enhanced flow of data have pushed companies to adopt new communication strategies.
In 2023, it is expected that companies will prioritize employee experience while focusing on the following trends-
Hybrid work communications which is the combination of remote and office workers
A data-driven approach for measuring employee engagement, performance, and communication strength in the organization.
Video communication via video conferencing tools has gained immense popularity
Employee recognition by recognizing and rewarding employees' efforts
Focus on employee well-being by providing a better working environment
Virtual team building activities to bridge the gap between remote and office workers.
By focusing on these trends, a company can ensure effective communication within the organization which will help in achieving organizational goals. This highlights the importance of internal marketing for any business's success.
Who is involved in Internal Marketing
Internal marketing is a collective effort from the company to impart values to its employees. Almost all the employees are involved in internal marketing.
However, a few key figures have to be involved in making the campaign successful such as-
Company leaders
Human resource manager
Marketing Manager
Brand manager
They are responsible for making internal marketing strategies, and associated materials, and sharing the message internally within the organization to let the employees and staff be engaged and result-driven.
Benefits of Internal Marketing
Given below are the benefits of Internal marketing.
Every employee feels a sense of responsibility due to their involvement. Hence ensuring a good result.
Communication between the management and the employees becomes transparent.
Employees' contributions are valued.
Improves employees' work performance.
Ingrain the company's culture and values into the employees.
Improved awareness.
How to Make an Internal Marketing Strategy?
To get an excellent result, it is important to plan a systematic internal marketing strategy. Follow the given procedure for the successful implementation of the internal marketing strategy;
1. Building a team
To implement an internal marketing strategy, first, one needs to involve HR. This is because HR professionals are first in line when it comes to dealing with employees. Next, include marketing and business professionals who have an understanding of the brand. One needs an individual who can properly communicate with the employees regarding work culture.
2. Evaluating Internal marketing strategy
Track the internal marketing that is already happening within the organization. Understand how it is working by keeping track of its progress and assessing all the necessary points. Evaluating the strategy is necessary to know its result. If there is any problem, one can make the necessary changes.
3. Collect data from marketing messages and training sessions
Collecting data is an important aspect of devising effective internal marketing strategies. One has to make sure that the company's goal and the employees are on the same page. Receiving an employee's personal opinion of the company's product or service is necessary. During the training session, the company should be open to new ideas and criticism. This encourages the recruits to further participate in future company activities.
4. Involve everyone
The success of internal marketing depends on how much the employees are involved. Employee engagement is necessary for better results. The team should be aware of the current happening of the company.
5. Follow-up
Even after achieving a successful result from internal marketing, one has to be open to feedback. Impart necessary training and values to the employees. Conduct a meeting with the management to discuss how to get a more desired result. And lastly, keep the employees up to date on the company's performance.
Here is a video by Marketing91 on Internal Marketing.
Examples of Internal Marketing Strategies
1. Employee Feedback Form: It is used to encourage employees to write feedback or put their suggestions by filling out the feedback form. It develops a company culture in which everyone in the company feels that their perception and suggestion are valued by the authorities.
2. Employee Satisfaction Survey: Employees can determine the satisfaction level of an employee by conducting a periodic survey. In this way, organizations can understand the employees' needs and demands. It also helps in increasing job security and making employees feel valued.
3. Online Discussion Forum: An online discussion forum is used for internal discussion between employees, managers, and other team members. It provides an opportunity for employees to express their opinions and provide suggestions in a constructive way. This increases the level of employee engagement.
4. Intranet: The intranet is used as a platform for communication between employees and management. It allows quick access to information, policies, and updates from the organization. It also helps in reducing miscommunication and increasing employee efficiency.
Internal Marketing vs External Marketing Efforts
| | Internal Marketing | External Marketing |
| --- | --- | --- |
| Definition | Activities aimed at creating a better working environment for employees. Includes tactics like team-building activities, employee recognition programs, training initiatives, and interactive workshops. | Activities that involve promotion or advertising outside of the organization. Includes tactics like email campaigns, digital ads, and events aimed at reaching the target audience. |
| Impact | Enhances employee morale, motivation, and productivity. This can lead to lower staff turnover rates and higher customer satisfaction. | Increases brand visibility, customer base, and revenue. It helps to create a positive image of the organization in the market. |
| Examples | Employee feedback forms, brand authenticity activities, team-building exercises etc | Digital advertising campaigns, email marketing initiatives, trade shows and events etc. |
External marketing efforts are activities that involve promotion or advertising outside of your organization and are aimed at achieving an organization's goals. It includes email campaigns, digital ads, events, etc., to reach out to the right target audience.
Internal marketing efforts are focused on creating a better working environment for your employees; it includes tactics such as team-building activities, employee recognition programs, training initiatives, and interactive workshops.
How to Include Employee Benefits in Internal Marketing?
Employee benefits are a great way to show that you value and appreciate your employees. It's important to make sure the employee benefits align with company goals and objectives, and that they're communicated effectively to maximize their impact. Here are some examples of how you can include employee benefits in your internal marketing efforts:
Offer flexible working hours or work-from-home options to increase employee satisfaction and productivity.
Provide unique and exciting team-building activities that promote collaboration and camaraderie.
Offer rewards or recognition programs, such as gift cards or special discounts, to recognize employees for their hard work.
Invest in professional development opportunities to help employees gain the necessary skills to reach their career goals.
Launch a referral program to incentivize employees to refer friends and family to the organization.
Create an employee wellness program that focuses on physical, mental, and emotional well-being.
Provide access to exclusive products or services for employees only as an added incentive.
Liked this post? Check out the complete series on Marketing