Definition : A team is a group of people with distinct skillsets and abilities. People work together as team members follow an organizational culture to achieve a common goal or objective via mutual support.
Different types of teams like self-managed teams, cross-functional teams, work teams, or process improvement teams work together to get the team work done decided in a decision making process of the team members.
What is a team?
The word "team" talks about the collective effort of a group of people who work together to achieve a particular solution.
In simple words, it is where a group of individuals come together pooling aside their individual opinions and differences to accomplish a specific team goal.
The individuals who form the team have to have a standard set of objectives and goals while maintaining the same level and line of thinking.
Compatibility is a fundamental concept in a team, and every individual has to be compatible to work together to achieve the group's common goal.
Difference between a Team & Group
Though a team is a group of people, a group is not essentially a team.
A group can have individuals of different inclinations, attitudes, interests, and thought processes, but it is not essential that all group members will have any common goal. While on the other hand, team members have a common goal.
Why use a Team?
Teams are a very valuable addition to an organization today. Working collectively in a team brings many advantages to the table, even on an individual basis.
Some of the team's benefits and values that are brought to the table are given below as follows.
There are several reasons discussed above that show the value and need for good teams.
Following are some reasons why an organization should adopt teams for their work towards maximum productivity:
There is an effective flow of information across all sectors of the team.
With a collective effort, a greater proportion of skill and knowledge is presented to solve the problem.
Better decisions are made than those made individually.
The problems to be encountered are defined and cleared sooner in comparison.
Team members learn and gain experience from the functioning of their co-members
The overall effort promotes a collective sense of belonging to the organization, and there is an increased cohesion as time passes.
The overall morale of the team improves with time.
In comparison to individual efforts, much more is achieved collectively in a team.
By the elimination of effort duplication, there is lesser wastage of time and resources.
There is a reduction in missing deadlines and absenteeism, plus the management work is shared.
In comparison to individual work, the team pools in a collective effort to achieve tougher goals.
It also encourages members and the entire team to take risks together and it relieves stress for all individuals.
There is a faster learning curve when different people are involved, plus team culture leads to an increased sense of motivation and morale of employees.
Types of Teams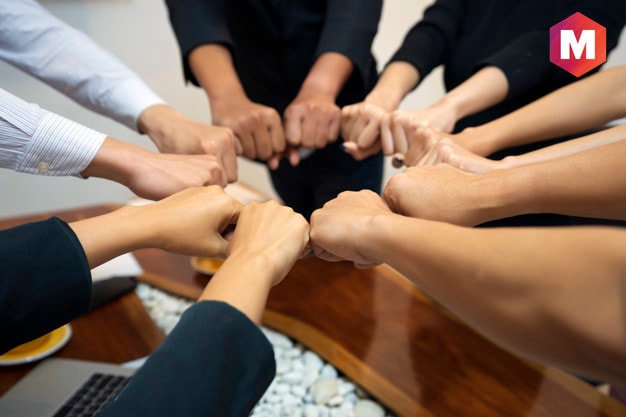 The modern concepts of teams rose from employment initiatives and quality circles in the United States in the 1970s.
These are not seen in integration with such activities today, rather seen as normal activities at work. The following are the types of teams usually are found within the business environment:
1. Work Groups or Natural Teams
These are also known as natural teams and are responsible for particular processes. These work collectively towards the completion of a task in a participative environment. There, however, is a varying degree of autonomy and authority exercised either relatively or entirely.
2. Project Teams
Project teams refer to the types of teams in which groups of employees work collectively toward a shared goal. Such teams let team leaders structure work in a specific, time-constrained, and measurable manner.
3. Self-Managed Teams
These are the teams that are predominantly in charge of their respective departments or processes' day-to-day operations. They have to make decisions on various issues like quality, safety, personnel, scheduling, and maintenance. Managers generally see their responsibilities, as the resolution of conflicts, assignment allocation, and goal-setting.
4. Functional Teams
When it comes to what is a team, then understanding functional and cross-functional teams are the most common team concepts. Such teams are permanent and always incorporate the members of one department. In this type of team, line management does effective decision making.
5. Cross-Functional Teams
A cross-functional team is made up of members from different departments. Such types of teams tackle specific tasks that require a wide variety of inputs and expertise. Such teams offer greater speed of task completion.
6. Process Improvement Teams
These are the "project teams" that focus on the development or improvement of certain business processes. They are pooled together towards achieving a common goal and have to follow a well-prepared project plan, with a decided beginning and end.
7. Matrix Teams
Such types of teams are also understood as a "two-boss system" in which a team member reports to a different manager for the distinct aspect of his or her work. Such teams are an integral part of the Matrix management approach.
8. Contract Teams
Contract teams refer to the outsourced teams that are associated with a contract. Such types of teams are contracted for completing any specific part of a project. Once the contract ends, the client would cut all ties with the contract team.
9. Virtual Teams
Such types of teams are made up of people who work from different physical locations. Virtual work teams function mainly via some sorts of collaboration tools to get things done together. Working together virtually offers a better life-work balance.
10. Operational Teams
Such sorts of teams are designed for supporting other types of team members. Operation teams are made to making sure that all the sorts of back-office processes occur in a hassle-free manner.
Here is a video by Marketing91 on Teams.
Characteristics of Successful Teams
A group can involve people who have varied interests, inclinations, and goals, and a team has to have people looking for the same direction of purpose.
In reality, the organization has to be very careful with the alignment and direction of teams. Some different individuals and teams have to link with other teams while maintaining a good understanding and coordination.
The value of a team can be shown only when interrelationships exist between the process and individual, organizational units, and these have a fair amount of impact on the cost, productivity, and quality of the team.
Following are the common characteristics that are found, ineffective teams:
There is an open and direct mode of communication.
The team supports and values good leadership.
There are good knowledge, understanding, and support surrounding the primary mission and objective of the team.
The extent of the excellent performance of the team is given as part of a regular view.
There is an excellent and collective organization of the team.
The team's functioning, performance, budgets, skills, and facilities are given enough resources.
With the use of a collective sense of synergy, the team's collective performance outweighs that of individual members.
Wrapping Up!
Successful teams have trust among all team members regardless of the underlying situation, and collaboration among all members for specific tasks and goals.
Working together alleviates the completion of tasks. An effective team has a specific and well-defined set of rules and responsibilities for different team members.
How effective do you find team members in completing an organizational goal in comparison to an individual effort?
Liked this post? Check out the complete series on Team Management