Mass Marketing was common in an era when differentiated marketing or targeted marketing was NOT needed. Today, with so many brands that surround us, the brand needs to connect with us on our level, so that we end up buying the brand.
Even a small thing such as a Pen is branded (Parker, Mont Blanc) and it is now being used as a gifting item or as an item which is bought when one rises socially in their own life. This branding is possible only through differentiated marketing and hence Mass marketing is seldom being used.
However, even in the above example of Pens such as Parker and Mont Blanc (which are sold on the basis of their branding and heritage) there are many pens which are mass marketed. This is because ultimately these pens complete a need – A need to write. And that's all a pen is – something to write with.
When the product completes the need of the customer, it uses Mass marketing. There are many products out there which are need based products, and they do no meet the "demands" or the "wants" of a customer.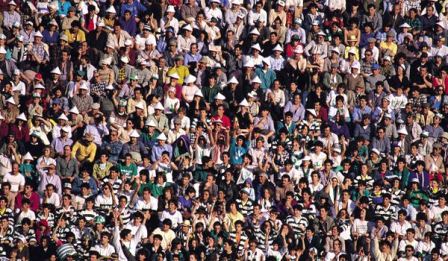 Mass marketing definition
Mass marketing is a market coverage strategy in which a firm decides to ignore market segment differences and appeal the whole market with one offer or one strategy.
Examples of mass marketing
Telecom operators generally use mass marketing because telecommunications is a service used by many. Soaps and detergents use mass marketing. Many Deodarants and personal hygiene products use mass marketing because they are used by the complete market.
Marketing to the masses is common in certain sectors like FMCG, Consumer durable and certain types of Services. However, for any brand which wants to target the wants and demands of the customers, they have to use differentiated marketing. They cannot continue with mass marketing.
Certain core features of mass marketing are as follows
mass marketing is generally targets a huge group of individuals.
mass marketing commonly uses Mass media but the message used is also not differentiated (unlike in differentiated marketing where mass media is used with a targeted message)
The objective is of a scattergun approach – hit as many people as you can to get some returns (differentiated marketing is a sniper type approach – hit the target only).
Majorly used for brand building and brand recall efforts or to introduce a new offer in the market.
Note that Mass marketing is not a drain of money. The objective of mass marketing is to optimize sales and reach the customer or make the customer aware about the brand. A new company which has just started will generally use mass marketing so as to increase awareness in the market. Once the company is established, it will start using differentiated marketing.
Why Use of Mass Marketing campaigns has reduced?
Most commonly, nowadays businesses use mass marketing when all their outlets or their service centres are offering the same services (which can be consumed by anyone). Alternatively, by considering long term as well as short term profits, a firm can decide entering into mass marketing so as to gain market share.