You may have often heard about "mystery shopping". But, do you really know what mystery shopping is? Let's find out.
What is Mystery Shopping?
Mystery shopping is a procedure wherein, an individual or a team is sent to a venue to study certain aspects of service. These aspects may be a few or several in number, depending on the aim of the company and the problem at hand. It must be noted that this location may be a general store, mall, restaurant or café, or even a bank branch.
Basically, mystery shopping can be any place where clients and customers visit regularly. The main aim behind this is to help the management and marketing team identify shortcomings in service and identify ways to combat the problems. The primary motive of mystery shopping is to enhance the experience of consumers.
Companies may hire mystery shopping agencies to allocate work and make their task easier. These agencies have the tedious work of providing individuals who meet the criteria of the target shoppers and may easily fit into the crowd while doing a mystery shopping.
Remember, this work is to be done without letting the venue owners know that the person has been sent by the management to make an anonymous study. These are known and referred to as mystery shoppers.
These people are given a prepared set of questions that they need to answer based on their experience and make observations relevant to them while doing mystery shopping. Certain training may also be imparted in mystery shopping on how to measure the parameters that are stated.
Once he provides his valued and unbiased feedback, the mystery shopping agency is entrusted with the responsibility of compiling and analyzing the data.
Finally, it is handed over to the marketing team and management who collectively interpret the results and suggest curative measures to be undertaken immediately or gradually over time and check whether their mystery shopping went right. Changes suggested may be short term or long term, as the case may be.
It must be noted that mystery shoppers are not full-time workers. On the contrary, they are most freelance workers who are paid depending on the number of mystery shopping audits that they engage in.
Payment is provided as per the arrangement that is made beforehand and since it is not a job or internship, there is no official offer letter or termination certificate in mystery shopping.
Mystery Shopping – Skills and Characteristics of good mystery shoppers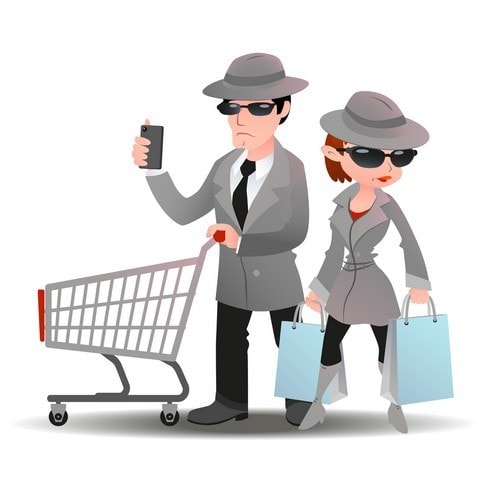 Not everyone is a born achiever. But, results can be achieved if one works hard and applied themselves thoroughly to obtain excellence and perfection. Similar is the case with mystery shoppers.
Certain skills and characteristics of mystery shopping are essential pre-requisites to be successful freelance mystery shoppers. A few of them are as noted and explained below:
Obedient and Active: This is very important for those to wish to become mystery shoppers. This means the ability to properly follow directions that re provided to them. Timely activity and work are extremely significant. Each client clearly defines his requirements and what his expectations are. Thus, the mystery shoppers need to do as directed without feeling that he is the boss or fanning the fire of any unnecessary superiority. Particular facets such as timely reporting, punctuality at the venue, and active physique and mind must be kept in mind.
Truthfulness: Every mystery shopped must be unbiased. He must be objective in his approach to work and should not be influenced by external factors such as bribes or momentary attention provided by the venue owners and ground-level management. The report must be honest since the main aim of the company eventually is to gather true feedback and identify areas where there can be a substantial improvement to increase sales. It is imperative to be reliable or no one would ever be interested in further deals and offers.
The ability to fit in: This means how friendly a mystery shopper is in order to be able to gel with the crowd where he is sent. This is the means to extract valuable feedback from the other customers who feel that they are sharing their feelings are grievances with not a stranger but someone of their own who they have known dearly. Besides, the company must also be at ease to share exactly what they are looking for. Hidden motives and secrets remain unattended and may prove the entire exercise to be futile.
On-point writer: All the results that are gathered need to be submitted in the form of a written and clearly worded report. Thus, it is very important to be able to express thoughts, feedback, reviews, answer, and data gathered from interacting with others absolutely flawlessly. A good vocabulary is required to pick the appropriate words and phrases. There is no scope for making a mistake because little errors may go a long way in conveying wrong or faulty information. This is not an essay that has to be written creatively. This is more like a journal that needs to point out factual information that follows a sequence. It must be organized so that it is easy to understand. The sentences must be clear in their meaning and should not give rise to doubts in the minds of the reader.
Keen observation and outstanding memory: Both of these are key skills and characteristics of good mystery shoppers. It is necessary for minute details such as the behavior at the customer service counter, service at the cash counter, help provided by salesmen, etc. little things must also be remembered well since writing it at the venue is not possible and must be retained till later.
Pros and Cons of Mystery shopping in Companies

However, mystery shopping also has its own sets of pros and cons just like every coin has two sides to it.
While the pros of mystery shopping are:
Being ahead of all competitors.
Analyzing how new policies should be implemented and how far they are successful.
Evaluating the work of employees and designing further training.
Honest reviews and opinions which are free from any prejudice.
The cons include elements in mystery shopping are:
Less information is collected when compared to online surveys and polls.
The report will not be truly objective as the mystery shop also has its own mindset and preferences at work that influence his manner of thinking.
The data may pertain to only a day when the visit took place. Thus, it is not 100% reliable.