A basic difference between strategic marketing and tactical marketing is that strategic marketing is the planning of how things will be whereas Tactical marketing is the tactics you will implement to make things happen as per strategy. So today if you want to touch a sales figure of 1 lac units per day, then it needs a strategy of increasing manufacturing, sales etc. However, the tactics will be an actual ground level plan of the type of promotions you want to implement, the type of sales guys you need, the distribution channel that you need to expand and the exact territories you are going to target chronologically. Tactical marketing is a short term strategy but one which helps you achieve the goals of long term strategy.
During the university years in business, we are taught about theories that we need to apply in order to make our business profitable, sustainable, reachable and widely recognized. We learn models, we learn tools, we learn techniques. Still, many business people nowadays confuse strategic marketing with tactical marketing as they don't make the clear difference between efficiency and effectiveness. By firstly taking into consideration the planning of the activities that are going to create your brand image, you lack the actual marketing plan which provides you with the direction of your business growth in relation to your competitors. You need to have a step by step tactical plan which helps you achieve your strategic target.
One very good example is Dansk Solar Energy, which went bankrupt after focusing on promoting their business and creating more brand awareness without initially focusing on what to say, how to say it and who to say it to. They jumped directly on where to say it to. And the list with such example can go on and on, but generally it is more frequent for the small companies and enterprises, which lack the necessary skills for the strategic marketing or the relevant experience in conducting the business.
Prior to any activity concerning tactical marketing, a true business man has to get involved in market research, competitive intelligence, focus groups, all being related to the strategic marketing. He needs to have an idea of what is happening in the market. Determining what your customers need to hear and where are they going for information is what is going to provide you with the necessary strategies to apply in the tactical market. To remember again that strategic marketing means the ideas, whereas tactical marketing means the action of implementing the ideas.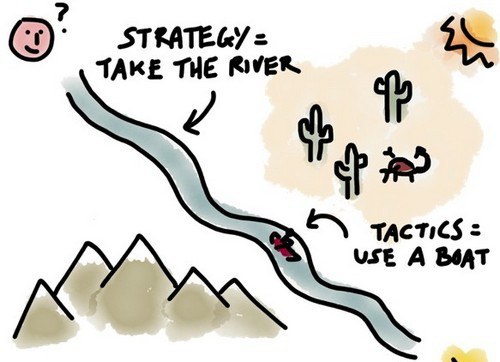 Placing media, creating marketing tools, advertising, community building, sales promotions, online advertising, radio, television, print marketing and implementing a follow up system are just some of your options in regard of the tactical marketing, which have the purpose of communicating the desired brand image to your target market and to inform them about your presence in the market. However, the activities planned for your tactical marketing should mainly be based on your strategic marketing in order to be cost effective and profitable.
Tactical marketing is not a one time process. It can be described as an ongoing set of activities and evaluations. It is a continuous process to be improved depending on your strategies as well as on the demands of the market. Segmentation has an important role to play in tactical marketing. By doing the right segmentation and by carefully choosing the segments that you want to target based on your product/service characteristics, you can create profiles of your customers and identify exactly the most efficient techniques to target and convert them.
The most popularly rising techniques used in tactical marketing nowadays are social media, contests, give away's, refer-a-friend programs as well as affiliate marketing. As it is an ongoing process, you can always improve your tactics, depending on your results. But it is essential for your business not to jump directly on the tactical part before primarily considering and focusing on the strategies that will develop and sustain your business. You need to have the background plan ready before you start thinking on tactics to achieve the plan.
"Marketing is not an emergency. It's a planned, thoughtful exercise that started a long time ago and doesn't end until you are done." – Seth Godin.
The above quote says it all. As per Seth godin, marketing is a slow and steady process and strategies need to be formed carefully and implemented over a period of time to get the best out of the market. This implementation of strategies is done by tactical marketing.